It's a bird, it's a plane.. No, it's a car hanging from a bridge!
Sometimes you're driving along and you'll spot something strange hanging from a tree or a power line. A shoe or a shirt, maybe a car. Ok, so a car wasn't hanging from a power line, but it was a car hanging from a bridge.
This bridge is one of the busiest road bridges in Toronto. The car was burnt-out and no one knows who did it.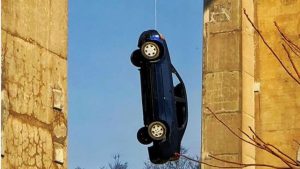 Onlookers spotted the blue Honda Civic dangling on Wednesday morning at about 7am. The car had been stripped of its innards and license plates.
People were understandably stunned by the sight. Police originally thought the car must be a part of a movie set. Upon further investigation, they revealed that no film sets had been authorized in the area.  "This incident resulted in the use of significant resources that were not available to attend to genuine emergency calls for service," said officers. "There's also the chance that whatever it was being held with could've broken or ripped apart and someone could have been hurt," said Constable Jenifferjit Sidhu.
According to Constable Caroline de Kloet says,"At this time, it is believed this incident was intended as a prank." They have launched an investigation to look into what they believe is public mischief.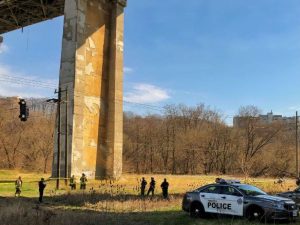 Firefighters from the city were contacted to recover the vehicle but not before it created a frenzi on social media. Some speculated it may have been engineering students that were behind the pranks. But a representative of the engineering department at the University of Toronto, told the newspaper they were not involved. They commented that this was "far more serious" than their typical stunts.
And of course, the public got in on it and came up with their own explanations of the strange sighting.
The vehicle had no windows, seats, steering wheel or engine. The car was suspended using a winch system, similar to the systems of a tow truck
This follows a similar prank in 2001 when University of British Columbia scholars suspended a classic Volkswagen Beetle. This prank was in San Francisco California and the car was hanging from the Golden Gate Bridge.