Late stage capitalism is a dark a desperate place, where people wear seat covers as shirts.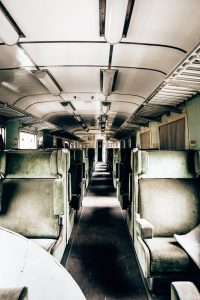 Scroll through your For You Page on TikTok, and a weird theme appears of people monetizing just about anything–muscular guys chopping wood, hippies repotting plants, Millennials lipsynching. Something about people in their cluttered bedrooms, making a living without succumbing to a soul-draining retail job, is charming.
But it's also concerning that this is all the fruit late-stage capitalism has to bear. So is it anyone's fault that someone is selling "crop tops" made from public transportation seat covers? It seems more like this was the inevitable destiny of our consumer-worshipping culture since the creation of money. 
Everyone's just doing their best.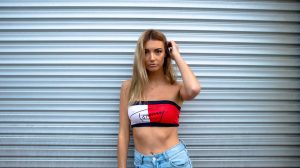 The story comes from Depop, a "social shopping app" that I don't understand at all. You can sell your used designer clothes, your label, your local train line's label, whatever. The Twitter account Depop Drama reports on all the wild stuff people find on Depop that falls far outside the designer fashion realm. For instance, a dead frog someone discovered in the pocket of pants they purchased.
Depop Drama shared the post for a "crop top" that bore a remarkable similarity to the seat covers from Chiltern Railways in the UK. The covers wrap around the train seats and advise passengers to leave seats open for the sake of social distancing.
The crop-tops of Depop are the same electric blue, feature the same text, and include the Chiltern Railways logo. True to Depop form, the post isn't without gratuitous nipple and typos, offering a "social distance children railway" crop top instead of Chiltern Railways. 
It's fashion that captures a moment in time, for sure.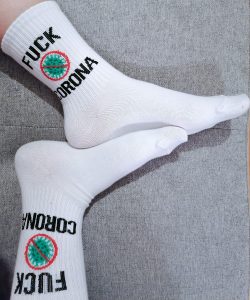 If crop tops are your thing, it's not a bad one? The seller mentions they've got a few of them so they can make different sizes. There has to be some craftsmanship involved; the post's model is not the same size as a train seat. Which, based on Depop Drama's tireless reporting, isn't necessarily the strong suit of sellers on the app. Check out this headband with pipe cleaner worms superglued on it, for example.  
You can't hate on people trying to make money in a world where it gets harder to get by every day. Somehow Chiltern Railways caught onto the viral tweet. They chimed in via Twitter to let people know they passed the post along to the "appropriate team." Can you imagine getting an email letting you know someone stole the pandemic seat covers to sell as crop tops, and now it's your job to stop that from happening? 
Based on the subtweets reported by The Mirror, maybe the railway should look into a new merch line, "Kinda cute af, where's the link?"