100% denim, with no spandex, at that.
Johnny Gregorek planned to be in this years Olympics, but since they have been cancelled, he decided on a different feat for the year. Gregorek wants to run the world's fastest mile, and he wants to do it in blue jeans.
"It is not too much harder" to run in blue jeans, said Gregorek, an elite middle-distance runner, adding that "it's not going to be as much of an obstruction" as he first thought.
The best part about it is that he's doing the run, in jeans, to raise mental health awareness. May is Mental Health Awareness Month and beyond that, he's been raising funds for the National Alliance on Mental Illness.
He comments how important it is right now with all the isolation happening and that people are staying at home, it can be harder for people to get the resources that they need.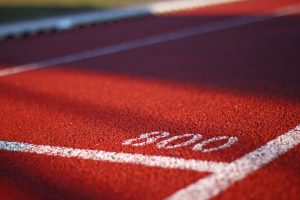 He wants to beat the "blue jean mile" ran by Dillon Maggard, 4:11.80.
Gregorek currently holds the second-fastest indoor mile ran by an American at 3:49.98."You know, you'd be surprised, if you've ever been running late for something and had to run fast in a pair of pants, then you've had the feeling," he told As It Happens host Carol Off.
He says he plans to break the record. "Oh definitely. You know, the primary goal is to get the record. I'll be running as fast as I can. And without the blue jeans on, I've broken four [minutes] many times."
"If all goes well and it doesn't impede me too much, then I don't see why it should stop me this time."
Good luck Gregorek, beat that record! And thanks for doing it for a good cause, we need more of you in this world.