And we thought the days of royal plots and scheming princes were a thing of the past
The princess of a small principality declares independence because of an invalid pact made by old kings centuries ago. But the current power ruling over her small realm is not willing to let her go, and a usurper is after her throne.
Such a plot sounds like something straight out of Game of Thrones or Tudors. But this unique royal drama is very much reality and it's playing out in Italy right now.
At the heart of the story is the small town of Seborga, high up in the hills above the Italian Riviera. When we say small, we mean it – the town has only 320 permanent residents.
According to legend, the Knights Templar hid the Holy Grail in the village. It's otherwise known for great hiking trails.
But ever since 1963, Seborga has claimed that it is an independent national entity – a micronation – called the Principality of Seborga.
The principality is currently ruled by Princess Nina Menegatto, according to an AFP report. The 41-year-old German-born – elected to her role November 2019 – is Seborga's first female ruler.
She was voted to power after her ex-husband abdicated last year in the midst of his second seven-year term as Prince of Seborga. Princess Nina splits her time between her realm and Monaco, where she manages a property company.
"I didn't think I'd ever become a princess. But I got a lot of support from the population and I really appreciate it," she told AFP early this year.
"I guess every little girl has a dream of being a princess. It's like a fairytale."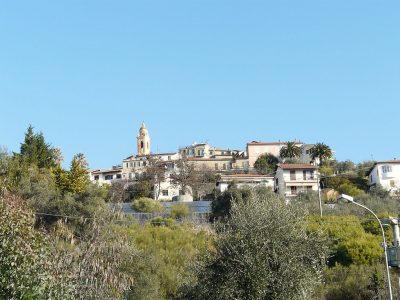 Trappings of a Country
But what the aspiring principality is going through in reality is far from a fairytale. Many similar Italian towns have simply withered away due to depopulation.
People are moving into bigger cities for better jobs. Urbanization leaves the small villages' shops and historical monuments empty of tourists and those who would maintain them.
By declaring independence, Seborga hopes to reverse this trend and drive more tourism to the town. It's an urgent bid for business, since the COVID-19 epidemic – which hit Italy the hardest in Europe – has caused all tourists to vanish.
Not only that, Princess Nina's coronation had to be pushed back from its intended date in May. Now, she is set to get her crown on August 20.
She said the town hopes that the pomp surrounding her coronation will draw fans of royalty into Seborga. It would definitely be a much needed adrenaline boost.
But the plans of Seborgans (Seborgians? Seborians?) go much further than increasing tourism. They want to introduce a historic local currency – the Luigino – construct a luxury hotel with views of four countries: France, Italy, Monaco, and of course Seborga.
There have also been talks about constructing a cable car to connect the town to the coast. The locals would also like to see the town included in cruise ship itineraries.
The principality also has its own constitution, a national anthem, and a coat of arms. It even has its own national motto – "Sub umbra sede", which translates to "Sit in the shade".
There's even a "standing army" of a few local volunteers. Sounds like they got everything a country needs.
Unsubstantiated Claims
The people of the would-be principality say that their independence is based on historical fact. The story of the town is convoluted, but their basic argument is that it was never officially incorporated into modern Italy.
In 954, the village became property of an order of Benedictine monks. According to Seborgans, the abbot of the monks was then given the royal title of prince by the Holy Roman Empire in 1079.
Then, in 1697, the town was bought by the Savoy dynasty. And here's the catch – Seborgans insist that the transaction was never registered.
Not only that, historians have never discovered the original deed. According to the villagers, this makes the sale invalid.
As a result, the territory of Seborga would not have been included in the unification of Italy in 1861 or the formation of the republic in 1941. Talk about bureaucracy.
But history experts, such as professor Matthew Vester from West Virginia University, say that Seborgans' claims don't hold water.
"Documents show agents of the King of Sardinia effectively took possession of Seborga in 1729, with the consent and support of local inhabitants," he told AFP.
The government of Italy hasn't recognized the villagers' claims either, and neither has the European Court of Human Rights. Still, Seborga is determined to keep up the fight.
Pretenders A-Plenty
Not only is Seborga going unrecognized, there's also an internal power struggle. A rogue Frenchman Nicolas Mutte is after Princess Nina's crown.
Mutte has proclaimed himself His Serene Highness Nicolas I. He claims he descends from Seborgan royalty through an ancestor who served as Napoleon III's aide-de-camp.
Mutte moved to Seborga after he was charged in France with fraud and the production of counterfeit passports. He insists the charges are "politically motivated".
The would-be Prince also claims that due to his skills in diplomacy, Brazil has become the first foreign nation to recognize Seborga. Brazil's foreign ministry denies his story.
According to a local Seborgan Gustav Ottolenghi, who has written a book on the town's history, Mutte is perfectly within his rights to proclaim himself as a prince.
"The formal title doesn't exist. No one can stop you from saying you're the prince or princess, and every now and then people come forward to do so," he told AFP.
Mutte is not the only pretender, either. At least two others are vying for the crown, including an off-shoot Templar faction.
The local mayor, Enrico Ilariuzzi, however, intends to keep Seborga as a good, law-abiding Italian subject.
"Whoever they may be, phoney princes or swindlers are not welcome in Seborga," he said.
Seriously, Seborga would make for an amazing basis for a fantasy show. Netflix, you have my permission to use this idea.
Want to tell your strange story?
Tell us about it
and it could be featured on Oddee. You can remain fully anonymous.