You'd never guess it, but yes, there was a kangaroo on the loose in Florida.
It's obvious at this point that 2020 is a complete shit show and literally anything is possible. And a kangaroo in Florida just gives more merit to that thought.
The runaway roo was corralled near 1300 NE 2nd Avenue after about 30 minutes. "We just tried to corral it and keep it out of traffic," said Officer Robert Norvis, who was part of the capture. "He's very friendly. We were able to get a rope around his neck and get him in the back of the car."
When the call came in, the police said they didn't believe it. After the kangaroo was caught, they picked him up and hoisted him into the back of a police car, but not without snapping a few selfies first.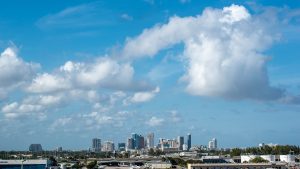 "I've been a police officer for 26 years. I've had snake calls and python calls, maybe an alligator, but never heard of a kangaroo around here," Norvis said. It's was so rare, the police even released body cam footage of the pursuit. 
The kangaroo was a pet, (of course it was, they always are,)  that was living off of North Andrews Avenue and 15th Street, but he got out so that he could take himself on a tour of Fort Lauderdale's streets. It's illegal to keep a kangaroo in your home, though the law is not clear on the penalties you could face if you do so in the city.
The Florida Fish & Wildlife Conservation Commission is investigating the situation, and they are the ones who would hand down "consequences." After they caught him, the kangaroo was hopping around inside one of the police stables on NE 9th Street, where the mounted horses are kept.
Since then, the Florida Fish & Wildlife Conservation Commission has taken custody of said kangaroo.  
Viewer Doug from Smiley Locksmith took a video of the kangaroo bouncing around the city, and aptly commented, "Yo, that's so crazy. What? This is South Florida."
Want to tell your strange story?
Tell us about it
and it could be featured on Oddee. You can remain fully anonymous.