Can returning a part of what you've stolen buy you forgiveness?
Food theft seems to be the big fad for the criminal underworld this year. First, there was the sentencing in the Canadian maple syrup heist, and just last week three Florida men were arrested for stealing millions' worth of meat.
And now, we have another food-related serial thief from Missouri. But this particular criminal has more distinguished tastes and isn't satisfied with syrup or beef.
Instead, the same man is suspected of having pilfered thousands of dollars worth of fine wine. There's a silver lining, though.
He hasn't been arrested, but at least some of the wine has been recovered. A lone priest recently returned a large industrial container full of stolen, unopened bottles to a wine shop on behalf of a thief.
It seems the thief has grown remorseful. It doesn't undo his crimes, but at least he has the good sense to be ashamed of what he's done.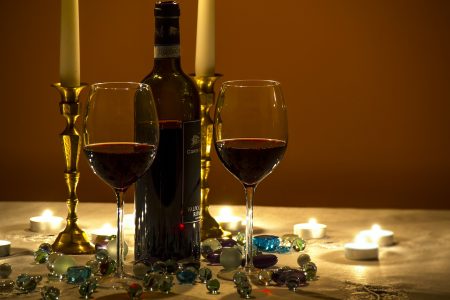 A Series of Thefts
A wine thief has been plaguing booze stores around St. Loius, Missouri, for quite some time. He has struck at several shops and always seems to follow the same modus operandi.
Earlier this fall, The Wine and Cheese Place in Clayton, Missouri, fell victim to the thief. He posed as a customer, filling up bags with 12 bottles of very expensive wine — and then walking out without paying.
The co-owner, Aaron Zwicker, told KMOV4 that the man stole $3,000 in wine from containers and boxes on display at the store.
"I've been a lot more cautious about what boxes I'd be willing to open up, what wines I'm willing to put out on the floor because it just feels like we're putting them out there for people to poach," Zwicker said.
In October, a branch of the supermarket chain Schnucks managed to prevent an attempted wine robbery. The chain wouldn't say how much wine the man attempted to steal, but they believe it is the same person.
Smile, You're on Surveillance Camera
But the most detailed account of the wine thefts comes from The Wine Merchant, also in Clayton. Here, the thief got caught on surveillance tape.
Dustin Endicott, an employee at the store, said he heard the man walk in on October 25.
"My co-worker greeted him. He didn't seem overly strange, maybe a little quirky, but that's not all that unusual," Endicott recalled.
In the surveillance video, the man browses the wine aisles and picks out some choice bottles, each costing more than $200. He then pulls out a bag he had hidden in his coat, fills it, and leaves the camera's sight.
Endicott said the man simply walked out, but he realized something was up.
"The way he exited, his demeanor, and the way he was acting, it was pretty clear to me that something was going on," he said.
Endicott followed the man to the street, where he saw him get into the car. As he drove off, Endicott had to jump out of his way as he seemed uninterested in not hitting him.
All in all, he made away with $1,000 in wine.
Growing Remorseful
However, now some of that wine has found its way back to The Wine Merchant. On October 7, the store owner Jason Main said a priest entered the store.
"It was a slow Monday and I saw a priest come in with a big box and set it on the front counter and I came over to let him know I'd be with him in just a second. He stopped me right there and said, 'Look, I need to make a return,'" said Main.
The priest told Main he was returning the stolen wine and that he wasn't answering any questions. And indeed, in the industrial box was every bottle stolen from the store, unopened and unharmed.
Taped to the box was also a manila envelope, containing a two-page apology letter. In the letter, the thief explained he felt "awful" and "terrible" for his crimes.
The man had, according to his confession, fallen on hard times financially. He had been financing his life by stealing expensive wine and selling it at a discount to private buyers and collectors.
However, after the news of the Wine Merchant robbery broke, one of the thief's customers put two and two together. The man wrote that the buyer accused him of being a criminal and refused to purchase the stolen bottles.
That must've been a moment of awakening for the man — at least to a degree. Clayton Police believe the thief confessed his crimes to the priest and asked him to return the bottles to avoid being arrested.
'The Lowest of Low'
So, all's well that ends well, right? Well, not quite.
While returning some of the wine was nice of him, he's still a criminal who hasn't answered for all the other thefts he's committed. Main also says that although he's glad to have his wine back, he's still angry at the man.
"I think it is absolutely the lowest of low to prey on small family-owned businesses," he said.
Additionally, not all the wine has been recovered. To this end, Main issued a call to all wine collectors who have recently bought wine from a suspicious Missouri man.
"If you know these wines are stolen and you have them in your cellar, you need to get them out of there and return them immediately. This is stolen property," said Main.