New Zealand suddenly became a little less magical place.
There are plenty of weird jobs out there, like we've previously told you. But even us Oddee authors didn't think New Zealand had an official wizard.
Emphasis on the word "had." The Pacific island country has told its state magician thank you and good luck after 23 years of faithful service.
The Wizard of New Zealand, also sometimes called Ian Brackenbury Channell, signed a contract with the city of Christchurch in 1998. Since then, he cast spells and entertained both locals and tourists for an annual paycheck of $16,000.
But now, the city council has decided the Wizard's services are no longer necessary.
"The council has met with the Wizard and sent him a letter thanking him for his services to Christchurch over the past decades, and informing him that we are bringing our formal contractual arrangement to a close," the council's assistant chief executive Lynn McClelland told Stuff.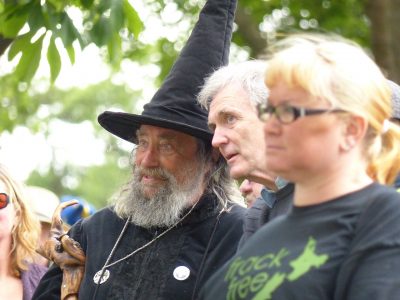 Politics and Controversy
Officially, Christchurch let the Wizard go because he doesn't fit the city's new marketing direction. McClelland said the decision to fire the Wizard was a difficult one, but also added that Christchurch's "promotional landscape is changing."
"[The city is planning] new and different promotional programs that will increasingly reflect our diverse communities and showcase a vibrant, diverse, modern city that is attractive to residents, domestic and international visitors, new businesses, and skilled migrant workers," McClelland said.
The Wizard himself doesn't — perhaps understandably — agree with the decision. He called the city council "a bunch of bureaucrats who have no imagination."
"They are not thinking of ways to promote Christchurch overseas. They are just projecting an image of bureaucrats drinking lattes on the boulevard," the Wizard said, ripping into the council.
"Their image of Christchurch has nothing to do with the authentic heritage of the city. I am the original image of Christchurch."
Another factor that may have fueled the council's decision came in April 2021, during the Wizard's appearance on the New Zealand Today show. During his interview he made some, shall we say, fascinating remarks about women.
The Wizard said he enjoyed teasing women about being "devious" and using "cunning to get men who are thick," reported The Guardian.
"I love women, I forgive them all the time, I've never struck one yet. Never strike a woman because they bruise too easily is the first thing, and they'll tell the neighbors and their friends … and then you're in big trouble," he said.
The comments sparked controversy, but the Wizard got to keep his job. Until now.
'They'll Have to Kill Me to Stop Me'
But whatever the ultimate reason behind the council's firing of the Wizard, it makes little difference to him. The Wizard said he would keep doing what he's always done, with or without a paycheck.
"It makes no difference. I will still keep going. They will have to kill me to stop me," he said.
He'll also keep appearing at public events. For example, the Wizard will continue to make appearances at the Christchurch Arts Center.
Despite it all, he has no intention of resorting to black magic to get back at the council. When asked whether he'd curse the city for giving him the boot, he said he'd rather deal in blessings.
"I give children happy dreams, general good health, and I want to make bureaucrats become more human," the Wizard said.
Decades of Magic
It's no wonder the man means to keep going, considering how long he's been wizarding it up. Interestingly, the Wizard of New Zealand isn't actually a native kiwi.
He was born in England and moved to New Zealand in 1976. He soon started performing public wizardry, though the officials weren't initially enthusiastic about the strange magician.
The council tried to ban his act, but public protests resulted in them reversing their decision. In 1982, the New Zealand Art Gallery Directors Association declared the Wizard a living work of art.
In 1990, he got official recognition from an even higher authority. Then-prime minister Mike Moore ran into the Wizard in Christchurch and though his services could benefit the country as a whole.
"It occurs to me that you are currently the Wizard of Christchurch exclusively … As Prime Minister I am concerned that your wizardry is not officially at the disposal of the entire nation," Moore wrote in an official letter.
"I suggest therefore that you should urgently consider my suggestion that you become the Wizard of New Zealand, Antarctica, and relevant offshore areas," he added, saying that he would no doubt perform spells "beyond the competence of mere Prime Ministers."
The Wizard has delivered. He's performed rain dances in New Zealand and Australia during droughts, and participated in protests to protect heritage buildings after the 2011 Canterbury earthquakes.
Even his passport and driver's license list him The Wizard of New Zealand, although he's never officially changed his name. Wonder whether he'll have to get new ID documents now.
But in any case, the man can't fight against his calling. Whether officially recognized or not, the Wizard won't stop.