This is what happens if you skinny dip in the shark tank at the aquarium.
If you jump into a shark tank at an aquarium for a swin with the sharks, you will be wanted by the police.
When witnesses saw the man swimming around naked at Ripley's Aquarium in Canada they say the man looked "totally relaxed" while he was splashing around with the sharks.
A naked man dived into the aquarium shark tank Friday night. Police are looking for him in connection with a violent assault that took place earlier that evening.
The police got a call around 10:30 PM and were told about the naked man swimming with the sharks.
"We arrived on scene within seven minutes and he was already gone," Katrina Arrogante, a spokeperson said. "There were no injuries to the man, animals or patrons."
Video caught the man diving into the water in the shark tank while the security guard yelled at him to get out. At one point, the man climbed out, just to jump back in to appease a cheering crowd.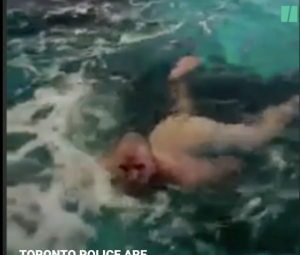 Ripley's said that its own video footage saw the man enter the aquarium a little after 10 PM.
"After purchasing a ticket, he immediately disrobed and proceeded to climb over the security barrier into the exhibit," Ripley's had said.
Visitor Erinn Acland said that the bald man was totally relaxed during his evening dip in the water, he was even seen laughing. However, Acland found it terrifying.
"I don't know what would possess someone to do that. It's totally insane to me," she explained. "I was scared I was going to witness the death of this guy."
The company plans to press all appropriate charges once the individual has been found and caught. The swimmer is described as a male, 35-40 years old, approximately 5'10'' and about 220 pounds. He has a tattoo on his lower leg.
The swimmer has thus far alluded capture but police plan to charge him with indecent exposure. Investigators also believe that the man may have been involved in a violent assault at Medieval Times restaurant a few miles from the aquarium. They are still looking for the man.
Want to tell your strange story?
Tell us about it
and it could be featured on Oddee. You can remain fully anonymous.