And the answer? Well, that depends on you.
Male love robots could really replace men for good, if we want them too. Love dolls are nothing new but now there's a male doll that's also a robot, robot males.
These robot males can do things that a real man would, including engaging in verbal communications. There are a couple popular companies making these robot males.
"Real Doll" leaves little to worry about with these as far as your user experience is concerned. A good example is that the battery recharges for these have become a thing of the past.  
They call these robots the "Ultimate Pleasure Experience." The name tells you what the doll is all about. 
Different personalities, traits, narratives, and characteristics will be designed into the dolls to best serve the needs of women all over the world. And women have it easier, too.
With a robot man, you wouldn't feel the need to look a certain way, be a certain size, or have anxiousness about sleeping with them. It sounds a little bit unbelievable but you can see for yourself by learning about this technology and what it means for the future. 
Ladies, the love life you always wanted is here. The creators of the doll made sure to make it a superman, so that it could out perform real-life males, stating that women would want to choose these robots over real life guys.
If there are any guys out there not putting in 100% to your relationships, you better rethink that before a replacement male kicks you to the curb.
The "Ultimate Pleasure Experience" was designed to make real-life men obsolete. Great news for women, not so much for men.
The company even believes in this product so much so, it sees the robot males becoming boyfriends to these women, and not just sex friends.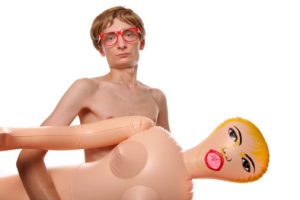 Any of the regular sex dolls have no chance against this high tech alternative. And how could they?