Mili the giraffe stood by with an with an engagement ring hanging from her neck as Cody Hall popped the question
He set up the surprise proposal with the help Dickerson Park Zoo officials in Springfield, Missouri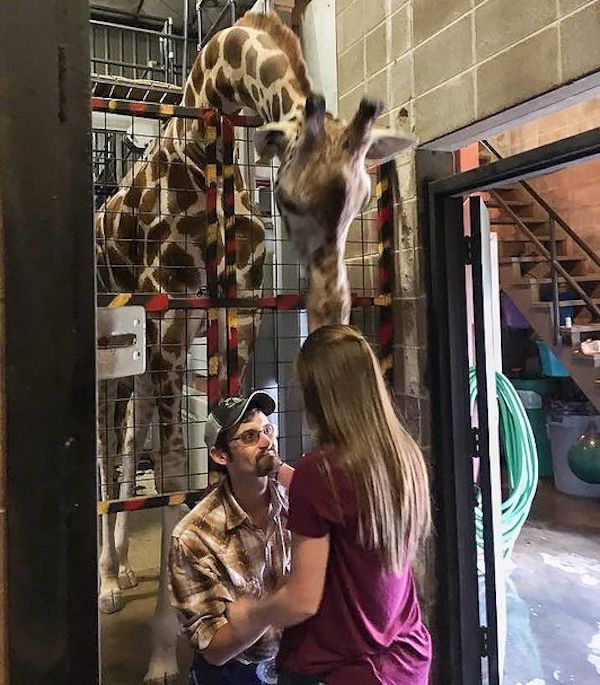 A giraffe in Dickerson Park Zoo in Springfield, Missouri stuck her neck out for love this week when she helped a man propose to his girlfriend.
Makayla Blakey thought she was just there to feed the animals, but her boyfriend Cody Hall had other ideas—she did not see the engagement ring hanging around Mili the giraffe's neck when they were walking near Mili's enclosure.
Before the couple arrived, zookeepers hung a lanyard around the giraffe's long neck with the ring attached. When the unsuspecting young lady reached up to feed Mili, Cody retrieved the ring and got down on one knee. Of course, the overjoyed girl said yes!
"Marriage was something we had talked about, so I knew she'd say yes," Hall said. "But it's a different feeling when you ask the question, and she says yes. It's still surreal."
Hall planned the exotic proposal with the help of his friend Jesse Rollhaus and zoo spokesperson Joey Powell. "We got there and (Makayla) had the idea that we were just getting a behind-the-scenes tour. They gave us this spiel about how we are going to feed the giraffe and help participate in a training exercise. They showed us the training exercise, getting Mili to point at a big tennis ball with her nose. They gave Makayla a tree branch to feed the giraffe, and when it craned its neck out, the ring was hanging."
"I want to say a huge thank you to Dickerson Park Zoo and its staff," Hall continued. "They exceeded my expectations by far. They were more than generous. We were able to make my dream proposal happen."
Blakey and Hall are planning a spring wedding in the church where they first met.
Dickerson Park Zoo shared photos of Mili, Hall, and Blakey on Facebook with a post which reads, "Congrats to Cody and Makayla. We think Mili should be your honorary ring bearer on your big day." (We agree!)
If you're in the area and want to arrange an exotic engagement at Dickerson Park Zoo can email Joey at jpowell@dickersonparkzoo.org.
FOLLOW ODDEE ON FACEBOOK AND TWITTER.