"But I want a little sister!" 3-year-old Daisy Martin cried repeatedly when learning her mom was having a boy
She cheered up when given treats from the brother she has yet to meet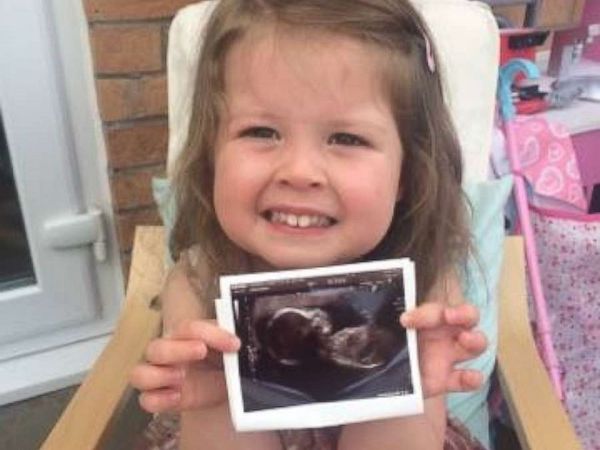 Sometimes life doesn't go the way you want, even if it involves a new baby brother—just ask Daisy Martin.
The girl from Cardiff, Wales was left in a puddle of tears when she received the tragic news that her pregnant mom was having a baby boy—not a girl as she had hoped. Her adorable reaction was caught on camera and has since gone viral.
Daisy, 3, sobbed hard tears at the news that she would soon have a baby brother and NOT a sister. She repeated, "But I want a sister, I want it to be a little baby girl!"
However, all was not lost. Daisy immediately cheered up again when offered blue candy, sent in advance from her yet to be born brother, but still refused to welcome the news of his impending birth.
Her mother, Siobhan is about 20 weeks pregnant and is due in February 2018. She and her husband thought the best way to tell the little girl the news was to give her "a note with some sweets as a gift from him…but I was very surprised by the intensity of her reaction. She's a dramatic little girl; it's her personality. She'll have a meltdown and then be fine again. But she's a sociable little girl, she's clever and caring, and by the time her brother is born, she'll be four so she'll be that bit older and will be able to help."
Like most girls, Daisy loves her dolls, so Siobhan is thinking about finding her a male baby doll to get her used to the idea of having a little boy around.
But Daisy is still a hard sell. "She asked me yesterday if it would be 'too tricky to make the baby a girl now if we went back to the doctors' so she isn't quite ready to let go of her idea of a baby sister," Siobhan said. When the baby is born, she said that she would send Daisy a present from him to finally win the little girl over. Let's hope it works!
FOLLOW ODDEE ON FACEBOOK AND TWITTER.