Forget about working at home—these amazing amenities will make you wanna live inside your office.
1

Google's Sleep Pods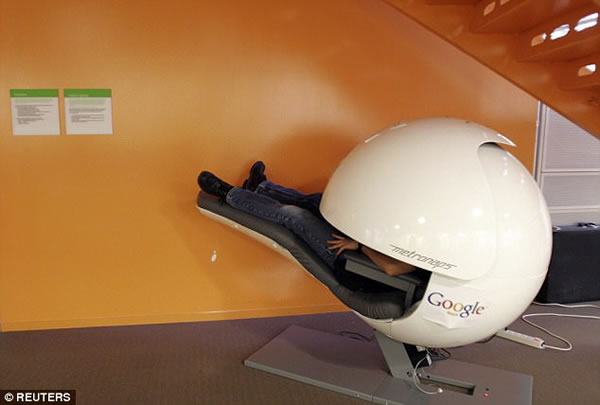 Google office-watching has become something of a pastime on the Internet. The search giant is known for its playful, unconventional workspaces and its amenities could be a whole list of their own. But if we had to choose only ONE cool perk, it would be their sleep pods.
These $7,500 soundproof pods are just some of the outlandish features at Google's new London HQ, a mammoth 300m-long building which will house the tech giant's 7,000 employees. The pods, made by New York brand MetroNaps, claim to "improve mood, creativity and learning" as well as "boost alertness and productivity."
The futuristic contraptions, which look like reclining chairs with an orb-shaped visor that comes down over the head, can be set with 15 to 20-minute programs that shift into a "zero-gravity position" (with the head below and the feet raised) while playing soothing music. The chair wakes users with a series of vibrations and flashing lights.
Many of the company's existing offices have nap rooms, fitted with airtight door locks (like those found on submarines) to keep them sound and light-proof.
2

Eventbrite's Zen Rooms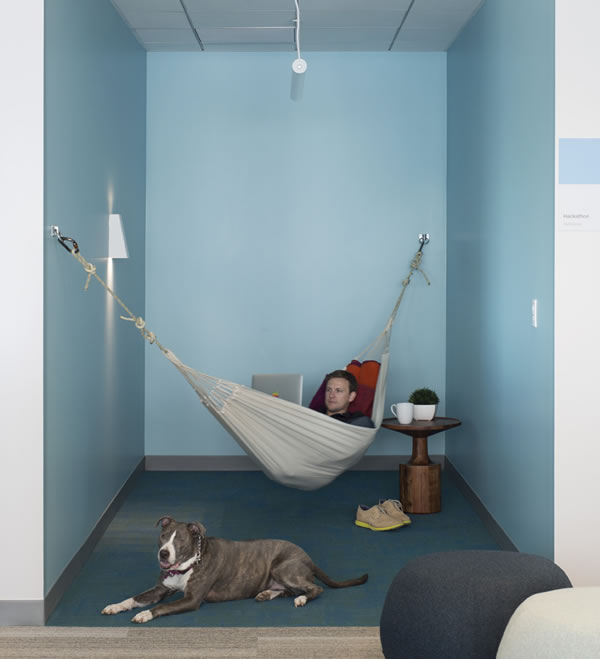 From the 6th and 7th floors of a rather unassuming San Francisco office block is Eventbrite's HQ, and oh, what a delight it is!
Designed by Rapt Studio, Eventbrite's new home comes complete with a library (decked out in glorious dark wood), an auditorium (with stadium seating and full A/V), a dynamic multi-purpose cafe, creative spaces, hammocks, zen rooms (for meditation and yoga), wall mounted bike storage and an open floor plan with work areas flooded in natural light.
3

Fifth Third Bancorp's Maternity Concierges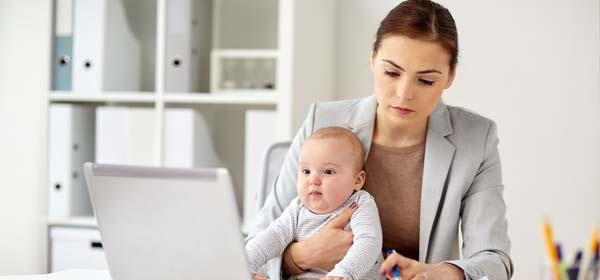 Parental leave perks are getting extremely popular, and one company may be outpacing the rest by introducing a slew of perks before it even begins.
Cincinnati-based bank Fifth Third Bancorp introduced maternity concierge services in 2017. Concierges will plan your shower, your gender reveals, order your birth announcements and help choose your stroller, and whatever you need them to do.
The goal is to retain employees after they give birth. According to Fifth Third Bancorp, employees who took maternity leave in the last 12 months were twice as likely to leave the company than any other women employed there.
So Executive Vice President and Chief Administrative Officer Teresa Tanner developed this program after hearing how overwhelmed expectant mothers were preparing for baby's arrival. She explains that while women make up 60 percent of the company, they only comprise 23 percent of senior roles.
Right now, about 140 employees are taking advantage of the concierge program. And this involves new moms too; the service will help with everything from baptisms to first birthdays—whatever you need for infants under one year old.
4

Twitter's Beer Tap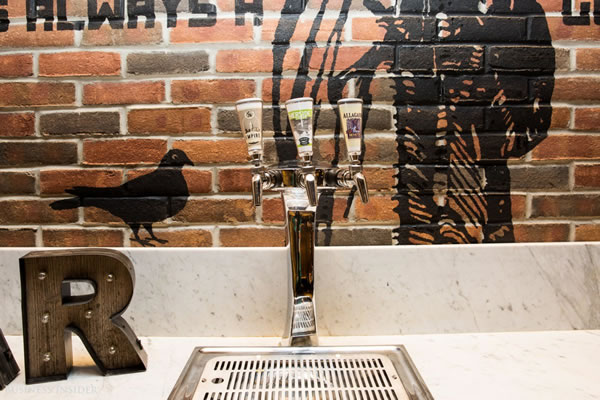 We would need way more than 140 characters to describe Twitter's Manhattan office. The social media platform company, which employed 3,860 people around the world as of 2016, first moved to this Chelsea, Manhattan office, a year earlier. Today, more than 400 Twitter employees work there. The offices have a coffee bar, a giant touch screen for you to check Twitter, and even a pick-me-up room, but nothing compares to the beer tap available in their bar. Is drinking during work hours ok?
5

Nike's Indoor Basketball Court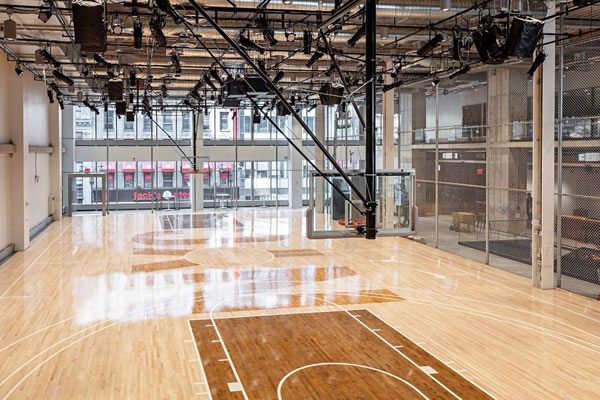 Nike's relationship with New York City runs deep and has been growing over the years. Recently, the "Swoosh" unveiled its brand new headquarters there, which cover an estimated 150,000 square feet.
Within its six floors, you'll find an open-plan aesthetic with a freestyle workspace. A countless amount of conference rooms are placed throughout the space which features custom ceiling tiles made up of recycled materials designed by Miniwiz. But its main attraction is the 4,000-square-foot indoor basketball court for those looking to take a break and shoot some hoops. The full-length court will soon host high school teams, community partners, local leagues and more as it comfortably sits 400 spectators.
6

Chesapeake Energy's Rock-Climbing Wall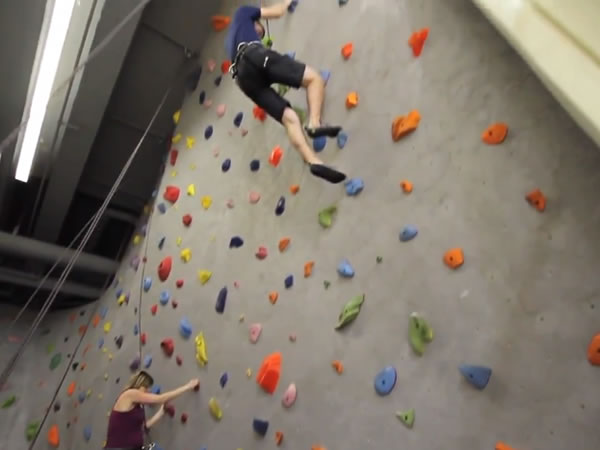 Chesapeake Energy is one of the nation's biggest natural gas producers, and they invest a lot to have their employees fit. Their office has various fitness amenities available to employees and their families. Those who don't have a fear of heights can scale the indoor rock-climbing wall, or enjoy the company's on-site, 72,000-square-foot fitness center, which includes an Olympic-sized swimming pool and a sand volleyball court.
7

Workshop Metal Slide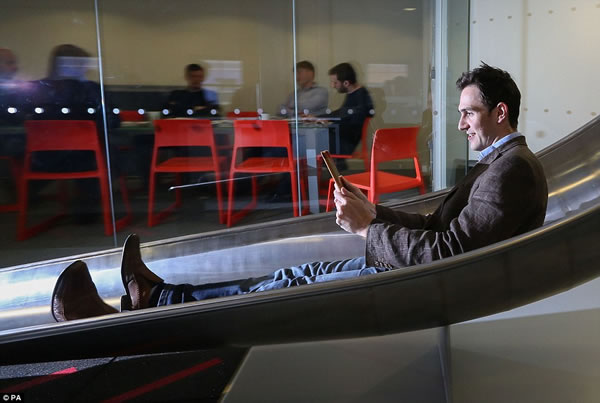 In 2014, managers at an office in a seaside town installed a giant indoor metal slide to take workers from one floor to the other in just three seconds. The 20ft-long stainless steel feature was added to create a sense of fun for staff at the Workshop offices in Folkestone, Kent.
It's unclear how long workers will use the slide for before going back to using the stairs to get to their meeting. The part-tubular slide is said to add to the "Google-esque" feel of the offices, and it even has a camera inside to take photos of people as they move from the fifth floor to the fourth.
8

Facebook's Facebook Wall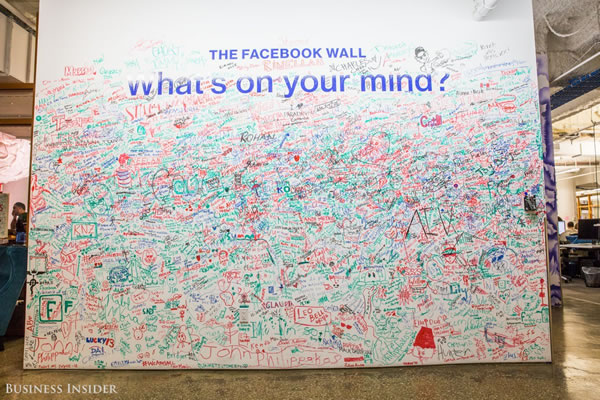 We couldn't leave Facebook off our list. Inside the new New York offices, employees of the $280 billion company enjoy virtual reality games and an in-house pastry chef. The Menlo Park, California-based tech giant consistently earns top spots on rankings like Business Insider's annual "best companies to work for," Glassdoor's "best places to work," and LinkedIn's "top attractors," among many others.
But one of the first things that jumped out at us was this physical embodiment of a Facebook "wall." Engineering director Jeff Reynar explained that New York City Mayor Bill DeBlasio and New Jersey Senator Cory Booker recently stopped by to sign it. "What's kind of fun about this is that there's a wall at most of our offices," Reynar said.