The Earth getting gradually warmer has many strange — and often harmful — effect on plants and wildlife. But here's one phenomenon that nobody saw coming.
It seems last summer's heatwave in British Columbia, Canada, got the local bees a bit too hot and bothered. In the summer heat, death literally came for male honeybees.
We're saying that they ejaculated themselves to death.
Beekeepers in British Columbia found potentially hundreds of drones — male non-stinging bees — dead around their yards and farms. Each of the small insect corpses had experienced the same gruesome death — their genitals had exploded out of their bodies.
It turns out that excessive heat can make drones spontaneously and fatally ejaculate. And that's just what the heatwave brought to western Canada last year.
Now, with such heatwaves looking extremely likely, Canadian beekeeping could be in jeopardy. If there's any silver lining to all this, at least the drones probably died very happy.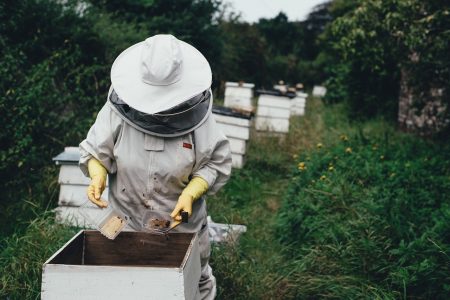 Bee Man Parts Out
Emily Huxter is a beekeeper from Armstrong in south-central British Columbia. She told Castanet that when the temperatures started soaring in June 2021, she became concerned for the well-being of her bees.
The buzzing honeymakers can't sweat, so they rely on external measures to regulate their body temperatures. To this end, she set up burlap sack-covered kiddie pools around her farm.
She noticed that drones started flocking to the pools. That makes sense — unlike female worker bees, who fly around and can at least cool off in the breeze, the males sit around the hot nest.
But one morning, when she came out to check on her bees, she found a scene resembling the aftermath of a massacre. Dozens, if not hundreds, of dead drones littered her yard.
And they all had one thing in common.
"It was unbelievable. They have got all of their man parts out," she said, recalling the devastation.
Huxter wanted to see if these were all her drones. She began checking her 300 starter hives, used to rear bee queens, and sure enough — about 70% of the drones were dead and gone.
That was no small loss for her business, since each hive is worth hundreds of dollars.
"We had incredible losses. It was really scary," Huxter said.
Fatal Temperature
But after she got over the initial shock, another thought crept into Huxter's mind. Why on earth were most of the drones busting fatal nuts all at the same time?
We want to believe that her first action was to check if there was a particularly luscious bee queen buzzing about. After she didn't find one, she decided to contact a bee expert.
Huxter got in touch with Alison McAfee, a researcher at the University of British Columbia who has studied bees and their responses to heat. McAfee had some distressing news for Huxter.
Apparently, at about 104 degrees Fahrenheit, heat begins to hinder bees' ability to reproduce. But when the ambient temperature passes 107 degrees, it has the opposite of drones.
Namely, they run the risk of randomly splooging their guts out.
Huxter started putting two and two together. In the summer of 2021, the mercury reached 120 degrees in many parts of the Canadian province.
That's way past the fatal ejaculation temperature for drones.
The Issue of Cooling
Deadly orgasms aren't anything common for bees, mind you. In fact, the life of every male bee that gets to mate ends up with an explosive orgasm.
But the problem for Huxter was that her drones were blowing their loads before they ever got to a queen. You can no doubt understand why that would be bad for her business.
To try and combat the dangerous temperatures, Huxter and other Canadian beekeepers have started to try different methods to cool their hives down. These include installing two-inch thick polystyrene insulation panels on hive ceilings and providing a steady drip of sugar syrup.
These methods have had varying results. The insulation panels seem more effective, as experiments run by Huxton and McAfee showed that they reduced hive temperature by roughly 7 degrees.
However, that may not be enough to protect the bees from the kinds of extreme temperatures we saw last summer. If the heat rises to 120, even that seven-degree drop won't save the drones.
And there's the issue. According to researchers, current climate trends make that kind of heat 150 times more likely than in the past.
Canadian beekeepers may have to start investing in air-conditioned hives. That is, if the want to stop their drones from nutting to death.