It's almost Christmas! Lights are up everywhere, most restaurants, stores, and public places are playing Christmas music, and we are all getting into the season, whether we like it or not.
But most people do love Christmas, and in fact, 46% of Americans say it's their favorite holiday of all. And whether it's the food, the friends and family, or the traditions, there's a little of everything during Christmas time.
But about the traditions, this has got to be one of the best parts of the holiday. Some people exchange Christmas ornaments or have cookie parties, others only open Christmas presents on Christmas Eve, or vice versa, and only open them the morning of Christmas. But there are some really weird Christmas traditions too and I'm going to tell you all about them.
Gävle Goat
@Gavlebocken finally!!! 😀 #gavlebocken #gavlegoat #gavle #goat pic.twitter.com/OCXtCdevjB

— Mira Brayford (@mirkamirka) December 27, 2015
It all started in 1966 when a 13-metre-tall Yule Goat was first built in the center of Gävles Castle Square for the Advent. This Swedish tradition seemingly spurred another tradition, but not in a good way. Apparently after it is constructed, people try to burn it down. Because of this, since 1966, it has been successfully burnt down 29 times, most recently in 2016. Want to see if it makes it through this Christmas season fire-free? Go to the Gävle website and watch via a live video stream.
Caga Tió
Almost like a log is used as a stocking but with a really weird back story regarding poop? This tradition is from Spain, you can go out and buy your very own Caga Tió. It's a log that is hollowed out and given legs and a face. You must begin to "feed" him everyday beginning on December 8th. Then on Christmas Eve or Christmas Day, you put him in the fireplace and beat him with sticks until he "poops" out small candles, fruits, and nuts. When he is finished, the final object dropped is a salt herring, a garlic bulb, or an onion. And to top it all off, during this there is a family song you can sing together:
poop log,
poop turrón,
hazelnuts and cottage cheese,
if you don't poop well,
I'll hit you with a stick,
poop log!
Kentucky Fried Chicken Christmas Dinner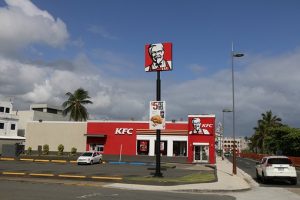 In none other but Japan. If you didn't know Japan is a strange, strange country and apparently on Christmas, that doesn't change. The thing is, Christmas has never really been a huge deal in ka[an and aside from a few, small secular traditions including gifts and Christmas lights, the holiday still remains a novelty throughout the country. Enter Kentucky Fried Chicken dinner and you have the newest, and quirkiest tradition to hit Japan in recent years, KFC for Christmas dinner. The Christmas menu will soon be advertised on the restaurants website and you won't even have to know Japenese to read it. After all, do pictures not say 1,000 words? If you want to hear more about traditional Christmas dinners, read here and here.
Broom Hiding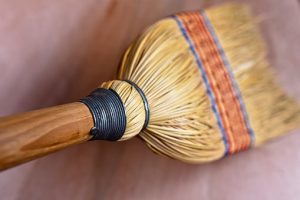 Yup, you read that right. This is one of the weirdest Christmas traditions is weird but not uncommon, that is, if you live in Norway. This tradition dates back centuries to when people once believed that witches and evil spirits came out on Christmas Eve and looked for brooms to ride on. To this day, the tradition stands firm and people still hide their brooms in the safest place in their house to stop them from being stolen.
Cavalcade of Lights
In the cold Canadian nights, Toronto hosts its annual Cavalcade of Lights, to start off the holiday season. This may be weird, especially to those who don't like the cold, but fireworks to kick off Christmas? Now, that's my kind of tradition. It's got to be one of the best Christmas traditions. The first Cavalcade of Lights took place in 1967. The city wanted to show off the newly constructed City Hall and Nathan Phillips Square. The Square and the Christmas tree are illuminated by more than 300,000 LED lights that shine from dusk until 11 pm until the New Year. And to add to that, there is an amazing fireworks show and if you like, ice skating to partake in.
Growing up, we always opened a couple of presents both on Christmas Eve and Christmas Day, we gave and got Christmas ornaments, and cookies were made, decorated and ate at lighting speed. Have the best holiday and enjoy all your favorite Christmas traditions.
Want to tell your strange story?
Tell us about it
and it could be featured on Oddee. You can remain fully anonymous.