The letter was penned by a Spanish chaplain back in 1777.
The note discussed the topics of the day and what life was like during his time.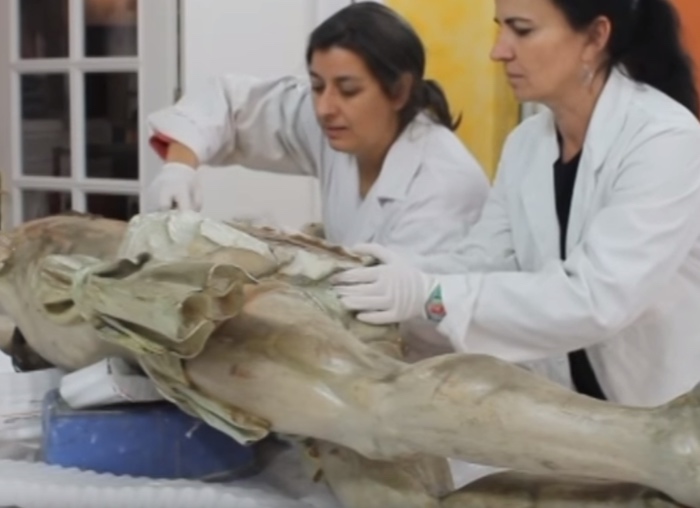 Author Dan Brown has made a career out of hiding messages in religious artifacts but we're not sure he ever thought to enclose a handwritten note inside the ass of Christ.
A statue of Jesus Christ in Spain has been hiding a 240-year-old secret message in a hidden compartment tucked into the statue's butt.
According to Spanish news website ABC, Cristo del Miserere had been removed from a church in northern Spain for restoration. During the cleaning process, workers noticed the hidden compartment beneath a cloth covering Christ's backside. Inside was a fascinating letter penned by Joaquín Mínguez in 1777.
A chaplain of the Cathedral of Burgo de Osma, Mínguez's letter "discussed the statue and others created by the same sculptor and detailed what life was like in the community 240 years ago."
"Mínguez described popular games of the day, including cards and ball, and noted that typhoid and malaria were common. He also revealed that the main crops were wheat, rye, barley and oats, per El Pais."
The original letter will be sent to the archbishop and a copy put back into the statue's backside for prosperity purposes.
Do you have a fascinating job or hobby? We want to hear about. Tell us more here.
CHECK OUT OUR ARCHIVES FOR MORE ODD NEWS STORIES AND FOLLOW ODDEE ON FACEBOOK and TWITTER.
Want to tell your strange story?
Tell us about it
and it could be featured on Oddee. You can remain fully anonymous.