1

An anxious goat channels her inner chicken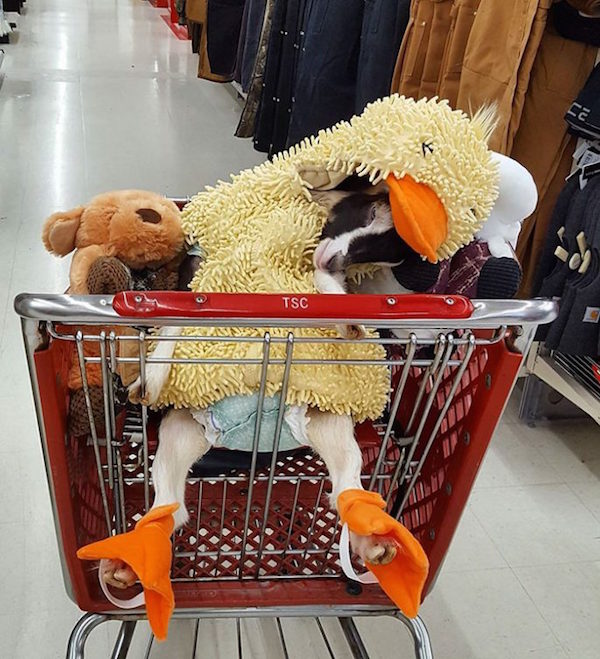 2016 was not chock full of delightful stories (as you'll see below), but this tale will certainly warm the coldest heart.
Meet Polly, who lives with Leanne Lauricella of Goats of Anarchy, a sanctuary that looks after rescue goats with special needs. Polly suffers from anxiety, along with other serious health issues including blindness and neurological problems, and cries when she can't locate her owner. During Halloween, Leanne put a child's duck costume on Polly for a photo, and, lo and behold, the anxious animal fell asleep! She believes the costume works in the same way as being swaddled in a blanket, and now uses it (and other costumes) to bring Polly back to a state of calm—and it works every time.
2

News crew robbed while covering an anti-robbery news conference in D.C.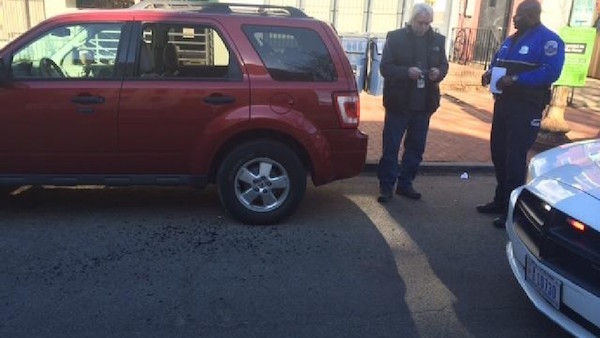 Irony was the name of the game in 2016 (check out Oddee's 9 Ironic New Stories for more). In January, a WJLA News car was broken into while the crew was attending a press conference held by D.C. Mayor Muriel Bowser and Police Chief Cathy Lanier to discuss a Task Force created to fight robberies. Thieves smashed a window and stole a cache of equipment within view of where the mayor and chief were speaking, only 100 feet away.
3

A man stopped going to work—and nobody noticed for SIX years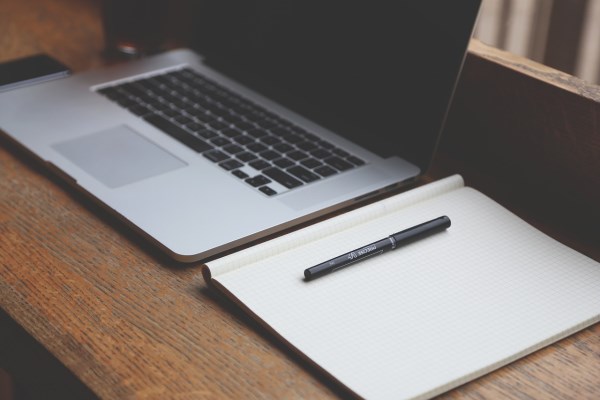 Like a real-life version of Office Space, Spaniard Joaquín García stopped showing up for his job for at least six years—and possibly as many as 14.
The 69-year-old civil servant was due to collect an award for two decades of loyal and dedicated service when it was discovered that he had not, in fact, shown up to work for several years, despite still receiving a paycheck.
A court fined Garcia €27,000 (£21,000)—the equivalent (after tax) of one year of his annual salary. He claimed he was the victim of workplace bullying because of his family's socialist politics and had been deliberately sidelined at the water board, but had been unwilling to report the allegations of harassment because he "had a family to support" and was worried that he would not find another job at his age.
4

Fake news causes real problems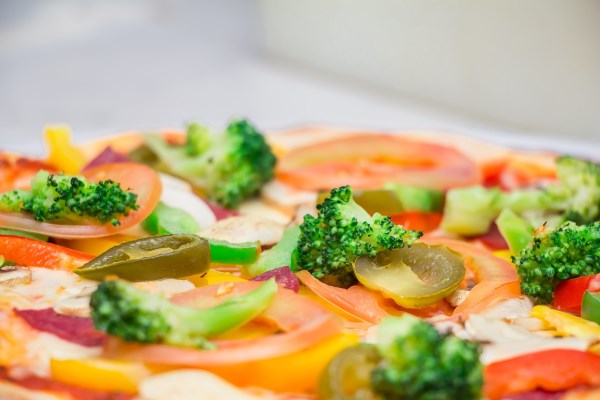 Fake news—it likely influenced the U.S. election, and, in some instances, has indirectly threatened the lives of innocent people.
Take, for example, "Pizzagate," an obviously fabricated story accusing Hillary Clinton of leading a child sex trafficking ring at Comet Pizza in Washington, D.C. Edgar Maddison Welch, of Salisbury, North Carolina, fired an assault rifle multiple times inside the pizzeria while he claimed he was investigating the story. He surrendered "when he found no evidence that underage children were being harbored in the restaurant." No one was hurt in the melee and Flynn is now facing federal charges.
As strange as it may seem, some still believe Pizzagate to be true. A Philadelphia man—who's also an infamous Donald Trump supporter—burst in on Christmas Mass at The Cathedral Basilica of Saints Peter and Paul to scream at the congregation about Hillary Clinton's nonexistent child sex slavery ring. "Pizzagate is real! Pizzagate is real! The Catholic church has been sexually abusing children. Thousands of them for decades," the man filming the video shouts as rows and rows of congregants at the Catholic church turned around in shocked horror.
5

2016 was a tough year for some iconic figures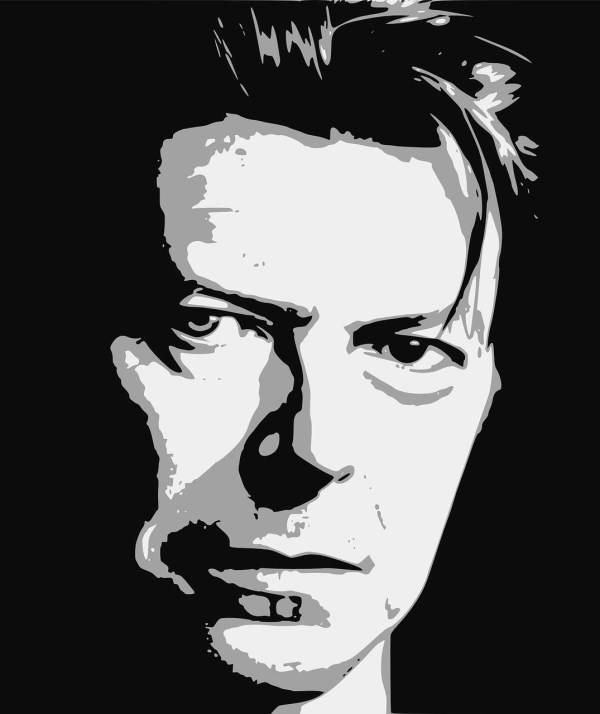 David Bowie. John Glenn. Leon Russell. Arnold Palmer. Leonard Cohen. Alan Rickman. Just recently, George Michael and Carrie Fisher. And then Debbie Reynolds, Carrie's mother, who died Wednesday at 84.
Was this year deadlier in celebrity losses than any other before it? No, but there are some legit reasons we believe we're witnessing an explosion of celebrity deaths, explains Joshua Gamson, a sociologist of celebrity culture at the University of San Francisco. He explains: "If there's a sense of more famous people dying, that's partly because there's a phenomenon of more celebrity supply from a certain period of time that is now reaching middle age and late middle age." Combine that with the quickness we now receive news, the changing idea of celebrity and otherwise awful real-world events adding to the sense of doom, and yes, for many 2016 was pretty awful. Check out some of famous faces we lost this year in the video below:
6

A man finds a real-life pot of gold—and runs off with it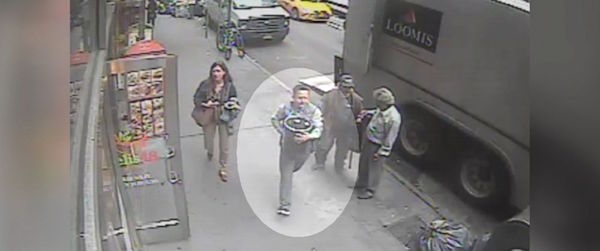 In an age of constant surveillance, Julio Nivelo has seemingly gotten away with the impossible—in September, he stole an 86-pound bucket of gold flakes (valued at $1.6 million) in broad daylight from the back of an armored car parked on a Manhattan street.
Nivelo is a 53-year-old career criminal who has used several aliases including Luis Toledo and David Vargas, among others. He's been arrested and deported several times to his native Ecuador for other robberies and is currently believed to be hiding somewhere in Los Angeles.
7

Participation in an Internet trend leads to arrests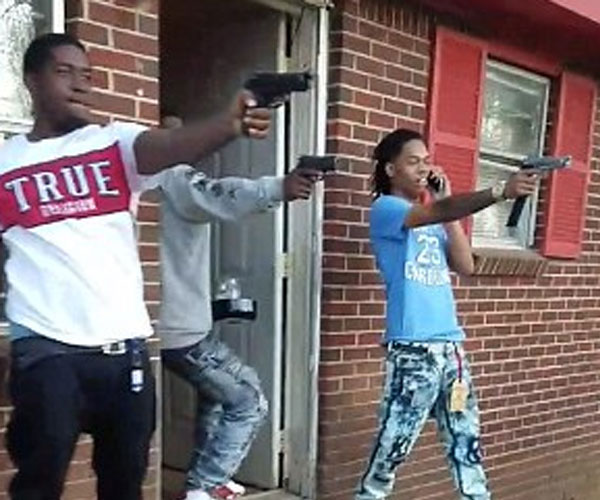 An innocent fad led to the arrest of drug dealers in the Huntsville, Alabama area when a group of at least 19 people posed with guns and vehicles as they recreated the Mannequin Challenge. The video of the stunt was uploaded to Facebook has been viewed by several million people. One viewer was so concerned about the number of weapons seen in the video, they informed Madison County Sheriff's Office investigators of its existence.
Officials were quickly able to identify the home where the stunt was filmed and determined that it was a drug den. A search warrant was issued, and police recovered two handguns, an assault rifle, an older single-barrel shotgun, an attack vest, multiple packs of marijuana, ammunition, magazines for the assault rifle, and a computer. Kenneth White, 49, and Terry Brown, 23, were charged with marijuana possession and possession of firearms by a convicted felon.
8

Woman drives with a homemade license plate and hopes no one will ever notice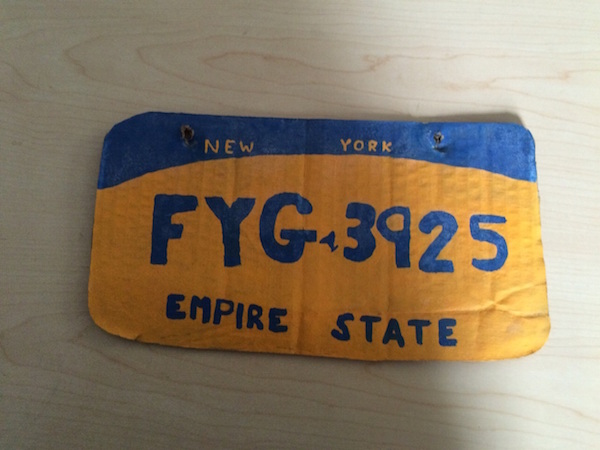 Handmade doesn't always mean quality, and in the case of one Western New York woman, it led to an arrest.
28-year-old Amanda Schweickert of Springville, NY was pulled over after an Erie County Sheriff's deputy noticed that her license plate just didn't look right. Upon closer inspection, he discovered it had been fashioned from cardboard and then painted to look legit—it didn't, and Schweickert was arrested. She was charged with one felony count of possessing a forged instrument, one misdemeanor count of operating a vehicle with a suspended registration, and three vehicle and traffic infractions.
9

The craziest things the TSA found at airport checkpoints in 2016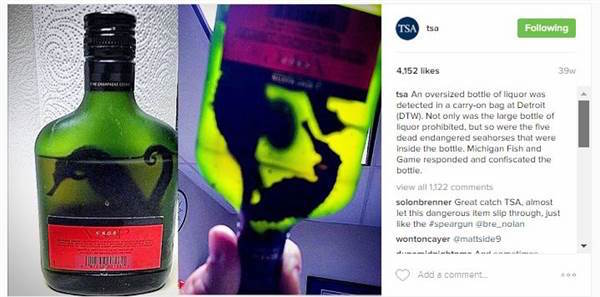 Wondering what you can and cannot bring on a plane? Well, dead seahorses, phony explosive vests, and hand grenade-shaped objects are definitely on the list. That right, the TSA (Transportation Security Administration) has released a video of 2016's strangest items found at airport checkpoints and it certainly doesn't disappoint.

10

The election outcome most of the world never expected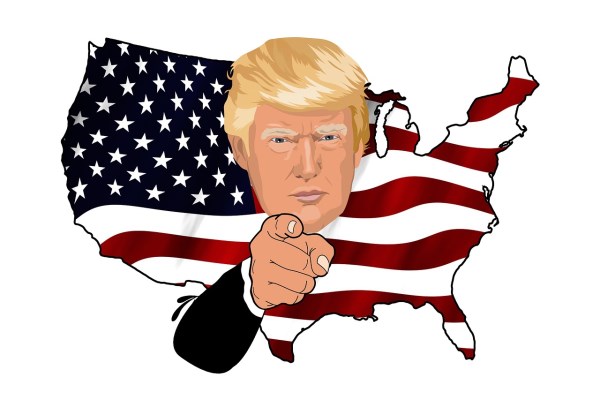 "You have to admit he shocked the world," boxing promoter Don King (pictured above) said. That's an understatement, Don.
Despite more daily inappropriate tweets than one can shake a stick at, a possibly Russian-hacked election, the loss of all three debates, and his opponent winning almost three million more ballots in the popular vote, Celebrity Apprentice host and businessman Donald J. Trump will be the 45th president of the United States. It doesn't get weirder than that, folks. Happy 2017!