1

Roasted Chicken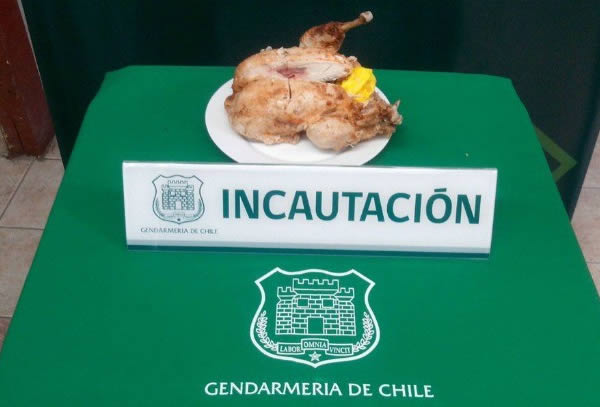 In June 2016, Chilean police seized a roast chicken stuffed with marijuana being smuggled into a prison in Casablanca.
During visit hours, one of the inmates received this special gift. However, the real "entrustment" was discovered during the inspection of the item.
The guards took notice and those responsible for delivering the dish were detained.
2

Chocolate Icing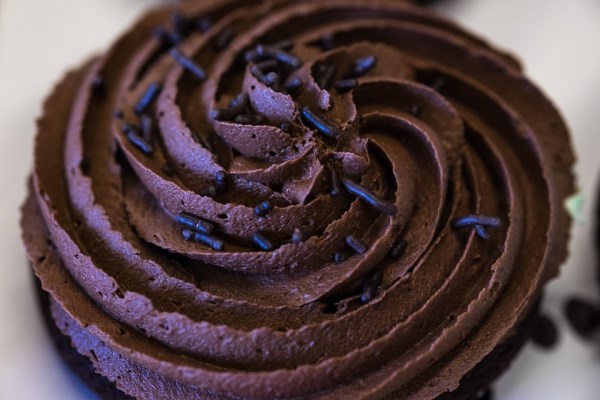 U.S. Customs officers in Cincinnati have found drugs hidden in the weirdest places. Officials used an X-ray on a tub of chocolate icing after finding some irregularities—they discovered a sealed back with 2.5 pounds of heroin inside the chocolate.
Other recent smuggling attempts include methamphetamines hidden in ceramic statues, tortilla presses, and toy Ferris wheels.
3

A stuffed lion wearing a D.A.R.E. (Drug Abuse Resistance Education) t-shirt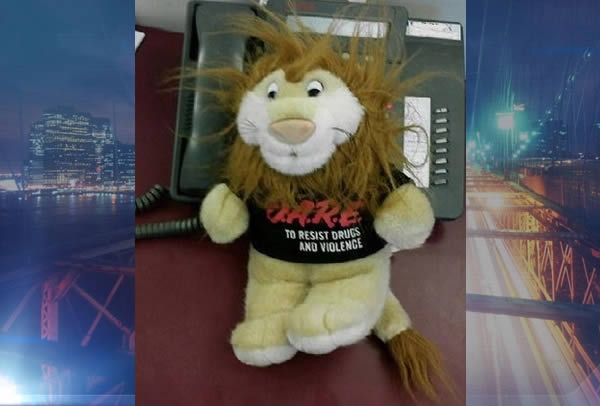 In 2014, a 22-year-old upstate New York man was arrested for possession of marijuana, cocaine, and LSD—all hidden inside a stuffed animal that was dressed in an anti-drug T-shirt. And you thought irony was dead.
Gregory Bolognese, of Plattsburgh, was arrested at a bus station near the Canadian border. He was found with two grams of pot, about a half-gram of cocaine and LSD inside a stuffed lion wearing a D.A.R.E. shirt.
D.A.R.E. stands for Drug Abuse Resistance Education, a program that aims to educate young people about staying away from drugs, gangs, and violence.
Some lessons are just harder than others.
4

A Passenger's "Bulge"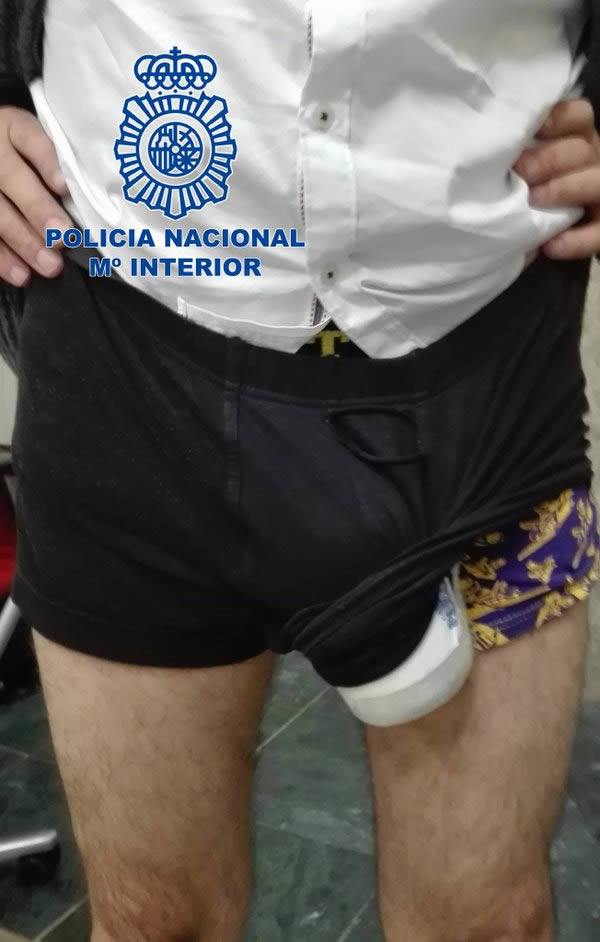 The old joke, "Is that a bulge in your pants or are you just happy to see me?" has new meaning these days.
Police officers in Spain arrested a male passenger upon landing in Madrid after noticing a rather large bulge in his pants between his legs. After further inspection, police found almost half a kilo of cocaine. The 43-year-old man was traveling from Costa Rica when he was stopped.
Police initially found nothing during a routine bag search but grew suspicious when they saw the aforementioned bulge.
5

Trojan Horses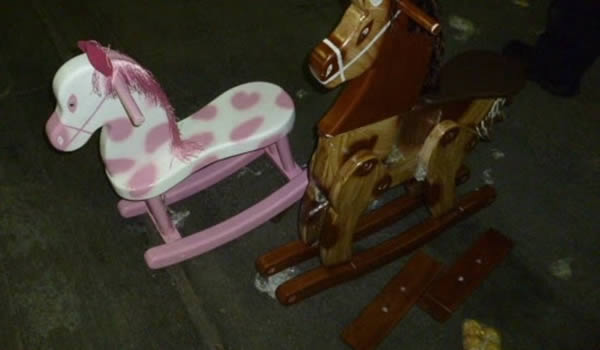 In 2014. Federal authorities stopped 29 pounds of cocaine from entering the U.S. hidden in two wooden rocking horses.
A Customs and Border Protection officer arrested a Mexican man as he tried to walk on foot through a border checkpoint in Calexico, California, carrying the two rocking horses inside a suitcase. A drug-sniffing dog alerted the officer to the possibility of drugs.
The officer sent him for a more thorough screening, where they scanned the horses, spotted anomalies inside the wood and drilled inside. They found ten packages of cocaine, weighing 29 pounds, with an estimated street value of $377,000.
The man, Ulises Feliciano Sarabia-Barraza, said he had been paid $2 to smuggle the cocaine across the border.
6

Breast Implants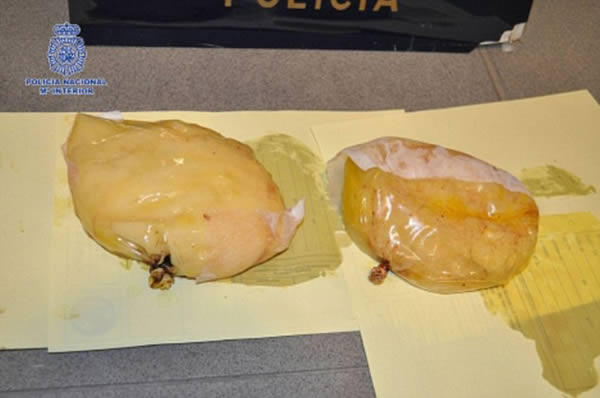 In 2014, a Venezuelan woman with 1.7kg of cocaine hidden in her breast implants was arrested at Madrid airport after arriving on a flight from Colombia.
"During a check of passengers on a plane from Bogotá, the gestures, and behavior of a supposed tourist raised the suspicions of narcotics agents," police said.
After a baggage search had revealed nothing, female officers conducted a body search of the 43-year-old woman and discovered "certain irregularities and deformations in both breasts." At that moment, the suspect confessed that she was carrying implants with cocaine inside.
The woman was taken to a hospital where the implants were removed and found to contain 1.7kg (3.75lb) of the drug.
7

Prosthetic Leg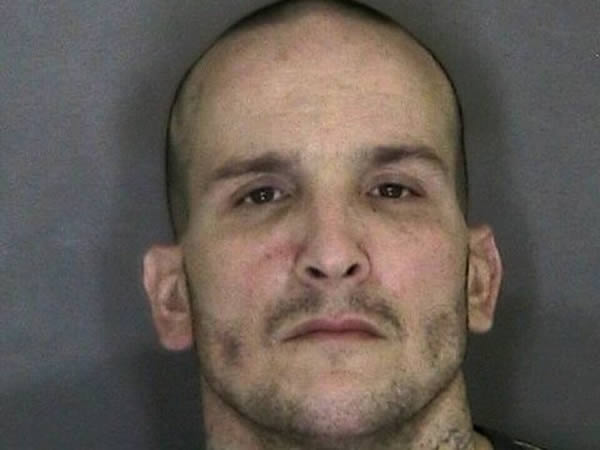 In February 2016, a 40-year-old man was caught trying to smuggle prescription drugs into an upstate New York jail in his prosthetic leg after being arrested for assaulting his girlfriend.
Officials say corrections officers at the Warren County Jail found Suboxone hidden inside a hollow in Terrance Seymour's prosthesis during a search. Sheriff Bud York said: "He can wear [the prosthetic leg] in here, but we have the right to check it."
Seymour, who lost a leg in a childhood accident, was charged with promoting prison contraband.
8

Children's Lollipops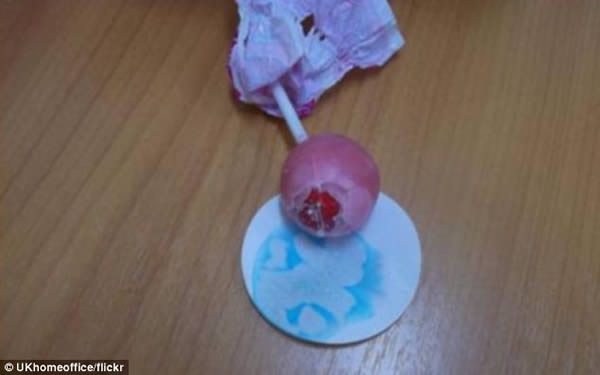 It may look like an innocent children's sweet, but this lollipop contains a potentially lethal secret—it is stuffed with cocaine. The candy was part of a haul seized by UK Border Force (UKBF) officers bound for the Accra airport in Ghana in 2012.
Smugglers had stashed around £200,000 ($310,000) worth of the drug inside the lollipops which were found in a suitcase. The Class A drug was then found when the lollipops were cut open. The seizure weighed around four kilos, half of which is believed to have been high-purity cocaine.
9

Kinder Surprise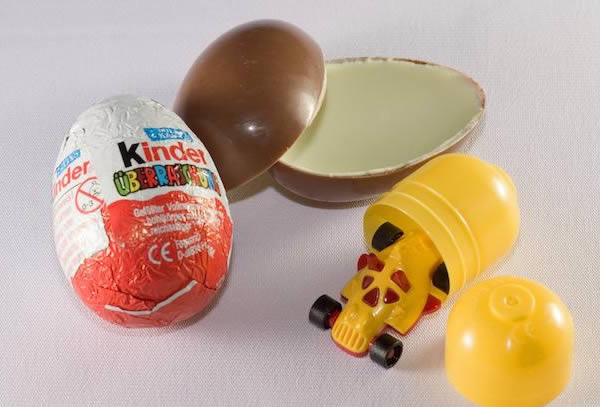 In a discovery that could potentially revolutionize the Kinder Surprise toy game, police found what they believe to be cocaine stuffed inside Kinder eggs at a London pub.
The eggs were found in garbage cans and on people who were "acting suspiciously" as they were walking towards Jono's Pub in Kingsbury. Police say this isn't the first time class A felony Kinder eggs have been found on customers in the pub, which was subject to half a dozen police call-outs in the last year, for incidents including burglary, theft, and violent brawls. Police said the pub turned a "blind eye" to illegal activity, and its license is now under review.