1

The San Antonio Spurs that sneaked up on an Australian reporter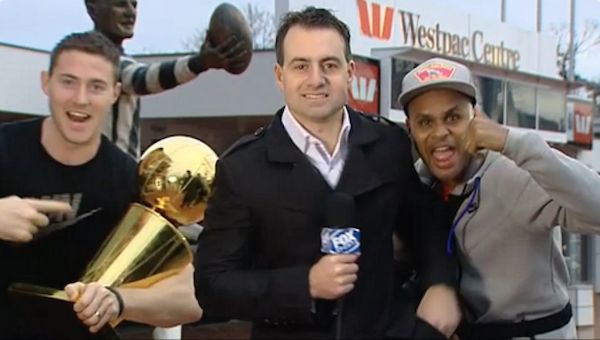 Julian de Stoop was not pleased as two obnoxious men barged into his shot while he was reporting on the Australian Football League for Fox Sports Australia. Angry, he shoved them out of the way. However, he didn't know that he was shoving away San Antonio Spurs guard Patty Mills and Larry O'Brien Trophy-carrying forward Aron Baynes. He wrote a short story on news.com.au, explaining the situation:
"I can honestly say that this is the first time I've been punked by a bloke with a newly-minted three-year $12 million NBA contract. And I'm pretty confident in saying that I've never previously been photobombed with a major US sporting trophy."

2

College Gameday like you've never seen it before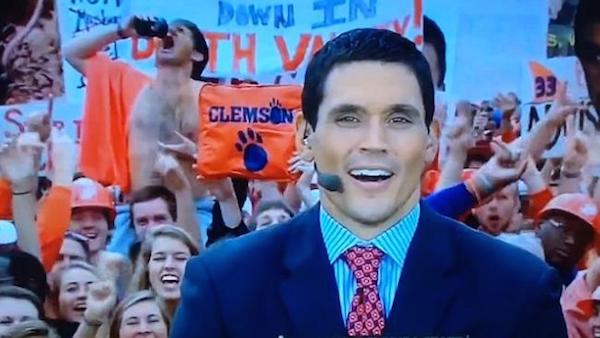 Check out this drunken College Gameday videobomb of ESPN reporter David Pollock during the Clemson vs. Florida State College game on October 19, 2013. It's keeps going, and going, and going...

3

The reporter who probably wishes he was anywhere else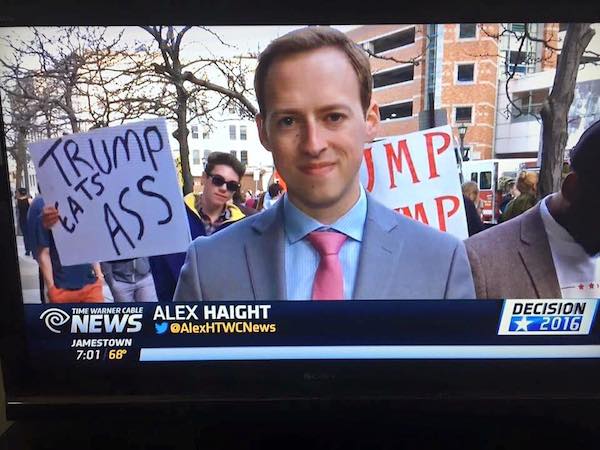 That's what we think anyway, judging by the look on reporter Alex Haight's face at a Buffalo, NY Trump protest in April 2016.
4

Even unicorns in tutus want their 15 minutes of fame
WLTV Good Morning Jacksonville reporter David Williams was reporting on a fire. Nobody was injured, but during the report for the 6 pm broadcast, a woman—wearing a unicorn's head, a pink tutu, and leotard—appeared to taunt Williams by running up to the reporter, waving her arms in the air and making bizarre noises. Watch as he remains stoic throughout the encounter. We have to admit, we would have lost it:

5

A surprise kiss from a singer/songwriter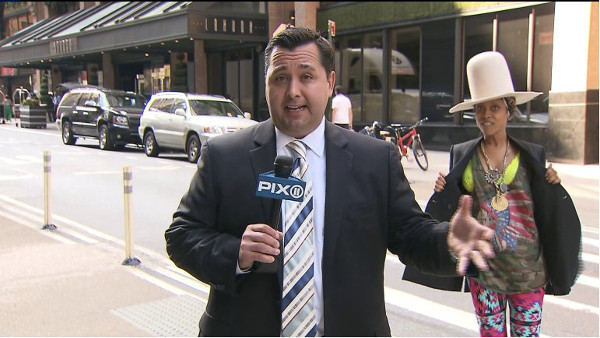 Check out a "crazy woman" who tried to spring a kiss on PIX11/New York?s Mario Diaz during a live report. Oh, wait, that's no crazy woman, that's singer/songwriter Erykah Badu!
6

A local news rivalry plays out on live TV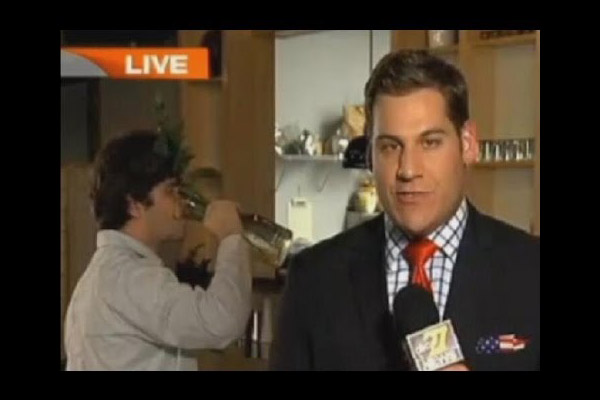 In the middle of a live broadcast from Pennsylvania state representative Patty Kim's 2014 victory party in Harrisburg, a man in the background casually and enthusiastically drinks from a vase of flowers. It turns out it was part of a weird, elaborate local TV rivalry. Keep it classy, Harrisburg.
7

They're too sexy for their shirts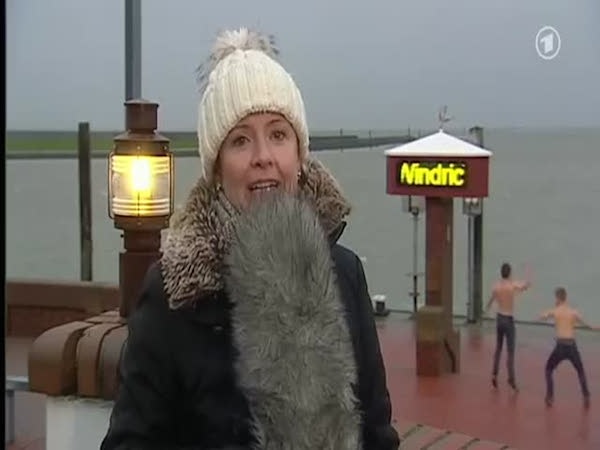 The threat of an impending hurricane wasn't enough to scare the pants off these two buff Germans, but they were more than happy to remove their shirts and do a sexy dance for news cameras during a live storm update in 2013.
8

The most metal videobomb of all time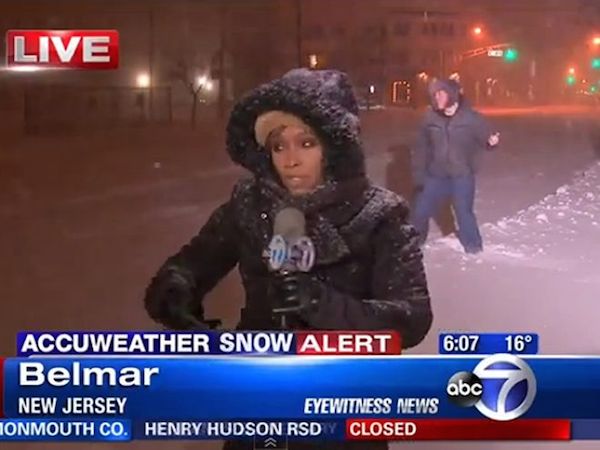 In 2014, a local ABC affiliate sent one of the members of their Eyewitness News Team out onto the snowy streets of Belmar, NJ for a quick on-air hit. As the reporter dredged around the snow, a (possibly toasted) metalhead suddenly wandered into frame—or, more accurately, made his way from the darkness on the edge of town towards the light of the camera. Somehow, he instinctively knew that the camera was in the middle of a live shot, so he put his best air guitar moves on display and rocked the F*CK out!

9

A streaker steals the show on Australian TV
Check out a guy in Port Kembla, Australia, who decided to drop his trousers to videobomb this live news report. Sporting only a white t-shirt and the hat on his head, he waves and smiles in the background unbeknownst to Channel 9 reporter Mike Dalton. Dalton was covering the demolition of the 650ft tall Port Kembla smoke stack, but it looks like the nude guy stole the show.
10

A couple makes out in protest of a possible action against gay rights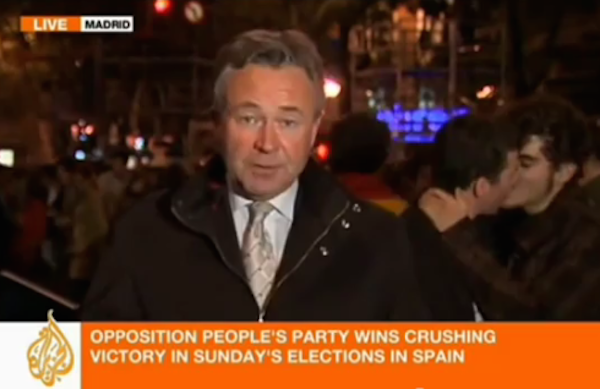 In 2011, the landslide victory of opposition leader Mariano Rajoy and his conservative Popular Party over the ruling Socialist Party—which suffered its worst defeat since the start of the post-Franco era—was widely viewed as a threat to same-sex marriage, which became legal in Spain in 2005. Watch below as a live Al Jazeera news report on the election gets videobombed by two guys furiously sucking face.

11

A surprise A-list videobomb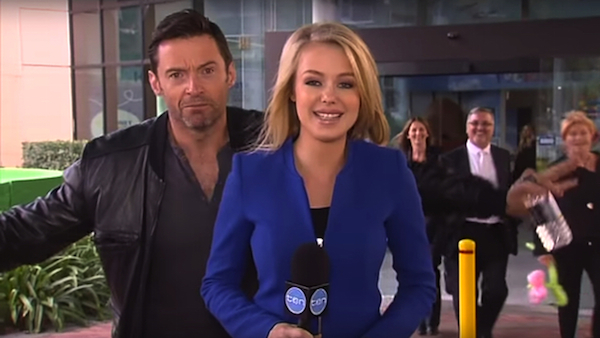 Watch as A-lister Hugh Jackman videobombs Australian reporter Jessica Turner of Channel Ten outside Sydney's Children's Hospital. Jessica said, "I kind of heard someone yelling behind me, but like all reporters, I'm practiced at blocking out any background craziness and staying focused, so I carried on. Until the Wolverine practically had his arms around me! 'Photobomb!' Hugh yelled. I was so shocked; I couldn't believe this mega-star just punked me! I couldn't help but laugh."
12

The videobomber with the thousand yard stare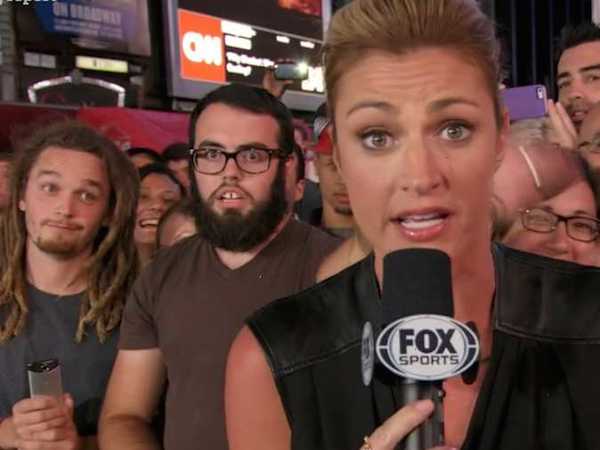 Fox Sports reporter Erin Andrews was giving a quick report on Bruno Mars headlining the 2013 Super Bowl halftime show, when this random bearded man (and his friend) stole the show with this incredible deer-in-headlights videobomb.