1

Donald Trump Piñata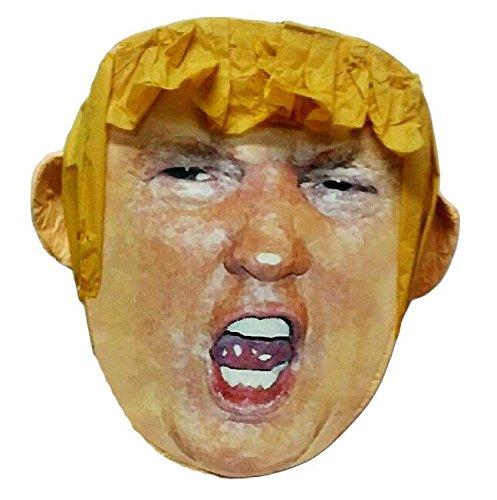 Mexicans have found a way to hit back at Donald Trump—literally. Piñatas, bearing Trump's likeness with "a flange of blonde hair and a big mouth," have hit store shelves in Mexico and are proving popular with customers eager to protest the billionaire's recent remarks about immigrants.
Trump, who is a Republican candidate for president, drew criticism after declaring that Mexico was bringing "drugs, crime, and rapists" to the United States. The Donald's comments prompted piñata maker Dalton Ramirez to design a piñata bearing Trump's visage. The candy-filled sculpture retails for about $40, and Ramirez says it has been flying off shelves.
2

Trump's Hair Shoes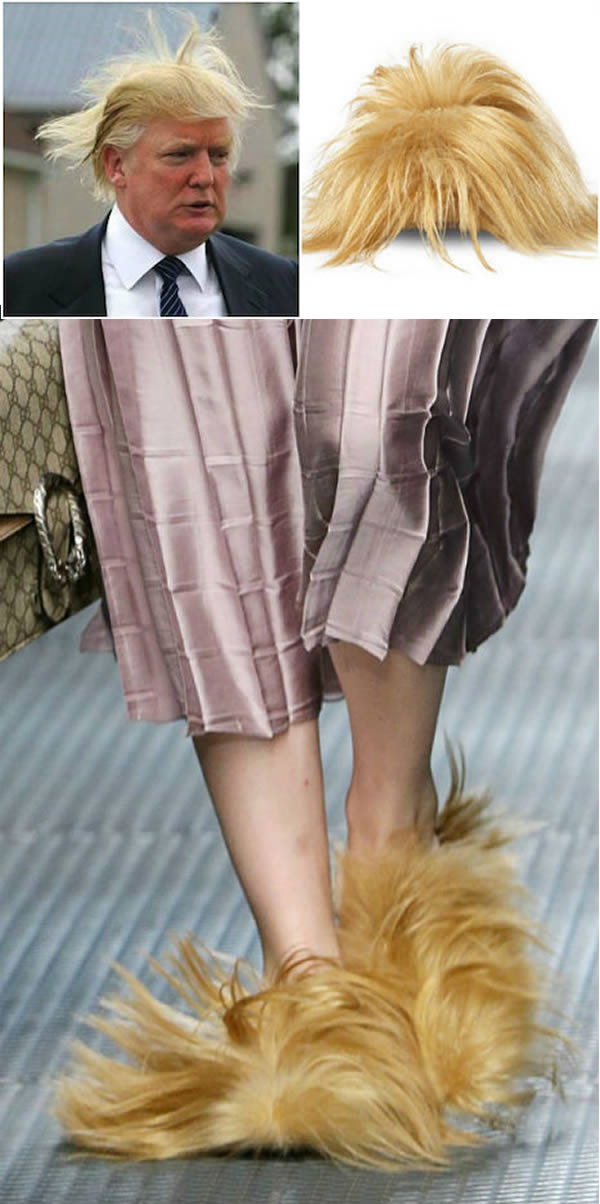 In a move that seems intentional, high-end fashion house Gucci have put out a slipper made from goat hair that looks just like the mythical mop on top of the current GOP Presidential front-runner's head.
Gucci's "Princetown Goat-Hair Mules" retail for a whopping $1,800. Despite their uncanny resemblance to what people refer to as Trump's "hair," it's important to note that Gucci dyed the goat hair in order to achieve its, er—Trumpy—look that Gucci describes as "New Natural."
3

Donald Trump Cloth Sanitary Pads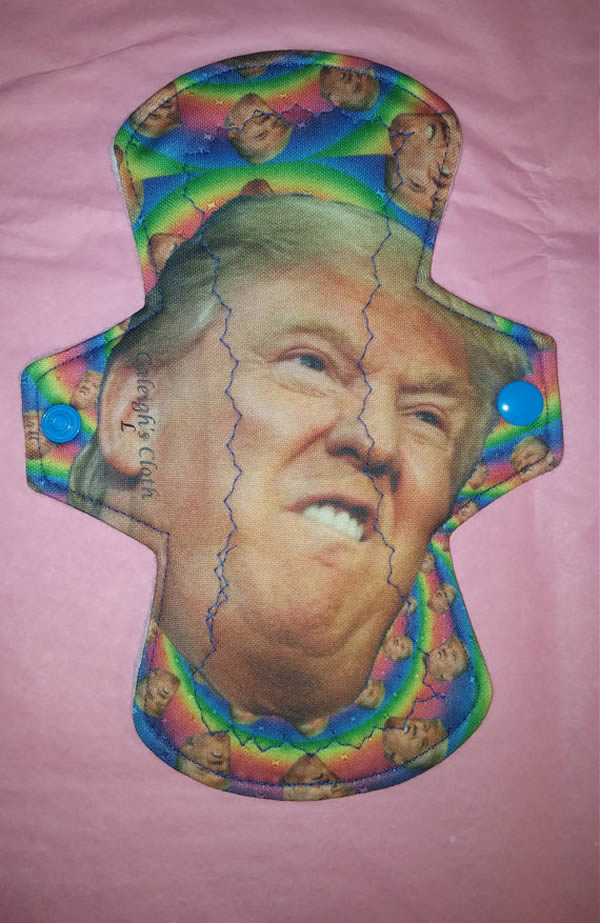 With her personal slogan being "Bleed on Trump 2016," Etsy seller CaleighsCloth is offering personalized cloth sanitary pads with Donald Trump designs.
The seller decided to produce the product in the wake of Trump's remarks about Fox News anchor Megyn Kelly. Kelly, the moderator of the first GOP presidential debate, angered Trump by asking him tough questions.He then appeared to imply that the journalist had been on her period in comments on CNN the day after the debate.
When asked by CNN's Don Lemon about the back-and-forth between himself and Kelly during, Trump replied, "You could see there was blood coming out of her eyes. Blood coming out of her—wherever."
4

"Make Donald Drumpf Again" Caps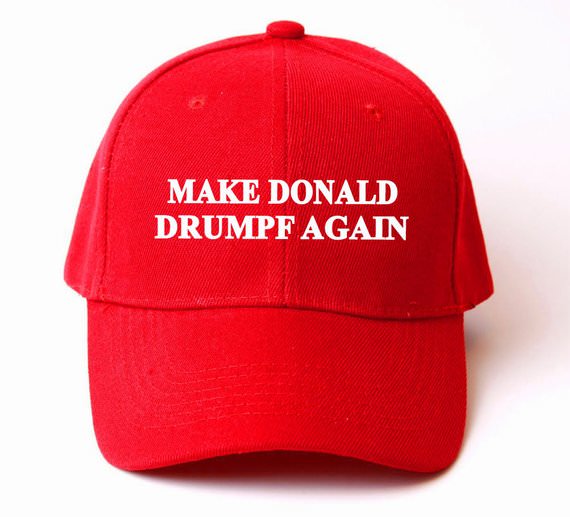 News from a Newark, New Jersey, hat manufacturing company might be the best thing we heard during the whole campaign—Trump's reputation might be recessing into the shadows of his ancestral, less elite sounding surname. According to sales, John Oliver's parodic "Make Donald Drumpf Again" hats have become more popular than the businessman and GOP front-runner's "Make America Great Again" hats.
All hats are being sold at cost because we know nothing would irritate Trump more than someone choosing not to make a profit.
5

Trump Butt Plugs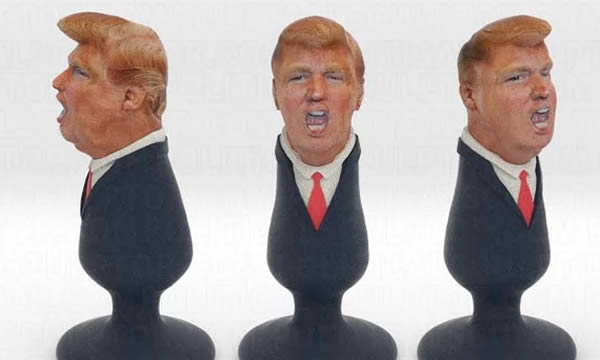 Artist Fernando Sosa has found a novel way to protest Donald Trump's comments about Mexican immigrants—he's turned the Republican presidential candidate into a butt plug.
Sosa used 3D printing technology to create the decidedly unofficial merchandise, which he is selling from his store for $29.99. The plug is made from full-color sandstone, promising "a coarse finish and a delicate feel."
"I usually make Butt plugs to insult dictators, homophobes, and politicians. However, when I heard Donald Trump's remarks about Mexicans and Latinos from South America I was extremely angry," explained Sosa in the product listing, adding that he was born and raised in Mexico before moving to the US at 11.
6

Trump HUUUUGE Condoms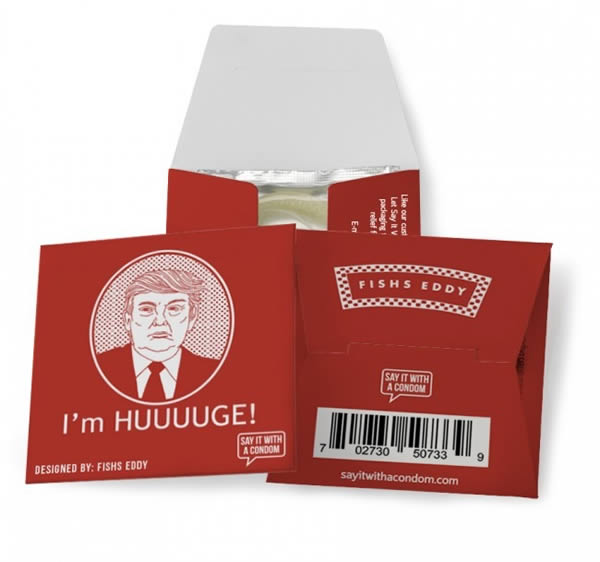 Home decor brand Fishs Eddy collaborated with SayItWithACondom.com to create the number one, must-have item for your next night out—a Donald Trump-inspired condom.
While the product itself is just an ordinary condom, the bright, Republican red packaging touts a lovely portrait of the presidential hopeful with the quote, "I'm HUUUUGE!" on the front. The one thing everyone wants to hear (loudly) when they're getting in the mood.
"These condoms are 'tremendous'—not really, they're standard-sized," says the website. But even so, they are just as effective in preventing disease and pregnancy. Even Trump can get on board with that.
7

Website Detect Friends Who Like Trump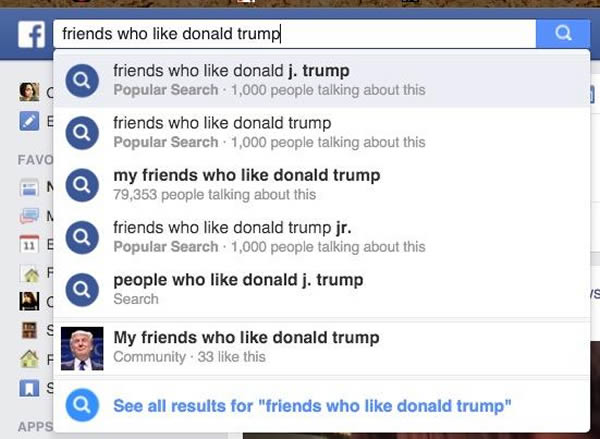 You might not realize it but some of your—yes, your!—friends like Donald Trump on Facebook. Now, there's an easy way to find out who they are.
Created by Gabriel Whaley, the website, FriendsWhoLikeTrump.com shows users who among their Facebook friends like the controversial presidential candidate. It's always been possible to create a list of your friends who like Trump (or anything, for that matter) by typing "My Friends who like X" into Facebook's search bar, but Whaley's site makes it easier and infinitely shareable.
8

Trump Cat Scratching Post
A Canadian company is seeking funding to develop a line of scratching posts designed to resemble various political figures. Kickstarter campaign "Politikats" offers designer scratching posts resembling Donald Trump and other presidential candidates.
"Politikats is here to help save your belongings and make your home look stylish, but most importantly turn you from crazy cat person to political junkie with a taste for the finer things in life," the Kickstarter page read.
Each scratching post is composed of sisal rope and stands about 26 inches tall. It also includes a 15 x 15 base available in three colors: red, blue and gray. If funded, the scratching posts are expected to ship worldwide in August 2016.
9

Trump Footlong Hot Dog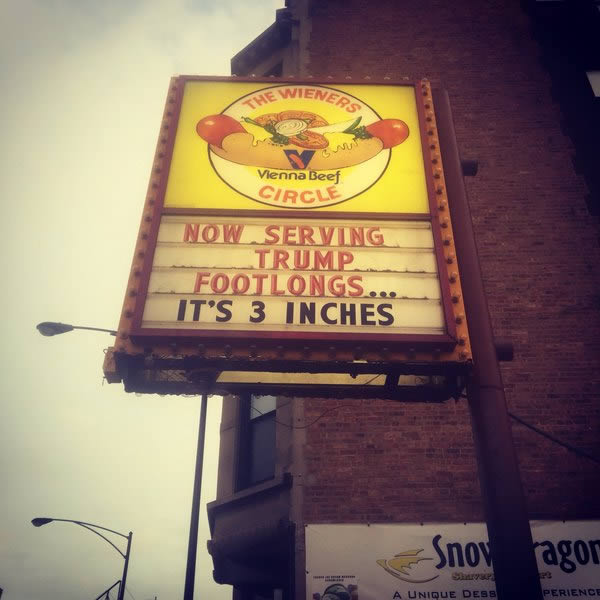 The Wiener's Circle, a Chicago hot dog vendor, is doing a promotion reinventing "The Art of the Deal" as "The Art of the Meal," complete with a menu as honest as Trump University's course catalog and as humble as the candidate himself.
"The Trump Footlong" is, according to the vendor's tweet, "3 inches of the best tasting, most flavorful beef you've ever had."
The trump footlong! At te wiener's circle starting tomorrow! Just look at those long, resplendent fingers! pic.twitter.com/kYezqMT5De

— The Wiener's Circle (@DOGSnSHAKES) March 10, 2016
The vendor is referring to the GOP front-runner's response to Marco Rubio during the Republican debate in Detroit, in which he said that Florida senator mentioned his "hands—[and that] if they're small, something else must be small. I guarantee you; there's no problem. I guarantee you."
Trump was scheduled to host a rally in Chicago, and the Wiener's Circle was hosting its "Make Wieners Great Again" promotion to coincide with it.
10

Anti-Trump Beer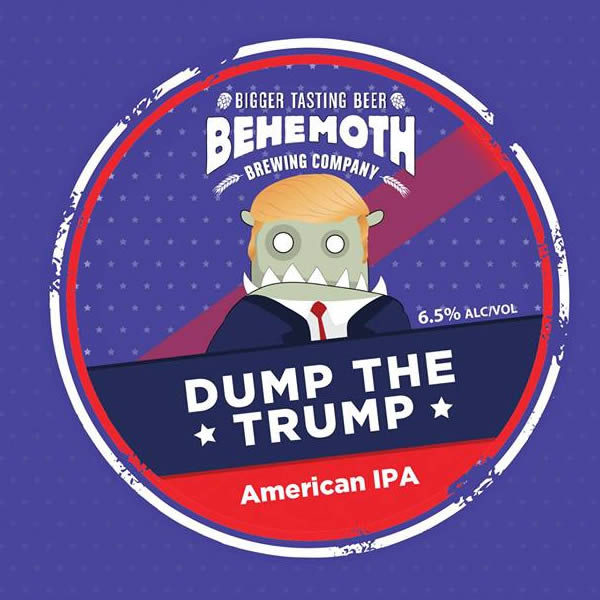 For some, the prospect of Donald Trump becoming the United States president is a bitter pill to swallow, but what if it was a bitter beer? Auckland-based brewery Behemoth has answered the question head-on, with the release of "Dump the Trump." The American IPA also features a caricature of the well-coiffed candidate on the label.
Owner Andrew Childs said he decided to name his next beer after Trump as a form of protest. "I'm just a complete and utter American politics geek; I take the day off to watch it."
The beer, which was brewed in Christchurch, consists of mostly American hops but also had a sprinkling of New Zealand hops as a "protest" against Trump.
11

Trump's Luxury Toilet Seat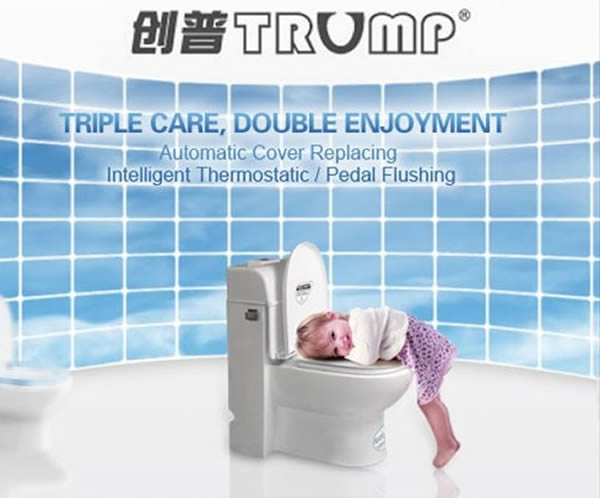 If Presidential hopeful Donald Trump fails to win a seat in the White House, there's a throne in China with his name on it. A bathroom fixture company in Shenzhen, South China's Guangdong Province, has made headlines recently for selling high-end toilets branded as "Trump."
Shenzhen Trump Industries, founded in 2002, has no affiliation with the US presidential candidate, but produces smart toilet seats and other bathroom fixtures for venues such as "high-end spas, hotels, and public institutions," according to the company website.
Toilet accessories are not the only Trump-branded items in China. Trump Electronics, based in Anhui Province, has been making air purifiers since 1996.