1

World's Largest Gingerbread Village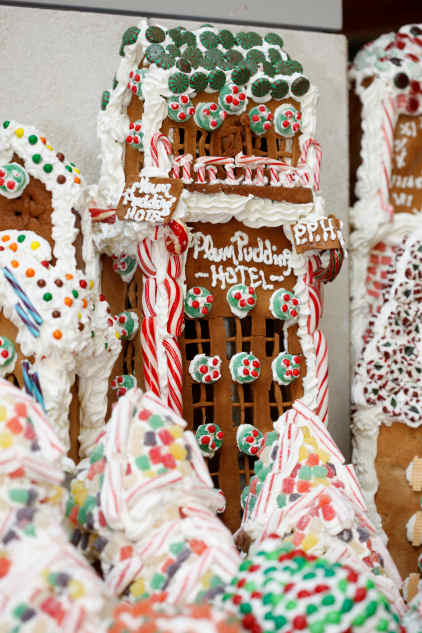 On December 2015, a New York City chef broke his own record to create the world's largest gingerbread village for the third straight year. Jon Lovitch, executive chef at New York City's Algonquin Hotel, is a newly-crowned Guinness World Record holder thanks to the 1,102-structure "GingerBread Lane" village he constructed in his New York apartment that is now on display at the New York Hall of Science in Queens.
With 164 separate structures that weigh in at a total of 1.5 tons, this isn't your typical gingerbread creation. There's a school, a town hall, an egg nog distillery, a pierogi store, a hot chocolate brewery, and a train station. Nearly 2,240 pounds of snow-like icing coat the miniature city.
2

Pizza Gingerbread House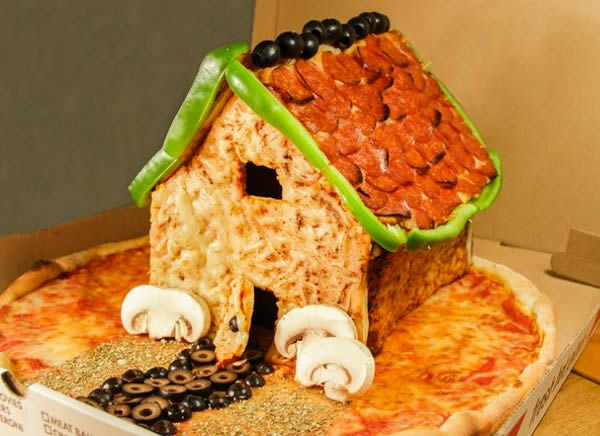 This is a holiday Pizza House built by Carrie Dennis. It's like a gingerbread house but made out of pizza. There are instructions on how to make your own over at Thrillist, which sadly include building an internal support structure out of cardboard, toothpicks and empty beer cans.
The idea comes from a fond childhood memory of Christmas from Dennis'—every year, her mother would make an elaborate gingerbread house. The task would take three full days. Dennis loved it, but as she affirms, "I am not my mother." So, she built a pizza house using plain cheese pizzas and a wide array of traditional toppings.
3

Star Wars Gingerbread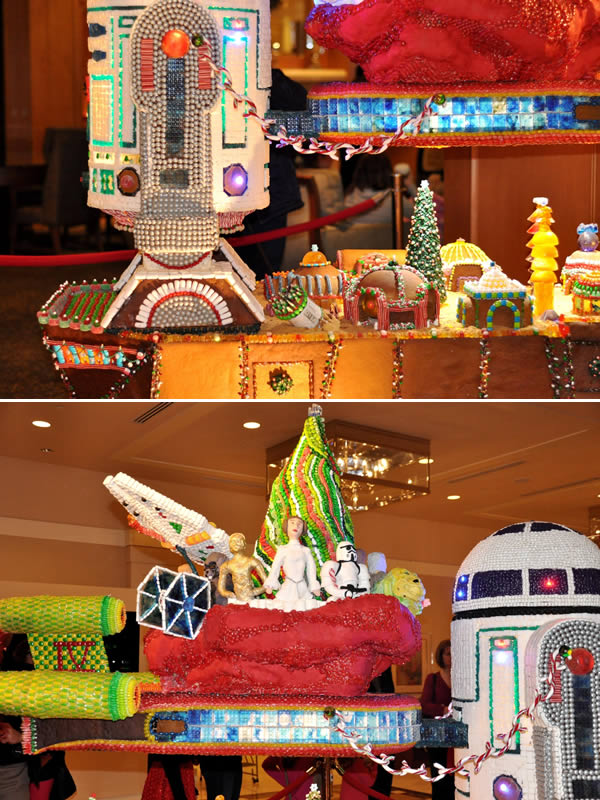 In the lobby of the Sheraton in downtown Seattle, there is an ambitious project six months in the making—a gingerbread village made of hundreds of pounds of candy and cookies capturing the struggle of Rebels, Jedis and Imperial forces.
Six large edible displays represent the six "Star Wars" movies in eager anticipation for the seventh's release. The displays were designed by six local architecture firms and Sheraton chefs.
4

Neiman Marcus' $15,000 Edible Ginger House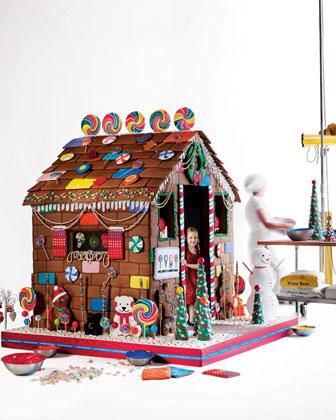 In 2010, luxury purveyor Neiman Marcus unleashed its annual Christmas Book featuring an Edible Gingerbread Playhouse by Dylan's Candy Bar, the famous Manhattan candy shop owned by Ralph Lauren's daughter, Dylan. The house, which was inspired by the film "Willy Wonka & The Chocolate Factory," was made of 381 pounds of gingerbread and 517 pounds of royal icing. It measured 6.6 feet high by 5.25 feet wide by 4.1 feet deep and was decorated with giant cookies, lollipops, gummies, mints, and gumdrops. There's a candy-encrusted roof and a lollipop tree inside. Price: $15,000.
5

The White House Gingerbread House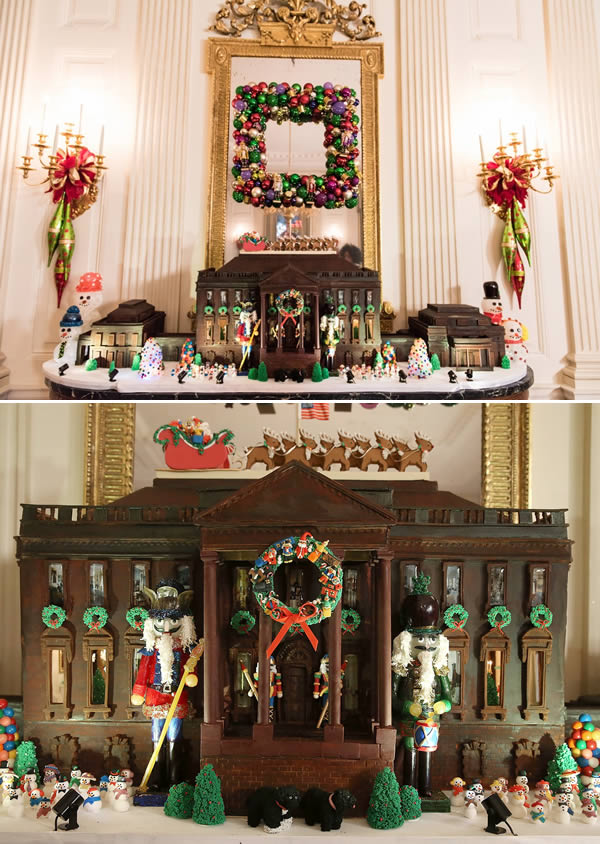 For the last 47 holiday seasons, intricate gingerbread displays have filled the White House State Dining Room, leaving many in awe of and hungry for their delectable beauty. This year, an estimated 68,000 visitors will pass by the 500-pound dark chocolate masterpiece designed by Executive Pastry Chef Susan Morrison.
6

Real House Transformed in Gingerbread House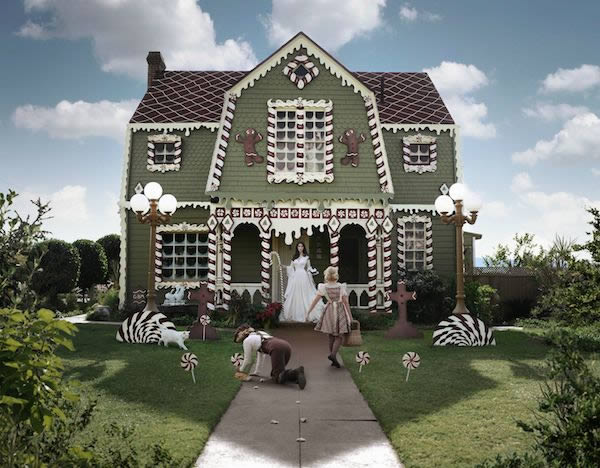 Christine McConnell is an artist that has a unique flair for decorating. For Christmas, she decided to transform her parent's house into a full-sized gingerbread house, with a few extra details I've not seen in a holiday-themed home before. She invited her nieces to pose as Hansel and Gretel for a fairy-tale twist! Christine did a similarly holiday-themed decoration on her parents home for Halloween, and it was equally impressive.
7

Functioning Gingerbread Bank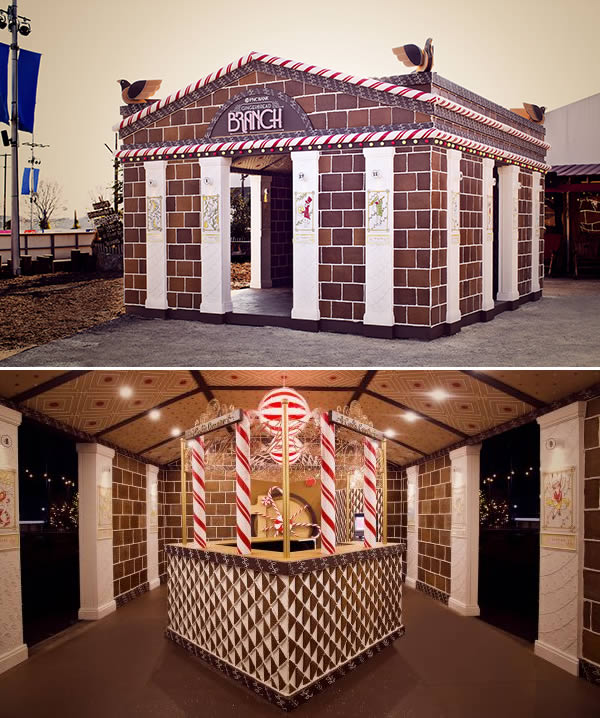 In 2015, PNC Bank opened a life-size gingerbread branch in Philadelphia to promote its annual holiday financial report that calculates the prices of all the gifts mentioned in the carol "The Twelve Days of Christmas." Created by Deutsch with some help from Philadelphia's Bredenbeck's Bakery, the 340-square-foot bank was made with 5,000 pounds of gingerbread. Those who came through its doors over the weekend could open an account with the bank or use a cookie-covered ATM.
At the gingerbread branch, which was open from December 4-6, kids could learn about the gifts and their prices from 12 columns crafted by pastry chefs.
8

World's Largest Gingerbread House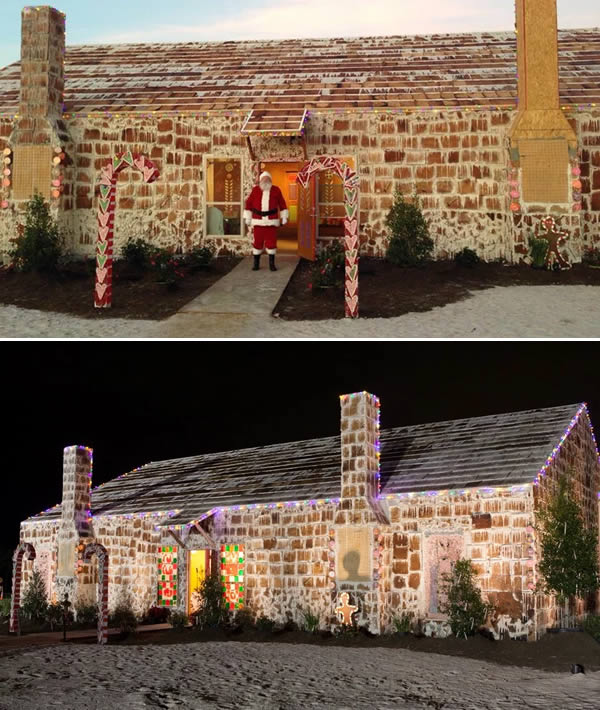 In 2013, in an attempt to live up to its larger than life reputation, the state of Texas became home to the world's largest gingerbread house. Located at the Traditions Golf Club in the city of Bryan, the massive gingerbread house measured 39,201.8 cubic feet (1,110.1 cubic meters) and officially holds the new Guinness World Record. This defeats the record previously held by the Mall of America in Bloomington, Minnesota, with its 36,600 cubic foot (1,036.4 cubic meters) gingerbread house.
9

Gingerbread King's Landing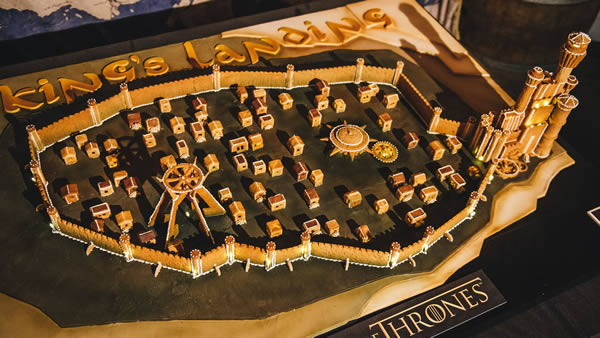 What's cooler than watching Game Of Thrones? A Game Of Thrones you can eat! For a Taste of London 2015, award-winning cake designer and sugar artist Michelle Wibowo created a replica of King's Landing, the Westerosi capital, made entirely out of gingerbread (plus a few sugary embellishments). It's got all the details— the Dragon Pit, the Great Sept of Baelor and, of course, the Red Keep.
10

Hogwarts Gingerbread Castle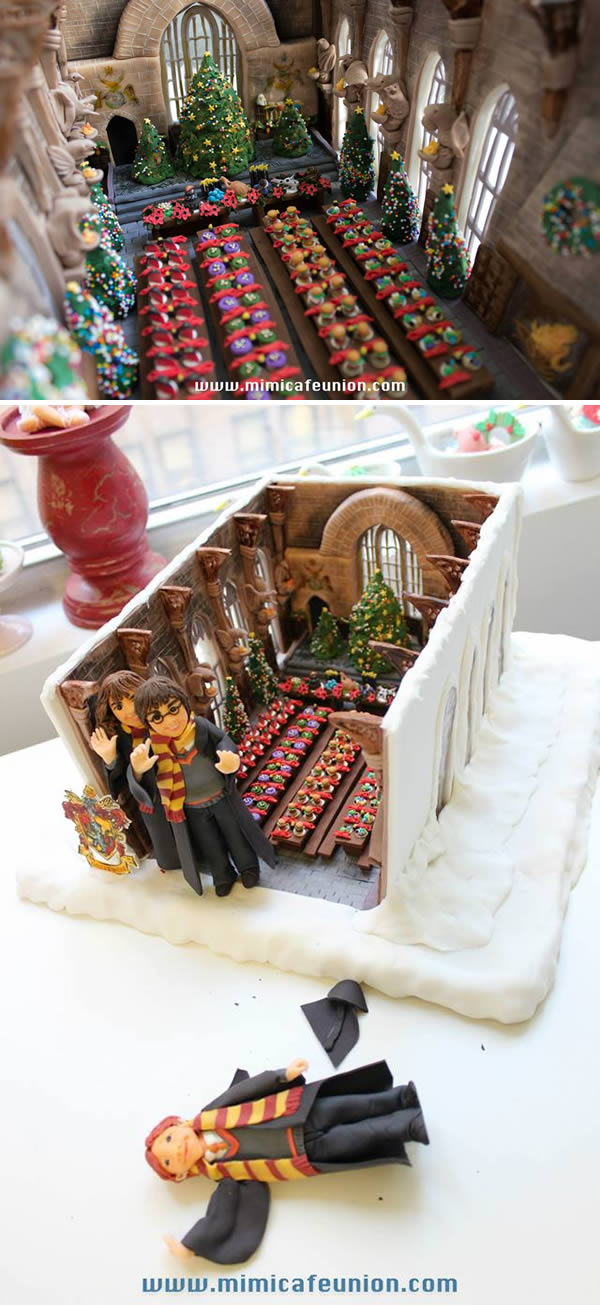 This amazing gingerbread Hogwarts Castle from Harry Potter was created by the Mimicafe Union in New York, and it looks as magical as the one in the films. Notice all of the Christmas trees around the hall— the detail is amazing!
The castle was created for Bake a Christmas Wish, a group of bakers who are raising money for Make-A-Wish UK, an organization that helps terminally ill children realize their dream. In addition to these amazing Christmas creations, each baker also created a tutorial that is for sale on the organization's Facebook page.