1

The man who build a Death Star on the roof of his house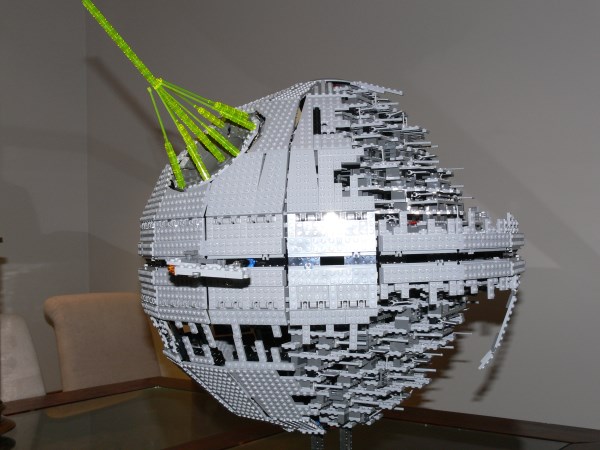 Uber-Star Wars fan Colby Powell made this amazing Death Star battle station on the roof of his house using 162 Geohub connectors, 2,000 feet of half-inch PVC conduit pipe in six different lengths, 18 cans of paint, LED lights, two T-10 parachutes to cover each half and a crane to put it in place.
Powell, who currently works in construction, said he built the 23-foot-diameter geodesic Death Star for Halloween and had intended to take it down after the holiday but has decided to keep it up until the release of the movie. "So many people said 'I want to show my friends, I want to bring my neighbors over' so I'm probably going to keep it up until mid-December," Powell said.
2

The DJs who created the ultimate Star Wars/Biggie mashup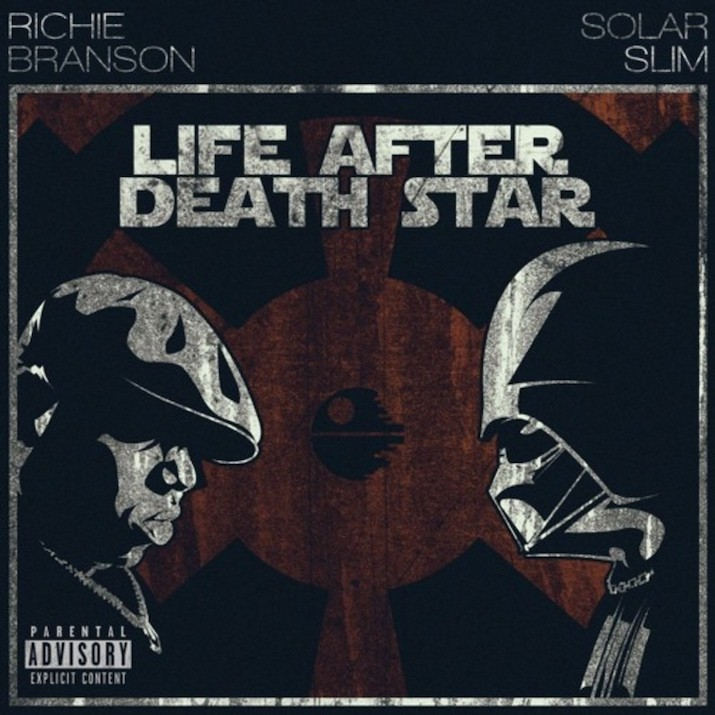 The late Notorious B.I.G. and Star Wars aren't exactly two things that you'd think would work well together, but Solar Slim and Richie Branson have proven that wrong with Life After Death Star. They mashed up music from Biggie's Life After Death LP and the music of composer John Williams to underscore the lyrics.

3

The Death Star firepit built by a retired metal worker for his grandchildren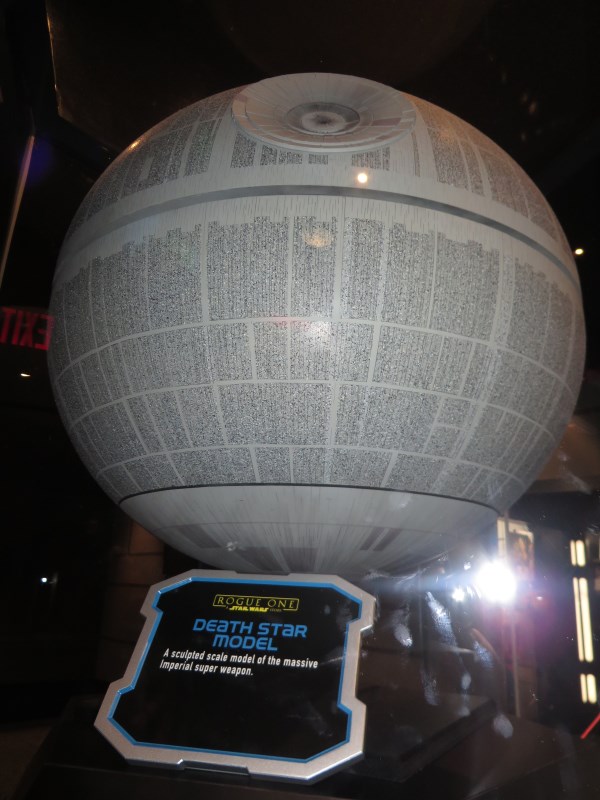 In December 2015, one Redditor got the coolest gift a Star Wars fan could ever hope for. Her grandpa, an 84-year-old retired metal worker, surprised her and his other grandchildren by building this amazing Death Star fire pit. Made of welding propane tank ends, this firepit looks exactly like the iconic Death Star II battle station from Star Wars.
Since she posted pictures on Reddit, many commentators have begged her to convince her grandfather to come out of retirement by building these unique fire pits as his new business venture.
4

The police department video that features Darth Vader interviewing for a job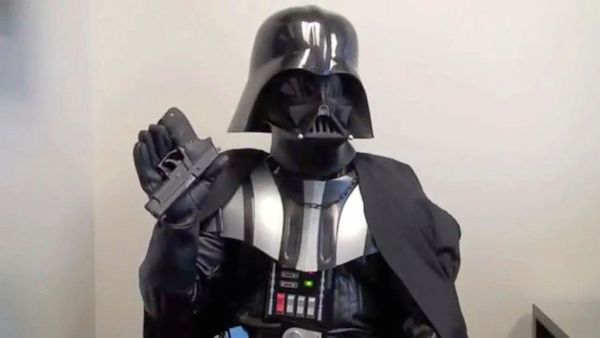 In anticipation of Star Wars: The Force Awakens, the Fort Worth Police Department is using "The Force" to recruit new officers.
In a promo video that has since gone viral, "The Force" doesn't work for Darth Vader in his job interview. The Star Wars villain tries to convince his interviewer that's he's up for the position, but unfortunately, having the Death Star blow up under your command and attempting to use mind control in your interview aren't good moves to secure employment.
The recruiting tool seems to be getting the word out—in just three hours; the video garnered more than 800 likes and more than 1,000 shares on the department's Facebook page.
5

The musician who created alternate bluegrass versions of John Williams iconic Star Wars' theme songs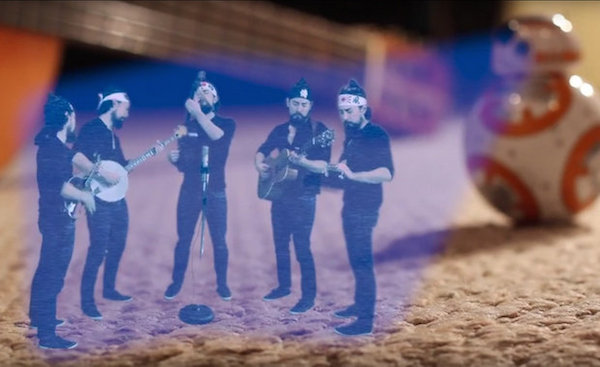 Samurai Guitarist has re-imagined the Star Wars trilogy as a conceptual country song where "a young Billy Luke Skywalker has befriended Ol' Ben Ken Bobby." The duo receives a distress signal from "the beautiful debutante, Charleia," and "set off to Mos Eislenburg, Kentucky" to offer their help. That's where they meet "moonshine trafficker and overall scumbag, Hank Solo, Jr." and his dog "Chewingtobacca" who offers to drive them in his "beat up Ford Falcon."
That's the story, and Samurai Guitarist is sticking to it—the musician has crafted bluegrass versions of composer John Williams's famous Star Wars themes. The songs are recognizable, but clearly from an alternate reality—or perhaps a different galaxy far, far away.

6

The Brooklyn creamery that makes Star Wars-themed ice cream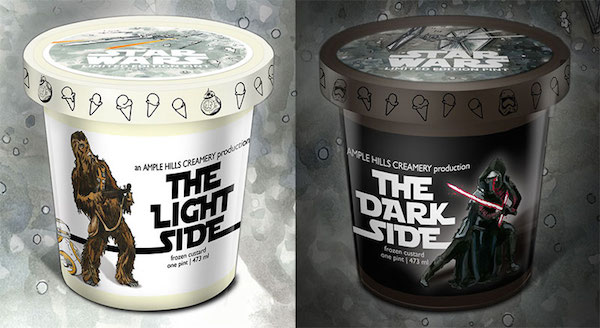 For a limited time, Ample Hills Creamery in the Gowanus section of Brooklyn is releasing Star Wars-themed ice cream flavors—The Dark Side and The Light Side.
The creamery describes the flavors as follows:
"THE LIGHT SIDE flavor is a bright marshmallow ice cream with crispy homemade clusters, as well as a smattering of handmade cocoa crispies (to represent the dark side still lurking within the light)."
"THE DARK SIDE, by contrast, is an ultra-dark chocolate ice cream with espresso fudge brownies, cocoa crispies, and white chocolate pearls (to represent the light still hiding in the dark, waiting to burst through)."
The pints, sold online in four packs with two of each flavor, will set you back $36, plus shipping. The ice cream containers were also designed by the company and feature the iconic movie characters.
7

The fashion designers who made Star Wars-influenced clothes to benefit a children's charity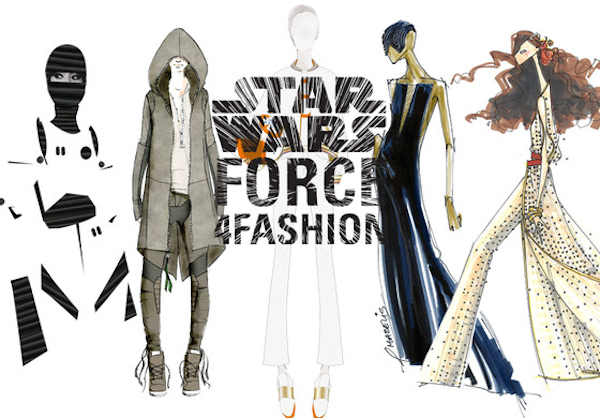 Fashion designers love Star Wars, too.
For the 2015 "Force 4 Fashion" fundraiser, Disney enlisted several popular designers to create looks based on characters in the upcoming movie Star Wars: The Force Awakens. Fashion favorites who took part were Cynthia Rowley, Diane von Furstenberg, Giles Deacon, Halston, Opening Ceremony, Ovadia & Sons, Parker, Rag & Bone, Timo Weiland, and Todd Snyder.
The clothes, unveiled at a launch event on December 2 in New York, are being auctioned through December 18 on CharityBuzz.com by Bloomingdales. Proceeds will go to the Child Mind Institute, dedicated to helping children with mental-health issues.
8

The Star Wars walker that also doubles as a cake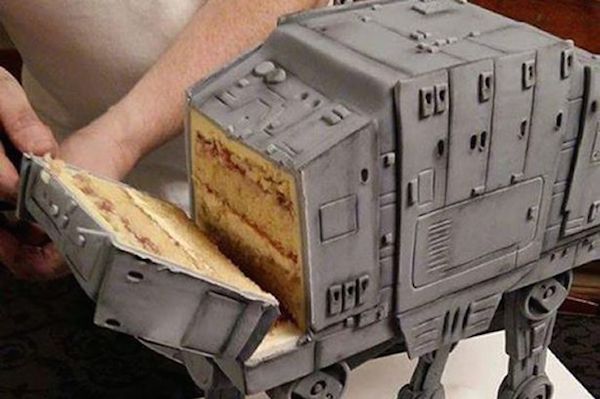 The Empire has indeed struck back—in the form of a cake.
The All Terrain Armored Transport (AT-AT) Walker was featured in Star Wars: Episode V The Empire Strikes Back and Star Wars: Episode VI: Return of the Jedi. In the films, walkers were 20 meters high and impervious to almost all weapons. Their sponge-cake cousin appears to be more than a foot in height, but unfortunately, not immune to sharp weaponry.
9

The Star Wars-themed theater that has its own Death Star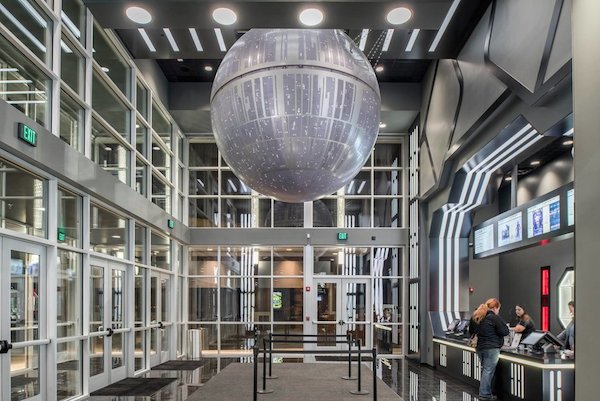 The Force is strong within the Alamo Drafthouse Cinema's newest location in Omaha, Nebraska. The Star Wars-themed location features a looming Death Star in the lobby, whose awesome firepower is activated with a push of the button from the control panel on the nearby Emperor's Throne. If there's one time we wished we lived in Omaha...