1

TetraBIN
The brainchild of One Maker duo Sam Johnson & Steven Bai, TetraBIN uses custom-built electronics and LED panels to reimagine an everyday garbage can and to help promote sustainable behaviors and playful experiences throughout a city. A pair of prototype installations initially debuted at Vivid Sydney 2014, the largest lighting festival in Australia.
Reminiscent of an '80s video game with its sounds and 8-bit images, the aptly-named TetraBIN allows users to collaboratively control Tetris-like blocks on its outer surface. The pattern of these blocks varies based on the size and shape of the litter, as well as the timing of its disposal.
2

Messi vs Ronaldo Urban Trash Can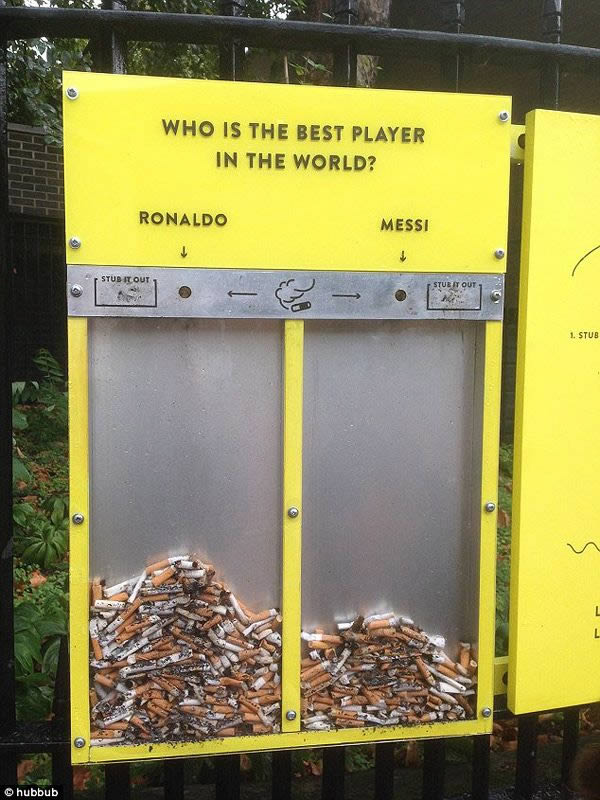 Hubbub, an environmental charity in the UK, wants to encourage people to dispose of their garbage in a proper manner. It created a series of urban trash cans that make disposing of litter fun. In this case, people can vote with their cigarette butts for who they believe to be the greatest soccer player in the world—Lionel Messi or Cristiano Ronaldo. Managers can also swap out that question for others to encourage debate, and thus, proper garbage disposal.
3

Play Trash Bin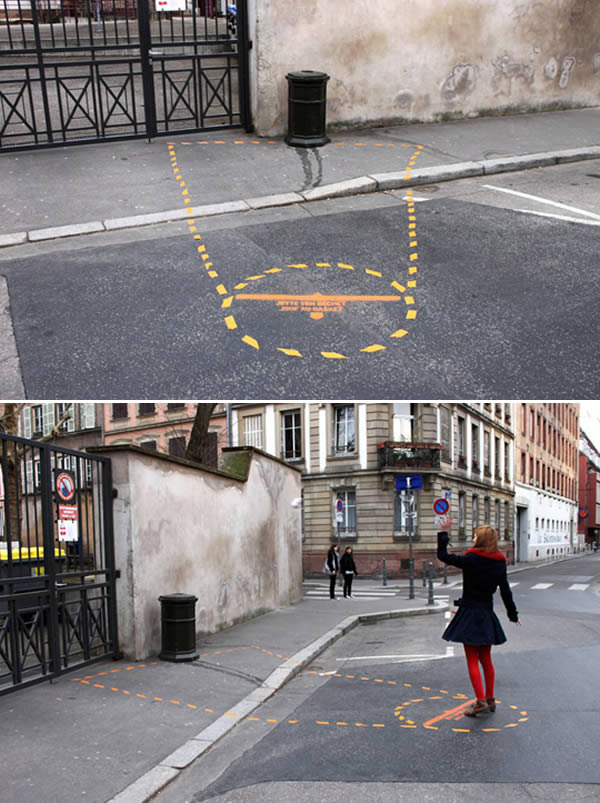 As part of their project, a group called Collectif DC try to encourage passers-by to behave differently by painting recognizable orange lines on the sidewalks.
Spielplatz Democracy is a proposal for creative transformation of public space. It focuses on all kinds of different sports that can be played on the street with a little help from the artist. This is the basketball version, but more sports are on the list.
Creative Democracy is a collective conducting artistic studies and actions in public spaces. With a participatory approach, they can experiment with a city and its many possibilities.
4

Basketball Hoop Trash Cans
These creative basketball hoop trashcans were seen in the Philippines. You have to combine your recycling and throwing skills to score.
5

Paint-by-numbers Gum Disposal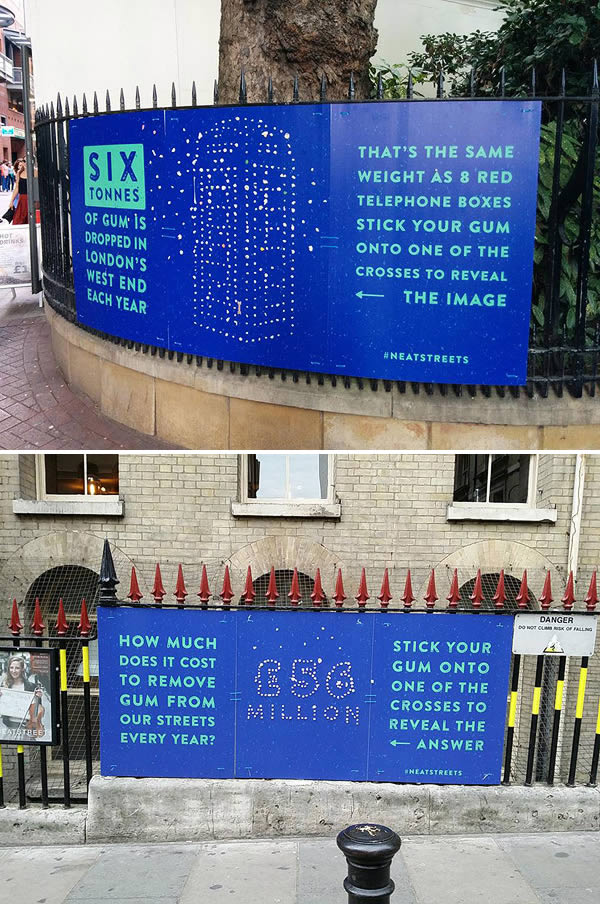 Design studio Common Works and environmental charity Hubbub have come together to create innovative ways to encourage Londoners to stop littering. Beside using installations in which smokers could vote for their favorites using cigarette butts (seen in item 1), they've also created ads that turn chewing gum into paint-by-numbers sketches.
6

Maze Trash Can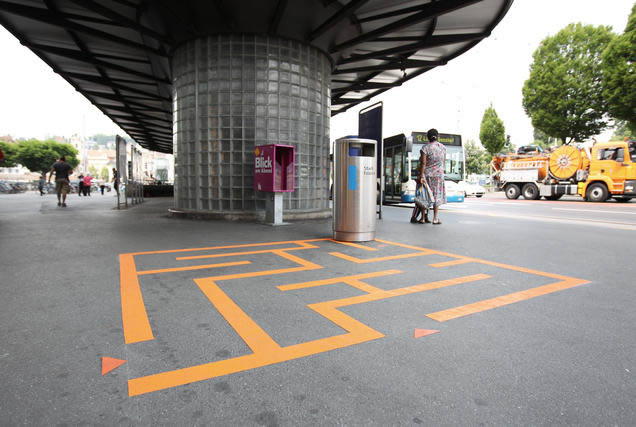 The city government in Lucerne, Switzerland wants to discourage littering by drawing attention to public trash cans. It put games—including mazes and hopscotch—around the cans, like this one.
7

DNA Shaming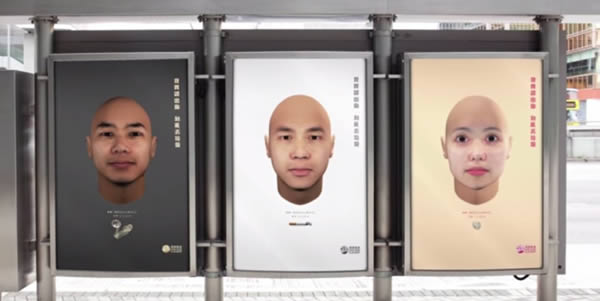 Litterbugs usually like to keep their polluting crimes a dirty little secret, but Hong Kong Cleanup wanted to show them that there is no way to hide from the all-seeing eyes of technology. They created an environmental campaign called "The Faces of Litter" which uses DNA phenotyping to create portraits of people who litter.
The rather Orwellian campaign shows garbage police collecting refuse with traces of DNA from around Hong Kong. In the campaign video, cigarette butts, coffee cups, and even a used condom are picked up and taken to a lab for analysis.
Once the DNA has been isolated, scientists use a program called Snapshot DNA Phenotyping to create a realistic 3D image of the litterbug. These faces can then be displayed in public places as a shame campaign to deter future littering.
8

Piss-Proof Walls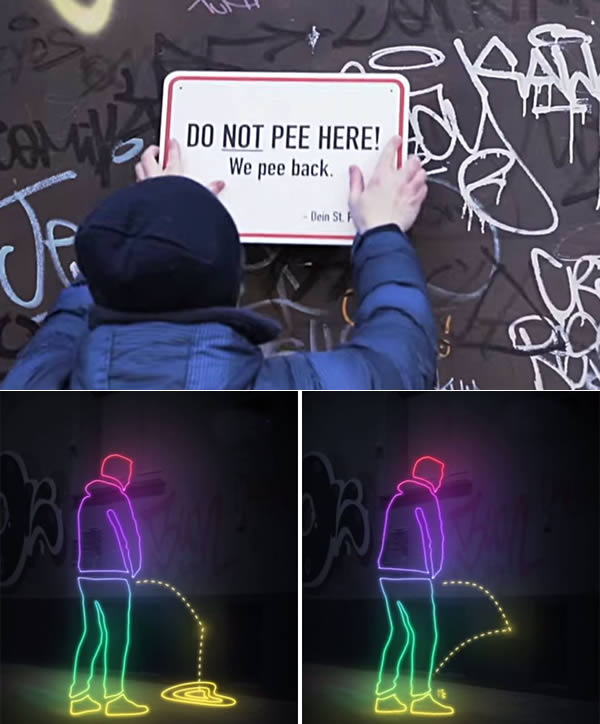 The residents of St. Pauli, the party quarter of Hamburg, Germany, were tired of drunken revelers who use their streets as one big public urinal and decided to fight back in a novel way. A St. Pauli community organization coated numerous walls throughout the quarter in superhydrophobic coatings that cause urine to splash back at urinators, making public urination a far more uncomfortable and complicated endeavor!
Some of the walls treated with the substance have signs labeling them, but others haven't been labeled, so, as expected, your best bet in St. Pauli (if you're prone to public urination) is to seek out a proper bathroom!
The whole campaign has a silly air to it, but it seems like it might work. As one St. Pauli resident warns in the campaign's video, "it's peeback time."
9

Interactive Trash Containers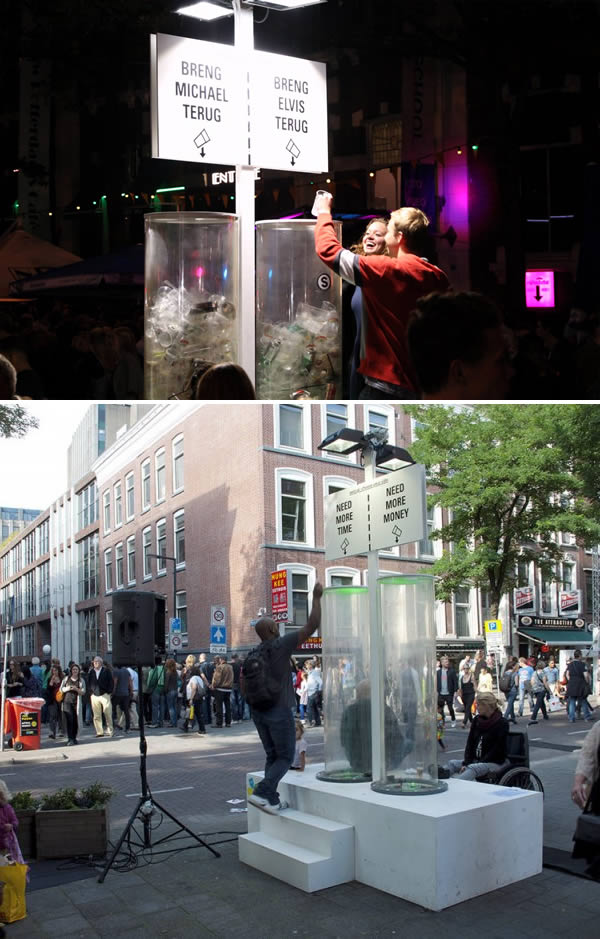 Public installation Wecup offers a simple and interactive solution for dealing with the large amounts of waste left after festivals and outdoor events.
The idea is brilliantly simple—Wecup is made up of two large clear containers with a statement hanging above each one. By placing your plastic cup in one of these containers, you are casting your vote for the corresponding message. The social design project was designed and initiated by Studio Squash, Giacomo Boffo, Allessandro Carosso, and Oana Clitan and first presented at Wereld van het Witte de With Kwartier Festival in Rotterdam.
By changing the simple task of throwing out trash into a game, Wecup engages more people to participate and promotes environmentally conscious behaviors at the same time. We hope to see more installations like Wecup at festivals and open-air events, because whether it's expressing a preference for either Elvis or Michael Jackson, there is something delightful about having your vote count in even a small way.
10

Ashtray Trash Can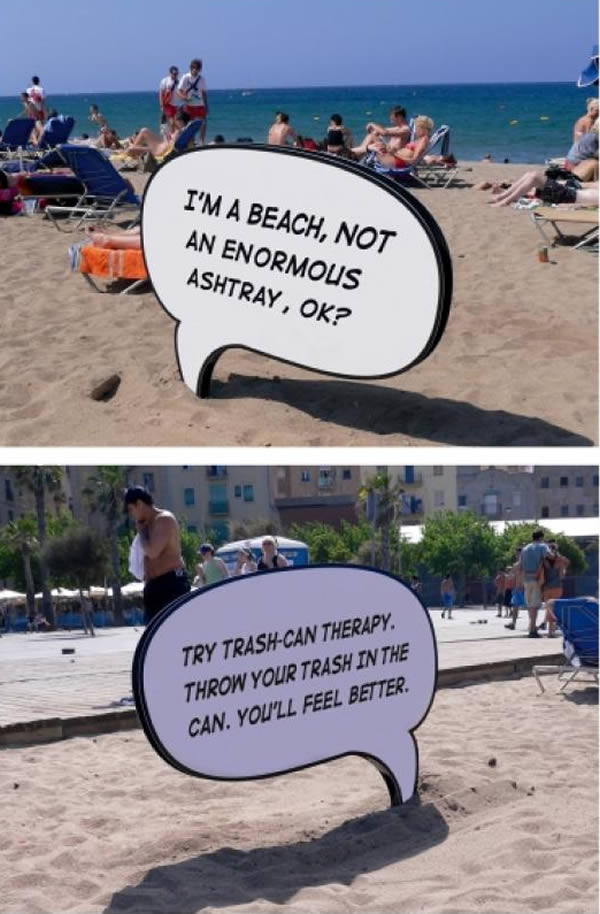 This creative outdoor advert was created in 2005 by SMÄLL advertising agency for the Barcelona City Council in Spain. It was installed on several area beaches to promote awareness and reduce littering.