1

Literary Hostel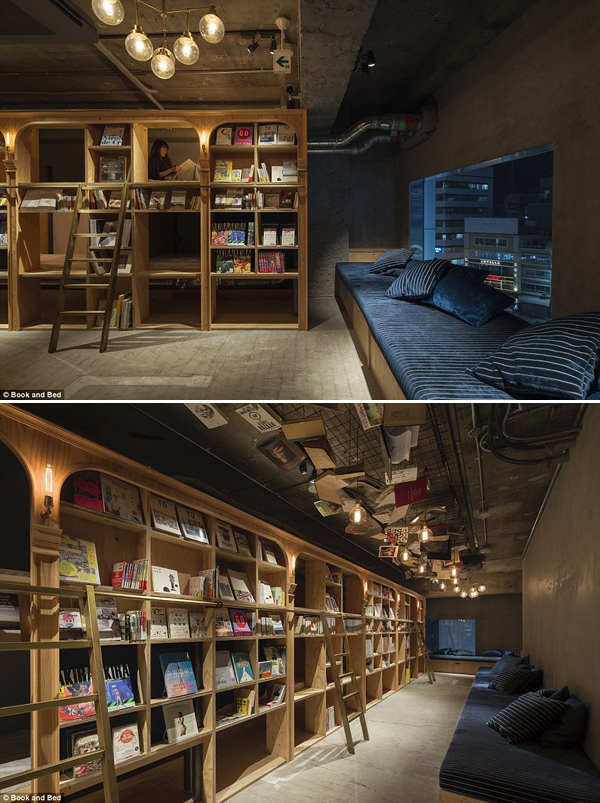 A new hostel in Tokyo is catering to bookworms, with bunks built into bookshelves that are filled with plenty of titles to choose from before dozing off.
Nestled in one of Tokyo's suburbs, Book and Bed is a bibliophile's dream, allowing guests to spend the night in a communal room that is designed to look like a library or book store. While it offers a "novel" setting, it doesn't offer much in terms of privacy—visitors sleep in small capsules or bunks that are built into wooden shelves stocked with books.
The unique hostel officially opens in November 2015 and is set to target out-of-town travelers who have a passion for books. Beds start at 3,500 yen (approximately £20 or $30) a night. The rate includes access to a collection of titles curated by Shibuya Publishing & Booksellers.
2

Geeky Bibliophile Wedding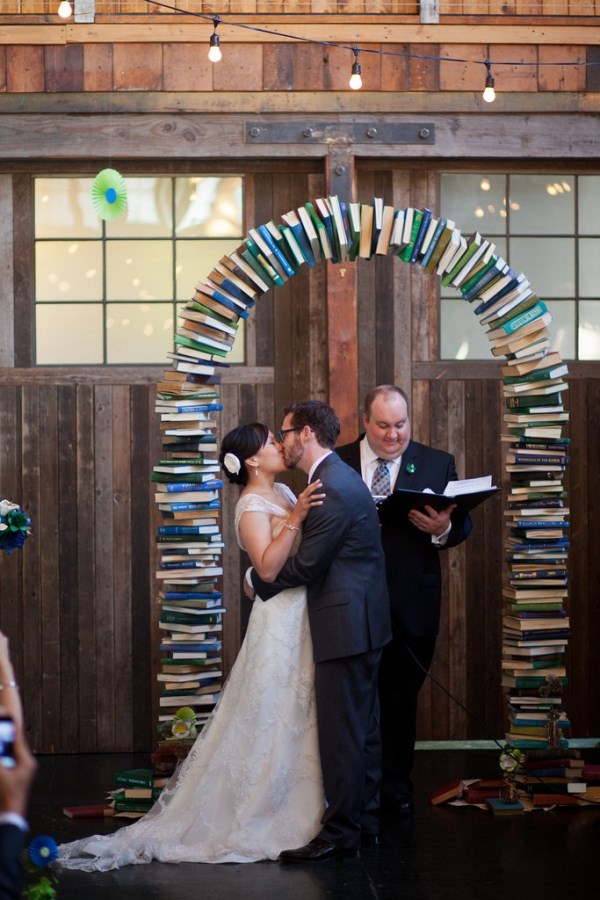 Cindy and Sam wanted their wedding to reflect all the geeky things that brought them together. Their stationery was xkcd-themed, the cake was Dalek-inspired, and the boutonnieres were made of LEGOs. But the main theme was literary—the couple used books to decorate the aisles and tables and got married under a book arch, made by Lola Event Floral & Design. Check the link for more pictures.
3

Library Pumpkin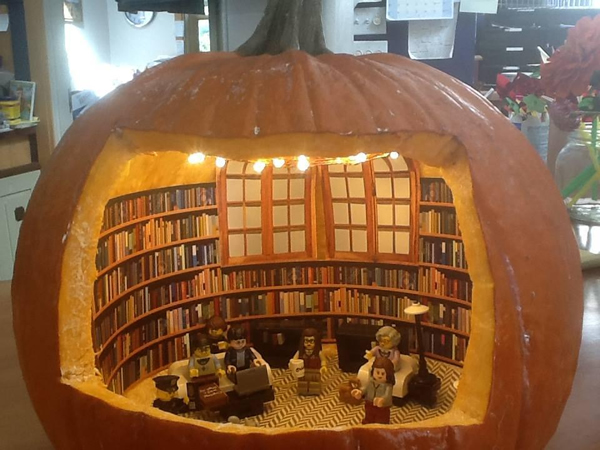 A decorated pumpkin sitting on the shelf of the Truro Public Library gained global fame among online book lovers during Halloween 2015.
The pumpkin, carved by local children and decorated by library staff, features several Lego people sitting in the comfort of their own mini-library under a tangled string of lights. The Lego people were even adorned in costumes.
Tricia Ford, the library's director, said she was the one who conceived the idea of a library inside a pumpkin. But after the children carved it and she put her Lego people inside, the result didn't live up to her imagination. It wasn't until a few of her colleagues chipped in with a decorative floor, lighting, and shellac, that the pumpkin reached its potential, she said.
4

Book Labyrinth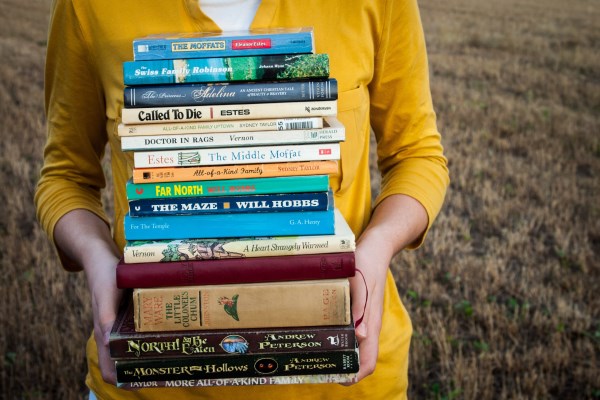 Ebooks continue to rise in popularity, but sometimes there is nothing better than getting lost in the touch and smell of a good paperback. In London, bibliophiles can take their obsession a step further by physically immersing themselves in thousands of books at one time. Brazilian artists Marcos Saboya and Gualter Pupo used 250,000 books to create this literary maze for the London Festival, a 3-month-long cultural event that was held concurrently with the 2012 Olympics.
5

Library Cake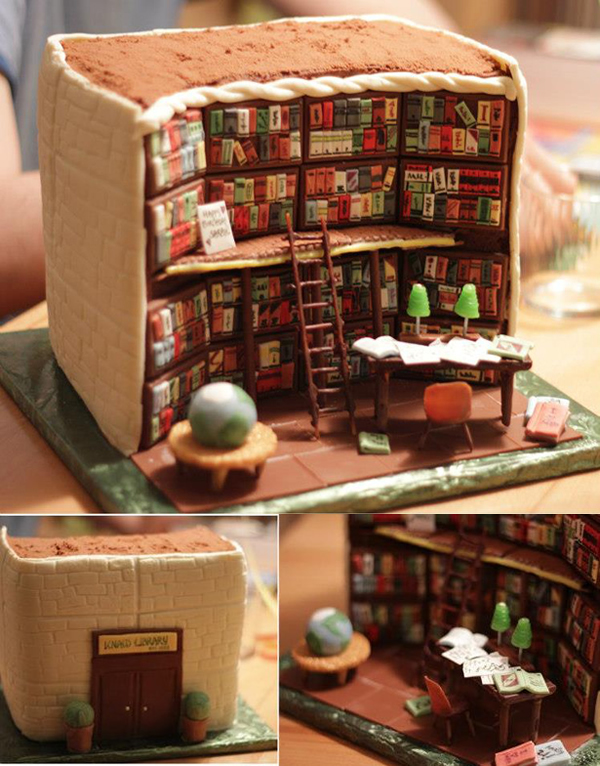 One very talented baker has created an exceptional cake that captures the interior of a cozy library. The scrumptious creation is by Kathy Knaus; a baker believed to hail from Vienna, Austria. Her detailed library cake was originally posted in 2013 but has recently resurfaced and gone viral in the food blogging world.
One side of the multidimensional cake features doors leading into the brick building, flanked by potted plants. The other side reveals a traditional library interior, complete with a floor-to-ceiling wall of shelves, a ladder to the second floor, a wonderfully cluttered reading table with two table lamps made of gumdrops and a large globe.
6

Book Staircase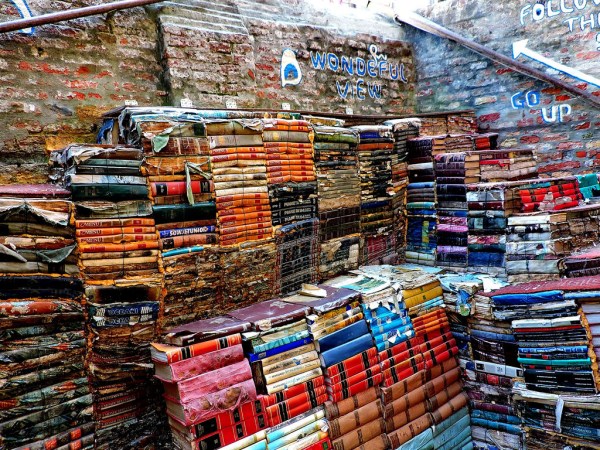 One of the most original libraries in the world is located in Venice, Italy. Libreria Acqua Alta, in Calle Lunga Santa Maria Formosa, is the only place on earth where you will find a huge selection of new and used books displayed in undoubtedly special shelving—boats, gondolas, canoes, tanks and anywhere that it is possible to insert them. The books are not only for reading but have been turned into furniture. Old encyclopedias, the kind that no one buys anymore, have become steps in an amazing staircase, and cover the walls of the outer courtyards, transforming them into colorful surfaces.
7

Book Bed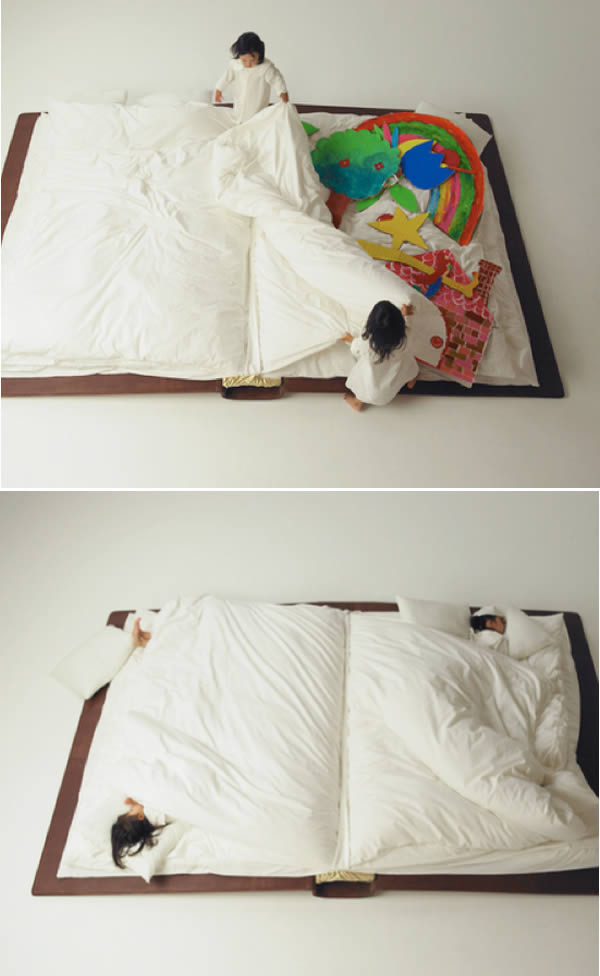 Some people always go to bed with a book, but in this case, the bed is the book. This unusual bed by Japanese artist Yusuke Suzuki was designed to look like an oversized book, complete with pages that you can turn. Granted, it's more for kids than adults, but don't you think it would be worth it having your toes dangle over the edge of the bed if you were lying inside of a book? We do!
8

Bookshops in the "Town of Books"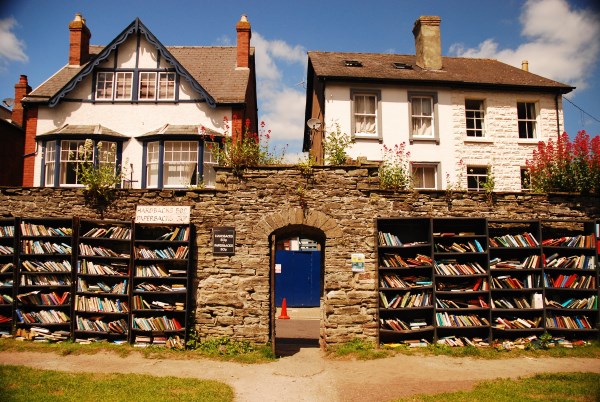 Hay-on-Wye is a bibliophile's paradise, with over 40 bookshops dotting the Medieval town. Some of the larger bookshops stay open all year round and, during the summer, are open until late evening. The fire station's a bookshop, the cinema's a bookshop, even the alleyways are bookshops, but one of the quirkiest shops is The Honesty Bookshop, a 24-hour, open air affair where everything's £1 or less and payment is made through a tiny letterbox.
9

Cocoon Bookshop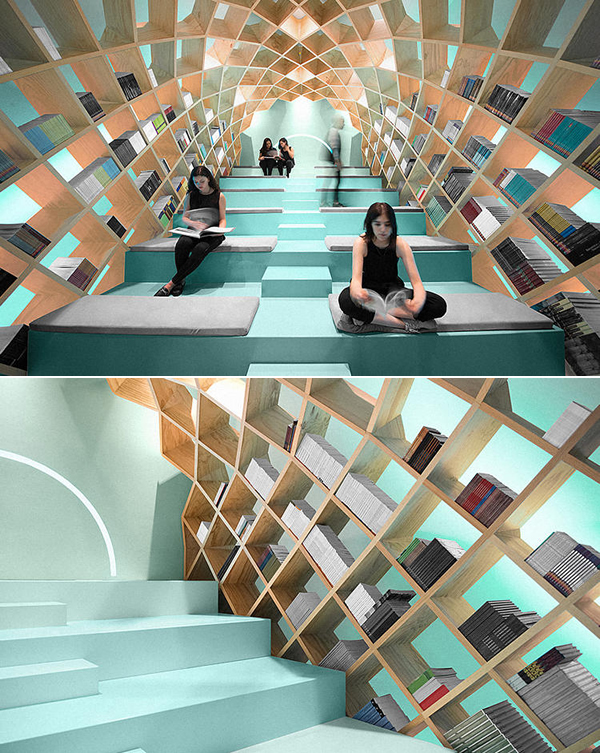 The design and branding firm Anagrama is no stranger to inventive design. For the Conarte Library in Monterrey, Mexico, they built a visually arresting architectural-scale bookshelf that envelopes readers with printed matter.
The space celebrates the time-worn hobby of cracking open a book, sitting back, and sinking your teeth into a story. Thanks to a self-supporting structure that plays some tricks on the eye, it takes on the form of a mini-cathedral complete with ethereal illumination. The torqued pine-wood shelves—based on a rhomboid module—arch over the reading nook. The walls are painted in a subtle blue-green gradient to amp up the depth of the bookshelf and to further the effect, they placed a glowing arch on the back wall to simulate the structure's vanishing point.
10

Read Sculpture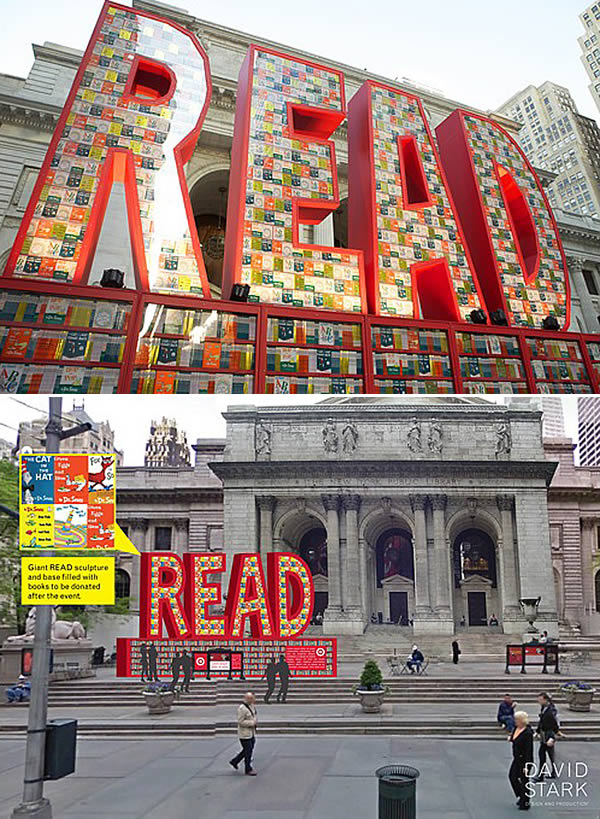 The Target Corporation has been a longtime supporter of the arts, and now it has banded together with the New York Public Library to help advocate children's literacy.
As part of the New York City Read Across America event, a giant red display of the word "READ"—made entirely from Dr. Seuss books—lies between the library's iconic lion statues.
The epic sculpture, designed by David Stark, was made of 25,000 books, which were then generously donated to public schools in New York. Target also sponsored a Seuss-inspired reading room in the library, where kids and parents could read hard covered Seuss classics, enjoy Seuss-themed snacks (green eggs and ham sandwiches!), and don red and white Cat in the Hat headgear.