1

The security guard who had a spontaneous dance off with a baseball mascot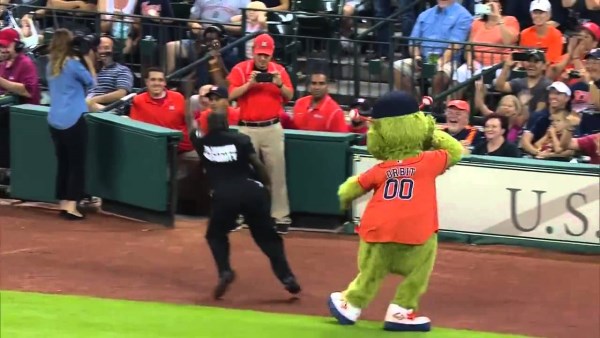 It's become pretty common to see a mascot dance around and act silly, but Houston Astros mascot Orbit had another thing coming after he starting taunting a security guard during a Houston/Detroit baseball game in June 2014.
In a video that has since gone viral, Orbit is seen dancing to Michael Jackson's "Slave to the Rhythm." He then encounters a no-nonsense security guard and proceeds to show his best dance moves to the guard. At first, the guard ignores Orbit and acts like one of the Queen's Guards at Buckingham Palace, but soon, enough is enough. Within seconds, the security guard turns into Rerun from "What's Happening!" and shows off his extremely impressive footwork.
Yep, you got served, Orbit! The mascot proved he was a good sport and applauded along with the rest of the audience while watching the funkiest security guard ever encountered.
2

The security guard who chased after Rihanna…the rhino
Folks, never fall asleep on the job, especially if you're a security guard. Just ask this poor guy—he fell asleep on the job at the Ramat Gan Safari Park in the city of Ramat Gan in central Israel.
During the early morning hours of January 1, 2015, the director of the safari park, Yehuda Bar, opened the gate to the compound. Faster that you can say, "FourFiveSeconds," a rhino named Rihanna, and two of her rhino besties, made a run for it. They didn't make it far, however. After receiving a call about the breakout, Bar returned to the open gate where police were already blocking the exit.
The safari park is adjacent to the Ramat Gan National Park, which is where Bar found the rhinos playing in the parking lot. All three were returned home to the safari park after their brief adventure without further incident.
The guard has since been relieved of his duties. I'm sure he didn't plan on starting out the new year this way!
3

The prison guard who smuggled in tacos garnished with hacksaw blades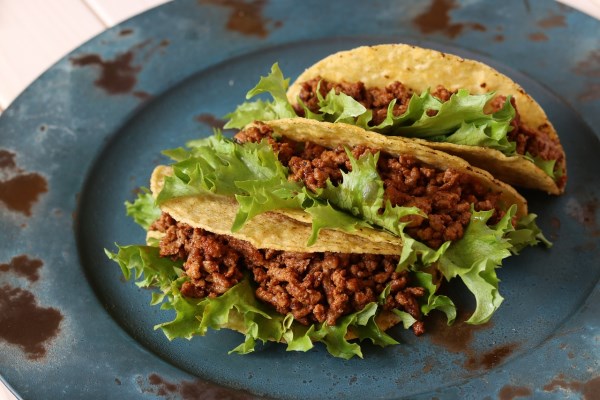 In December 2009, Alfred Casas, a guard at the Texas Bexar County Jail, tried to smuggle small hacksaw blades inside for an inmate. The blades were wrapped in tacos.
Casas was caught accepting bribes from prisoners after an inspection unearthed the tacos from a prisoner's cell with a small hacksaw blades stuffed inside them. He was convicted of providing an inmate with "escape implements," which is punishable by two to ten years.
The guard gave the tacos to a prisoner who was already in jail for a double murder in exchange for two bottles of Xanax.
Casas was released from prison early via "shock probation." The tactic is intended to scare a first-time offender straight with a taste of something else — prison life.
4

The security guard that had the balls to sue a rock star
In August 2001, shock rocker Marilyn Manson was charged with assaulting a security guard during a concert at the DTE Music Theatre in Clarkson, Michigan.
Manson (real name Brian Warner) snuck up behind security guard Joshua Keasler while rubbing his genital area. The singer is alleged to have spat on Keasler's head, before wrapping his legs around the upper part of his body and rubbing his genital area on Keasler's head and neck.
In addition to the assault and battery charge over the incident, Keasler claimed intentional infliction of emotional distress. In 2004, he dropped the case against Manson in return for an undisclosed settlement.
5

The man who attacked a triple amputee security guard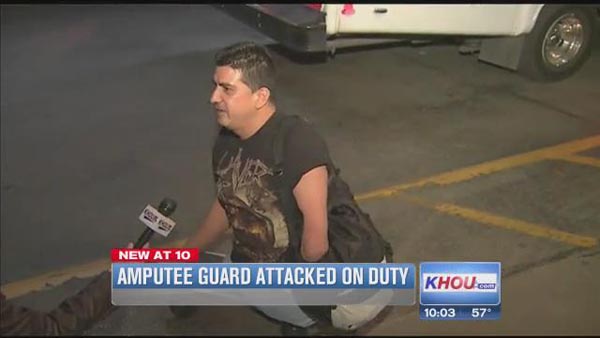 One person who didn't give triple amputee and security guard Joseph Montemayor any respect was 20-year-old Jacaree Keith.
In March 2014, Montemayor, who worked at the Independence Hall Apartments in North Houston, TX, tried to take a picture of Keith's license plate because the management at the apartment building for people with disabilities had given him a trespass warning in December. As Montemayor photographed the car, Keith drove towards the 47-year-old at a high rate of speed and came within one foot of hitting him. Montemayor later said that "(Keith) flew over the speed bump, I can tell you that."
Keith then jumped out of the car and allegedly said he was going to break the guard's neck. Montemayor used his motor-assisted wheelchair to go to the apartment office, while the defendant followed, still yelling threats.
Keith was charged with aggravated assault with a deadly weapon against the guard.
6

The app that is a virtual security guard
Ever walk down a dark and lonely street and wish you had someone with you to offer security? Well, worry no more, my friend! The Companion app offers just this!
Companion can be used with anyone in your contacts and those contacts don't even have to be users of the app. All you have to do is input your starting point, and destination and the software will track your progress, periodically asking "Are you ok?" If you don't respond within 15 seconds, by pressing a large green "yes" button, the app will automatically notify your designated companion. The app also detects if you've begun running or if your headphones have been removed from your phone's headphone jack. If either of these things happen, Companion will start its 15-second countdown before contacting your friend or family member.
But wait—there's more! For university students, the app also comes with the ability to report areas around campus that could be unsafe by allowing you to select an "I feel nervous" option when in that area. If there is any monkey business, representatives from Companion will contact the school's officials upon receiving the reports.
7

The security guard who tried to remove a wart by shooting it off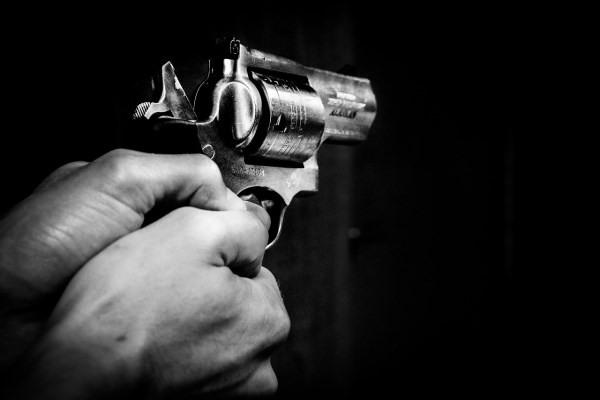 This next guy on our list got a little trigger happy while trying to get rid of a common wart.
In June 2011, Sean Murphy, a security guard from Doncaster, England, had enough of a wart that had been bothering him for five years. After downing several pints of beer, the then 38-year-old took a 12-gauge Beretta shotgun and proceeded to shoot off the pesky wart. Not only did Murphy get rid of the wart, but he also lost most of his finger!
Murphy's "solution" landed him in court for illegal possession of a firearm. It turns out the shotgun was stolen in a 2009 burglary, but Murphy told police he had found it under a hedge near his workplace in 2011.
Murphy pleaded guilty to illegal possession of a firearm and was reportedly "happy" with a suspended 16-week prison sentence. The security guard, who also was let go from his job was happy his wart was finally gone, telling the press: "I know I could have gone to jail for up to 15 years for a firearms offense. My solicitor did a very good job. The best thing is that the wart is gone. It was giving me a lot of trouble."
8

The man who impersonated an airport guard for 20 years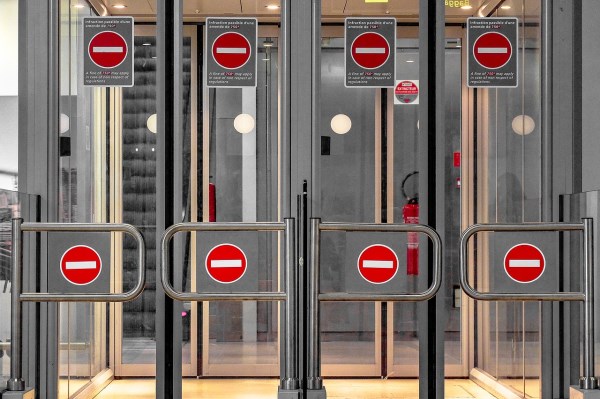 Jerry Thomas was a 20-year veteran security officer at Newark Liberty International Airport. He was a model employee who had risen through the ranks to become a supervisor in charge of 30 other guards. The only thing was he wasn't Jerry Thomas. The security officer, known for 20 years as Thomas, was a Nigerian man with the name Bimbo Olumuyiwa Oyewole. The actual Jerry Thomas was murdered in 1992, the same year that Oyewole stole his identity.
So, how did Bimbo get away with being Jerry Thomas for long? I mean, you can't even bring a bottle of water into the luggage screening area let alone have an imposter use someone else's identity for 20 years working as a security officer, right? Well, FJC Security Services performed a background check. This background check depended almost entirely on fingerprint identification. Since neither Oyewole nor Thomas had ever been fingerprinted before, it was assumed that everything was fine. Oyewole also aced state and federal background checks. His former employer, FJC Security Services, said he had an unblemished record and had worked for three other security companies that had Port Authority contracts at the airport before working for them.
When Port Authority Deputy Inspector General Michael Nestor confronted the false Mr. Thomas at his home in 2012, he "explained to him that he'd had a good 20-year-run, but that the gig was up." Nestor said, "He thought about it and said 'You're right'."
Oyewole pleaded not guilty to a charge of identity theft.
9

The security guard who robbed a store he was hired to protect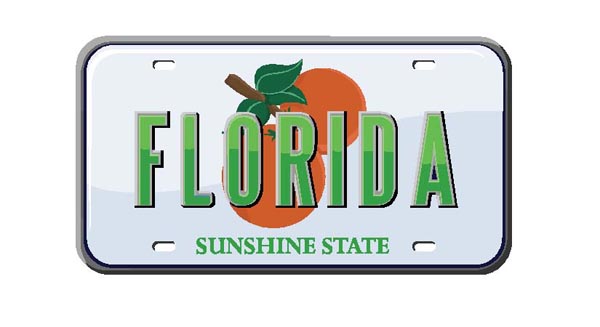 On March 23, 2007, Alfonso Allen, a security guard at the Lauderdale Lakes shopping center in Fort Lauderdale, Florida, came up with what he thought was an ingenious plan of robbing one of the stores he was hired to protect.
At first, things went according to plan. Just after 9:00 pm, Allen changed into a pair of blue jeans and a t-shirt, wrapped a red shirt around his head and face, grabbed a handgun, and walked into Bare Feet Shoes. Security cameras captured a robber as he threatened a patron who was leaving the store and terrorized two employees before grabbing a bunch of cash and running out the door. He jumped into a getaway car and sped off, but a witness caught the license plate number.
As detectives interviewed victims, Allen appeared in uniform and reported seeing the robber. However, when officials later ran the plate, Allen's name popped up. Oopsie! The police found a gun and red T-shirt in his car and arrested him as he was heading to his post as a security guard a few days later.
Allen was later charged with armed robbery.
10

The couple that created a Cliff Richard security guard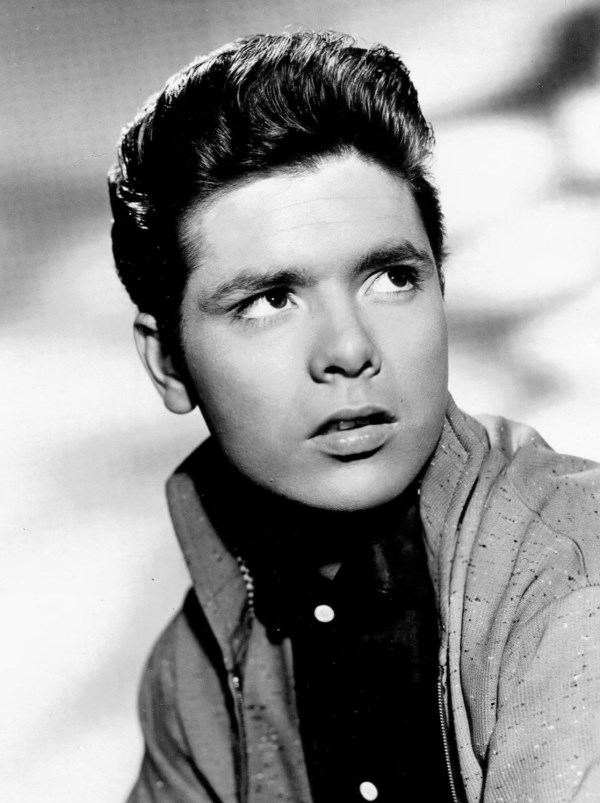 In 1959, UK singing legend Cliff Richard had a hit called "Living Doll." Sir Cliff could never have guessed that he would become a real doll in 2014 to help out a British couple.
David Stolworthy of Norfolk has created a life-size replica of the pop star to make his wife Jill feel safer while driving alone at night.
"Cliff" is dressed in reflective clothing, much like a real security guard. The couple has become quite attached to the dummy and have even brought him along on vacation.
Stolworthy said of his creation, "Cliff was sitting in the back seat in clear view, but nobody said anything at the border. It was unbelievable."