1

The French bulldog who took on a bear family—and won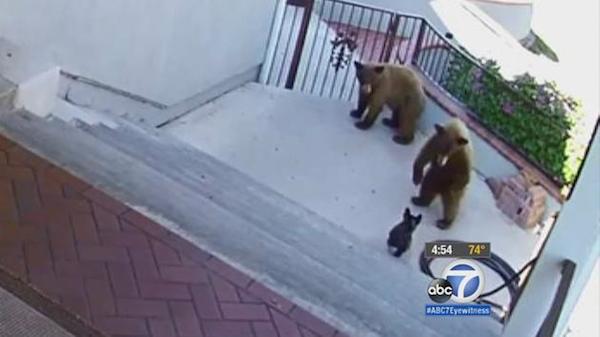 This 20-pound French Bulldog in Monrovia, California may make you consider your stance on exactly what constitutes a guard dog.
Meet Jules. In October 2015, this tiny ball of fury confronted a trio of bears that came lumbering around her family's home. Video footage shows the pooch chasing after them as they scurry around the property. One of the frightened animals even hops over a fence after being confronted by the small, black dog.
"It blew me away," says owner David Hernandez. "I couldn't' believe it. She turned into a wolverine."
Jules was given a bath and plenty of treats for her extremely brave behavior.
2

The bear that was seen walking upright in a New Jersey suburb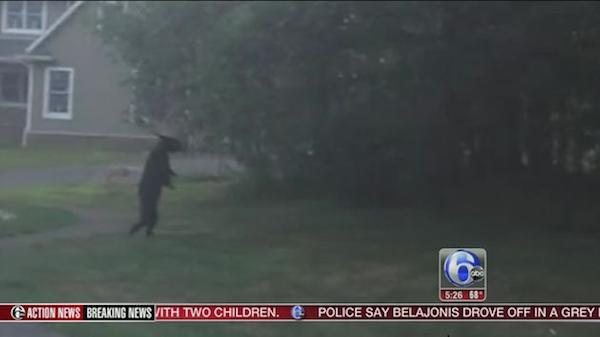 No, that's not Bigfoot or a man in a bear suit, that's a real bear walking on two feet through Oak Ridge, New Jersey. The state's Department of Fish & Wildlife has an explanation for the bear's strange stance—it has injured its front paws and has been walking on its hind legs ever since. Even with that relatively mundane explanation, watching a bear walk on two feet is bizarre.
Locals have named the bear Pedals (as in bipedal) and are trying to convince officials to catch it and treat its injuries—they've even set up a Facebook page to promote their cause.
3

The men who confronted a large bear under their porch and lived to tell the tale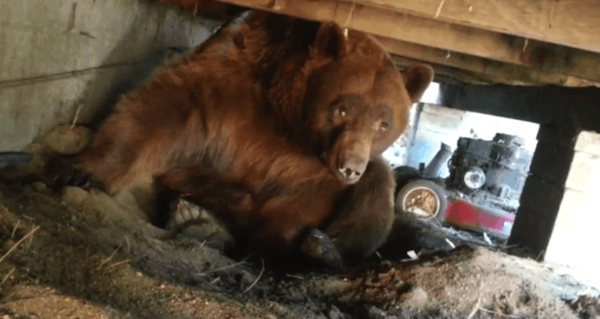 What would do if you found a large bear hiding under your porch? Would you call animal control, or go with the worst idea ever and confront it yourself?
If you're homeowner Vance Hopkins, you confront the threat head-on and record the showdown.
In the nail-biting clip, Hopkins and an unidentified man can be seen venturing under the porch where the fearsome predator is resiliently holding the fort. The bear is initially unperturbed and stares at the two men, but soon decides that enough is enough. It growls and paws the dirt while Hopkins and his pal venture back to the top of the porch. They stomp around to scare it away.
The bear gets the message and starts to leave the yard. To show his extreme displeasure, he gives one final glance back at the two men before releasing the mother of all bowel movements.
4

The bear that tried to get in a man's condo through the cat door
Bears have become frequent uninvited guests at Doug Harder's Sandpoint, Idaho home. In May 2015, three bears camped out on the second-floor deck outside his condo. In August, Hader came home to find a bear had broken in and made a mess of his kitchen while snacking on flour, brownie mix, Toblerone, and Pepsi.
Just a few days later, Harder said he heard noises inside the condo and found a bear trying to get through the cat's door. He wasn't scared because he knew the bear was too large to get through, but he was lucky to get the above shot—within a few seconds, the bear was gone.
5

The bear family that took over a family's swimming pool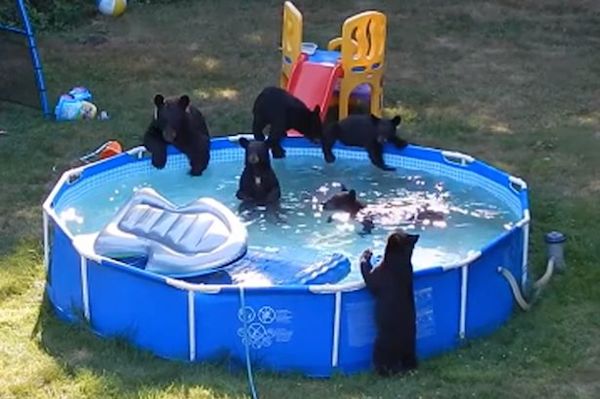 Over the long, hot summer of 2015, a family of black bears decided to beat the heat by taking a swim in a New Jersey family's pool.
The Basso family of Rockaway looked out their back window and saw a mother black bear and her five cubs swimming in the family's above-ground pool. The furry family wrestled with each other and made use of the human family's swing set and slide.
"I thought they would get a drink and move on, but they stayed," Tim Basso said. After about an hour, the mama bear and her five cubs moved on.
6

The bear cub that noshed on icing at a pizza parlor—and promptly fell asleep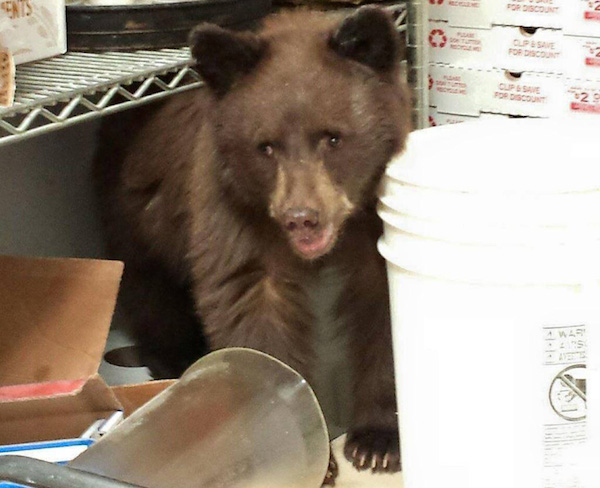 In September 2015, a hungry bear cub snuck into a Colorado Springs pizza parlor, climbed shelves and ate icing and oil before finally taking a nap.
Louie Sciarotta, the owner of Louie's Pizza, said a "horde" of high school students had just left his restaurant when the bear was discovered in a back room.
By the time wildlife officers arrived, the hungry bear had fallen into a food coma. "I walked back there, and the bear was asleep on top of the icing," District Wildlife Manager Phillip Gurule said. "Looks like she had a little bit to eat."
Officials said the underweight bear cub will be taken to a rehabilitation facility for recovery and then released into the wild.
7

The woman who tried to reason with a bear that was destroying her kayak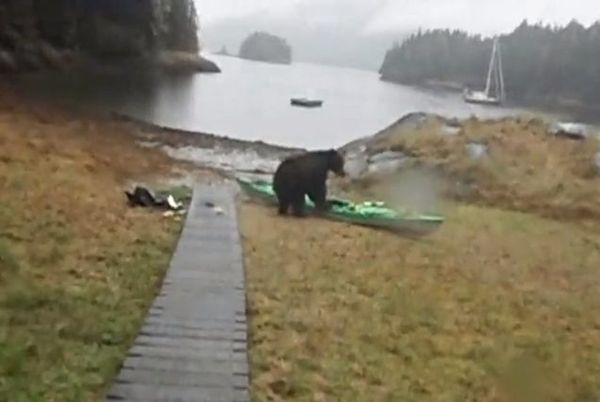 If karma is indeed a real thing, then it's neatly demonstrated by this video—starring a bear, a kayak, and an increasingly shrill woman in southeast Alaska.
"Thank you for leaving my kayak alone," Mary Maley shouts to a bear wandering around outside a U.S. Forest Service cabin in Berg Bay. "I'm going to pepper spray you in the face." She does and the bear—presumably annoyed by the burst of stinking, stinging liquid—turns on its furry heels. It decides to set about destroying her only transportation out of the area—her kayak.
"Why are you doing that?" she shouts, trying to reason with it as it bats around the kayak like a chunk of polystyrene. When appealing to the bear's (non-existent) sense of mercy fails, she asks the bear why it's roaming around at the end of September when it's "supposed to be asleep." Throughout the video, Maley refers directly to the bear as "bear"—perhaps if she'd learned its name, the creature might have felt more inclined to leave her kayak alone. However, that never happened, and Maley was forced to swim out to a nearby sailboat, and hitch a ride back to the city of Wrangell to repair her damaged vessel.
8

The bear cub that wandered into a pharmacy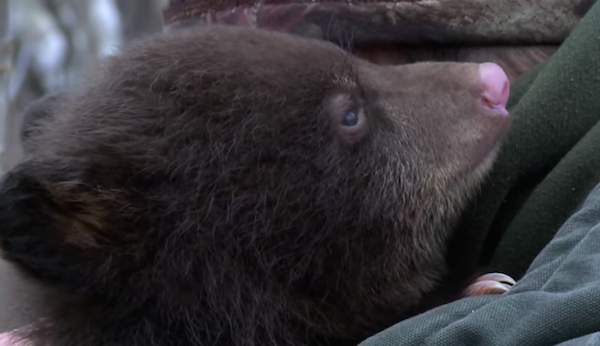 In October 2014, 13-pound female bear cub wandered into a Rite Aid in Ashland, Oregon, appearing bewildered.
Before visiting the Rite Aid, the bear made the rounds and wandered through an open door at a nearby Super 8 motel. Once in the pharmacy, police were able to capture the animal in a shopping basket. She was then transferred to PAWS Wildlife Center outside Seattle and was released into a "suitable habitat" in southern Oregon in spring 2015.
9

The orphaned bear that jumped into a man's raft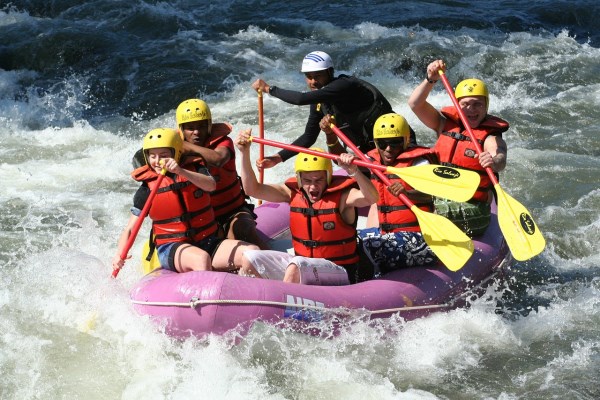 An orphaned bear cub has been rescued from a dire situation all alone in the wild after taking an incredible leap of faith— she jumped into a raft, entrusting her fate to a passing stranger.
The emaciated and dehydrated cub had been seen along the banks of the Nolichucky River a few days prior to being rescued. Danny Allen, a rafting guide with High Mountain Expeditions, was paddling along the river in Tennessee when he was joined by the furry passenger who climbed aboard his inflatable boat. Once back on dry land, he called the Tennessee Wildlife Resources Agency—they picked the cub up and got her some much needed medical attention. (According to doctors, She should have been twice her size.)
Once stabilized, the cub was transferred to Appalachian Bear Rescue, a rehabilitation center dedicated to caring for needy young animals. When she's in better shape, she'll be released back into the wild.
10

The bear that rode shotgun in a car in Russia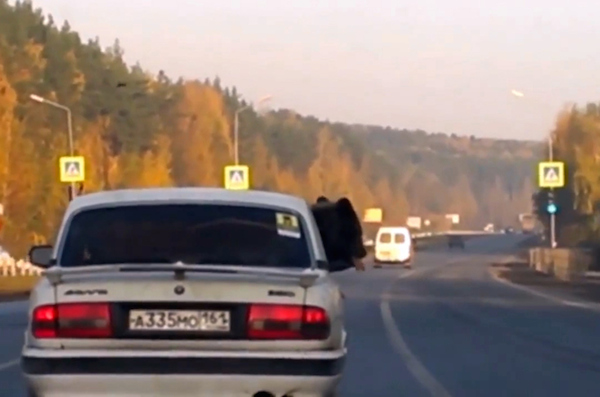 In September 2015, a motorist in the central Russian city of Yekaterinburg captured video of a brown bear in the backseat of a Volga car, sticking its head out the window and playing with a human passenger.
Local police said they're not going to cite the driver because the bear had a seat belt on, and thus wasn't breaking any laws. (Yeah, we can't believe it either.)