1

The woman who ran a marathon without a tampon to fight period shaming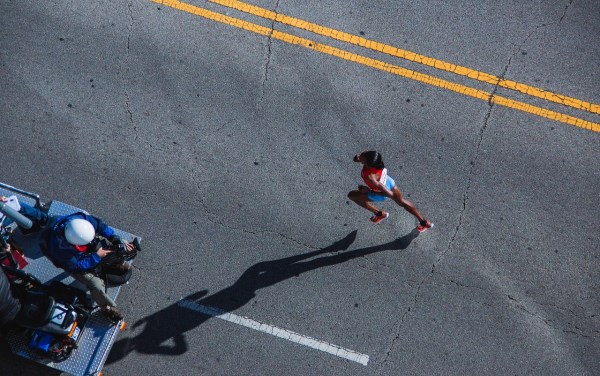 The night before she was set to run her very first marathon, Kiran Gandhi got her period. After a year of training, she refused to miss the momentous moment because of biology. She had two choices—she could run the 26.2 miles with a tampon, or she could bleed freely.
She chose the latter.
Gandhi went without a tampon during the London Marathon in April 2015 to fight period-shaming. She wanted to take a stand for women around the globe who don't have access to menstrual products or who have to "hide [their period] away like it doesn't exist."
2

The artist who paints canvases using her own menstrual blood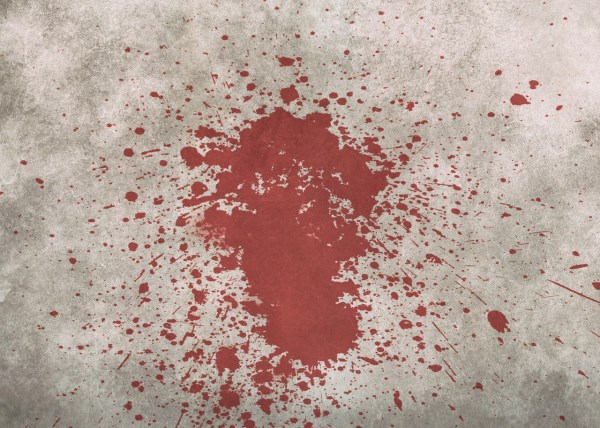 When Hawaii-based artist Lani Beloso titled her art series The Period Piece she meant it—literally.
As a longtime sufferer of menorrhagia, Beloso often remarked that it was astonishing that she did not bleed to death each month. Curious to the amount of blood that actually came out of her, she sat over a canvas during her menstrual cycle.
That was the beginning of The Period Piece, a project in which Beloso, a painter/photographer, created 13 canvases with her blood, representing a year's worth of cycles. She collected blood for the entire project and then utilized it within each piece. Each painting reflects the mood and location of its creation.
3

The man who devoted his life to making a museum about menstruation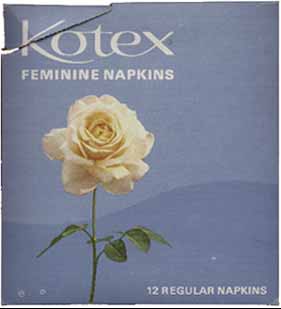 Harry Finley had an interesting hobby—he devoted a good part of his life to curating a private collection of feminine hygiene products.
From 1994 to 1998, the Department of Defense employee operated the Museum of Menstruation out of his suburban Maryland basement. The museum exists now only online and in storage boxes in Finley's home. It is composed of both cultural and humorous menstruation articles and news items, as well as the history of menstrual products from different periods (pun intended) and places around the world.
4

The Chilean artist who saved five years worth of her own menstrual blood—for the sake of art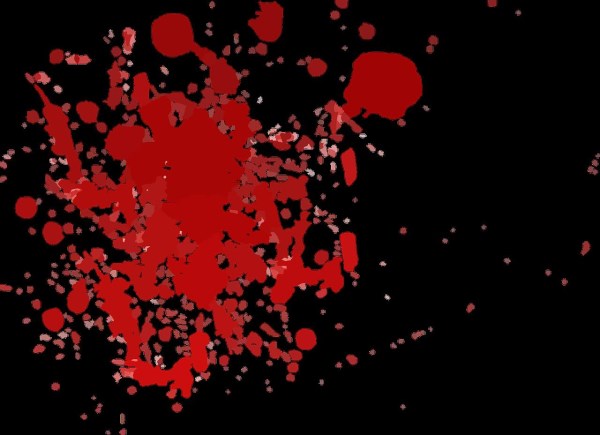 Chilean artist Carina Úbeda has saved five years worth of menstrual blood—for the sake of art. Úbeda can't wear pads because they trigger an allergic reaction. So, instead of tossing her cloth sanitary napkins aside, she decided to save the soiled fabrics until inspiration struck.
For Cloths, her 2013 exhibition at the Center of Culture and Health in Quillota, Chile, the artist put 90 used sanitary rags on display. Each was embroidered with words like "destroyed" and "production" and placed in an embroidery hoop and hung up. They were surrounded by dangling, rotten apples symbolizing ovulation.
While some were disgusted by Úbeda's choice of material, others saw poignancy in the medium. "Male blood is celebrated for being brave while ours is a shame," one visitor claimed. "This won't change until we release our body as the first stage of political struggle."
5

The woman who used menstrual blood to write a letter to her idol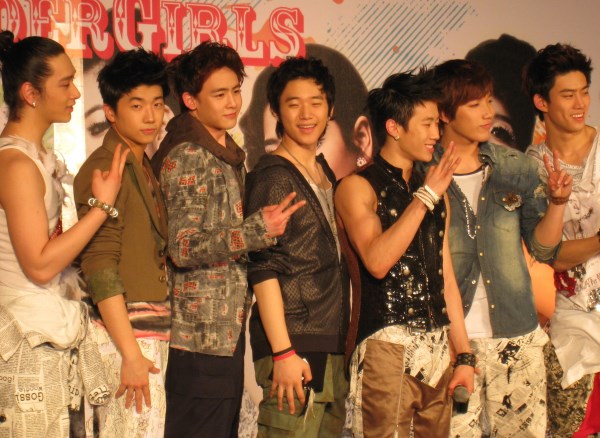 In 2009, a fan letter sent to Kpop sensation Taecyeon of the boy band 2PM received an unusual amount of attention. The letter was not written with normal ink. In fact, this letter's "ink" can only be used a few times every 28 days. The letter was written with a fan's menstrual blood, and came complete with a sprinkle of pubic hair.
The literal translation of the scarlet note said:
I dedicate to Taecyeon my period blood letter. Ok Taecyeon, you cannot live without me. Sprinkled with a few strands of my pubes.
6

Instagram "accidentally" removed a woman's period stain photo twice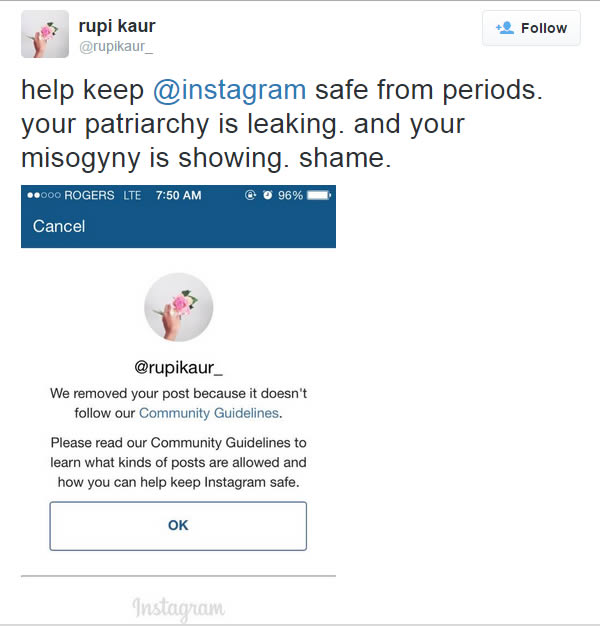 Canadian poet Rupi Kahr posted a photo of herself menstruating on her Instagram account, but the picture was removed. When she posted it again, it was removed a second time.
Frustrated, she wrote to the site:
You deleted a photo of a woman who is fully covered and menstruating stating that it goes against community guidelines when your guidelines outline that it is nothing but acceptable. The girl is fully clothed. The photo is mine. It is not attacking a certain group, nor is it spam. And because it does not break those guidelines, I will repost it again. I will not apologize for not feeding the ego and pride of (a) misogynist society that will have my body in underwear but not be okay with a small leak.
The picture was part of a photo project she and her sister had created about menstruation.
After Rupi began tweeting about what had occurred, her story was supported by others on social media. But she also stirred up debate about the depiction of menstruation, and what is acceptable to share online.
A few days later, Instagram sent her an apology. She was told that the photo was "accidentally removed" and that it was a "mistake."
7

The spoof ad that created a world where men have menstrual cycles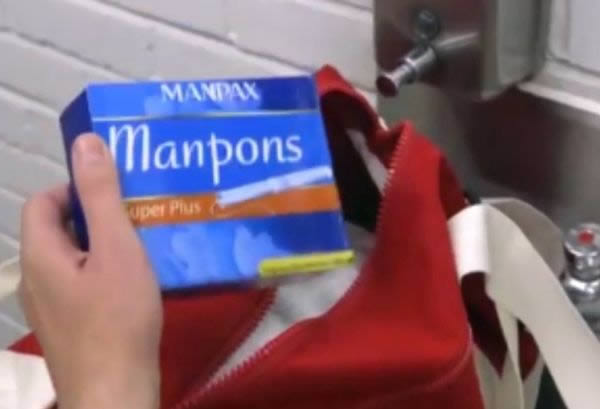 Ever wondered what the world would be like if men had periods?
Now you don't have to. These tongue-in-cheek ad campaigns created by WaterAid have imagined a world where men have their own monthly cycle. They are appropriately hashtagged #ifmenhadperiods.
According to recent research, if men had periods they would brag about them on Facebook, the hashtag would trend on Twitter, and tampon advertisements would probably be fronted by celebrities.
Out of 2,000 women asked, 78% thought that the world of sports would change if men had periods, with 29% agreeing that commentators would openly discuss how a player's menstrual cycle would affect his performance. A further 11% thought that coaches and trainers would attempt to coordinate their menstrual cycles, and 21% agreed that bookmakers would factor a player's menstrual cycle into their betting odds.
WaterAid launched the campaign to raise awareness for the 1.25 billion women around the world who do not have access to a toilet during their periods.
8

The woman who killed her co-worker and had her sentenced mitigated after alleging PMS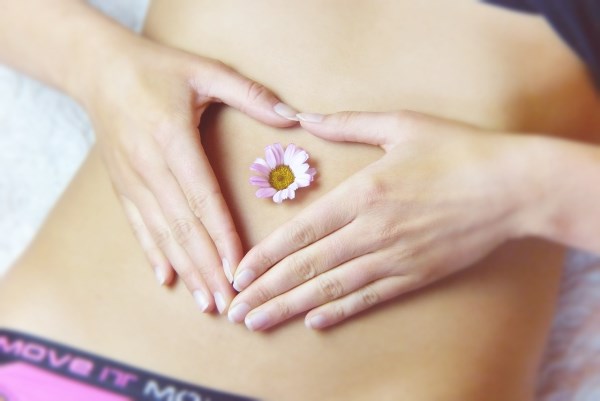 Twenty-nine-year-old barmaid Sandie Craddock got off on a murder charge after stabbing another worker to death when she pleaded diminished responsibility because of Premenstrual Syndrome (PMS). The judge accepted the argument that PMS was a mitigating factor in the incident, because it turned Craddock "into a raging animal" each month.
A review of Craddock's diaries showed that each of her past 30 convictions and multiple suicide attempts occurred around the same time as her menstrual cycle. Craddock was found guilty of manslaughter, placed on probation and ordered to take progesterone treatment.
9

The women who wear white pants stained with menstrual blood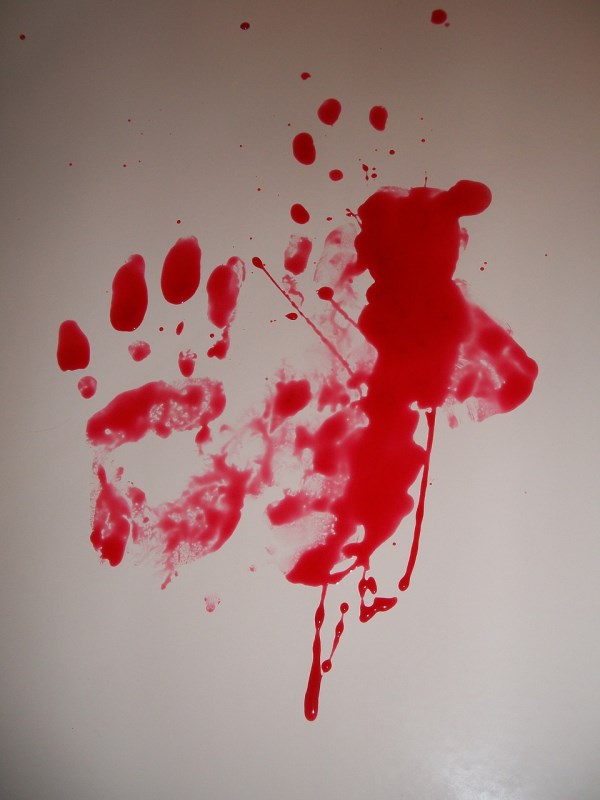 In 2014, tired of feeling ashamed and ostracized by society for their periods, a group of Spanish female performance artists made a public statement by wearing white pants covered with blood stains.
The street performance, titled "Sangre Menstrual" (literally translated as "menstrual blood"), is a protest against the "patriarchal systems" that oppress women during menstruation. Menstruating women have been viewed as unclean since biblical times. The group aims to "reclaim the female body and free normal bodily functions from shame and judgement."
A statement from the "Manifesto for the Visibility of the Period" read, "I stain [my pants], and it doesn't make me sick. I stain [my pants] and I don't find it disgusting." The performance created " a larger debate surrounding reproduction and the female body," and has represented the "body as a political act of defiance."
10

The women who are live-tweeting their periods in protest of Donald Trump's latest comments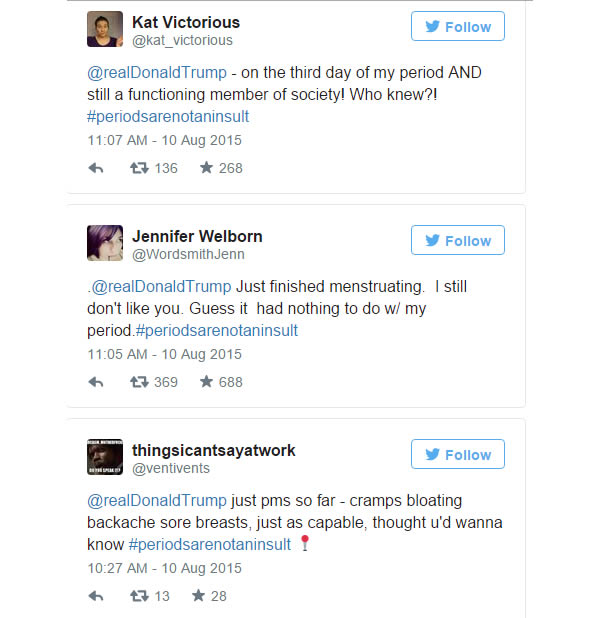 Donald Trump has found himself in the unlikely position of having to fend off an onslaught of angry women who are live-tweeting their periods at him.
The outspoken business tycoon is being targeted on Twitter after clashing with Fox News host Megyn Kelly during the GOP debate over his disparaging comments about women.
In a discussion about their exchange afterwards, Trump told CNN's Don Lemon: "You could see there was blood coming out of her eyes, blood coming out of her wherever," a comment that many saw as an insult toward Kelly, by suggesting she was challenging him because she was on her period.
Trump denied this was the case, and caused even more furor when he tried to defend his comments. He claimed anyone who believed he had been talking about Kelly's period must be a "deviant." This has done little to quell social media users from live-tweeting their periods directly to Donald, with the hashtag #PeriodsAreNotAnInsult.