1

The Breast Milk Baby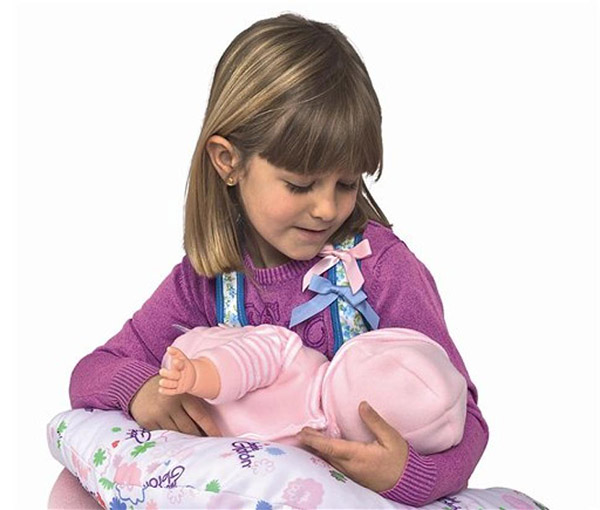 There was considerable controversy when a breastfeeding doll hit the U.S. market in 2012. Despite the flak, the doll has its supporters.
The doll, known as The Breast Milk Baby, is made by Berjuan Toys, a family-owned, 40-year-old toy company in Spain. It comes complete with sensors sewn into a halter top at the nipple, which produces suckling sounds.
Breastfeeding experts and moms are torn on whether the toy is natural, useful or disgusting. While some say the dolls can oversexualize some too quickly, supporters say the toys can help teach young girls about the nurturing skills they'll need later in life.
2

Evil Stick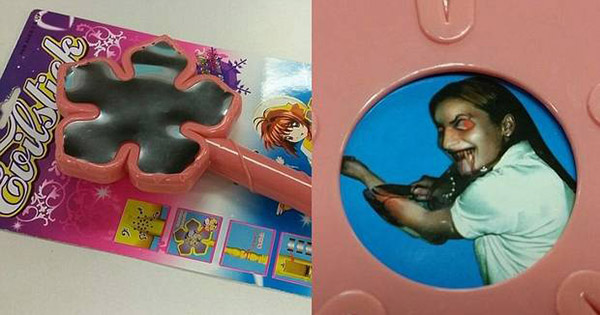 A Dayton, Ohio mom who purchased a toy wand for her child at a dollar store was shocked to find it contained not unicorn hair, but a picture of a child slicing her arm open.
Though the product was named "Evil Stick," the pink lettering, fairies, swirls and snowflakes on the packaging ensured it would catch the eye of toddlers. Despite the pretty design, the wand emits a cackling laugh when activated.
Needless to say, the image was upsetting to some parents. "It's a picture of a girl slitting her wrists. I'm outraged over it," mother Nicole Allen, who bought the toy for her two-year-old daughter.
The dollar store owner Amar Moustafa said it was up to parents to properly read the toy's label.
3

Breaking Bad Action Figures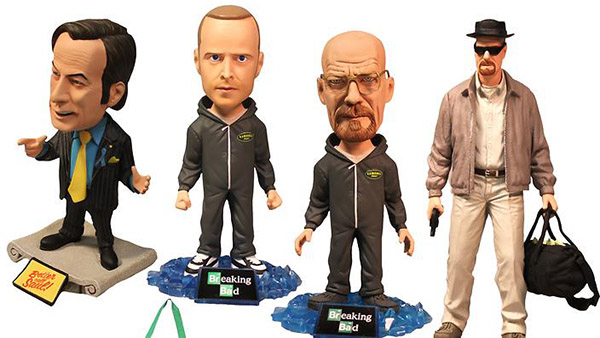 A Florida mom successfully petitioned corporate giant Toys R Us to rid its stores of a line of toys inspired by the Emmy-winning AMC show "Breaking Bad," which centered around a high-school chemistry teacher who turns to making and dealing methamphetamine with one of his former students.
Fort Myers resident Susan Schrivjer started a Change.org petition, which held the argument that Toys R Us is a "family friendly" store, and, therefore, had no business carrying "Breaking Bad" dolls. She wrote:
Toys R Us is well known around the world for their vast selection of toys for children of all ages. However their decision to sell a Breaking Bad doll, complete with a detachable sack of cash and a bag of meth, alongside children's toys is a dangerous deviation from their family friendly values.
Parents and grandparents around the world shop at Toys R Us, online and in stores with their children. They should not be forced to explain why a certain toy comes with a bag of highly dangerous and illegal drugs or why someone who sells those drugs deserves to be made into an action figure.
9,000 people signed the petition, and Toys R Us yanked the toys, not just from its brick-and-mortar stores, but from its site as well.
Actor Aaron Paul, who played Jesse Pinkman on "Breaking Bad," cried foul on Twitter saying, "Wait, so @ToysRUs pulled all of the Breaking Bad figures from their shelves and still sells Barbie? Hmmmm...I wonder what is more damaging?" Paul also tweeted a link to a petition started by Daniel Pickett of Manhattan Beach, California calling Toys R Us to keep the dolls and other adult-themed toys on its shelves. So far, almost 64,000 people have signed it, but the action figures have not been returned to store shelves.
4

Wooden Soviet-Era Rocket Launcher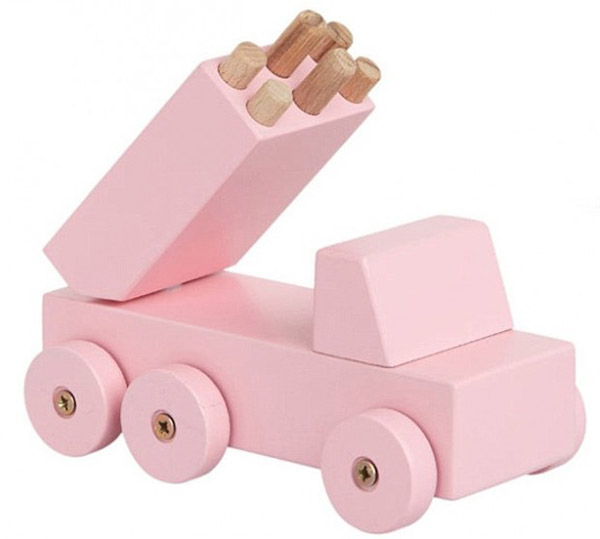 In 2012, a British luxury department store apologized for selling wooden toy versions of Soviet-era rocket launchers.
Posh London store Liberty was forced to pull the £23.50 toy from is shelves following some complaints, with some describing it as "vile" and "tasteless." The toy, which was available in baby pink, yellow or natural wood, the design appeared to be marketed at younger children. It was based on Katyusha rocket launchers that were first used in the Second World War by the Soviet Union. Recently, they were used by Hezbollah militants to fire rockets into Israel.
The Dutch design company Kids on Roof made the wooden rocket launcher and insisted it was not meant to shock.
Some said they felt sick when thinking about it, but others pointed out it was harmless and compared it to little boys owning toy guns.
5

Golliwog Dolls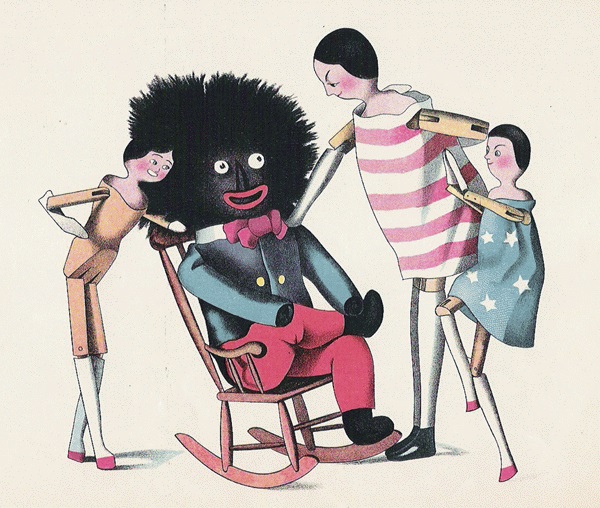 A post office in Scotland has come under fire after its owners put golliwog dolls in their window display close to a primary school.
The father of a one-year-old son, Henry Cruickshank, 35, said he was horrified to see the "brand new" dolls up for sale after he passed the shop.
The controversial dolls are a black caricature with large red lips, afro-style hair and dressed in traditional minstrel clothing. Henry branded the sale "unacceptable" and slammed the shop owners who allegedly became "aggressive" when he confronted them.
The shop owner denied there was anything wrong with the dolls.
Local SNP councillor and former chair of South Ayrshire Council's equality forum Nan McFarlane said "He (the shop owner) is of an age where they wouldn't even give that sort of thing a second thought and definitely hasn't meant any malice by selling them. Though, I must say that I do not approve of this sort of thing, and I'm surprised that these dolls are even still manufactured."
Many retail outlets have come under fire for selling them in recent years, including the Queen, who pulled them from sale at her Sandringham Estate shop.
The golliwog had infamously been the mascot of Paisley product Robertson's Jam until it was ditched in 2002.
6

Jarts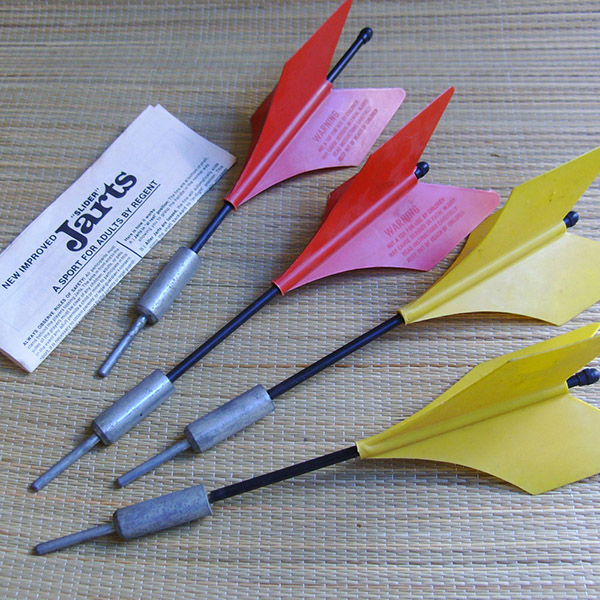 Lawn darts, or Jarts, were all the rage in family fun from the 1950s-1980s. Game sets were designed with four darts and two targets. The darts were made with a heavy metal pointed tip that would allow them to stick into the ground without bouncing around.
Throughout the game's existence, there were numerous accidents, and the game was banned in the United States by the 1970s. The ban was challenged by the manufacturers in court, and the Consumer Product Safety Commission (CPSC) reinstated Jarts to the market as long they were not marketed as a toy.
The game rose in popularity again, but its appeal was short-lived. In April 1987, a 7-year-old girl was killed by a lawn dart in her backyard by a neighbor. Her father lobbied to have them banned again from sales in the US. Effective on December 19, 1988, CPSC banned the sale of all lawn darts in the United States and asked consumers to discard or destroy their games immediately.
Jarts have since been redesigned with a plastic and soft tip and are safe and available everywhere. That, however, hasn't stopped some companies from finding a loophole that allows for shipping the original design into the US and Canada. The consumer is now able to purchase Jarts parts individually and assemble them.
7

Peekaboo Pole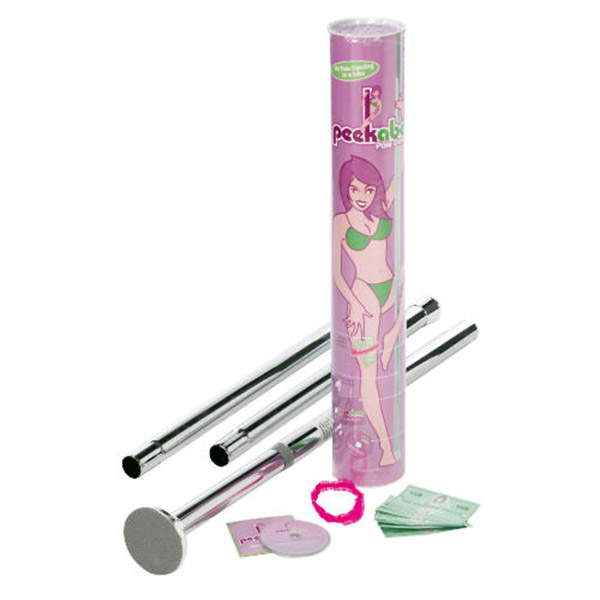 In 2006, Tesco, Britain's largest chain retailer, was advertising a pole dancing kit under the "toy" category on its website with the underlying text, "Unleash the sex kitten inside. Simply extend the Peekaboo pole inside the tube, slip on the sexy tunes and away you go! Soon you'll be flaunting it to the world and earning a fortune in Peekaboo Dance Dollars."
The kit, which cost about 50 British pounds, included an extendable stripper pole, a "sexy dance garter," and a DVD that teaches the viewer how to remove their undies.
After a pretty big public outcry, Tesco agreed to remove the product from the Toy section of its site but said it will remain for sale under the category of "fitness accessory."
8

Playmobil Security Check Point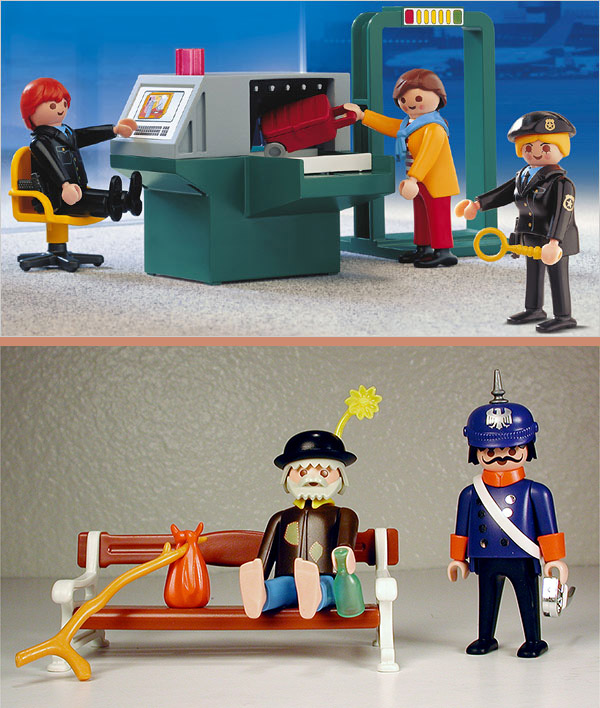 Playmobil toys depict real-life settings that are not always cheery, like a police station, hospital and animal clinic. But one, the Security Check Point, took that philosophy too far for some parents.
The set, which includes armed airport security officers, a metal detector, and an X-ray screening machine, has drawn biting customer reviews, and scores of comments to those reviews, on the web.
One Amazon reviewer wrote, "I applaud Playmobil for attempting to provide us with the tools we need to teach our children to unquestioningly obey the commands of the State Security Apparatus. But, unfortunately, this product falls short of doing that. There's no brown figure for little Josh to profile, taser, and detain?" Ouch!
The playset was discontinued not because of criticism, but because Playmobil is in the habit of doing limited runs for toys.
Regardless, Michelle Winfrey, marketing manager for Playmobil U.S.A., defended the set saying, "The whole premise behind Playmobil toys is to familiarize the child with the realities of life through play. If you're taking a child for a first flight to Florida from New Jersey to visit grandparents, you say, 'This is what the terminal looks like, and when we get here we have to take our shoes off and walk through security.'"
We've included a photo of a second set above because nothing says the "realities of life" like another bizarre Playmobil offering, The Drunken Hobo playset.