1

Chopsticks Instructions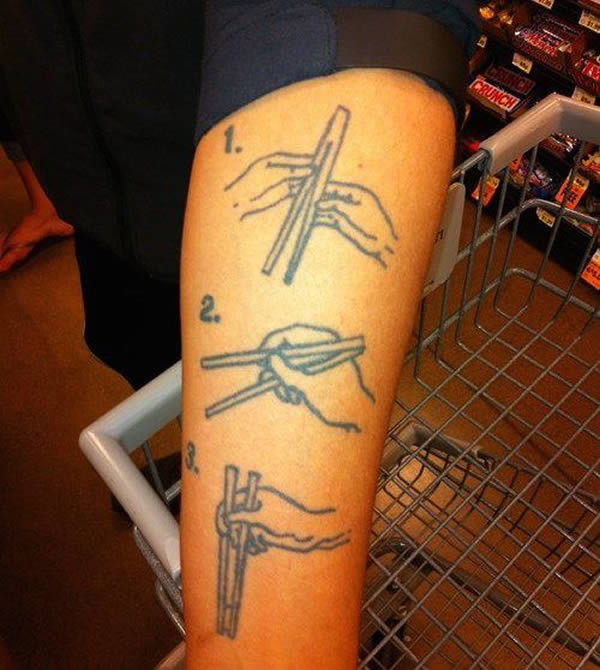 The restaurant doesn't offer forks? Then just roll up your sleeve and follow the instructions.
2

Camera Instructions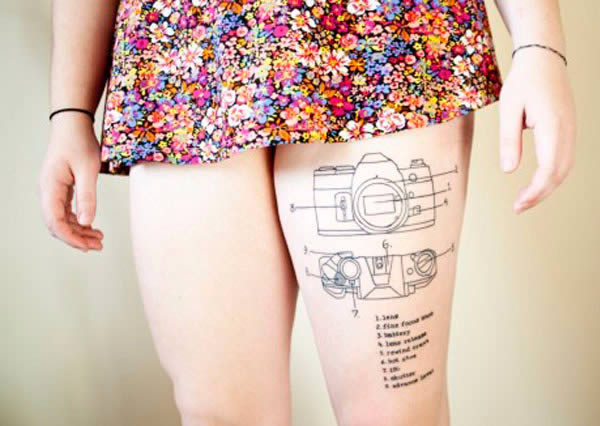 Want a crash course in photography? Check out this tattoo of a camera diagram.
4

Paper Plane Instructions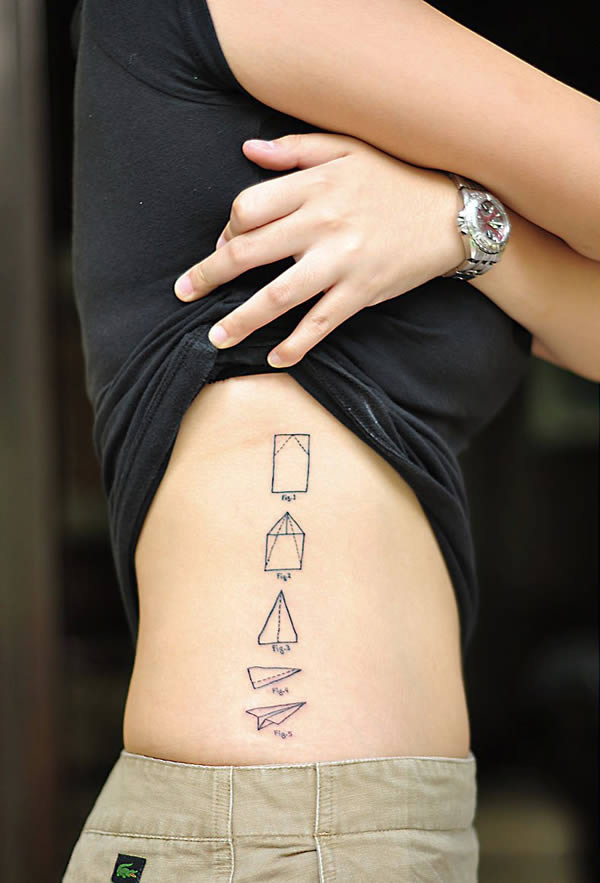 Never learned how to make a paper airplane in grade school? Check out this original idea for a tattoo, which is both creative and nostalgic.
5

Polite Instructions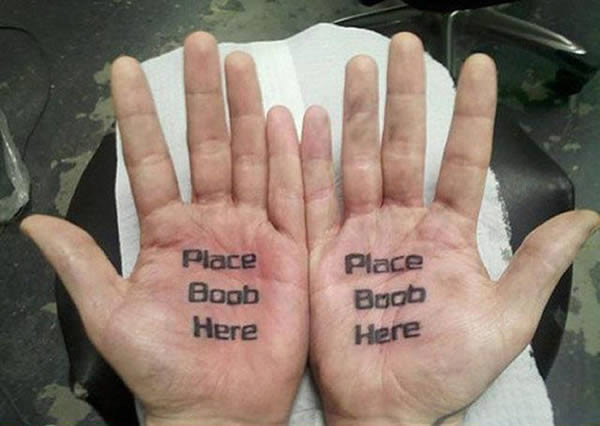 Maybe these are the type of instructions you won't want to follow.
6

How To Create a Human Centipede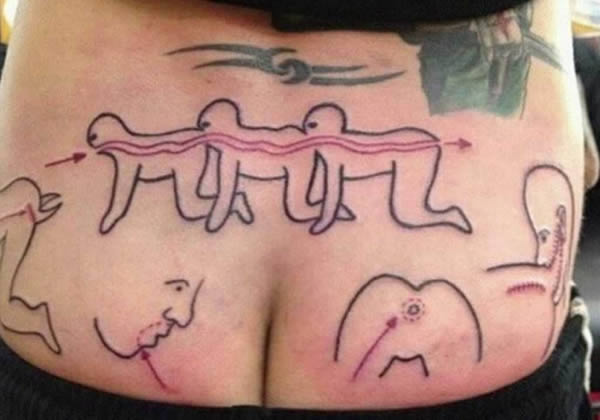 In case you ever feel the need to create your own Human Centipede.
7

Organ Donation Instructions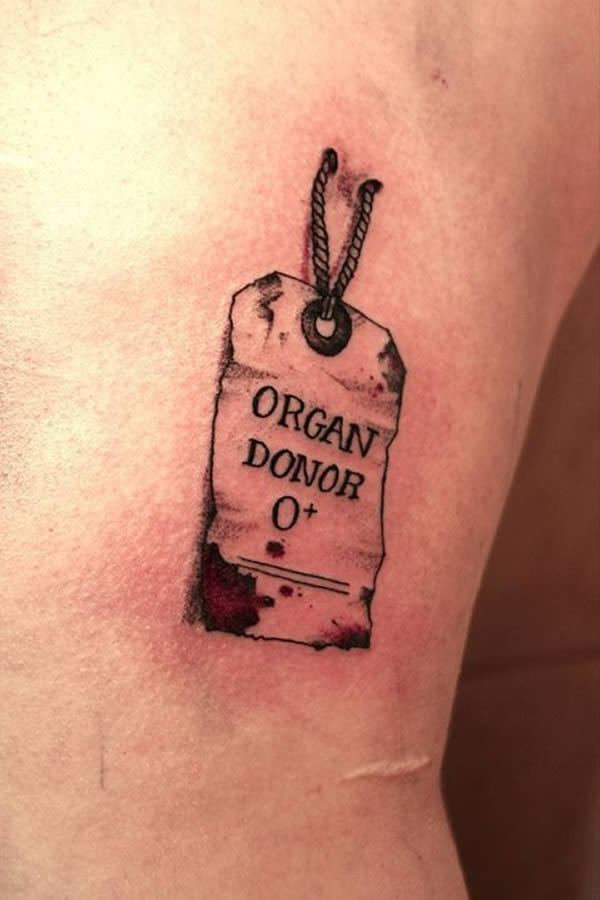 If you really wanted to ensure something was known about you when you were no longer in a position to communicate, what would you do? One possible (and foolproof) solution is getting a tattoo with your final wishes, like this organ donor tattoo.
8

Last Wishes Instructions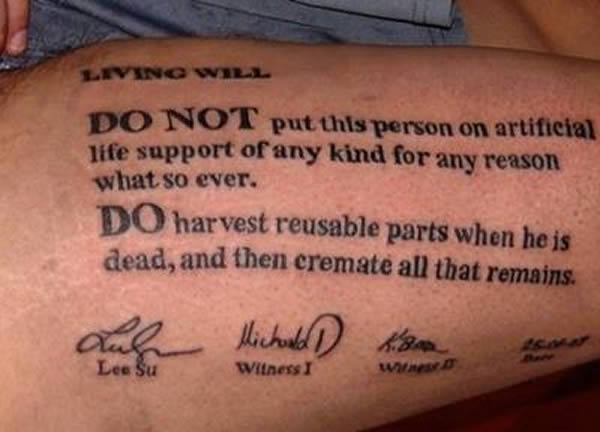 For those who feel strongly about not being resuscitated or put on life support, having those wishes tattooed on a your chest is a very appealing idea. The tattoo can never be lost and the wearer does not have to carry formal DNR documents around. Furthermore, emergency room practitioners are unlikely to miss these instructions prior to attempting resuscitation.
9

Memorizing Temporary Tattoos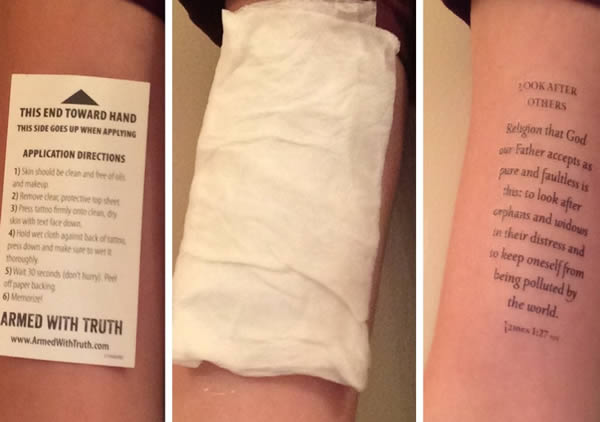 Hands up, who used to struggle with remembering quotes and important lessons in school? There's now a company called Armed With Truth (based in Colorado) that combines the need for an easier way to memorize quotes, with the fun of a temporary tattoo.
The folks behind these temporary tattoos wanted to help Christians memorize scripture. They came up with the idea of creating a range of temporary tattoos, which feature important verses that are helpful and encouraging, and packaged them in themes such as Fearless and Transformed Mind.
10

Where to Place Beer Instructions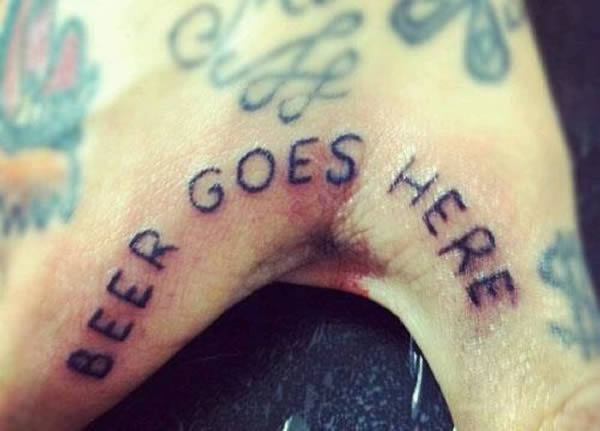 Last on our list but definitely not least, in case you get confused about where the beer bottle should go, this tattoo is definitely a lifesaver.