1

Super Mario Bros. - Themed Apartment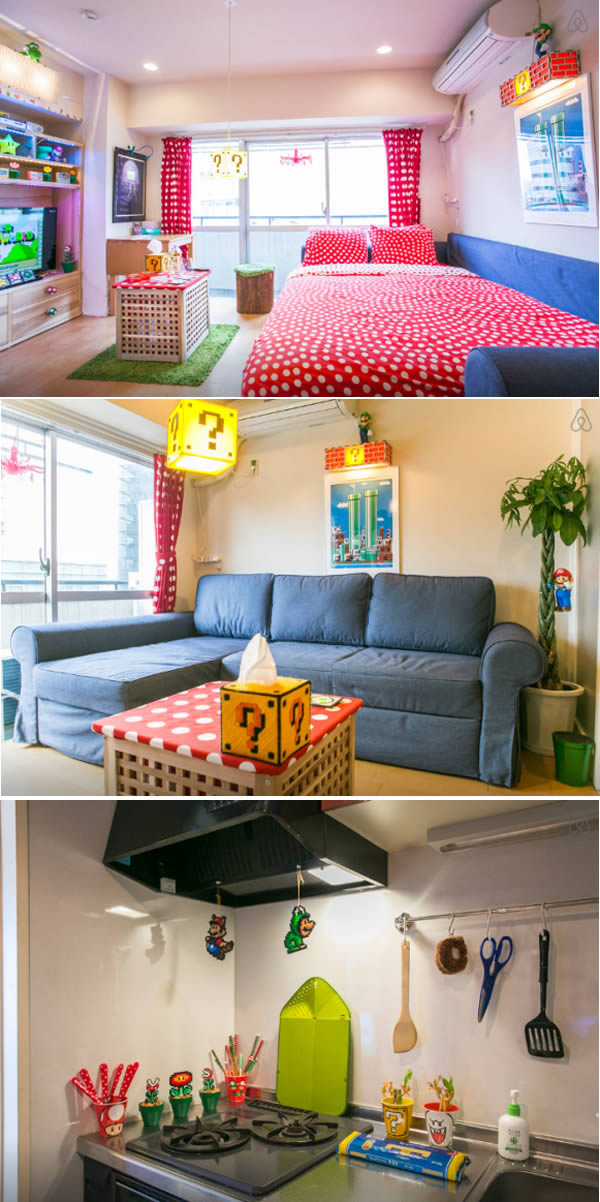 This is a short-term apartment in Tokyo available for rent from Airbnb. From the bedroom to the kitchen to the bathroom, it's decorated for your inner plumber and is conveniently close to a train station. Please do not slide down any pipes in the apartment or punch the yellow question blocks – you might lose some of your security deposit.
You might be wondering where the owner managed to buy all of these Mario-related knickknacks. In some cases he didn't buy them at all – the artistic Nintendo fan created or painted many of the pieces himself.
2

Joey and Chandler's Friends - Themed Apartment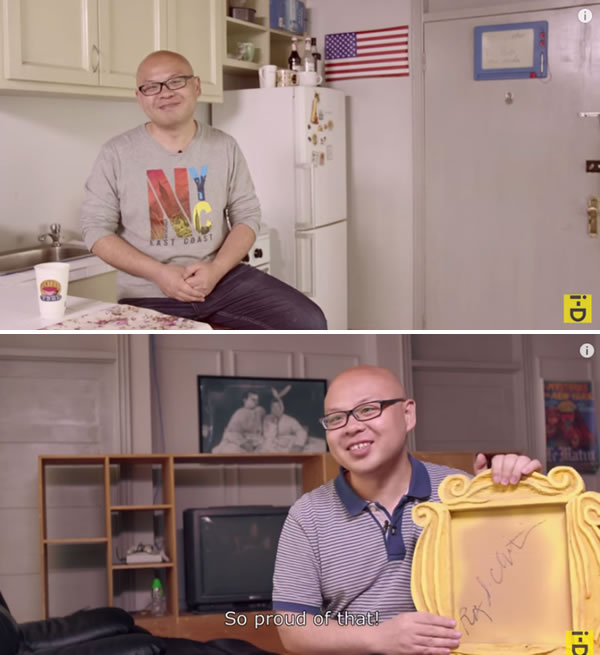 We've all dreamt our life was a bit like Friends – a world where you could sit around drinking coffee with your best pals all day, eat pizza with Joey whenever you want, live in a massive flat in central New York, and are always guaranteed to find lobster.
But while you've only fantasized about it, a man in Beijing has actually done it. After a bad break-up, Gunther's (not his birth name) buddies suggested he watch Friends to help him get over his heartbreak. It did the trick – Gunther became so obsessed with the show he opened his very own Central Perk in Beijing, where he works as a barista. His Central Perk even comes complete with specially made couches and a real life Smelly Cat.
He also modeled his apartment on Joey and Chandler's place and has paid attention to every tiny detail. Everything's included, from Joey's favorite Baywatch DVD to the Lionel Richie record Chandler sang along to with Phoebe while mourning his split from Janice.
3

Star Trek - Themed Apartment (Lost in an ugly divorce)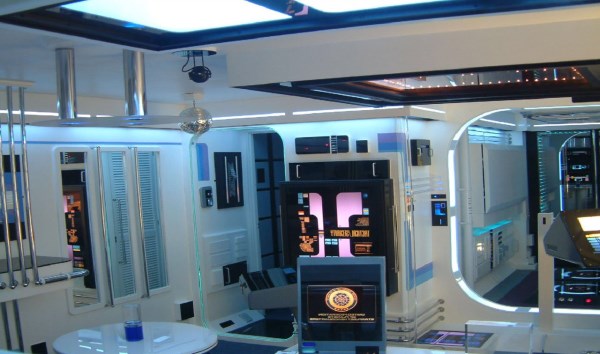 After 58-year-old Star Trek fanatic Tony Alleyne got divorced, he proceeded to live out every Trekkie's fantasy. He transformed what had become his bachelor pad into the interior of the Starship Enterprise.
During a ten year time period, Alleyne tricked out his apartment in Leicestershire, England with Trek touches such as a full-scale replica of the Enterprise's console (complete with flashing lights) and the "beam me up" transporters that Scotty famously manned. He did all the work himself and said it cost him about $6,500, but claims it would've been hundreds of thousands of dollars to get laborers to do what he accomplished solo.
Sadly, for Alleyne, he didn't own the apartment. His ex-wife did and decided she wanted to sell it. To appeal to a wider range of buyers, all the Star Trek swag had to go.
4

Avengers - Themed Apartment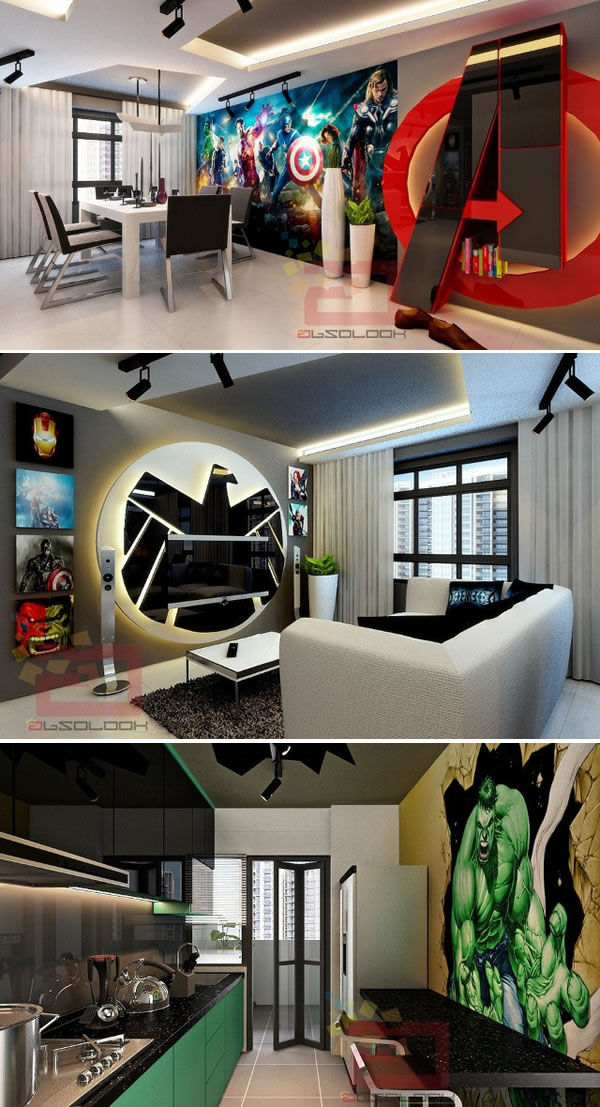 Imagine if after seeing the midnight showing of The Avengers: Age of Ultron, you could go home to an Avengers-themed apartment and sleep with Iron Man watching over you. If you contact Singapore's Absolook Interior Design, this dream could become a reality.
The company's portfolio shows off a variety of gorgeous projects, but none are quite as geeky (or even close to as geeky) as this Avengers-inspired decor. The superhero elements aren't subtle at all, but Absolook made them look classy and chic.
The living room features the symbol of S.H.I.E.L.D. The narrow kitchen has Hulk green touches on the cabinet doors and drawers, and Hulk is busting through the wall undoubtedly looking for a midnight snack.
5

Steampunk - Themed Apartment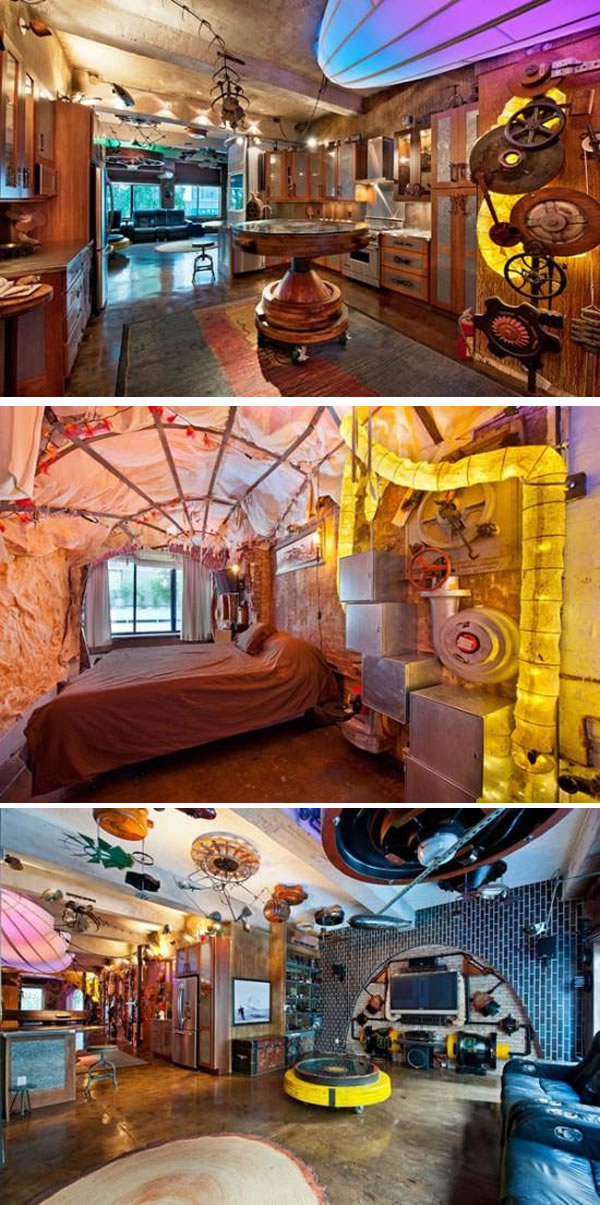 In 2011, one of the coolest homes in New York City, filmmaker Jeremy Noritz's steampunk-themed apartment, was up for sale for the "modest" price of $1,750,000.
Featuring a beautiful steampunk interior complete with submarine-style front door and colorful zeppelins flying down from the ceiling, this truly is a geek's dream home. Noritz bought the open-space loft in 2006, for $1.3 million. Inspired by steampunk design and photos of Zeppelin, he set out to turn his pad into a unique experience for visitors and himself.
The apartment has a weathered-looking door that appears to have been salvaged from an old submarine, a color-changing zeppelin that seems to be coming down from the ceiling, large wooden and metal gears weighing up to 500 pounds hanging from the walls and ceiling, and even old wrenches that act as cabinet door handles. The bedroom is decorated to look like an exploded Zeppelin and features a bed that can be lowered and lifted via switch made from a deactivated bomb. Nearly every item used to decorate the loft was collected by Noritz from metal foundries and antique shops.
The 1,800-square-meter space is configured as an open loft with one bedroom, a private terrace, and two full baths, which are hidden by walls of antique gears, cogs, and piping. Although he loves his house very much, he says his job has him traveling a lot, so it's time for somebody else to enjoy it full time.
6

Space Invaders - Themed Apartment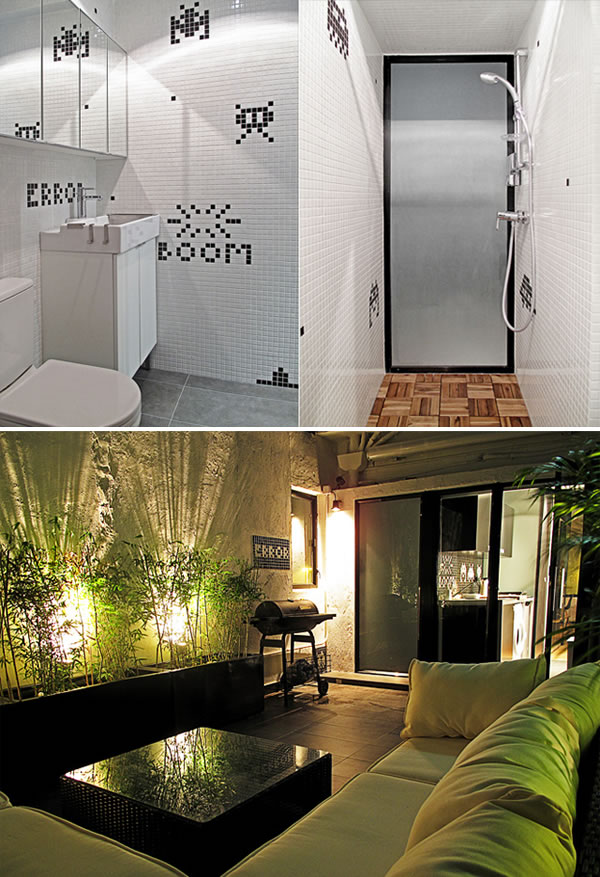 Warsaw, Poland-based architecture studio OneByNine constructed a brilliant Space Invaders-themed interior for a Hong Kong apartment in 2012. The 376 square feet of modern design mixed with an old school 8-bit video game look by Polish architects Lukasz Wawrzenczyk and Ewa Koter made for epic geek eye candy.
7

Star Wars - Themed Aparment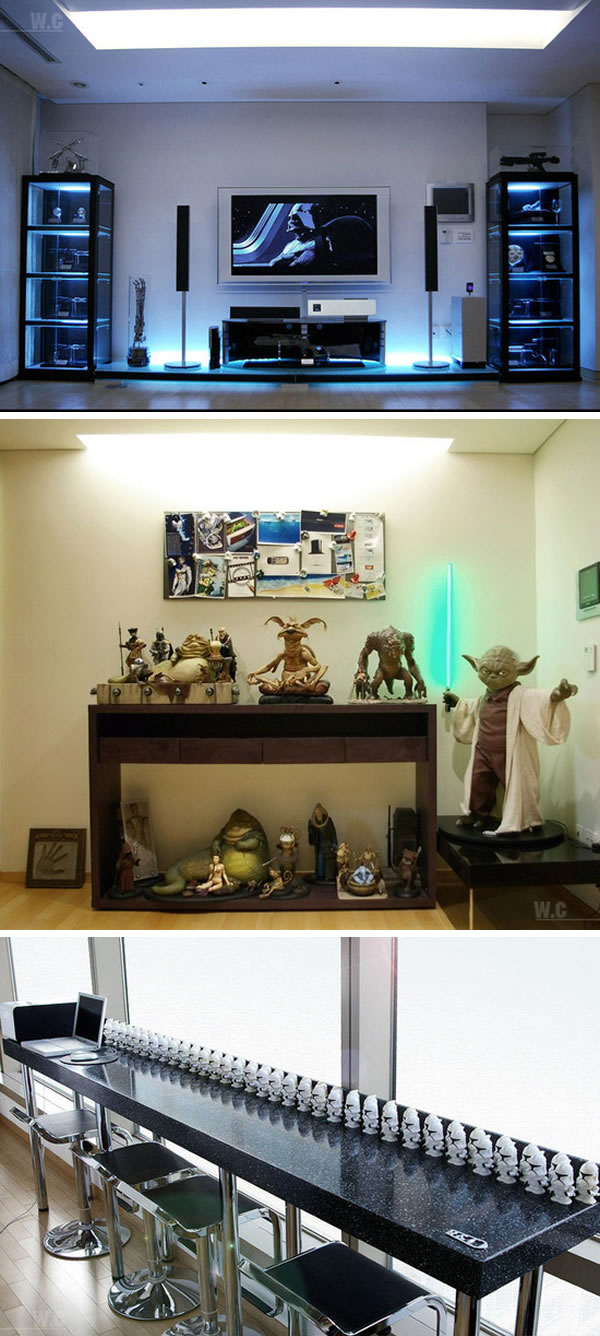 Collectors are a dime a dozen. Collectors like Cho Woong, who can balance their obsession with a good eye for decor, are more of a rare breed. Cho's collection of Star Wars borders on Sith Lord scary, with a home entertainment center that looks straight Empire chic, a display case that would give the Smithsonian a run for its money, and even a Darth Vader bathroom that somehow works as a decor theme.
8

PS4 - Themed Apartment

For the release of the PlayStation 4 in 2013, Sony France created an apartment based on PS4. Those who were invited to the apartment were able to enjoy PS4 games before their official release.
The apartment, aptly named "Apartment 4" (or "Appartement 4" in French), was filled to the brim with PlayStation imagery and charm, including decorative armored suits and parrots.
9

Beatles - Themed Apartment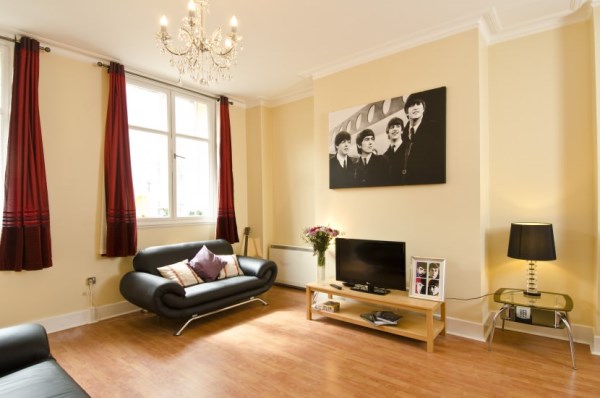 Liverpool is full of lovely places to stay, and if you are a truly Beatles fan, this may be the best place to stay in the whole city. The Daytripper Apartment is a Beatles-themed self-catering flat in the city center in a quiet neighborhood, and you have to see it to believe it.
Every room in the flat is tastefully and artfully decorated with Beatles prints, memorabilia, books, and records. There is a music system that includes a CD player and iPod dock, a huge array of CDs to choose from and guitars to strum.
10

Nature - Themed Apartment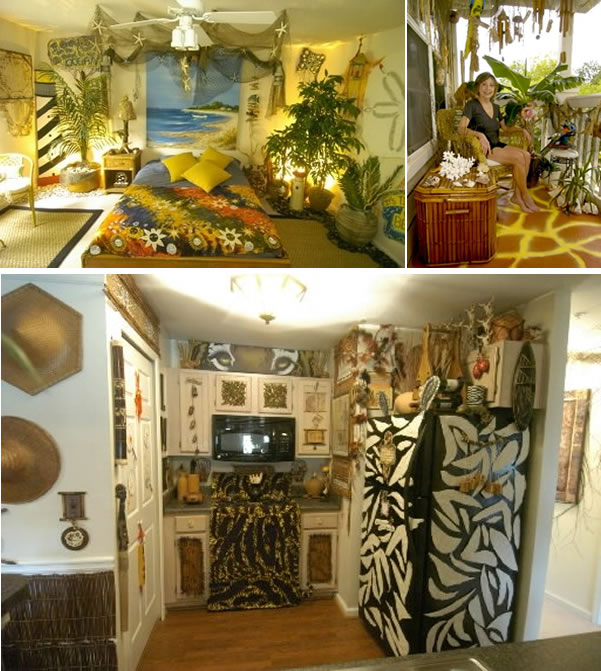 Linda Kizer doesn't read home decor magazines. When you have a stove decorated as a tiger, a refrigerator masked as a zebra and a jungle inside your dining room, you may not find much use for the latest color trends or how to pair plaids with stripes. Kizer's Eastside apartment is a complete original, gleaned from the depths of her very creative mind.
The animal-print appliances flow with the wild theme of the apartment where Kizer has lived for the past few years. There, the jungle is not so much outside as it is inside. The front door is flanked by a wild crop of potted plants, and African masks and exotic wood carvings conjure a faraway feel.