1

The sea lion that was found at a San Diego high school
A sea lion found itself in the back of a police squad car in Imperial Beach, San Diego, California in April 2015. It appears the pup wandered away from the shoreline and waddled five blocks to Mar Vista High School. School staff called in San Diego County sheriff's deputies to "investigate." Animal Control officers and SeaWorld workers arrived soon after to tend to the pup.
In a news release, sheriff's deputies jokingly described attempting to figure out the sea lion's motive. "While deputy sheriffs attempted to interview him as to his activities, he clammed up and requested his lawyer," the release said.
On a more serious note, an increasing number of sea lion pups in search of food are washing up on California's shores and scientists have said they don't know the remedy.
2

The giant alligator seen roaming a Florida golf course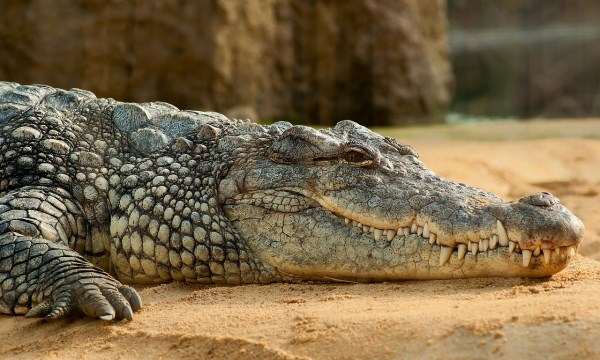 There are hundreds of alligators living in the lush swamps surrounding the Myakka Pines Golf Club in Englewood, Florida, but few have gained as much attention as the very large gator who became a hazard on the seventh green in March 2015.
Meet "Goliath," nicknamed as such after the photo you see above went viral. According to Myakka Pines' general manager Mickie Zada, two senior members were playing the course on March 6 when they came upon the gator "who appears to have taken residence on our White Course #7 hole."
One of the men used his phone to snap a photo of the gator at an angle that made it "looks like a dinosaur," even though Zada believes it was only 12-13 feet long. (Well, that's still too long for us!)
The photos (and Goliath) have turned into a publicity boon for the course, which is located south of St. Petersburg on Florida's Gulf Coast. And the animal has since reappeared – on March 26, Goliath was seen chowing down on an unfortunate snapping turtle along the edge of one of the fairways.
3

The mountain lion that was hiding under a Los Angeles home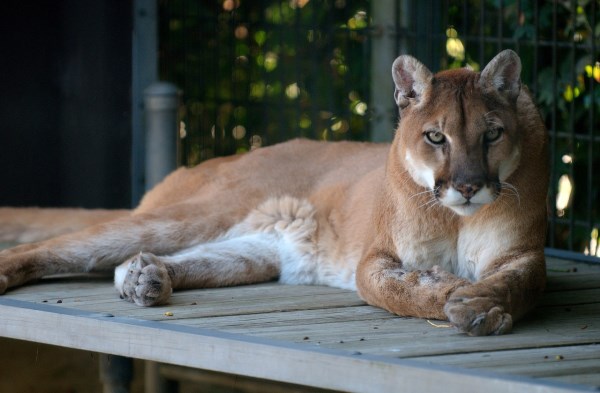 Famed Los Angeles mountain lion P-22 was found trapped in the crawl space of a Los Feliz neighborhood home on April 13, 2015.
After attempts by California Fish and Wildlife to coax him out with a tennis ball launcher and shooting a few beanbag rounds into the crawlspace failed, the area was cleared so the feline could – and eventually did – come out on his own.
P-22 is believed to be the only large carnivore worldwide living in a mega-city, according to national park officials. He's been an area resident since at least 2012 – when a camera trap photographed him walking in Griffith Park, a 4,300-acre city park at the eastern edge of the Santa Monica Mountains.
Park officials believe P-22 came from the Santa Monica Mountains and somehow navigated the busy freeways. "He had to have crossed the 101 and 405 freeways to get to Griffith Park, which is pretty remarkable journey," said Kate Kuykendall of the National Park Service.
P-22 has been known to roam the neighborhoods surrounding the park without much fanfare, and will always call the area home. He won't be relocated, park officials say because that would mean fighting for territory with other male lions.
4

The flocks of feral parrots that roost in Los Angeles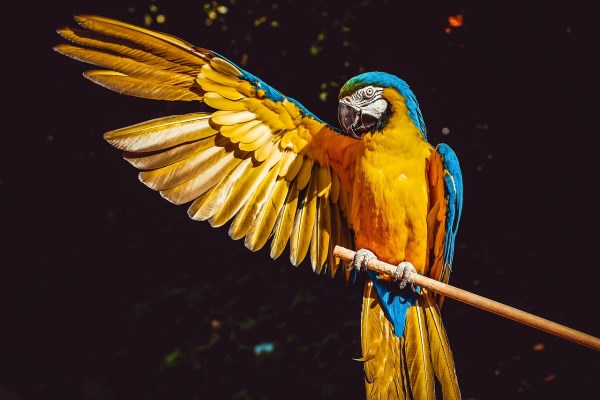 Feral parrots have invaded the east side of Los Angeles (and parts of the San Fernando Valley) in recent months. However, they are not new to the area – there are 13 different species in the greater LA skies.
The parrots were first spotted in LA in 1960s, according to the Havasi Wilderness Foundation, possibly thanks to a 1961 Bel Air brush fire, when it's believed many bird owners released yellow-headed parrots so they could escape the flames.
Another theory? The former Busch Gardens theme park in Van Nuys operated an aviary in the 1960s and '70s, but it shut down in 1979 when the property was turned into a full-time brewery. While many parrots were shipped to zoos, it's believed some were set free or managed to escape their cages.
If you find yourself in Los Angeles, listen for squawking and look up – you're in for a treat!
5

The koala that were pampered on a Qantas jet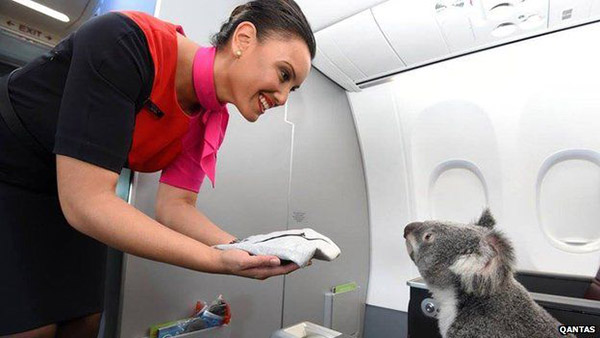 Koalas are cute and seeming cuddly, but we've never seen one in flight – until now. Four koalas being loaned to Singapore by Australia to mark the city state's 50th independence anniversary have been given star treatment by Qantas airline.
The animals were offered hot towels, and eucalyptus leaves in a photo shoot staged in an airplane's cabin though they will actually be traveling in crates.
Paddle, Pellita, Chan, and Idalia will spend six months as "cultural ambassadors" for Australia once they are out of quarantine. They can then be visited at the Singapore Zoo.
Many people offered their captions to the images released by Qantas. "Wow showing her teeth and making direct eye contact. Hope there is an air marshal on that plane when that koala decides to attack," one wrote.
6

The baboon scavengers that terrorize a Cape Town neighborhood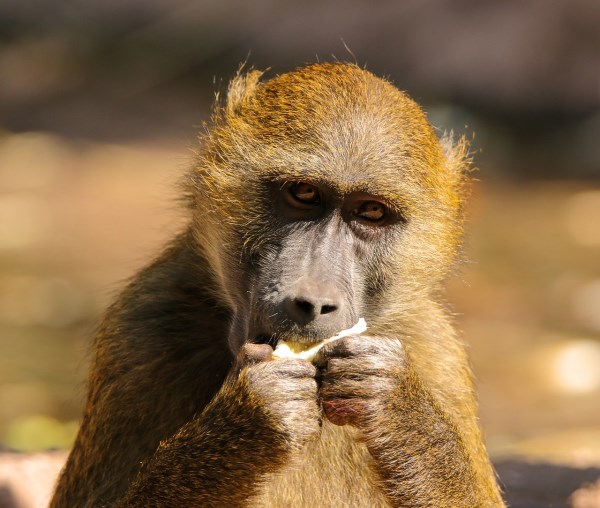 On the Cape Peninsula in Cape Town, South Africa, there are now around 500 baboons living in 16 groups, increasingly cut off from their old, native habitats by the sprawling city. The animals are protected by the government and, unfortunately, man and baboon share a sometimes uncomfortable existence.
The baboons trawl through trash cans, loiter at garbage dumps, steal from shops and markets and prowl around picnic sites to survive. Some are such practiced scavengers that they know exactly when garbage trucks will arrive with fresh supplies at the dump.
They've broken into apartments by scaling the buildings, prying open windows and plundering anything that is inside. Usually, they just want food, but sometimes a flapping set of curtains or a child's cuddly toy can provide some added entertainment.
Protocols for putting a baboon down have been considered, including whether the baboon was a repeat offender when it came to raiding, if it was a dispersing male who would not return to the troop or if it was sick or injured. For residents of the area, their weapons of choice – given that their enemy is a protected species – tend to be paintball guns and pepper sprays. They have the momentary effect of driving the baboons away, but hunger and sheer nerve always bring them back.
7

The coyote that was seen on the rooftop of a New York City bar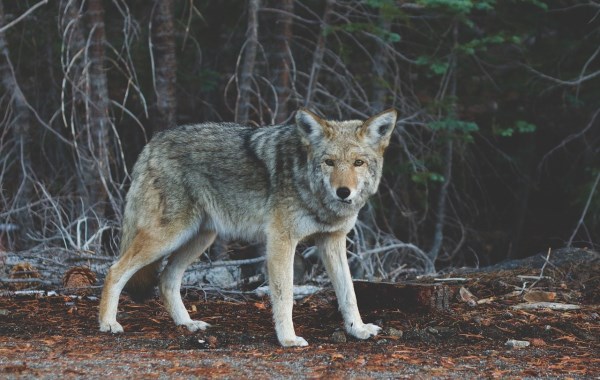 On April 1, 2015, a coyote surprised tenants when it was seen above L.I.C Bar on Vernon Avenue where it pranced across the pub's roof. Police and animal control officers responded and tried to snare it, but the "wily" (get it?) coyote nimbly escaped through the open window of a vacant building nearby.
L.I.C. owner Brian Porter suspects the coyote may have been living in the sprawling former paint factory and is possibly still lurking there.
The Queens coyote was an instant hit online, and at least a few animal watchers suspect they've seen it in the area before. The canine's rusty coloring appears similar to one spotted about four years ago in nearby Calvary Cemetery.
Porter would be happy if he doesn't see it on the roof of his bar again. "I'm hoping that's the last of it," the barkeep said. "There's a lot of people walking those streets – a lot of people walking their dogs, a lot of kids."
8

The sharks that made their way into the Venice canals of Los Angeles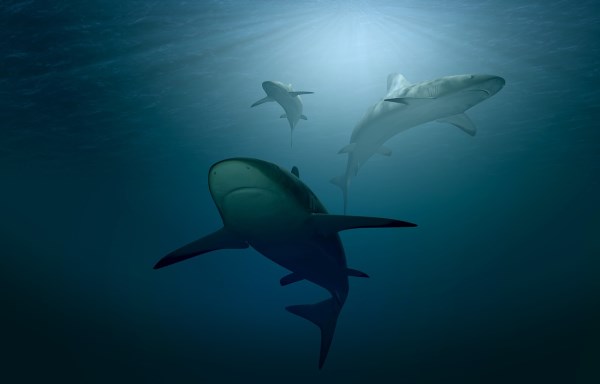 How do sharks occasionally get into the Venice Canals of Los Angeles? Simple. Sea life goes in and out with the tides, and that includes the occasional shark, even if the canals are now neatly lined with multimillion-dollar homes.
Sheena Duggal, a visual effects supervisor for feature films and a volunteer for African clean-water nonprofit Pump Aid, spotted the sharks in February 2014 and posted a few photos on her Twitter account. The sighting was then verified by those in the know at the Santa Monica Pier Aquarium. The sea critters were identified as 1½-year-old leopard sharks measuring about 1½ feet long. (They can grow up to about six feet in length.)
Leopard sharks are not a protected species. And while they can bite, they're small, and they're not that aggressive, so there's no need to freak out as if you've seen Jaws.
9

The kangaroo pair that fought it out on a suburban Australian street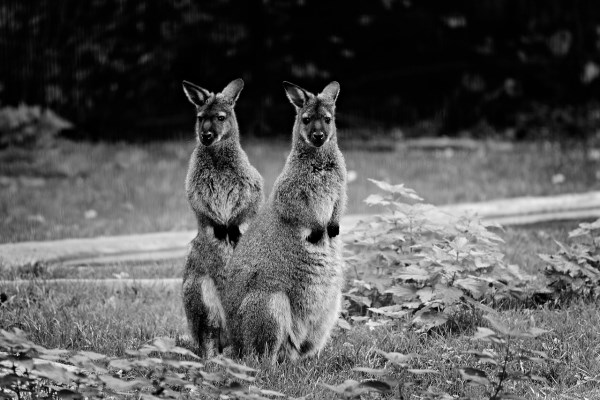 A pair of male kangaroos decided to fight out their differences on a residential street in an Australian suburb and gave new meaning to the term "take it outside."
Footage taken by YouTube user Rodney Langham shows the duo engaged in heavy scrapping – from throwing punches to dropping big kicks – on a street in New South Wales, Australia.
This type of "boxing" is largely practiced by kangaroo males when faced with competitive situations.

10

The man who was arrested for drunk driving with a zebra and parrot in his truck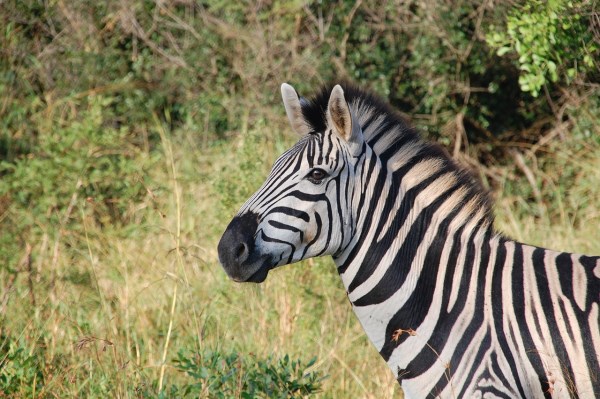 In 2012, police in Cascade, Iowa made an unusual drunk driving arrest that they are still likely talking about to this day.
Officers found then 55-year-old Jerald Reiter in his car in the parking lot of the Dog House Lounge – with a pet zebra and macaw parrot in his front seat.
Reiter, who had blood alcohol level of 0.14, told authorities he considers the animals his friends, and they often come on trips with him around town. He said he brought them to the bar because they often allow people to bring their pets with them, though bar owners insist that animals aren't allowed inside.
When Reiter arrived at the bar with the zebra and macaw, he was told they'd have to stay outside. He left them in the car and went in for a few drinks. Meanwhile, gawkers gathered to take photographs of the unlikely animal duo before Reiter came back to his truck. One of them probably called police.
Reiter disputed the arrest, saying he was just about to get out of the truck and let a (human) friend drive when police showed up.
Although the truck wasn't in motion, just being in the driver's seat is considered operating while intoxicated in Iowa. While Reiter spent a few hours drying out in jail, his pal did indeed take the zebra and parrot back home.