1

The 14 year old Chilean Girl who asked the President to let her die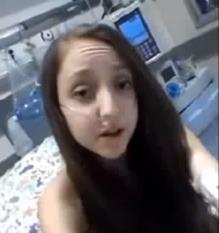 A 14-year-old Chilean girl suffering from terminal cystic fibrosis is asking her country's president for permission to end her life.
Valentina Maureira, who was diagnosed with cystic fibrosis as a baby, recently published an emotional self-shot video on her Facebook page pleading for a meeting with Chilean President Michelle Bachelet.
"My name is Valentina Maureira, I am fourteen and I suffer from cystic fibrosis," the teenager says in the video, which she filmed with a cellphone in her hospital room. "I need to speak urgently with the president because I am tired of living with this disease, and she can authorize an injection that will allow me to sleep forever." The video, posted on February 2015, has gone viral on YouTube.
A Chilean government spokesman said that the nation's laws, which prevent assisted suicide, also prevent the president from granting Valentina's request. But the teenager's desperate plea has moved the South American nation of 20 million. #ValentinaMoureira became the top trending topic on Chilean Twitter. The girl's video has also sparked a broader conversation about whether euthanasia should be legalized in the largely Catholic nation.
President Bachelet, who is also a pediatrician, eventually made an hour long visit to see Valentina.
Cystic fibrosis, a genetic disease with no cure, severely debilitates patients by clogging their lungs and organs with thick layers of mucus. Valentina, who weighs 77 pounds, relies on breathing machines and is fed through a tube. Her plea for euthanasia came after the death of another cystic fibrosis patient at her hospital a month ago.
2

The terminally ill 29-year-old wife who moved to Oregon to have the right to die on her own terms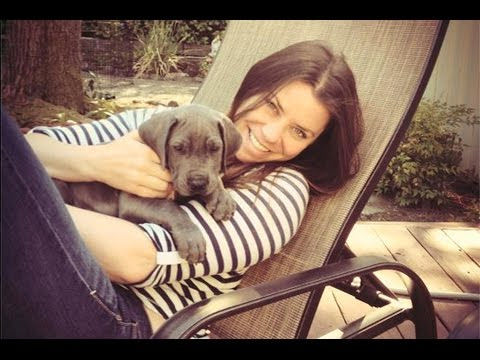 On November 1, 2014, Brittany Maynard, the terminally ill woman who pledged to end her own life under Oregon's Death With Dignity Law, died in her home from a lethal dose of barbiturates. She was 29. She posted a goodbye letter to her Facebook page.
Maynard and her husband Dan Diaz drew national attention a month before, when the couple announced they intended to take advantage of Oregon's Death With Dignity Law, which allows residents with terminal illnesses to take their own lives with lethal drugs provided by a doctor. The couple had relocated to Oregon from California in June specifically for the law, which was adopted in the state in 1994.
Maynard was diagnosed with brain cancer—stage 4 glioblastoma—in January 2014 and was told she had six months to live. Her decision to end her own life has reignited the right-to-die and assisted suicide debate. In the lead-up to her death, her campaign was criticized as exploitative, but her supporters heralded her as brave.
3

The healthy woman who wanted to die beside her ailing husband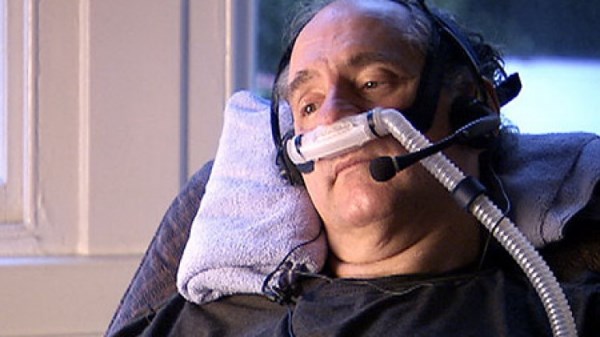 Inseparable throughout their 50 years of marriage, George and Betty Coumbias of Canada wanted to die together. They sought to become the first husband and wife to complete simultaneous suicides with legal authorization. They were featured in John Zaritsky's 2007 documentary, The Suicide Tourist. Although assisted suicide is illegal in Canada, they hoped to end their lives with the approval of the government of Switzerland.
The couple's request was unusual in that, while George Coumbias suffers from heart disease, Betty Coumbias was reported to be in excellent health. Ludwig Minelli, director of the Swiss assisted-suicide group Dignitas, petitioned the Canton of Zurich to grant doctors the authority to issue lethal drugs to healthy people after they have been counseled by his organization. The Coumbiases ultimately had their request turned down.
However, in 2009, in a weird turn of events, Betty Coumbias developed cancer and died, while George continues to live with his heart condition.
4

The twins who were going blind and asked to be euthanized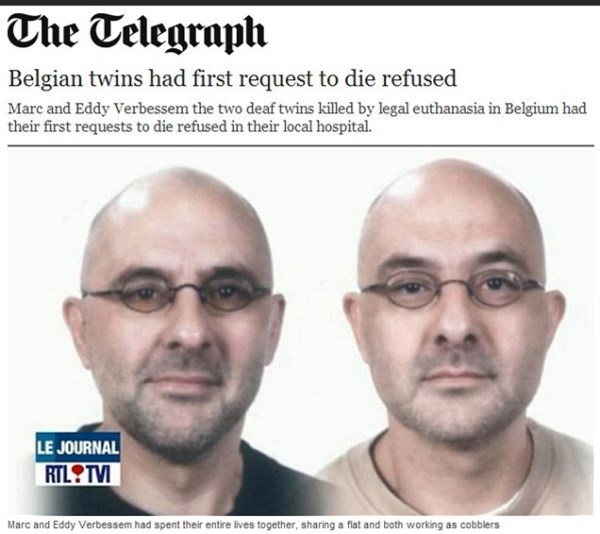 In 2012, a pair of identical twins, Marc and Eddy Verbessem, who were born deaf, were killed by Belgian doctors after seeking euthanasia when they found out they would also soon go blind.
In a unique case under the country's euthanasia laws, the 45-year-old brothers, from Antwerp, chose death as they were unable to bear the thought of never seeing one another again. On December 14, they were euthanized by lethal injection at Brussels University Hospital in Jette, after spending their entire lives together.
Their case was highly controversial as neither twin was suffering extreme physical pain or was terminally ill. The twins both worked as cobblers and shared a flat together. David Dufour, the doctor who presided over the euthanasia, claimed the twins had made the decision in "full conscience."
5

The murderer and rapist who was granted right to euthanasia rather than the "unbearable suffering" of life in prison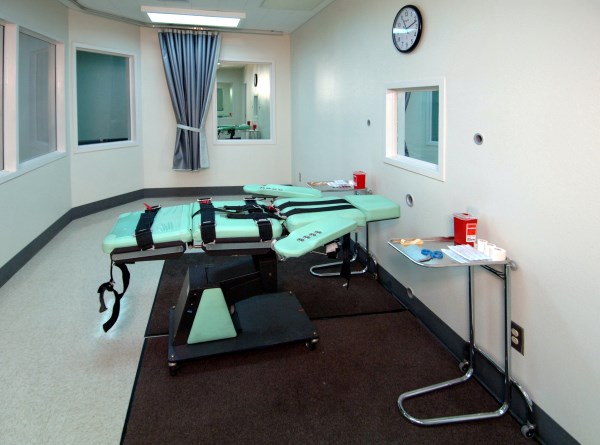 In September 2014, a convicted murderer and rapist who argued he was living a life of unbearable psychological suffering in prison was granted the right to die under Belgium's liberal euthanasia laws, paving the way for at least 15 similar requests from other inmates.
Since 2002, people living in Belgium can ask doctors to end their lives if a panel of medical experts agree that their physical or mental suffering is unbearable and irreversible.
Frank Van Den Bleeken, a 50-year-old serving life for sexual assault and murder, argued he would never be able to overcome his violent impulses and would spend his life in prison. He has been imprisoned for 30 years and asked to end his life three years ago. The board that assesses each case said he had to seek psychological help first, but after he failed to find such treatment, his request was granted.
He was due to be euthanized in January 2015, but it was suddenly canceled after doctors pulled out of the euthanasia procedure.
Van Den Bleeken's right to euthanasia had been strongly condemned by the family of his victim. The two older sisters of Christiane Remacle, a 19-year-old girl raped and strangled to death by Van Den Bleeken on her way home from a New Year's Eve party on January 1 1989, called for him to "languish in prison" rather than be allowed a swift release.
6

The newlywed paralyzed man who chose to end life support before meeting his unborn son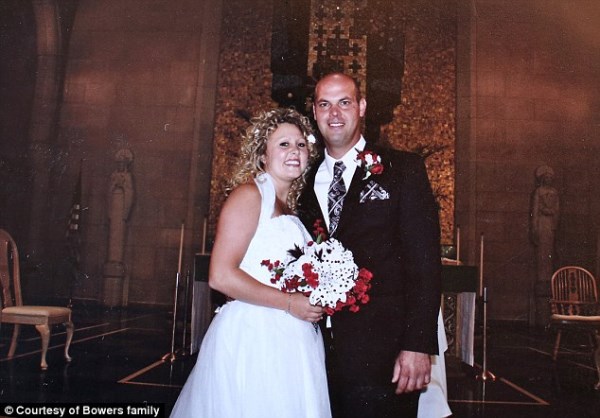 In 2013, an Indiana man left paralyzed from the shoulders down after a hunting accident chose to be taken off life support two days after the accident. Timothy "Tim" Bowers, 32, of Decatur was deer hunting when he fell 16 feet from a tree and suffered a severe spinal injury.
Unable to move and dependent on a ventilator to breathe, the Bowers family asked doctors if they could bring Bowers out of sedation, remove his breathing tube, and ask him what he wanted to do. They were able to inform him that although he could have surgery to fuse his vertebrae, he would never be able to walk or even live outside of a hospital again.
According to his sister Jenny Schultz, "We just asked him, 'Do you want this?' And he shook his head emphatically no." Doctors repeatedly asked him the same question and were given the same response. So they removed his breathing tube and he died five hours later.
Bowers, just married three months before, left behind his pregnant wife, Abbey, stepson Greg Shively, and "Baby Bowers." It was claimed that he had previously spoken with his wife about his desire to avoid life in a wheelchair should something ever happen.
7

The Belgian man who was killed by euthanasia after a botched sex change operation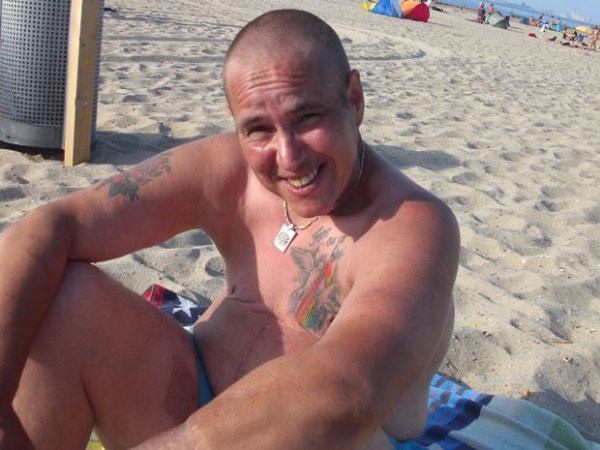 In 2013, Nathan, born Nancy Verhelst, 44, was given legal euthanasia, most likely by lethal injection, on the grounds of "unbearable psychological suffering."
Wim Distelmans, a cancer specialist who carried out the euthanasia, is the same doctor who a year before gave lethal injections to congenitally deaf twins who were frightened they were also going blind.
Mr Verhelst had hormone therapy in 2009, followed by a mastectomy and surgery to construct a penis in 2012. But "none of these operations worked as desired."
Euthanasia carried out by doctors at the request of a patient is only legal in three European countries, the Netherlands, Belgium and Luxembourg.
8

The woman with a large face tumor who ended her life with illegal euthanasia drugs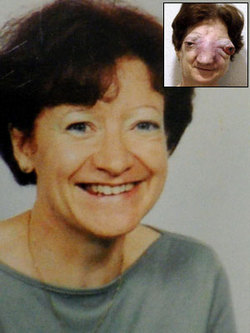 In 2000, retired French teacher Chantal Sébire was diagnosed with esthesioneuroblastoma, a rare form of cancer of which only 200 cases have been reported in the past 20 years. Sébire refused any treatment at the time of her diagnosis, not wishing to take the risk of the surgery or medications, and started fighting for the right to die through euthanasia.
On March 2008, a French court denied the 52-year-old former schoolteacher and mother of three's request for assisted suicide. Ms. Sebire was asking for the right to be assisted to die, not the right to die itself. France was one of the first countries to legalize suicide in 1790.
A few days later, the severely disfigured woman was found dead in her home. An autopsy concluded that she did not die of natural causes. Subsequent blood tests revealed a toxic concentration of the drug Pentobarbital, a barbiturate that is not available in French pharmacies, but is used elsewhere in the world for the purpose of physician assisted suicide.