1

Phantom Bar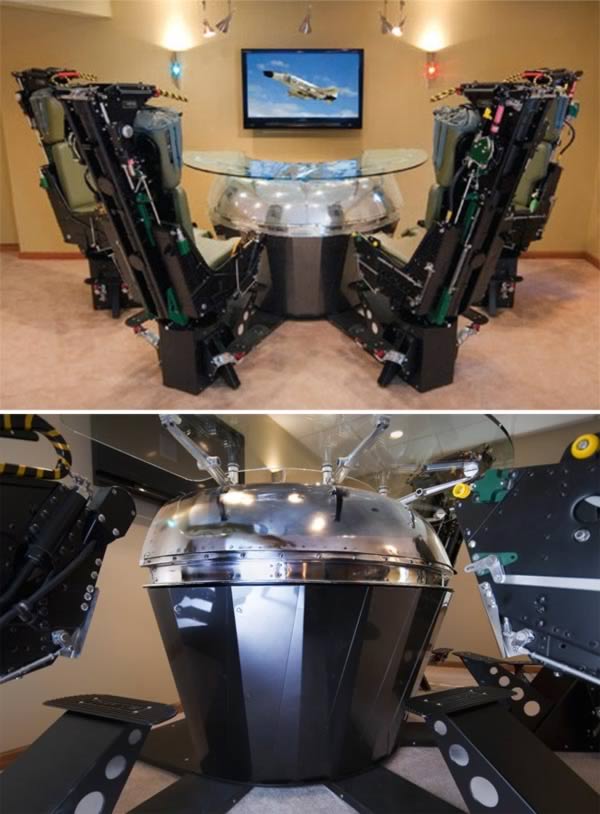 Take a look at what is probably the world's coolest bar, the Phantom Bar. It is made from Martin-Baker MK7 ejection seats from a F4 Phantom, and each one has been fully restored to museum quality.
The Phantom Bar is made by a company called Phantom Werks. Each bar takes over 1,000 hours to make and each one is made by hand. Unfortunately it looks like the jet packs have been removed, so you won't be able to test the ejector sets properly, but if you have $225,000 to spare than the Phantom Bar can be yours.
2

Jacuzzi Bar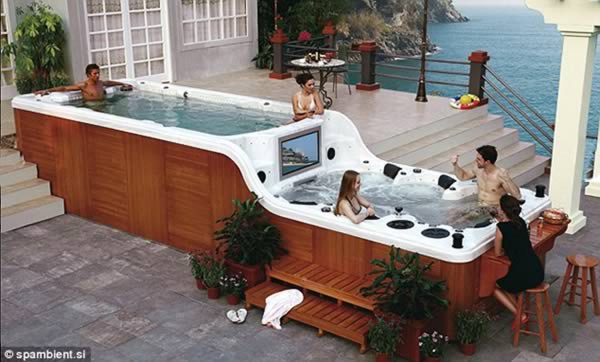 Spread over two decks, this incredible jacuzzi is bigger than most New York apartments. It seems no extravagance has been spared to create what looks like one of the most over-the-top hot tubs to date.
The Luxema 8000 bills itself as the ultimate backyard accessory, and boasts a huge flat-screen TV and its own bar.
Although the tub would impress friends and add value to a property, it will set buyers back thousands of dollars. SPAmbient, the Slovenian firm who make the hot tub, list another of its tubs, which is a fraction of the size, at more than $26,000 – and that's on sale!
The huge structure, which weighs 1500kg (without the 10,000 litres of water needed to fill it), has a built in hi-fi system to ensure guests are always entertained. The lower spa has six seats as well as a bar attached to the outside should guests become thirsty.
3

Steampunk Bar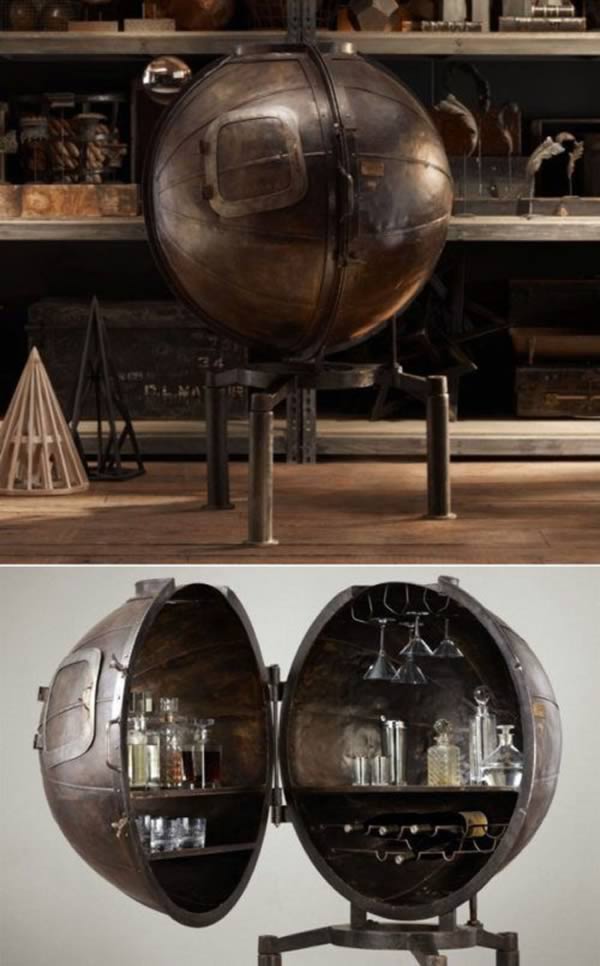 This former light bulb-testing machine, which dates back to the 1920s, has been ingeniously repurposed as a bar cart to shelter spirits, wine bottles and hanging glassware.
The machine was salvaged from a factory in Germany. Crafted of iron, a hinged segment opens to grant access to bottles and barware. The small hatch also opens. Surely this masculine-looking bar would make an awesome addition to any bachelor pad or man cave! ($1995 US)
4

Contrabass Bar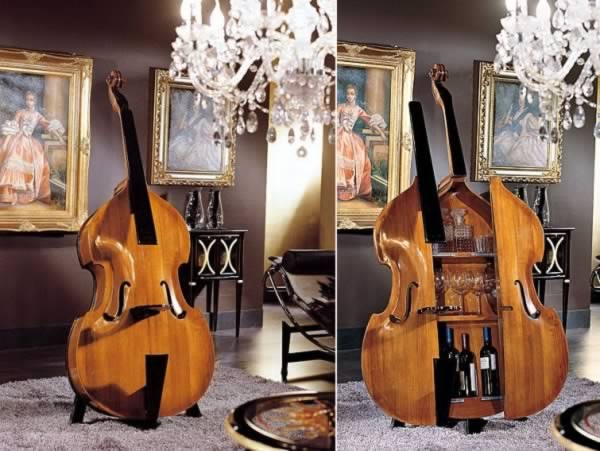 When your friends and guests first see this beautiful piece, they will surely think you've got a real contrabass. However, when you open the piece, the surprise will be even bigger –  because it's not a contrabass after all, but a very nice bar.
This clever bar is very fun and stylish. It's a very good replica of a real contrabass, which makes it even more special.
If you're looking for a fun and unusual piece for your home, this bar is a wonderful choice. It allows you the opportunity to surprise everyone and you can also enjoy having such a beautiful instrument in your home, even if it's just a fake.
5

Repurposed Card Catalog Bar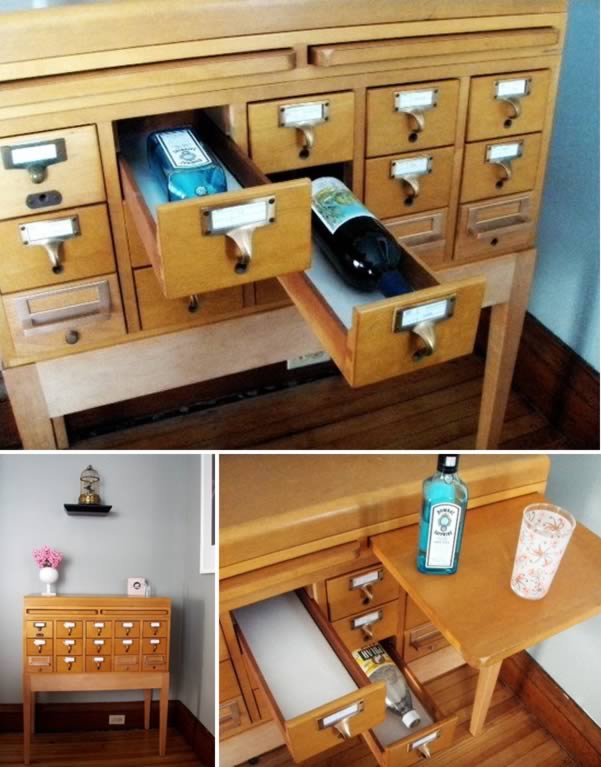 We love the idea of using vintage furniture in a completely new way. This practice is great for the environment, and it can be a creative decorating option. Apartment Therapy reader Marni emailed pictures of her old card catalog that she now uses as a home bar. It perfectly holds most wine and liquor bottles and helps keep things organized. (A few of the drawers are reserved for mixers.)
Marni's friend helped with the custom built base, so the top surface is at perfect height for making drinks.
6

Piano Bar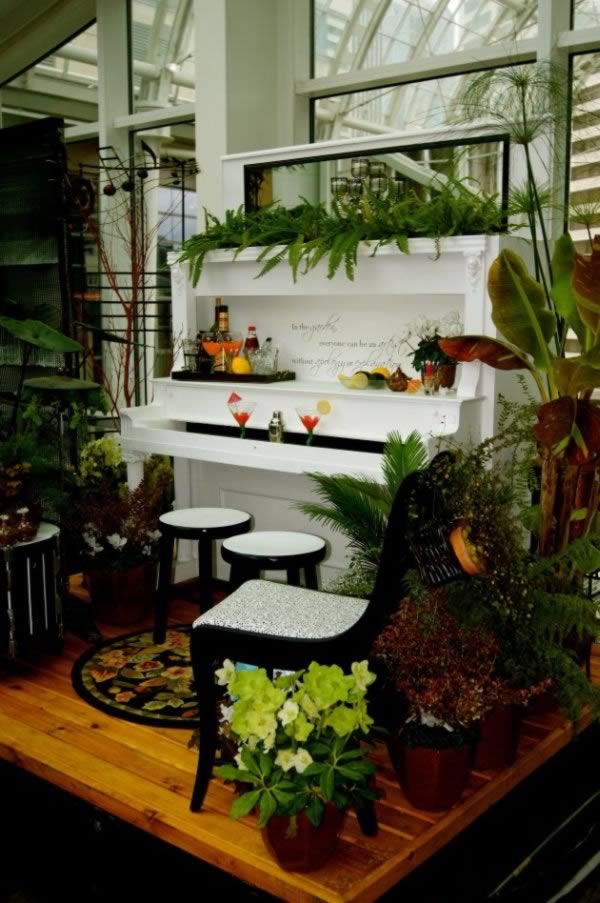 The piano, just like most musical instruments, is a work of art. Everything needs to be perfect if you want the sound to be beautiful. This requires great precision and skill. However, when a piano is old and no can no longer be used for playing, what can you do with it? You can't just throw it away – it would be a shame to do that considering how beautiful the piece is.
A nice idea would be to repurpose the piano. This way you get to keep it in your home and make it useful again.
7

Metallic Bar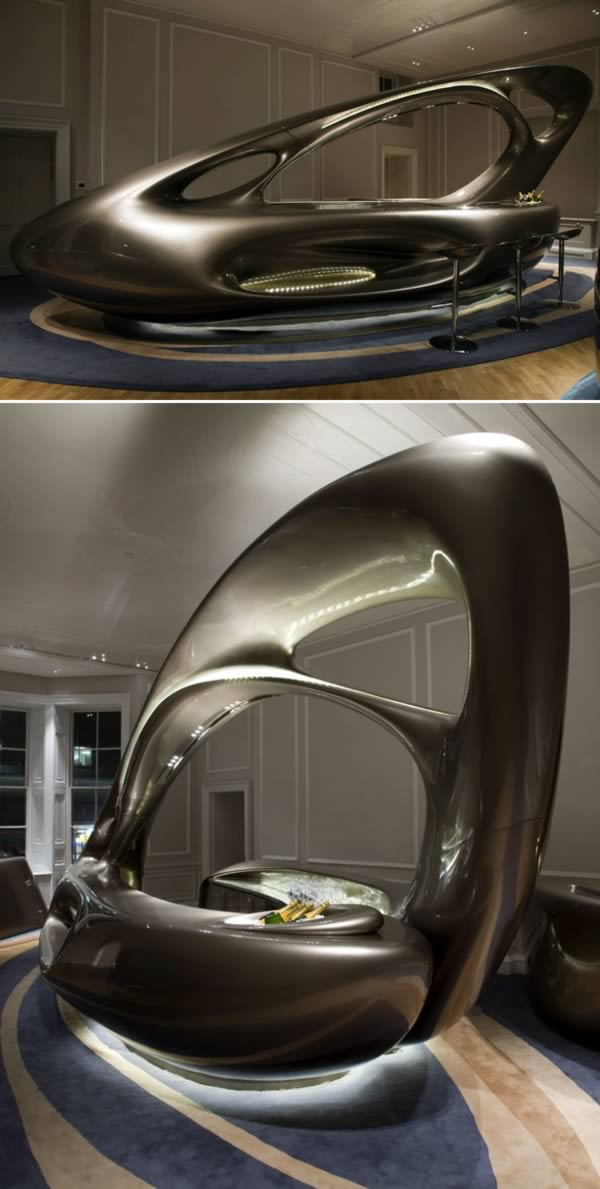 Zaha Hadid Architects, based in London, designed this extremely distinctive home bar called the Metallic Bar. As a matter of fact, it may be one of the coolest looking bars we've seen to date.
Part space ship, part futuristic car, the look of this bar will have your guests trying to figure out what it really is. Its shiny grey surface, along with a base that lights up, is beautiful enough just to sit around without taking a drink – it's that's gorgeous.
Although the company hasn't made this bar available to the multitudes just yet – it was specifically designed for London's Home House – consumers could potentially see the Metallic Bar for sale in the future.
8

Stair Bar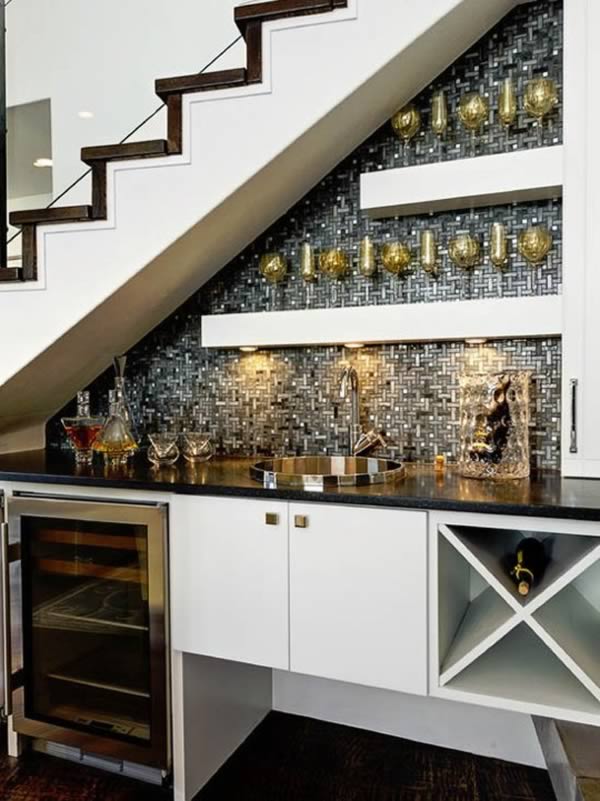 Adding a bar at home doesn't have to be as complicated as an entire kitchen renovation. In an excellent use of space, a mosaic tile backsplash becomes the focal point of this home bar, and keeps this area from looking like an afterthought.
9

Red Telephone Box Bar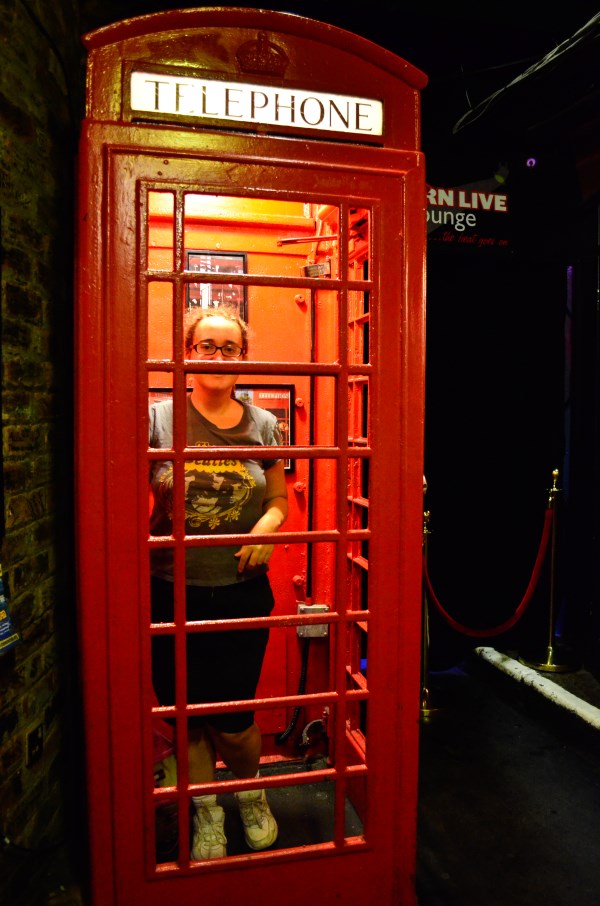 The number is definitely up at last for these old traditional red telephone boxes. They are loved by tourists who are only too happy to pose inside one, but British Telecom is ringing in the changes. BT has been removing them since 2008, but they are not lost forever. They are refurbished by kiosk and pay phone specialists X2 Connect and then sold to the public. Prices start at £1,950. Some of the boxes have been turned into sofas and libraries, but our favorite is the one pictured above, which was turned into a cocktail bar.
10

Vintage TV Bar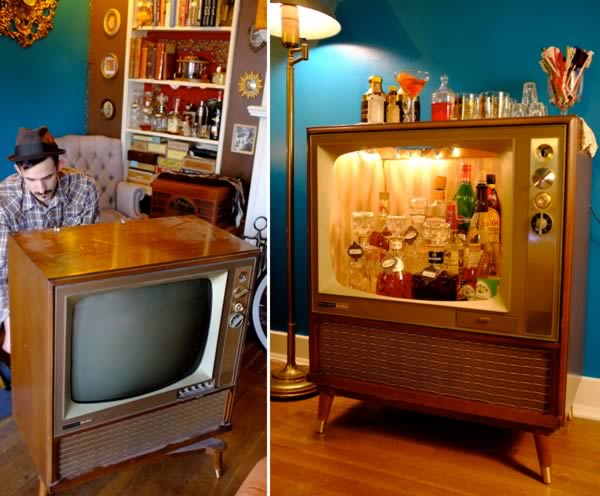 Technology has modernized television so much in recent years, that many people no longer have use for a 1960s analog television. Using Pinterest as their guide, Val (of Pink Flamingo Lounge) and her husband converted a hollowed out TV console into a retro-cool mini bar.
The finished product looks so awesome, it looks like it was done by professionals with years of know-how underneath their belts.