1

The clowns that terrorized a small California town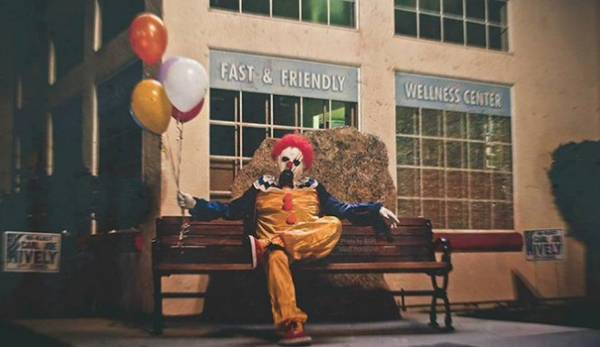 The freaks come out at night, especially in Wasco, California. Since the beginning of October 2014, a mysterious clown has been popping up all over the small town at night and documenting his whereabouts on Instagram and Twitter. It turns out the Wasco clown is actually part of a husband-and-wife team's yearlong photography project, which was inspired by a similar project in the U.K. in 2013.
The Wasco clown has copycats locally and in nearby Bakersfield, some of which are rumored to be carrying weapons including machetes and guns. A 14-year-old boy dressed as a clown was arrested for frightening children, but so far no real crimes have been committed.
"We have had no reports of any assaults by a clown nor have we any arrests of any clowns at any time I have been here, and I have been here two years," said Sgt. Ian Chandler to KGET News Bakersfield.
Meanwhile, while some locals are spooked, others appear to be joining in on the fun. "Some go in cars searching for him (the Wasco clown). They have flashlights and try to spot him in neighborhoods after he posts to Twitter," resident Noah Sanchez told local news station KFOR. "It's kinda fun to get us in the Halloween spirit."
2

The rodeo clown who donned an Obama mask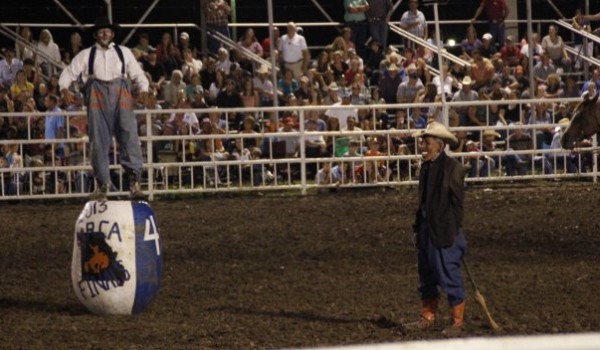 Even rodeo clowns can make some pretty questionable choices, as evidenced by Tuffy Gessling who was banned from the Missouri State Fair for life for donning an Obama mask in 2013.
The clown was introduced by an announcer who asked the audience if they wanted to see "Obama run down by a bull." Gessling was then chased around by bulls in a pen while wearing the mask, according to reports.
The head of the NAACP and several politicians denounced Gessling for wearing the mask, claiming it was everything from disrespectful to nothing short of a hate crime. However, not all were convinced – Rep. Steve Stockman (R-Texas) invited the clown to perform in Texas, saying Texans "value free and open political speech."
3

The fast food mascot portrayed by weatherman Willard Scott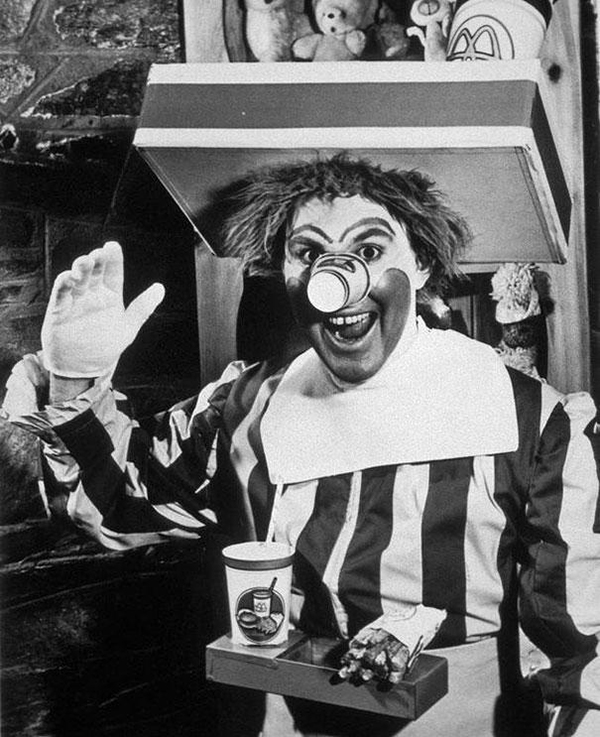 McDonald's mascot Ronald McDonald has always been somewhat creepy no matter his incarnation, but the first Ronald McDonald – as portrayed by Today Show
weatherman Willard Scott – turns the creep factor up to 11. (Scott had previously played Bozo the Clown, a popular television personality of the era, of which Ronald McDonald was an obvious rip-off.)
Check out the commercial below in which a kid, who is keenly aware of "stranger danger" and choses not to heed his mother's advice, follows new friend Ronald McDonald to the nearest McDonald's for delicious hamburgers!
4

The American Horror story clown who terrified television audiences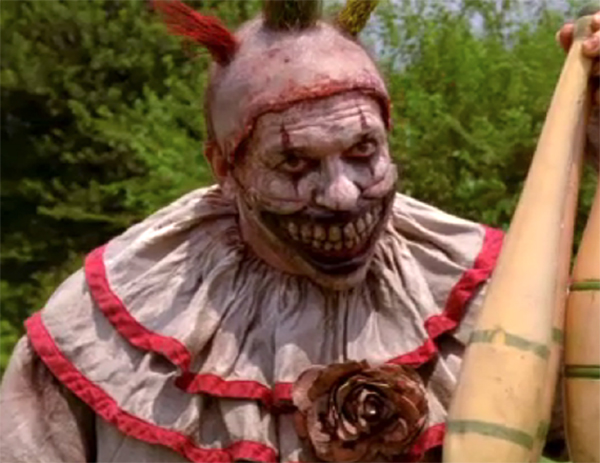 American Horror Story: Freak Show started Season 4 off with a bang when it introduced one of the scariest clowns ever to hit the small (or big) screen, Twisty.
The murderous Twisty the Clown is played by an unrecognizable John Carroll Lynch and (as of this writing) we do not yet know his backstory, but according to American Horror Story creator Ryan Murphy, we will very soon. "There's a big story that explains why he's doing what he's doing," Murphy said, adding that his backstory is "somewhat based on an urban myth."
With the introduction of Twisty, American Horror Story has been criticized for adding to "clown fear," by Glenn Kohlberger, president of Clowns of America International, the nation's biggest clown club. He said: "Hollywood makes money sensationalizing the norm. They can take any situation no matter how good or pure and turn it into a nightmare."
For a glimpse of the murderous Twisty:

5

A demon that took the form of a murderous clown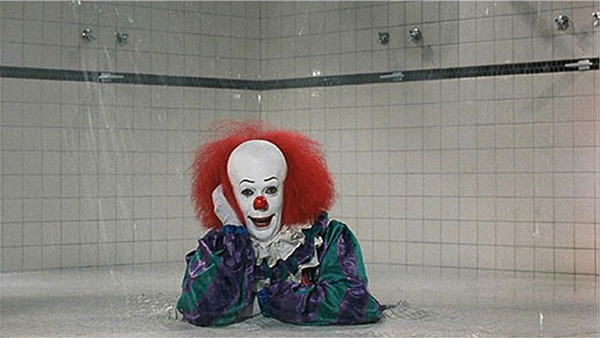 Pennywise the Dancing Clown (also known as IT) isn't so much a clown as he is the realization of your worst nightmares.
The clown makes one of his first appearances in a storm drain in the 1990 adaptation of Stephen King's It as a manifestation of 6-year-old six-year-old Georgie Denbrough's biggest fear. Pennywise coaxes the cautious but curious boy to the drain with the promise of cotton candy and balloons before proceeding to rip his arm off.
It turns out IT is a demon who disguises itself as a clown to lure kids to their deaths, but that is only one of its physical forms. The kids who were first introduced to IT disguised as Pennywise later discover IT in its true, monstrous, spider-like form.
While the made-for-TV movie was met with with mixed reviews, Tim Curry's performance as Pennywise still brings chills to this day.

6

The clown that received a 10 year sentence for kidnapping and rape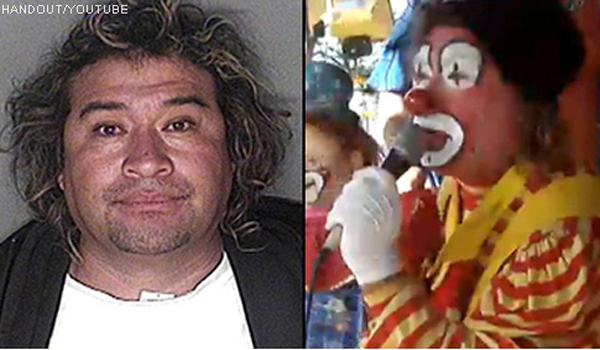 In 2011, a professional clown, 41-year-old Jose Guadalupe Jimenez of Anaheim, CA, was arrested in connection with the alleged kidnapping and rape of a 1
2-year-old girl in Orange County, CA in 2002.
Jimenez, who used the stage name "El Tin Larin," was arrested after investigators matched his DNA to evidence from the attack.
In January 2002, it was reported a man in a clown mask and makeup grabbed a girl at a fast-food stand just before midnight, then drove to a nearby school parking lot and raped her. He molested her again in his van before she managed to escape. Police seized dozens of costumes and masks Jimenez wore when he appeared as a clown at children's parties in hopes of finding other potential victims.
In 2012, Jimenez was sentenced to 10 years in prison and will have to register as a sex offender when he's released.
7

The serial killer who loved to entertain at children's parties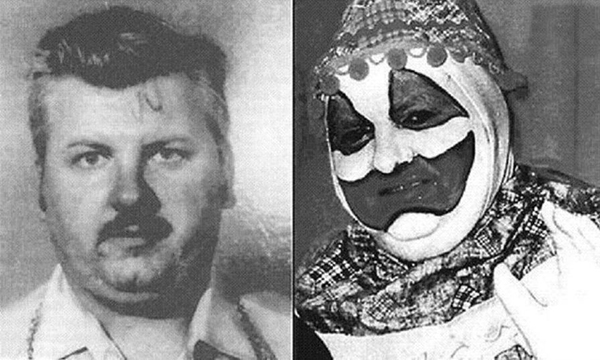 Full-time creep and serial killer John Wayne Gacy was also a part-time clown known as Pogo who entertained at children's parties.
To the outside world, Gacy was a hard working, law abiding member of the community. He was married, managed three Kentucky Fried Chicken outlets, and worked with a civic organization that focused on community service and developing business skills. He hosted neighborhood parties, and was a member of the "Jolly Joker" clown club, where he would dress up as a Pogo, perform at local charity events, and voluntarily visit sick kids at the local hospital.
However, his truth was far different than what he showed the world – Gacy raped and murdered at least 33 teenage boys over a 6 year time span, and kept the remains of the majority of them in the crawlspace of his home.
After his 1978 capture, Gacy was dubbed the "Killer Clown" by the media. He reveled in that identity, and while on death row he painted a series of oil paintings of himself as Pogo which continue to sell among murderabilia enthusiasts to this day.
8

The Brooklyn clown who wandered a local cemetery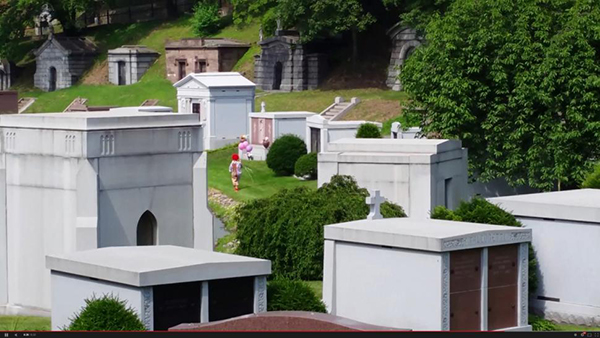 Clowns and cemeteries generally do not mix, but in Brooklyn during the summer of 2014, a balloon wielding clown was creeping people out while wandering around Green-Wood Cemetery.
The clown, who has yet to be identified, wore a polka-dot jumpsuit with multicolored shoes and circled a mausoleum on the west end of the sprawling cemetery before wandering off among the aging headstones. His jaunt was captured on video (see below).
While there's been multiple reports of harmless clown pranking in recent years, Green-Wood Cemetery takes the matter seriously, and promised the gagman would be escorted from the premises if he's seen again.
9

The "kid loving" clown who exists only in song
When novelty/comedy band and Dr. Demento radio show favorite Ogden Edsl re-released their 1976 album Stuffed four years later, they included two new tracks: "Dead Puppies" and "Kinko the Clown," a song about a clown that loves to entertain kids a little too much:

10

The comedy legend whose cinematic turn as a clown was an abysmal failure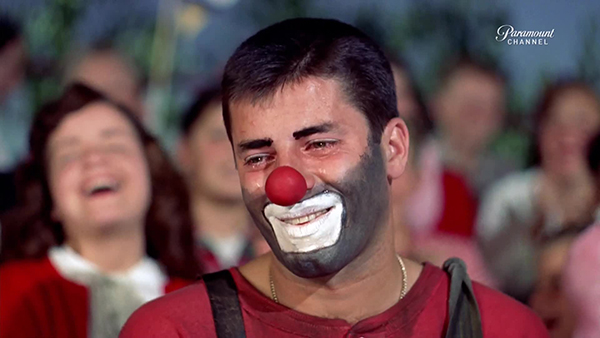 Jerry Lewis' 1972 film The Day The Clown Cried has been seen by very few people. One, Simpsons voice actor and comedian Harry Shearer, describes the rough cut he saw: "If you flew down to Tijuana and suddenly saw a painting on black velvet of Auschwitz, you'd just think 'My God, wait a minute! It's not funny, and it's not good, and somebody's trying too hard in the wrong direction to convey this strongly-held feeling." Ouch!
The film stars comedian Jerry Lewis who plays a down-on-his-luck German circus clown named Helmut Doork. Doork is arrested after drunkenly mocking the Nazis and is placed in a concentration camp awaiting trial. He later boards a train headed to Auschwitz packed with Jewish children, and – once there – is forced to perform for them, Pied Piper-style, as they are led to the gas chambers. In the film's final scene, Helmut joins them in the gas chamber.
Despite having never been released, the film has gained a cult following over the years, but don't expect to netflix it anytime soon. Lewis has vowed it will never see the light of day: "In terms of that film, I was embarrassed. I was ashamed of the work and I was grateful that I had the power to contain it all and never let anybody see it. It was bad, bad, bad. It could have been powerful, but I slipped up."
"It will never be seen," he added. "But I'll tell you how it ends."
Check out rare behind the scenes footage that surfaced on YouTube in 2013:

11

The entertainer known as "The Sad Clown With The Golden Voice"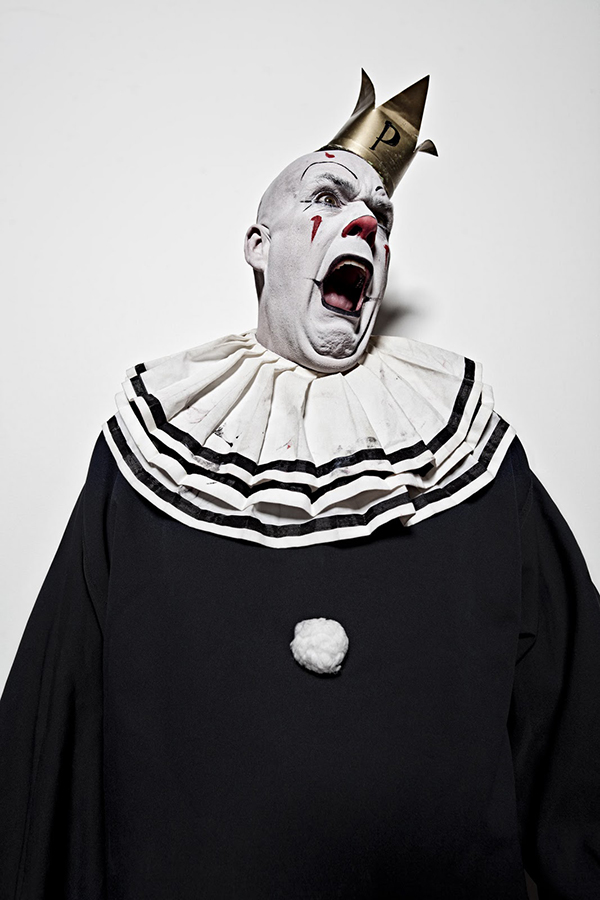 If you have coulrophobia, Puddles may look creepy, but we can assure you he's nothing short of cool.
Puddles (of Puddles Pity Party) is a quiet (he never speaks), and imposing almost 7-foot tall singing clown. Also known as "Big Mike" Geier, he is a vocalist, bandleader, and performance artist from Atlanta whose rendition of Lorde's "Royals" went viral in 2013. Check him out below: