1

Miami Hurricanes mascot escorts bride down the aisle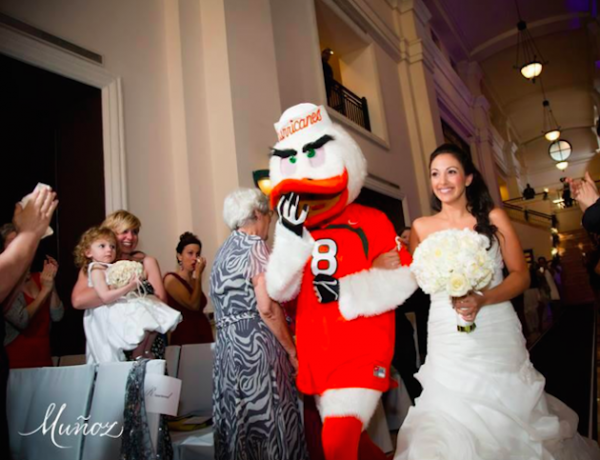 Jennifer Urs-Sullivan's father passed away two years before her trip down the aisle. So, her alma mater – the University of Miami – stepped in to help out in the form of Miami Hurricanes mascot, Sebastian the Ibis.
Jennifer's dad, Walter Urs, was a football player for the University of Connecticut and passed his love of the sport to his daughter. Jennifer attended the University of Miami as an undergrad and law school student and, during college, became a huge Hurricanes fan (as was her dad).
The beaming bride wanted to pay tribute to her dad on her special day – and what better way to honor his memory than to have a representation of their favorite team give her away.
Check out their walk below. Sebastian is wearing a "Big Walt" jersey:
2

A paralyzed bride is determined to walk on her own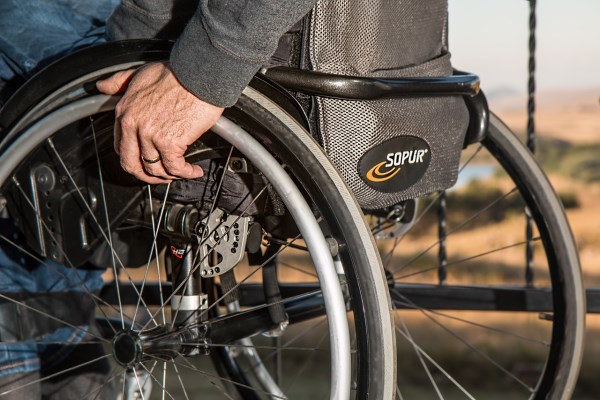 In August 2013, paralyzed bride Stevie Beale walked down the aisle at her wedding, seven years after she was injured in a horrific car crash.
Beale, 24, of Toledo, Ohio, walked down the aisle to her groom, Jared VanAusdale, 34, with the aid of a walker. She was escorted by her father and her physical therapy trainer.
After becoming engaged to Jared, she zeroed in on her goal of her wedding day walk. Her training included walking between 200-300 feet three times a week during physical therapy.
On the big day, Beale says she was overcome by emotion, but blocked it out: "I would have stopped halfway and said, 'Somebody carry me.' Looking back at videos now I can tell I was beaming and the happiest I've ever been."
After the ceremony, Jared carried his bride back down the aisle. Later, the newlyweds danced their first dance together, with Beale standing out of her wheelchair.
3

Against all odds a father with ALS escorts daughter on her wedding day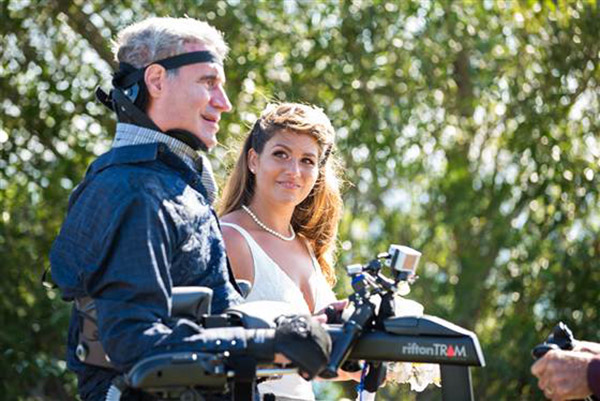 Augie Nieto, 56, was diagnosed with ALS, (also known as Lou Gehrig's Disease) 10 years ago. Over that time, he lost his ability to walk, move his arms and even speak, but he was still determined to fulfill his dream of walking his little girl down the aisle on her big day. In July 2014, with the help of a TRAM device, that dream came true.
Check out their touching walk below:

4

Austrailian bride and superfan is escorted down the aisle by Jon Bon Jovi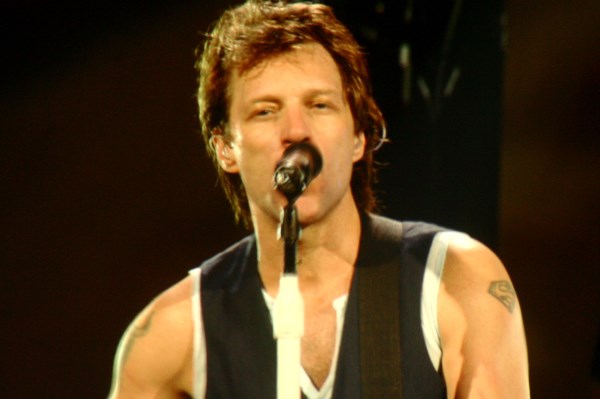 In 2014, rocker Jon Bon Jovi surprised Aussie fan Branka Delic by walking her down the aisle at the Graceland Wedding Chapel – 24 years after he married wife Dorothea in same Vegas venue.
Prior to the wedding, Delic started an online petition to get Bon Jovi to escort her on her wedding walk. (He was playing at the MGM Grand the same weekend.)
She couldn't believe it when he showed up and later tweeted, "You did more than make my dream come true, you changed my life forever! An amazing man with an amazing generous heart."
Bon Jovi responded by sharing his own photo of the wedding walk with the caption, "Congratulations @branksd! May you & Gonzalo have a lifetime of happiness, love & memories together - ALWAYS!"
5

Dad gives away both daughters at mock wedding before dying of cancer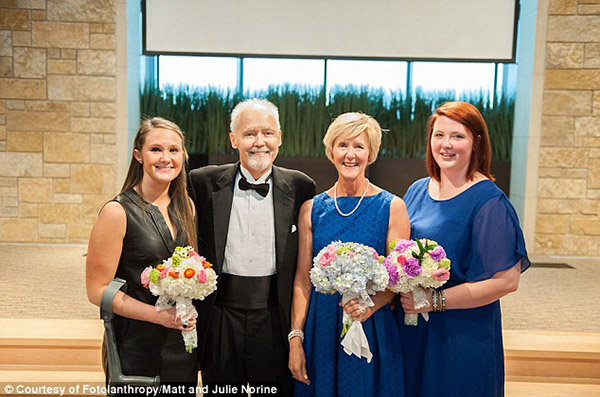 In 2013, Fred Evans of Hot Springs, Arkansas, was recovering from a double lung transplant when he was diagnosed with metastatic melanoma. The drugs he took to insure his body didn't reject the new organs made him too weak for chemo and he was given just months to live.
Two of his girls, Gracie and Kate, were not yet married, and their father's greatest wish had always been to give them away on their wedding day. Knowing he wouldn't be alive to see them marry, he organized a surprise for his daughters and walked them down the aisle.
At the end of the symbolic ceremony, Mr. Evans had one more surprise – he turned to his unsuspecting wife Karla and announced that he wanted to renew their marriage vows.
Fred Evans passed away shortly thereafter, on July 25, 2013.
6

Bridesmaid is in labor while walking down the aisle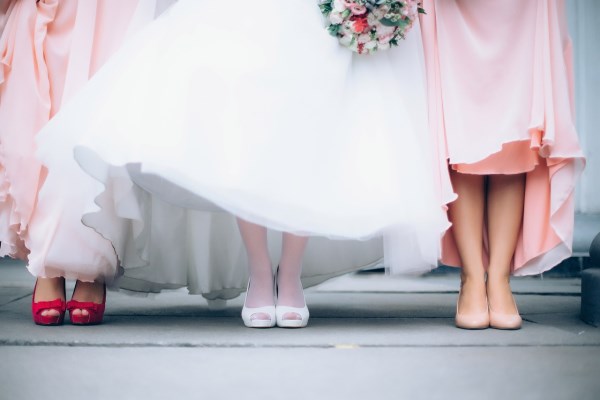 School teacher and bridesmaid Lucy Morris, 29, was not about to disappoint her her bride-to-be sister Emma, 26, and hid her contractions from her when she awoke in pain on the day of her wedding.
Lucy, who was already a week overdue said, "I wanted to watch my sister say 'I do' and didn't want to steal the limelight by giving birth."
Lucy's cramps become more intense throughout the day, but despite it all she soldiered on, posing for pictures and not letting on that she was in any distress.
She said, "I was in such agony, I just kept praying my water wouldn't break before they exchanged their vows."
By the reception, the contractions were longer and deeper and Lucy could take no more. She was rushed to the hospital where she gave birth to baby Iggy on April 27, 2014.
7

Bride sings down the aisle, brings husband-to-be to tears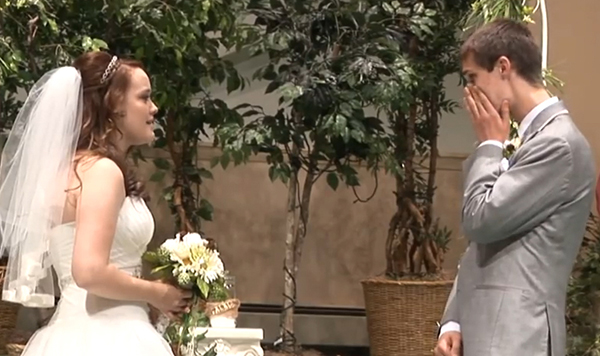 Bride Arianna Dubovik made her wedding entrance extra special by singing Carrie Underwood's "Look At Me" as she walked down the aisle. There wasn't a dry eye in the house!
8

Dad with terminal cancer gives his 11-year-old daughter a touching wedding memory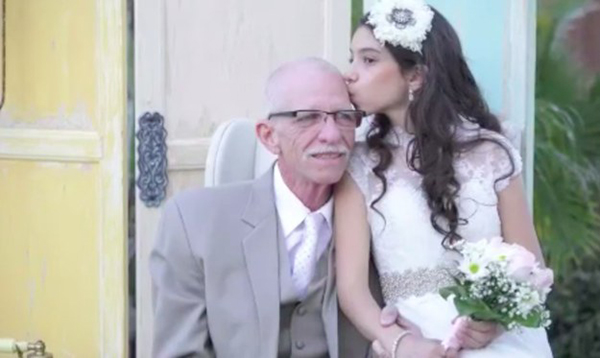 Jim Zetz, 62, was diagnosed with pancreatic cancer and knew he would not be able to see his daughter, Josie, 11, grow up and get married.
In April 2014, he, his wife Grace, and photographer Lindsey Villatoro came up with the idea to stage a mock wedding for the little girl on her birthday – complete with flowers, desserts, a promise ring and a dress from L.A. Fashion Week – so that her father could walk her down the aisle.
Jim sadly passed on July 11, 2014.
9

The wedding entrance that went viral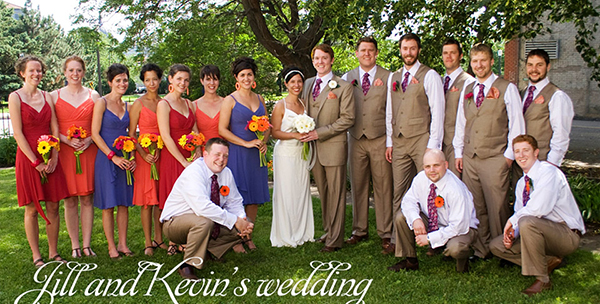 The wedding video known as JK Wedding Entrance Dance has been voted by Time magazine as number fifteen on its list of the Fifty Greatest YouTube Videos ever.
The video, posted in 2009, has been viewed a whopping 86 million times and features Jill and Kevin Heinz and their bridal party dancing down the aisle on their wedding day to the strains of "Forever" by Chris Brown. Sales of the song shot up number 4 on iTunes and number 3 on Amazon.com as a result of the post.
In the wake of the Chris Brown/Rihanna domestic violence controversy, the couple set up a charitable contribution effort on their website for donating funds to the Sheila Wellstone Institute, an organization whose efforts are to end domestic violence. They have so far raised over $50,000.
Jill and Kevin are still together and are proud parents to two boys, who keep them "singing, dancing and laughing every day."
10

A wedding singer sings to his bride at his wedding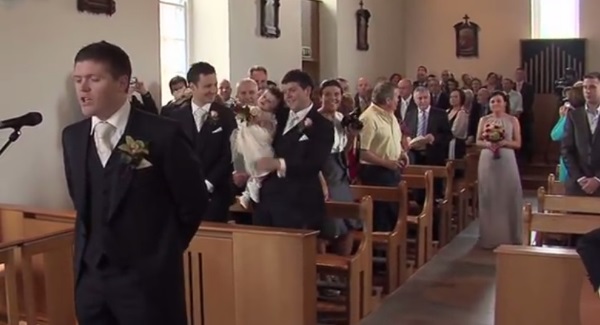 Irish wedding singer Niall Donnelly and his sister, Bronagh Hackett, have sung at hundreds of weddings over the years. When it came time for Donnelly's wedding in 2010, the siblings thought it would be special if they sang at his own.
Donnelly, well known throughout Ireland as the frontman of bands such as Mimic, Freerider and The Rockits, sang bride-to-be Jill down the aisle to Ronan Keatin's song "This I Promise You."