1

The good Samaritan artist who turns trash into mobile homes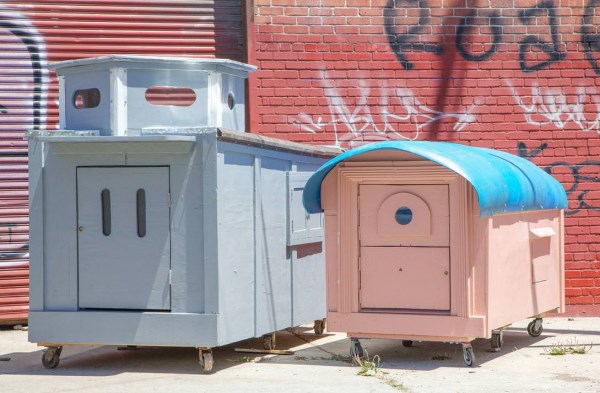 Recycling is a responsible act in itself, but it becomes an act of incredible kindness when you use recycled materials to construct portable houses for the homeless.
Kindhearted builder Gregory Kloehn's Homeless Homes project is providing cool little mobile domiciles to homeless people in Oakland, CA, which he creates using materials gathered while dumpster-diving in industrial neighborhoods.
Gregory's custom homes are around the size of a sofa, and they all come on wheels. They are charming and often retain the look and texture of the source material.
2

The artist who created inflatable shelters for the homeless using HVAC vents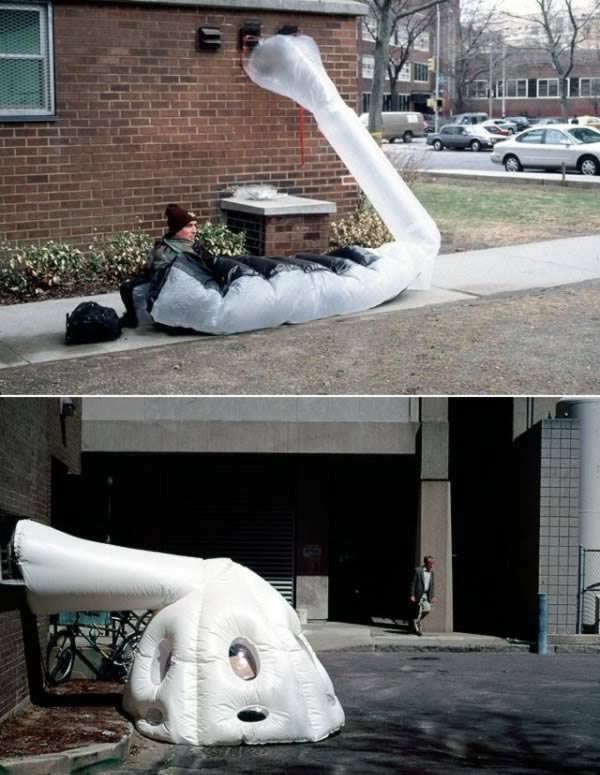 Michael Rakowitz is an artist in New York City. For years, he's worked on projects to help the Big Apple's homeless.
Many of these creations are variations of a design concept that he calls ParaSITE. His ParaSITE shelters are custom-built assemblies of plastic bags and tarps that feed off of excess heat provided by building heating systems. Rakowitz's inflatable shelters channel that heat into warming their owners.
Rakowitz designs the shelters to fit the needs of the individual owners. The one at the top was designed to get around anti-camping laws in New York City. The one on the bottom has windows so that the resident can see any approaching threats.
3

The man who installed a "charity refrigerator" outside his home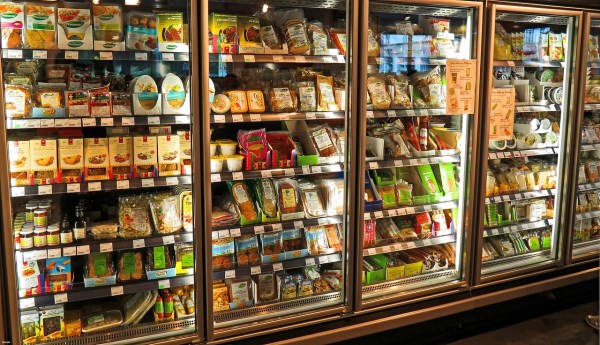 A man in Hail, Saudi Arabia wanted poor people in his town to acquire food without feeling the shame associated with begging, so he installed a refrigerator outside his home.
People can donate food if they have an excess or take food if they need it. Salah, a Bahraini national, said that the idea should be implemented in Bahrain as the fasting month of Ramadan is about to start in the summer.
4

The couple who decided to have a feast for the homeless after their daughter cancelled her wedding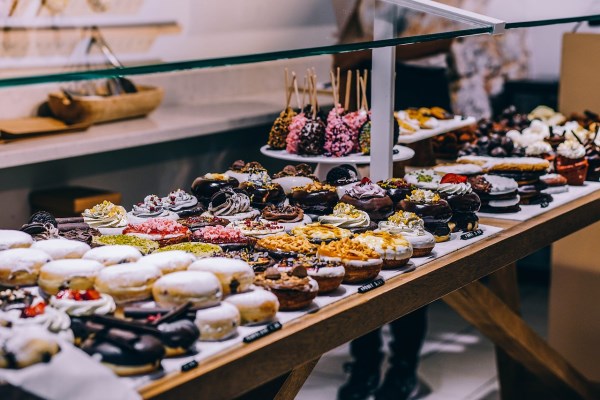 In 2013, Carol and Willie Fowler of Atlanta planned to host a large wedding for their daughter, Tamara, but Tamara canceled the wedding with only 40 days to go, and the restaurant was reserved. They decided to have the feast anyway, and contacted the Hosea Feed the Hungry & Homeless organization to invite homeless people for the meal. 200 people came to the four-course meal at a fancy restaurant with entertainment. Everyone had such a good time that the Fowlers plan to find sponsors and make it an annual event. Talk about turning lemons into lemonade, right?
5

The artists who create appealing signs for the homeless to raise awareness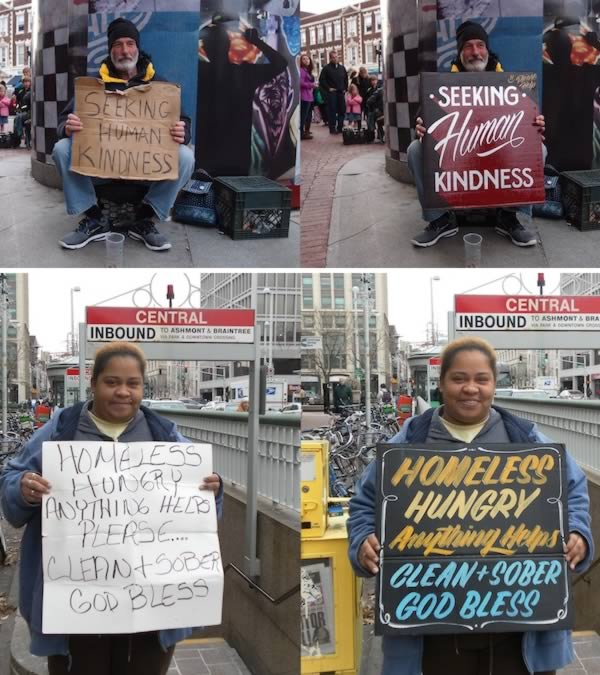 Signs for the Homeless is an art project started by artists Kenji Nakayama and Christopher Hope in an effort to raise awareness about poverty and homelessness around the Boston area.
The basic concept behind the ongoing project is that the two artists approach homeless people on the streets who are holding signs and propose an exchange. As their tag line states: "A sign in exchange for donations and a hand painted sign." Nakayama and Hope offer $10 and create hand painted signs for each person they come across.
Having launched a blog in February 2012 (though their first post features a man that was approached in 2010), the duo document their undertaking with a before and after photo of these people they swap signs with along with a brief interview offering some insight into their circumstances. The signs themselves are bright and colorful in an effort to gain attention and feature all of the same text that their old pieces of cardboard had (including any misspellings and grammatical errors).
6

The ONG who created a pop up store for people to donate clothes to the homeless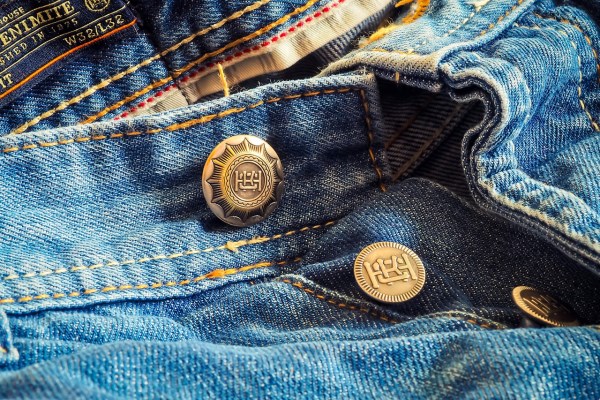 To help the homeless, M&C Saatchi Abel and the Haven Night Shelter Welfare Organization have set up a pop-up store along Cape Town's streets, displaying clothes so that the homeless can pick them up.
Made up of cardboard boxes, some of these displays have holes in them so that passers-by can hang their unwanted or unworn clothes on them. Homeless people would then be able to choose their own clothes from these pop-up displays.
Although many homeless people are given clothes at the shelter, these roadside stores make it easier for people to donate and help those who are less fortunate.
7

The former homeless man who created the "Bicycle Library" to bring books to the needy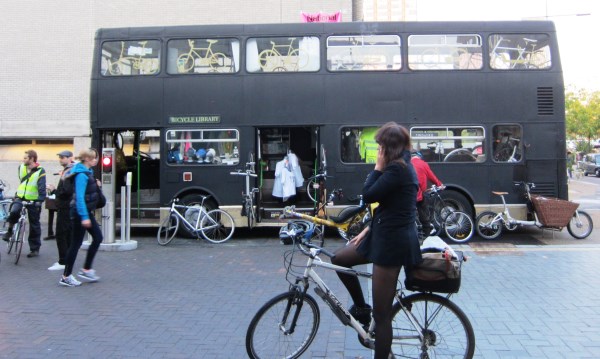 While wandering through the maze-like streets of Sao Paulo, you might come across Robson Mendonça and his red bicycle - but this is no ordinary bicycle. His "Bicycle Library" is equipped with shelves holding more than 300 works that together weigh 150 kilograms.
The "Bicicloteca" (the name is a fusion of the Portuguese words for "bicycle" and "library") lends books to people who don't have access to libraries. It is the brainchild of 61-year old Mendonça, a former construction worker who spent a decade living on the streets.
Green Mobility, a Brazilian non-profit organization which campaigns for sustainable transport in Brazilian cities, helped Mendonça get started by giving him his bike. All the books were donated by individuals and organizations.
After just one year, Mendonça has become a familiar face in the streets of Sao Paulo and the Bicycle Library has made more than 107,000 loans from its collection of 30,000 books. There are even some books in Braille. There's no paperwork involved in borrowing from the library; the service is based on trust and relies on the honesty of its users to return their books.
8

The retired barber who gives homeless people haircuts in exchange for hugs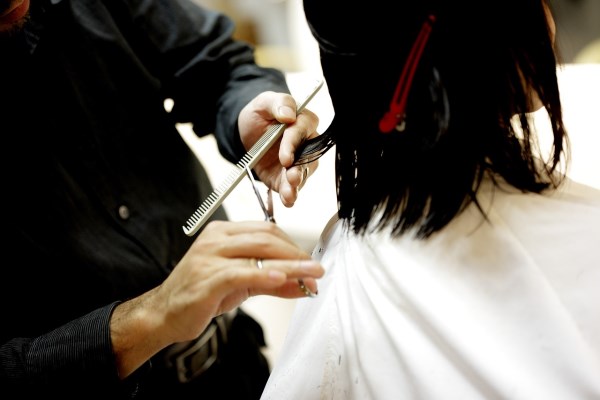 Anthony Cymerys is a genuine good Samaritan. For the last 25 years, the man known as Joe the Barber has been offering homeless people in Hartford, CT haircuts in exchange for hugs.
Anthony Cymerys started offering his barber services to those less fortunate in 1988, after hearing a sermon about the homeless. He had just retired and was only cutting hair for family, but the words he had heard in church were such an inspiration, he prepared his tools, put them in the car and started driving around town looking for people in need of his services. In the beginning, he helped people in shelters and convalescent homes, then he cut hair at the downtown YMCA, before moving to Bushnell Park. Every Wednesday, the park is packed with homeless people waiting for a relaxing haircut, shave and facial massage from the 82-year-old Joe.
As soon as he parks his 1996 Crown Victoria and connects his clippers to the car battery, Cymerys is assaulted with questions about who should be the first in his barber chair. He asks his customers about the desired haircut style, and starts clipping, trimming and shaving. After that, the former barber splashes some rubbing alcohol on his hands and proceeds to massage face, ears, neck, throat and shoulders. All he asks in exchange is a nice big hug.
Giving haircuts may not seem like a big deal to a lot of people, but it's actually very important. Homeless people have a hard time finding jobs because of the way the look, so Anthony is really helping them out of a hairy situation in more ways than one.
9

The dry cleaners that offer free services for the unemployed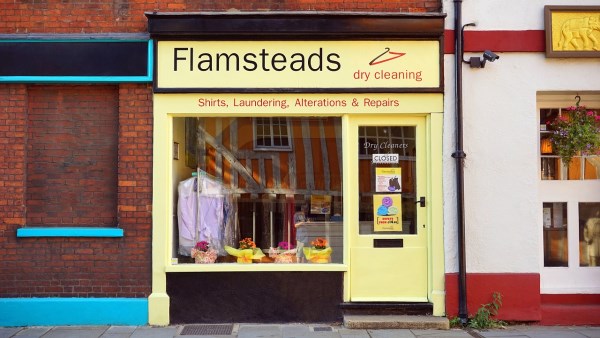 Dry cleaners around the U.S. are offering their services at no cost to unemployed customers who need their suit cleaned for an interview. It all began at Upper East Side dry cleaner First Professional Cleaners. A handwritten sign in their window reads, "If you are unemployed and need an outfit clean for an interview, we will clean it for free." According to the Daily News, it's owner Carlos Vasquez's way of giving a helping hand. And he's not alone.
High Point-based "A Cleaner World" cleaners made a similar announcement in 2009. ABC News' local affiliate in Durham reports that for unemployed job seekers, A Cleaner World would clean a suit or a blazer and slacks, plus two shirts per week. Women could get a suit and two shirts or blouses or two regular dresses per week.
Elite Cleaners in Minneapolis has also generously followed suit. Owner Don Chapman has donated his services to 2000 unemployed -- an offer he estimates will cost him $32,000.