Most of our readers are familiar with parody digital newspaper The Onion,
known to publish the most jaw dropping yet untrue stories. For those who haven't heard about them however, it's very common to share one of their fake news stories as true. Occasionally, their stories get picked up by major news outlets and go viral. We are even guilty of doing so a couple of times.
Well, these headlines are so absurd that you may make think they were straight from The Onion, but they are surprisingly very real.
1

Man accused of hitting his girlfriend with his anger management workbook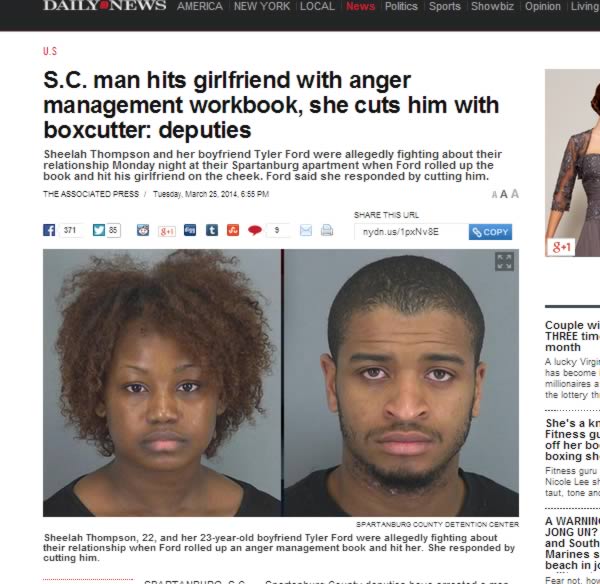 Spartanburg County deputies have arrested a man who they say hit his girlfriend with a workbook from his anger management class during an argument, and she cut his arm with a boxcutter.
A sheriff's office incident report said 22-year-old Sheelah Thompson and her 23-year-old boyfriend Tyler Ford were fighting at their Spartanburg apartment when Ford rolled up the book and hit his girlfriend on the cheek.
Deputies say Ford had a deep cut on his arm. Thompson told an officer she cut her boyfriend because he tried to strangle her. Ford told a deputy his girlfriend cut him because she was angry after he hit her with the book.
Both were charged with criminal domestic violence.
2

Man sends dick pic with job application, doesn't get the job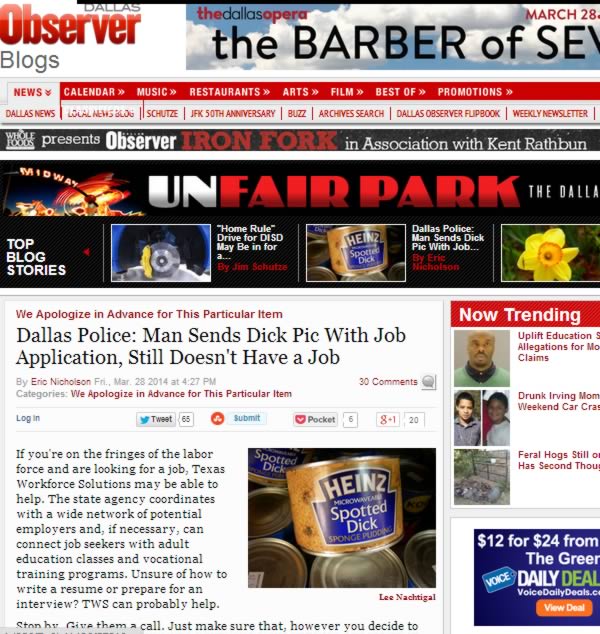 A Dallas man who sent a resume, job application, and photograph of his penis to a Texas company didn't get the job offer, but he did get charged with a misdemeanor for his trouble.
When a 25-year-old TWS employee received his application and unique letter of recommendation, she promptly called police. They tracked his application which was sent from a personal email and issued the man a ticket for "obscene display or distribution"— a class C misdemeanor.
Ironically, the man was applying for a position at Texas Workforce Solutions, a company devoted to preparing clients for the workplace.
3

Condoms "too big" for Indian men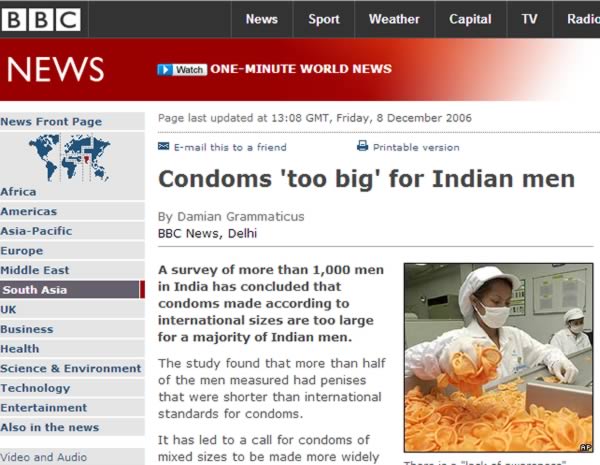 A survey of more than 1,000 men in India has concluded that condoms made according to international sizes are too large for a majority of Indian men. The study found that more than half of the men measured had penises that were shorter than international standards for condoms.
The two-year study was carried out by the Indian Council of Medical Research.
Over 1,200 volunteers throughout the country had their penises measured precisely, down to the last millimeter.
The conclusion? It was found approximately 60% of Indian men have penises which are between three and five centimeters shorter than international standards used in condom manufacture.
There goes one news that people in India really, really hoped was fake.
4

Company asks every employee to pay $1,600 to bail company chairman out of jail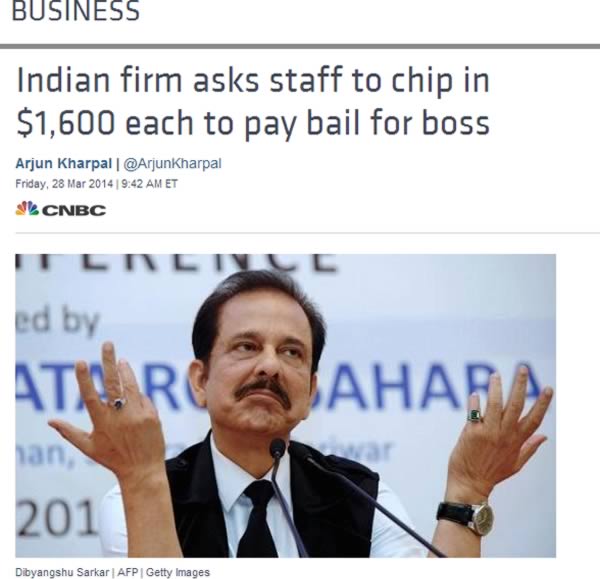 Indian firm Sahara has asked each of its employees to pay 100,000 rupees ($1,670) to fund the $1.7 billion bail to get the boss out of jail, according to reports.
In a letter sent to workers, the company which owns New York's Plaza Hotel and London's Grosvenor House hotel has asked staff to fund some of the $83.5 million bail money for Subrata Roy in return for shares in the company.
5

Russian city sends DiCaprio cast-iron Ascar as consolation prize for losing four Oscars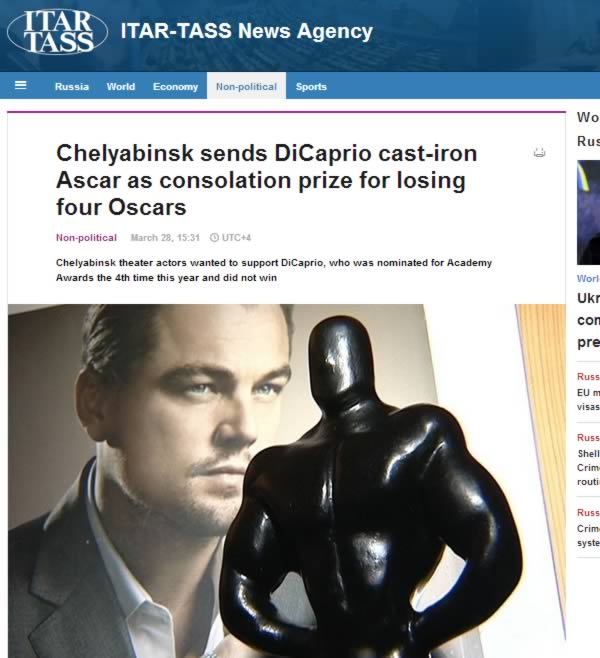 The actors of Chelyabinsk Chamber Theater decided to give Leonardo DiCaprio a Kasli cast-iron figurine, the "Ascar" on March 27, World Theater Day.
Actors from the Southern Urals wanted to support DiCaprio, who was nominated for an Academy Award for the 4th time in 2014, but has yet to win the prestigious honor.
6

Private massage in Vegas hotel room ends in arrest after missing Rolex is found in masseuse's vagina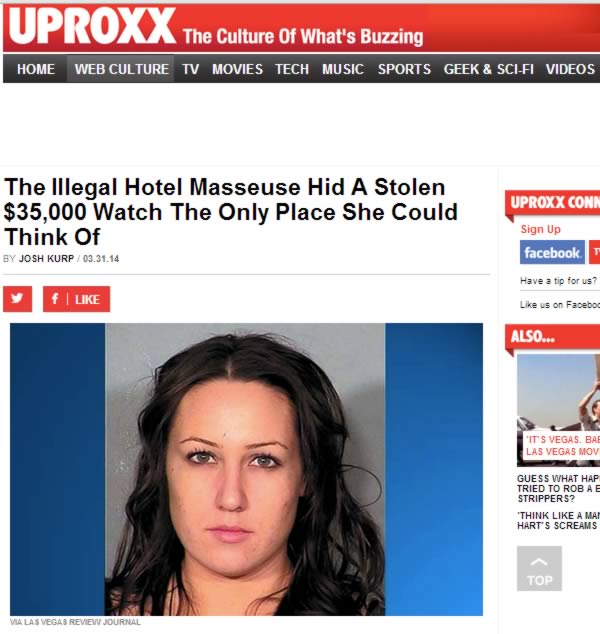 Christina Lafave hid the time. Now she's charged with the crime.
The caper of the missing $35,000 Rolex Presidential watch began with drinks and some chit-chat between Lafave and 66-year-old Kenneth Herold at Wynn Las Vegas' B Bar on a January night. The two were then spotted on surveillance cameras heading upstairs to Herold's suite after he forked over three $100 bills for a private massage offered by the 25-year-old Lafave. On his left wrist was the yellow-colored Rolex.
A few hours later, Herold called Wynn security to his suite. Accusations began to fly. Herold said Lafave stole his watch. She denied it and said Herold was mad because she refused to perform oral sex on him without a condom. No one had left the room, but the watch was nowhere to be found.
Herold claimed that 30 minutes into the massage, Lafave asked him to take off his watch so she could massage his arms. He did and less than 10 minutes later, it was gone. That's when the cops were called, but despite no one leaving the room, the watch could not be found. There was one place they hadn't looked, and Lafave, in pain, finally admitted where the watch was.
She was taken to University Medical Center. A search warrant was signed and an X-ray was taken of Lafave's midsection.
7

Elite British bridge player drops dead from excitement after playing rare winning hand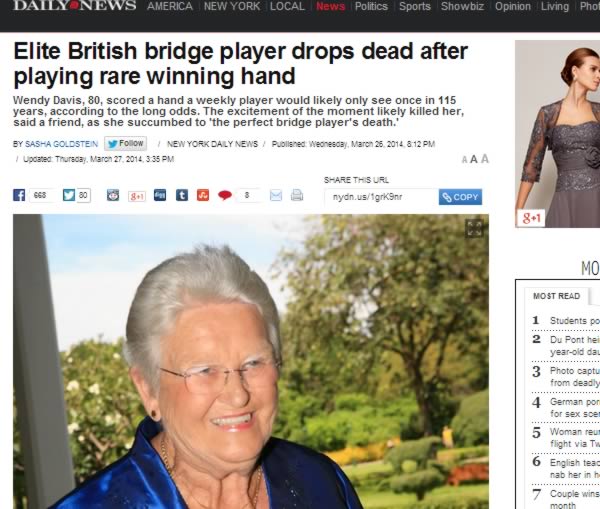 A top British bridge player dropped dead from excitement as she played an extremely rare hand en route to winning a county tournament. Wendy Davis had more than 50 years of bridge-playing experience and was Cornwall's highest ranked player with Premier Life Status, but the sight of a high-scoring 6 No Trumps and an overtrick in her hand caused her to keel at age 80.
With a highest possible bridge hand of 37, Davis's stunning run of cards scored her and her partner Maureen Brinton a total of 29 points – a hand seen in just one out of 150,000.
Despite attempts by friends to save her, Davis, a "doyenne" of bridge, died by the time paramedics arrived.
8

Man does c-section on porcupine roadkill, deliveries baby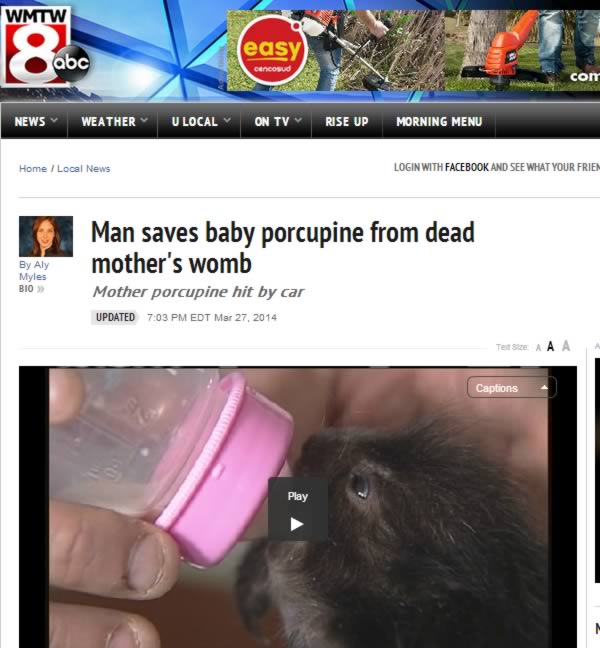 Jared Buzzell never thought he'd be hand-rearing a baby porcupine, but after a bizarre turn of events on a roadside in Maine, he's now filling in as mom to the prickly newborn.
In March 2014, Jared was driving with a friend when he saw a porcupine get hit by the car in front of him. He decided to stop and check on the animal, but when he discovered it was dead, his curiosity took over.
Jared says that his uncle had once told him about a mineral which forms in porcupines' gastrointestinal systems, called bezoar stones, once believed to possess medicinal qualities. Wanting to see if it was true, Jared grabbed his knife to try to find it.
He admits that the thought of a roadside dissection sounds a bit strange, but it did pay off – albeit not with what he was looking for. As it turns out, the dead porcupine was pregnant, and the baby in her womb was still alive.
Since then, Jared has been caring for the helpless animal, feeding it baby formula every few hours from his daughter's toy bottle.
9

Professor teaches wrong course for entire semester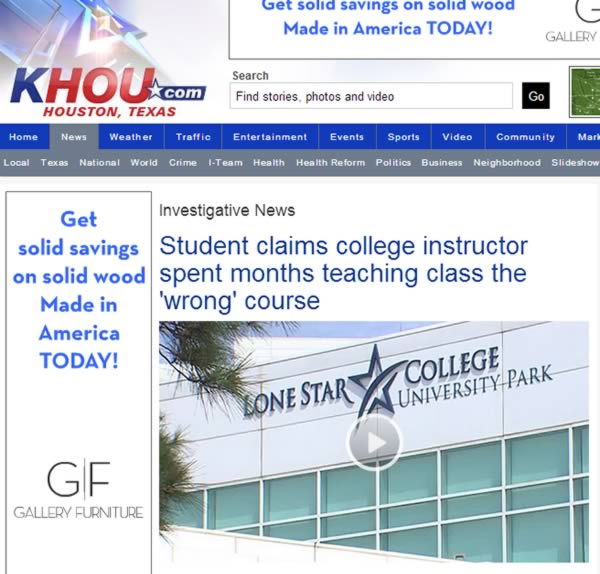 Professor Shirley Nguyen at Lonestar College in Texas was supposed to teach an Introduction to Chemistry course – a required science class –to a bunch of undergrads. During the course of the semester, however, she found most of her students were failing.
Near the end of class and just before the final exam, the professor made a confession. She hadn't been teaching Introduction to Chemistry, she's been teaching General Chemistry. Which admittedly sounds similar but is not similar. At all.
Nguyen's solution was to give enough extra credit assignments to pull students' grades from F's up to B's.
10

Man swept out to sea during Sunday morning baptism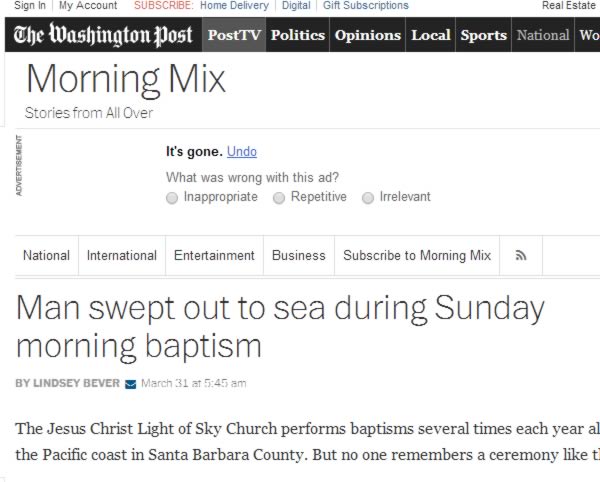 The Jesus Christ Light of Sky Church performs baptisms several times each year along the Pacific coast in Santa Barbara county, but no one remembers a ceremony quite like this.
During the baptism ceremony on a Sunday morning in March 2014, one of the participants got swept out to sea.
The pastor, Mauro Cervantes, said that his cousin, Benito Flores, was helping him baptize a man when a rogue wave pulled Flores into the ocean. Cervantes said he tried to grab his cousin, but a second wave took him.
Rescue crews from several local fire departments along with a U.S. Coast Guard boat were searching for the 43 year old missing man.