1

The photographer who makes out with people and then takes their picture
Jedediah Johnson is one of the luckiest photographers in the world, or maybe he's a mastermind who came up with a great idea for a photo series that people bought, so he ran with it. Either way, he's living a life of bliss –  he gets to make out with people, take their pictures afterward and call it a job.
Believe it or not, his photo series, The Makeout Project, was born after the artist decided to face his phobia of making out.
2

The photographer who shoots good-looking people deformed by Scotch Tape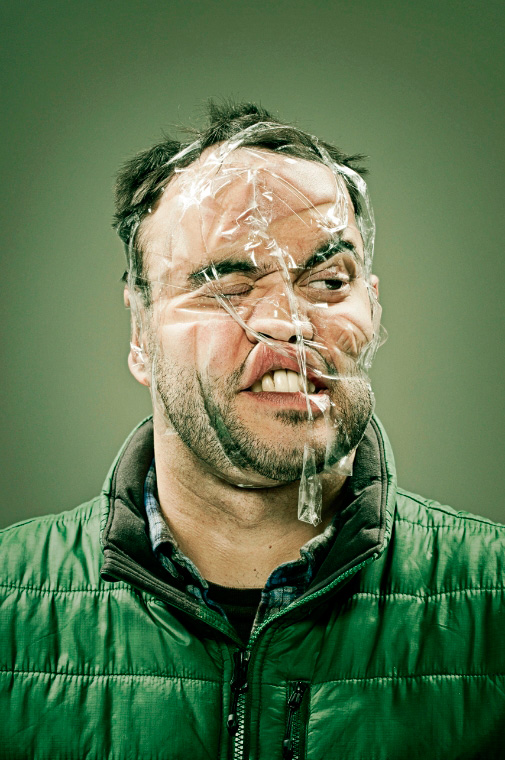 Long before taking Sellotape selfies was a popular meme, photographer Wes Naman released a hilarious series of photos featuring people whose faces are totally misshapen by adhesive tape.
The idea for the series came to Naman while wrapping Christmas presents. His assistant had randomly slapped a piece of tape on her face and the effect planted a seed in Naman's head, which grew into a year-long project aptly titled Scotch Tape.
The result is a series of portraits that makes each model – with their noses smashed sideways, their eyebrows raised unnaturally high, and their cheeks bulging in awkward places – look utterly unrecognizable.
3

The photographer who shoots portraits of dog owners locking lips with their dog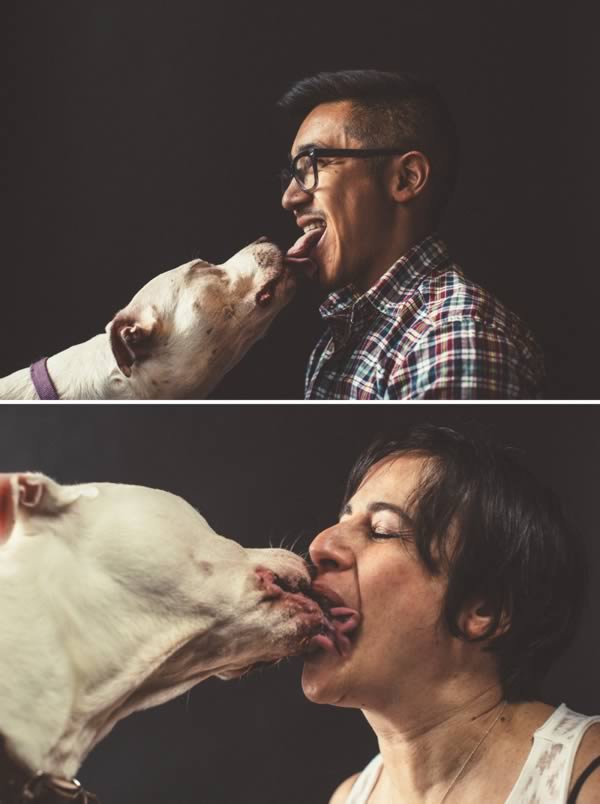 Even if you're a dog person you still might pull away from your pooch when they trot up to you with some sloppy kisses in mind, but photographer Chris Sembrot urges you to reconsider.
His new series, dubbed For The Love Of Dog, features portraits of dog owners locking lips (and sometimes tongues) with their pups.
While Sembrot suggests that this act is actually healthy because displays of affection more broadly increase oxytocin levels, lower blood pressure and improve our sense of well being, studies have suggested that making out with your dog can harbor negative health effects, on top of being, well, a little weird.
4

The photographer who wraps couples in vacuumed plastic bags to represent their love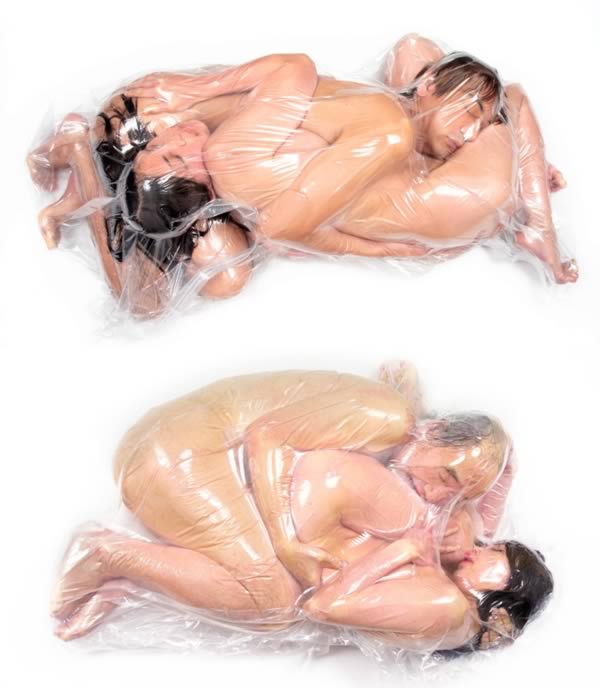 Some couples try all kinds of romantic tricks to keep their love alive, but Japanese photographer Haruhiko Kawaguchi takes a more literal approach – he wraps people in plastic, sucks out the air and takes photos of their distorted bodies.
These bizarre images of people huddled together in weird positions in vacuumed plastic wrap may look like stills from a a sado-masochistic practice, but they are Haruhiko Kawaguchi's way of showing and preserving the love between two people.
The idea for his project, Flesh Love, is pretty straightforward. Two people, usually couples, are "packaged" in a 100 by 150 by 74 centimeter plastic bag the artist buys off of the Internet. After carefully arranging their body parts so he can get the best shot, Kawaguchi uses a vacuum cleaner to suck out all the air and make the subjects look like a pack of packaged meat you buy at the supermarket. It takes about 10 to 20 seconds for him to take the photographs, during which time the shrink wrapped couple has to endure the pressure and lack of air, but it's all in the name of love.
Surprisingly and thankfully, no one has been harmed!
5

The photographer who captures photos of strangers who look like twins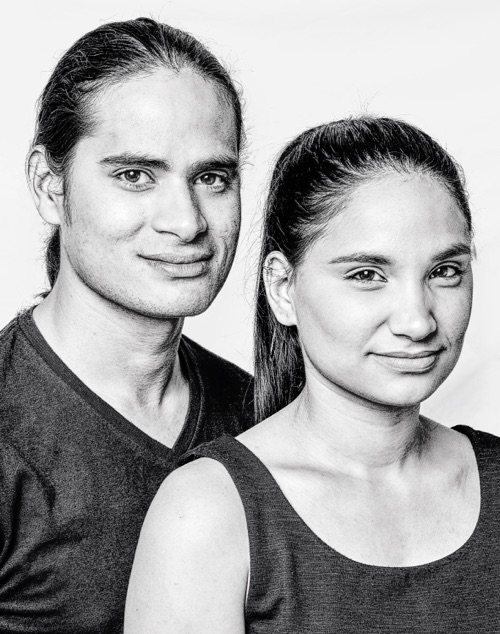 This is a series of portraits by photographer Francois Brunelle entitled I'm Not A Lookalike. They all feature unrelated strangers who look like twins.
The 62-year-old Montreal-based photographer has spent the last 12 years scouring the world for complete strangers who look alarmingly similar and taking photos of them together.
According to the photographer, the inspiration for this project came out of his own likeness with TV character Mr Bean.
6

The photographer who turns himself into a two headed freak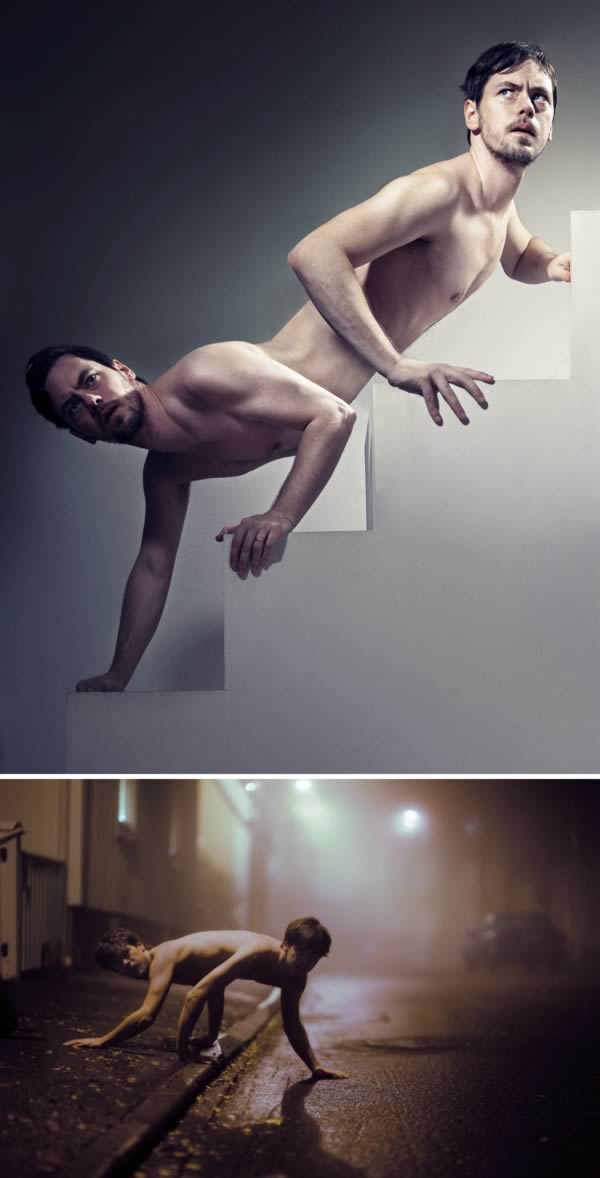 There are very few photographers who would choose to make themselves look like some sort of freakish creature when they shoot a self-portrait series, but Swedish photographer Samuel Pettersson decided he'd rather play the role of a two headed monstrosity in his series entitled The Animal.
As you'd expect, the photos are delightfully creepy and bizarre to behold.
7

The photo series which features faces deformed with rubber bands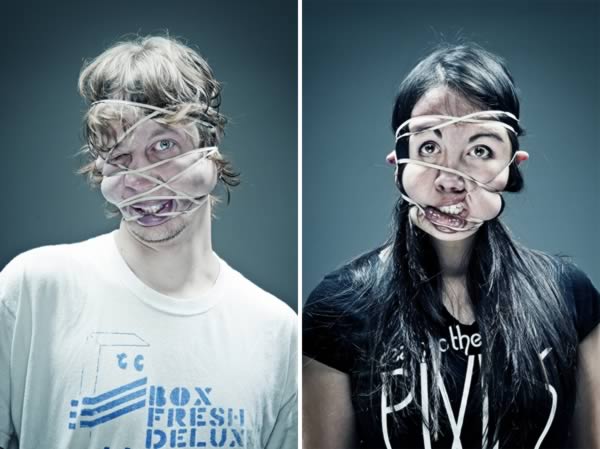 Wes Naman, who is also responsible for the portraits of people with faces wrapped in Sellotape, created this twisted series entitled Rubber Band Portraits'.
The idea is simple – the rubber bands help turn his subjects into grotesque caricatures of themselves – and the results are powerful.
For the tape series, Naman taped the model's faces himself. This time, he let his subjects do the deed. Some went crazier than others, because rubber bands hurt a lot more than tape. That said, there's still a whole lot of nose and ear warping, and rubber bands do an even better job than tape when it comes to forcing skin and hair to stick out in awkward and painful ways.
8

The photographer who captures faces pressed against steamy windows on overcrowded trains

Tokyo Compression is an ongoing photo series by German-born artist Michael Wolf that shows daily commuters with their faces pressed against the steamy windows of Japan's overcrowded subway trains.
Japan has one of the highest population densities in the world. Although Tokyo is famous for its advanced transportation infrastructure, not even its punctual subway trains can handle the large number of people using them during rush hours. In order to fit them all in, the subway even has "passenger arrangement staff" – also known as "people pushers" – who are responsible for cramming as many people as possible into a subway car. The white glove-wearing personnel actually push people into the train so the doors can shut properly.
Seeing commuters pressed against the windows like sardines inspired Hong Kong- based photographer Michael Wold to create his Tokyo Compression photo series.
9

The photographer who selfies while bathing in awkward places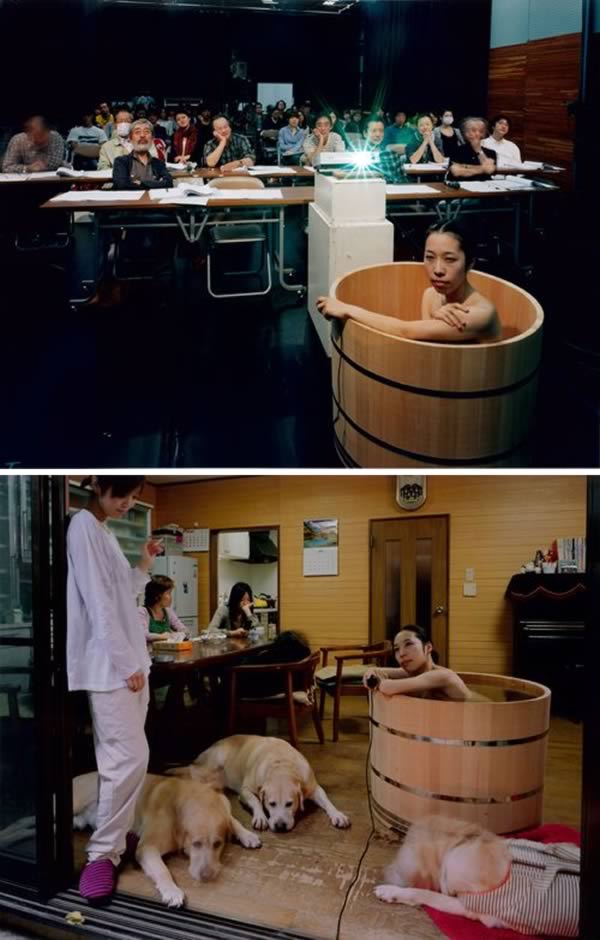 This series of self-portraits by Japanese photographer Mariko Sakaguchi finds her bathing in some unusual and awkward places including a restaurant, cluttered apartments, a deserted concert hall and a crowded classroom.
10

The photographer who takes photos of couples who found each other on the internet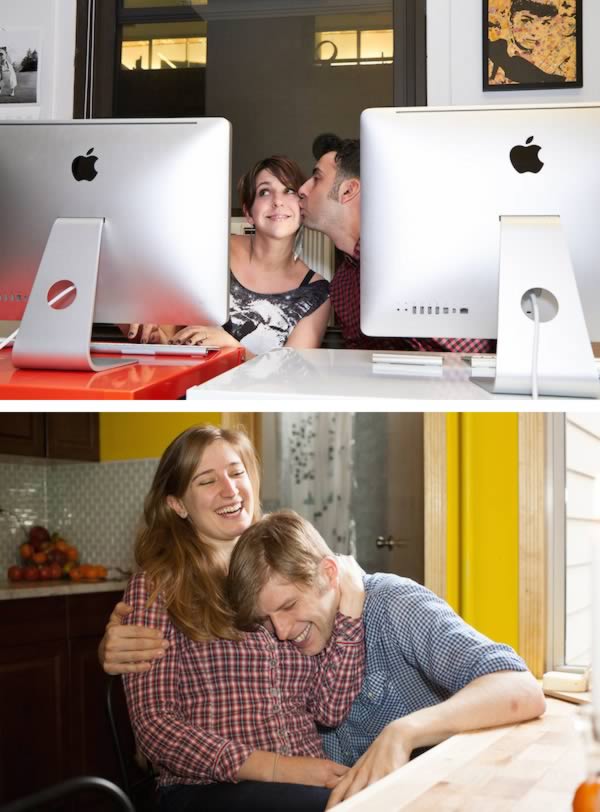 Photographer Jenna Cumbo has a beautiful and photo intimate series entitled We Met On The Internet. The series consists of couples who found each other online, be it through internet dating sites, apps like Instagram or social media platforms like MySpace and Facebook.
Cumbo even met a boyfriend on the now-defunct social media platform Friendster back in 2004. They are no longer romantically involved, but remain friends.
Her photos come with descriptions of how the couples met: " Lily and David, JDate. Lily's mother set up a JDate profile for Lily. The profile was loaded with lies, Lily said, but she went on a few dates her mother set up for her. She was going to close the account when her mom connected her with David. "I didn't want my mother to be right," she admitted. Lily and David have been married for two years. "