1

The Dad Who Hid in a Giant Box to Surprise Daughter on Her Third Birthday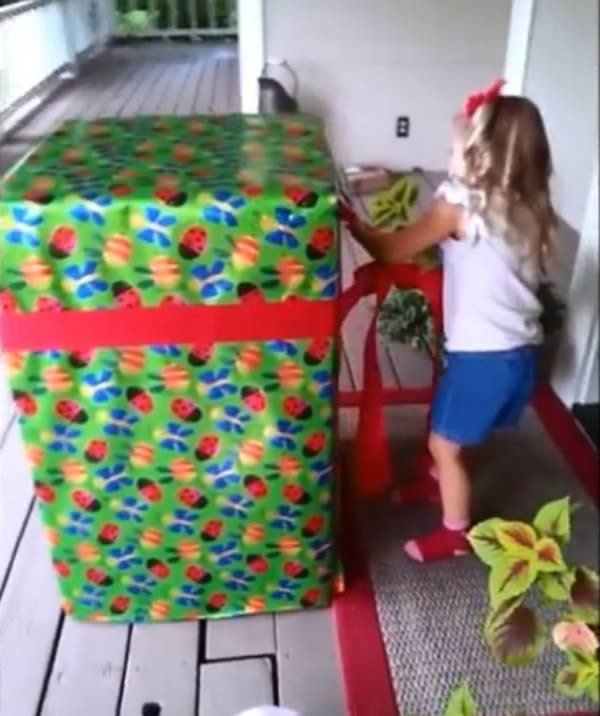 U.S. soldier Joshua Carr had been deployed to Afghanistan for four months. His return to the states coincided with his daughter's third birthday, so he naturally hid in a giant box for her to unwrap.
2

The PFC Who Surprised His Family at a Chicago Blackhawks Game
Of all their holidays as a family, Christmas 2013 is sure to be one that will stand out for the Taylor family for years to come.
Jeremy and Christian Taylor and their three youngest sons were reunited with their eldest son, PFC Hunter Taylor, during a Chicago Blackhawks home game.
The Hawks-loving crew, who has a tradition of watching games together, thought they were being honored as a military family when the Blackhawks invited them to the game. During a break in the game, United Center officials played a special holiday message from Hunter to his family on the Jumbotron. "I'll see you soon!" Hunter says in the video.
The family received the shock of a lifetime, when Hunter appeared at the gate immediately following the video.
After the game, the family met coach Joel Quenneville and several of the players.
3

The U.S. Soldier Who Staged a Scuba Surprise Homecoming for His Family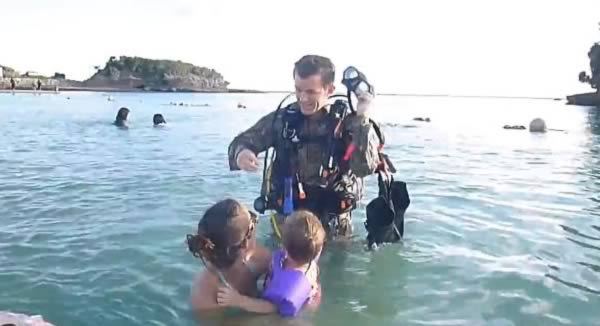 After six months away serving in Afghanistan, Captain Hyrum Bronson decided to stage an unconventional homecoming for his family who thought he was returning in three weeks.
Bethany Bronson and her four children were swimming with a family friend when he suggested they record video messages for Captain Bronson, who they thought was still in Afghanistan.
Her husband, who was yet not due to return from Afghanistan, then popped up out of the water in a scuba mask still wearing his uniform.
Delighted by the surprise, Captain Bronson's daughters immediately rushed up to him and hugged him screaming, "Daddy!"
4

The Soldier Who Surprised Son Dressed as Spiderman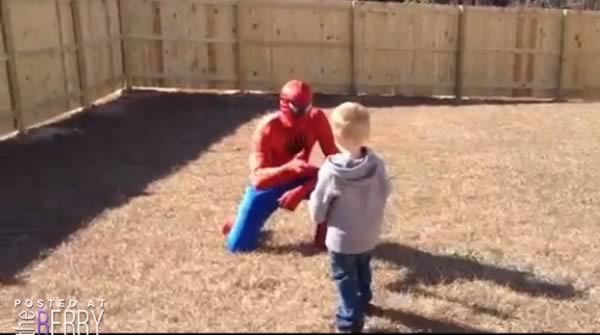 This little boy got a big surprise after meeting his favorite action hero. The Amazing Spiderman turned out to be his dad who had just returned home.
5

The Soldier Mom Who Surprised Her Son at His Basketball Game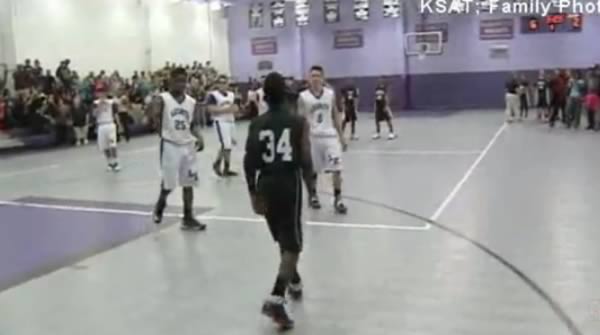 A Texas soldier and mother came home and surprised her son at his basketball game. The two hadn't seen one another for months and when Mom showed up at the boy's game he couldn't contain his emotions!
6

The Soldier Who Surprised His Parents by Popping Out of a Life-Sized G.I. Joe Box
The Philadelphia Flyers combined two of the best things in the world — Christmas and soldiers returning unexpectedly to surprise their families — by dressing up a soldier inside of a life-size G.I. Joe action figure box, wrapping him up like a Christmas present and presenting him to his family during a game.
Joann and Mark Windish didn't expect their son Matthew, a U.S. Army mechanic based in Korea, to come home until a few weeks later.
7

The Marine Who Surprised His Sister With a Diploma at College Graduation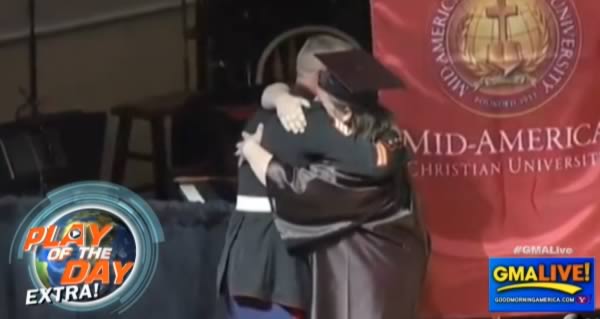 College graduation day is a momentous occasion for students already, but when you throw in the extra-special surprise of being handed a diploma by your Marine brother who you haven't seen in a year and weren't expecting to be in attendance – that's the icing on the cake.
While graduating from Mid-America Christian University, Kacy Watson, 28, of Norman, OK, was completely caught off guard after hearing the presenter announce her brother's name, Staff Sgt. Michael Burkhart.
Watson had not seen her brother for almost a year. His commanding officer at Camp Pendleton, CA, had given him special permission to fly into Oklahoma City the night before her graduation.
8

The Son Who Surprised His Mother Wearing a Santa Suit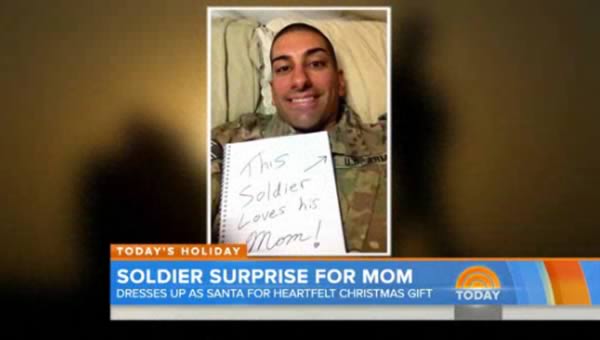 A New Jersey mom received the gift she wanted the most for Christmas, wrapped in a big red suit with a white beard and glasses.
Leslie Ruggiero thought her son, an Army mechanic serving in Afghanistan, would be spending the holidays thousands of miles away from their home in Brick, NJ. On Christmas Eve, Leslie and the other maternity ward nurses at Ocean County Medical Center were told Santa Claus was there to thank them for working during the holidays. Santa handed Leslie a red envelope that brought tears to her eyes – it was a postcard from her son, Army Spc. Travis Ruggiero.
As she clutched the card, Santa took off his red hat, beard and oversize glasses. It was Travis, who made it home for Christmas, even though he was not due to return until March.
9

The Army Wife Who Surprised Husband with 96 Pound Weight Loss on His Return from Afghanistan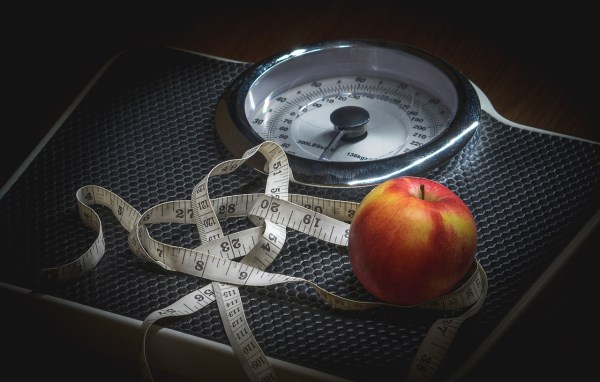 In this final story, the returning soldier wasn't the one who surprised the family – it was the other way around.
Misty Shaffer struggled with her weight all her life. When her husband was deployed to Afghanistan for a year, the Leland, NC woman decided to use his absence to commit herself to losing weight so she could surprise him when he came home.
In the year that Army Spc. Larry Shaffer was gone, his wife changed the way she ate. She switched to whole grains, fruits, vegetables and lean meats. She drank more water and controlled her portion sizes.
Shaffer was a size 20 and tipped the scales at 250 pounds when she started. When her husband came home almost a year after, she weighed 154 pounds.
When Larry Shaffer got off the plane, he was stunned by his wife's weight loss. She had been standing behind a crowd of friends and family who had gathered to welcome him home, and when the crowd parted, Larry Shaffer got his first look at his newly slender wife.
In the year that the Shaffers were apart, they would Skype and Misty would send her husband pictures of their daughter and of herself, but she made sure that her images only showed her from the neck up. Her friends and family helped keep the secret, too.