1

The Teen Girls Who were Connected to a Crime After Posting a Pre-Robbery Selfie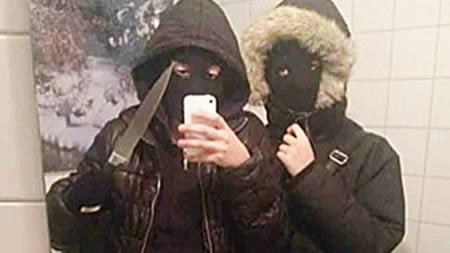 A pair of teenage girls who were arrested on suspicion of robbery could have possibly talked their way out of it — had they not snapped a selfie of themselves dressed as robbers and holding a knife just before allegedly committing the crime.
The unidentified teens were accused of having robbed a burger joint in Halmstad, Sweden with a large kitchen knife and making off with just under $400. The local K-9 unit was able to track the girls to their grandparents' apartment, where a knife and a pair of balaclavas were found.
Upon confiscating the girls' cellphones, officers found photos of the suspects wearing balaclavas and holding a knife matching the description of the one used in the robbery.
Only one of girls, a 17-year-old, is old enough to be tried.
2

The Selfie from Pop Star Rihanna with an Endangered Animal that Lead to Arrests in Thailand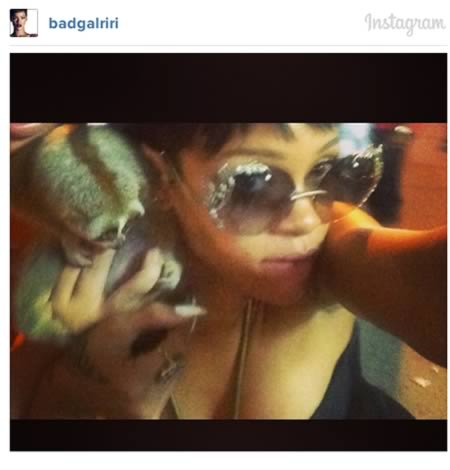 "Look who was talking dirty to me!" Rihanna tweeted in Sept 2013 from the island of Phuket off the coast of Thailand, where she was taking a break from her current world tour.
It turned out to be a slow loris, which is a cute, bug-eyed creature that's native to Southeast Asia. It's also a protected species, so local police did, in fact, look into the matter.
Phuket authorities were alerted to the picture, and that led to police arresting the two individuals, who brought out the loris as a photo opportunity for tourists.
The authorities rescued two lorises from the suspects, who were identified as a 20-year-old man and a 16-year-old boy. If charged with possession of protected animals, the two could face up to four years in prison.
3

The Drug Mule Who was Caught After Taking Selfies While Counting and Kissing Banknotes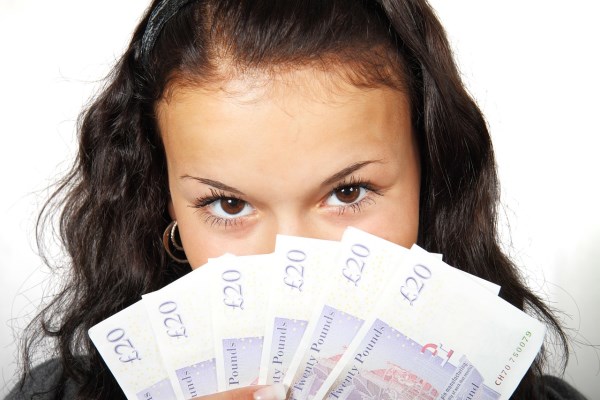 In September 2013, a dopey drug mule was jailed after he snapped a "selfie" on his mobile phone while kissing banknotes. Cocky Peter Cavanagh, 26, was part of a mob who netted £30,000 (about $50,000) every month from peddling heroin and cocaine.
Alongside gang leader Michael Adegoke, Cavanagh delivered the deadly drugs to the West Country and then returned to London with the profits. The arrogant drug mule even took photos of himself brandishing a wad of cash on one of his train rides back to the capital.
However, the deadly trade hit the buffers when two of their female dealers were busted on the streets of Weston-super-Mare, Somerset. Police linked them to Adegoke and Cavanagh, and found the damning photos on their mobile phones.
4

The Prisoners Who Boasted of an Easy Life on Facebook (When No Cell Phones are Allowed in Prison)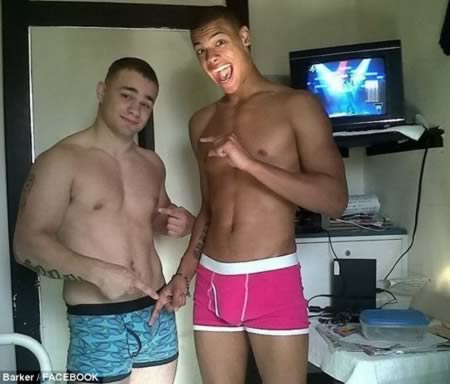 You probably know that mobile phones are off limits in prison, right? Apparently, these inmates didn't.
Now, these two violent thugs who were caught boasting on Facebook about their easy prison life have been stripped of their perks, put in solitary, and face a police investigation.
The pictures feature Sonny Barker and Korrel Kennedy posing in their cell and surrounded by gadgets, such as a PlayStation and a TV that is showing a music channel. Other pictures appear to show a cell filled with a mini-fridge, a sound system, piles of snacks, and posters of topless women.
Thanks to their ability to somehow post these images online, they have now lost their TV, are being made to wear prison uniforms, and could be moved to a tougher jail.
Between July 2009 and June 2011, a shocking 342 inmates, including murderers, were caught using the social networking site while locked up.
5

The Former New England Patriots Tight End Who was Accused of Murder and had Taken a Selfie While Holding a Gun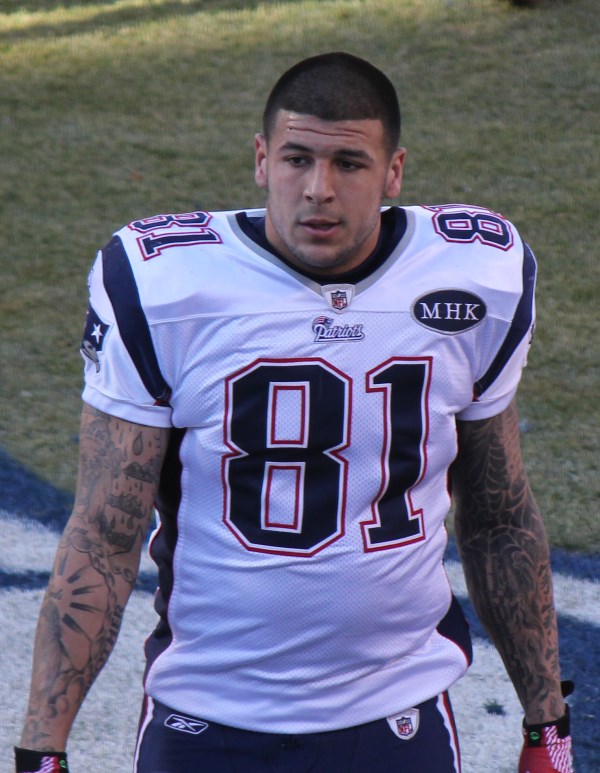 Aaron Hernandez, the former New England Patriots tight end, has been charged with murdering Odin Lloyd, a semi-pro football player for the Boston Bandits. Now, a "selfie" photo, in which he is seen flaunting his Glock handgun in one hand and a camera phone in the other in front of a mirror, is going viral on Twitter.
Prosecutors accused Aaron Hernandez, 23, of killing Odin Lloyd over some "troubles." Lloyd, 27, was a semi-pro football player who was dating the sister of Hernandez's fiancée. The two athletes were reportedly friends.
Lloyd's body was found in an industrial park about a mile from Hernandez's home.
Hernandez, 23, was also charged with one count of carrying a firearm without a license, two counts of possessing a large-capacity firearm, and two counts of possessing a firearm without a firearms ID card.
Aaron's TMZ-published selfie photo was reportedly taken years ago.
6

The Woman Who was Suspected of Mass Embezzlement and Took a Selfie While Bathing in Cash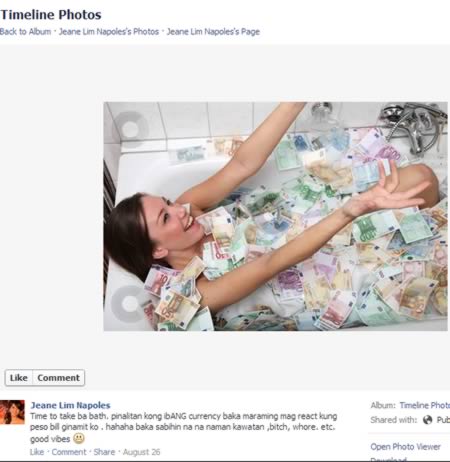 Napoles, who was living in the U.S., owns a Ritz Carlton condominium in L.A. that she's trying to sell for $1.475 million, as well as a $339,000 home in the Philippines, and she has a long history of sharing photos of her decadent lifestyle.
The problem is that Napoles is somewhat of a public figure. Her mother Janet is currently awaiting trial and could face jail time in the Philippines for allegedly assisting the country's parliament in embezzling about $230 million.
After news of the charges against her mother were reported, many grew outraged over Napoles' online photos and accused her of unjustly living a life of luxury in a nation stricken with poverty.
NOTE: Some sources claim that this photo does not depict Napoles, but is in fact a commercially available stock photo.
7

The iPad Thief Who Identified Herself with Selfies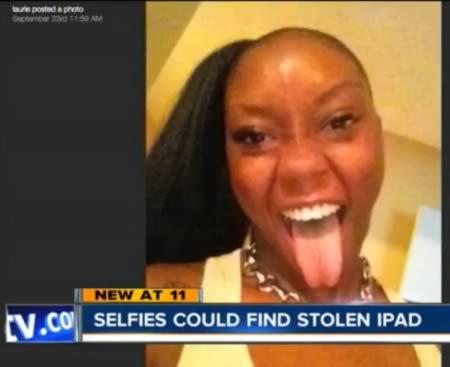 Authorities from the Palm Beach County Sheriff's Office in Louisiana were looking for someone who stole an iPad, and the alleged thief may have given them some unintentional assistance. The alleged thief (pictured above) took a number of photos of herself with the device days after someone broke into the victim's car at the South County Regional Park in Boca Raton.
The crime took place when the victim was busy with her kids at a flag football practice. She was able to access date from the iPad with her iCloud feature.
The cops were looking to identify the woman in the photos because other parents have had their vehicles broken into, as well. The flag football league sent out an email to parents warning them of the break-ins. The woman whose iPad was stolen was offering cash to anyone with information leading to the return of the device.
8

The Vain Thief Who was Caught After Taking a Picture of Himself on a Stolen Cell Phone and Accidentally Emailing It to the Owner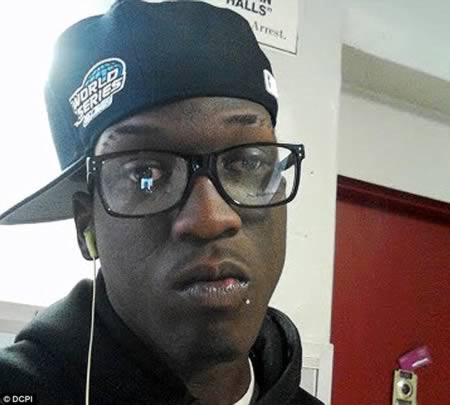 A vain thief helped put himself behind bars after he took a picture of himself with a stolen cell phone that he stole and then accidentally emailed it the rightful owner. Albert Wilson, 19, is accused of stealing a 16-year-old boy's Samsung Galaxy Epic smartphone in the Bronx, New York. He was arrested after police identified him by using the picture that he sent to his victim.
Wilson and his friends surrounded the victim and robbed him. Once they grabbed the phone, they fled. Shortly after the robbery, Wilson took a picture of himself, not knowing that the phone was set to automatically email all photographs back to its rightful owner. With a photograph of his alleged attacker in hand, the teenager went to the police. Officers arrested Wilson and charged him with robbery, possession of stolen property, and possession of a controlled substance which was believed to be crack cocaine.
9

The Robber Who Posted an Incriminating Pyjama-Clad Selfie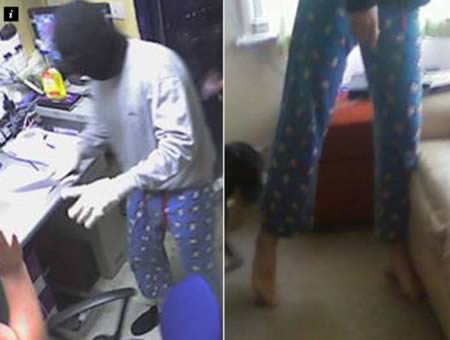 There is a new entry to the rich and varied annals of criminal stupidity. A violent gang was caught after careful attempts to cover their tracks failed to include a series of incriminating "selfies" and a mobile phone chat group named "armed robbers."
The four men were convicted after police uncovered photographs taken by a gang member that included one posing with a gun and another wearing the bright blue pyjama trousers printed with cartoon sheep that he had worn on one of their raids.
The men had stolen thousands of pounds, cigarettes, and scratch cards in armed robberies at shops in Kent and Sussex. However, their crimes were uncovered with the arrest of one of the suspects, Terry Sullivan, and the seizure of mobile phones from his home.