1

Arin Andrews & Katie Hill: The Teenage Couple Who Met at a Support Group for Transgender Teens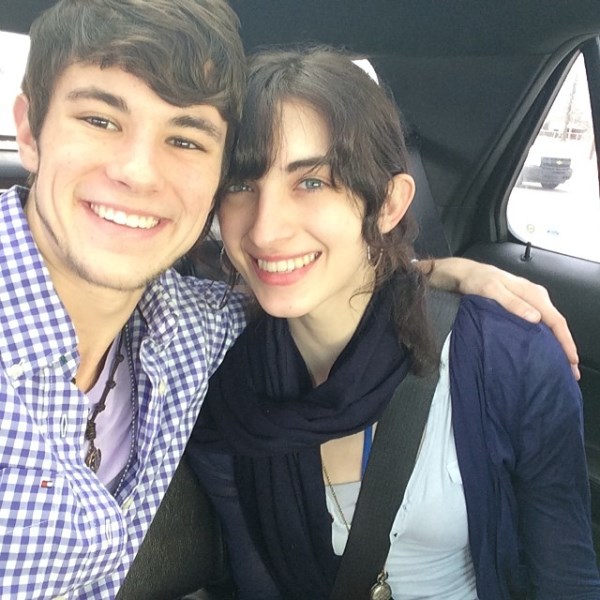 Teenagers Arin Andrews and Katie Hill look like any normal young couple posing in their swimwear.
It's hard to believe that just two years ago Arin was a girl named Emerald and Katie was a boy named Luke. Arin, 17, and Katie, 19, from Tulsa, Oklahoma have both undergone surgery to change their gender, and now they are enjoying being in the bodies that they always wished for.
Katie and Arin met nearly two years ago at a support group for transgender teenagers and bonded through their shared experiences. Both the couple's families are supportive of their relationship and say the way that the teenagers have supported each other has helped in their transition.
2

Jamie Eagle & Louis Davies: The Transgender Engaged Couple Who won't Marry until Their Gender Confirmation Surgeries are Complete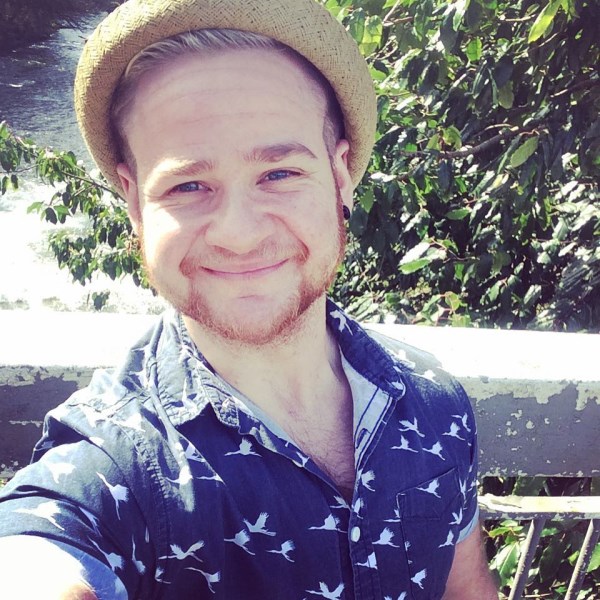 Jamie Eagle and Louis Davies look like any other smitten young couple engaged to be married.
But theirs is a love story with a difference, because they are both in the process of undergoing gender reassignment.
20-year-old Jamie Eagle was born a boy and now lives as a woman. Her fiancé, 25-year-old Louis Davies, was born a girl and now lives as a man. They got engaged following a whirlwind nine month romance, but say that they won't marry until they have both completed their transgender journey and undergone surgery.
The couple, both from Wales, met when Louis invited Jamie to speak to his university group as he prepared to come out as transgender.
3

Alexis & Karen: The Argentinian Transgender Couple Who are Expecting a Baby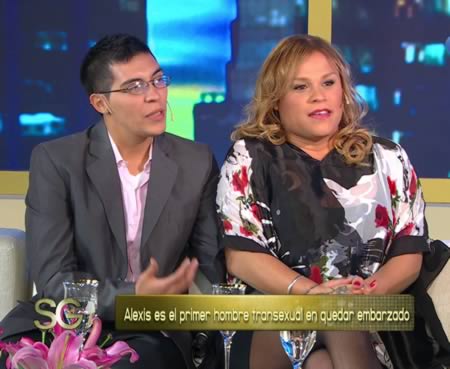 Alexis and Karen are a transgender couple from Argentina who are expecting their first daughter. Alexis and Karen are the names currently on their respective DNI under the law that passed in May 2012, according to which any person may "request the modification registration of sex, and the change of name and image when it doesn't coincide with self-perceived gender identity." Alexis perceives himself as male despite being born in a female body, and Karen perceives herself as female but her genitals are those of a male. Alexis and Karen met, fell in love, and decided to become parents. That's why Alexis left his male hormone treatment and, after a period of time, became pregnant. In December 2013, Alexis is giving birth to a baby girl named Genesis Angelina.
Alexis, who is seven months pregnant, said she stopped taking testosterone to conceive and will undergo surgery to "have a male body" once the baby is born.
Check out the video of their ultrasound:
4

Felix Laws & Helen Morfitt: The Man Who Used to be a Woman and Married a Woman Who Used to be a Man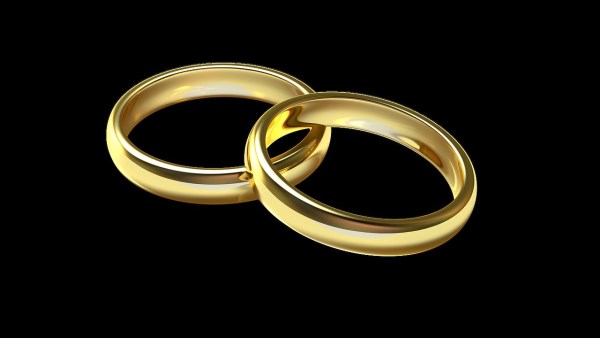 Meet one of Britain's most unusual couples; Helen Morfitt and Felix Laws became the first couple in the country to have a double sex swap marriage. They both had their reassignment operations on September 13 - Helen in 2003 and Felix in 2010 - so they thought it would be a fitting date for their wedding. The couple, who have been together for six years, were forced to change gender on their birth certificates before they could elope to Scotland and get married.
At 5 feet 8 inches, Helen towers over the 5 foot 1 inch tall Felix, and the couple admits that people sometimes stare at them in the street.
Between them, they have 10 children and have already racked up four marriages. However, this is the first time that either of them has been hitched after changing gender.
They met in 2008 after Felix – who was then a woman – confessed to his doctor that he was trapped in the wrong body. The GP sent Felix to see a psychologist, who put him in touch with Helen because she ran a transgender support group.
5

Chen & Jiang Ling: The Couple Who Got Married and Now Want Sex Change Operations to Swap Roles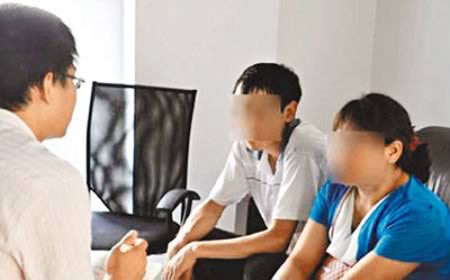 "I married my wife one year ago, and both of us want to swap our roles by means of sex reassignment surgery," said a man who wished to use the alias Chen Li. Chen and his wife, who wished to use the name Jiang Ling, look and behave like any other middle-aged couple. When asked why they wanted transsexual operations, Chen said that he is an introvert who enjoys his wife's care and protection, while Jiang said she was fed up with her mother-in-law's bullying.
"I had never gone out of my parents' sight until I entered high school, and it's harrowing to depend on myself for everything. I need someone to count on," said Chen. "I want to be a woman so that Jiang can take care of me."
Chen's mom apparently doesn't think Jiang deserves her son because Jiang was previously married and had a baby, but the child died due to undisclosed reasons. "No matter how much I do for her, she's still not happy with me and have to scold me a few times a day," a sobbing Jiang told reporters.
The sex swap idea came when, after another argument with his mom, Jiang lashed out at her husband and said, "If I were a man and you were a woman, I wouldn't get bullied!" Chen immediately agreed with his wife.
Jiang and Chen say that they would like to start a family of their own first before having their sex swap, and then maintain Chen as the husband and Jiang as the wife despite being a new woman and a new man.
6

Jane & Anne: The Couple that Married a Second Time After a Sex Change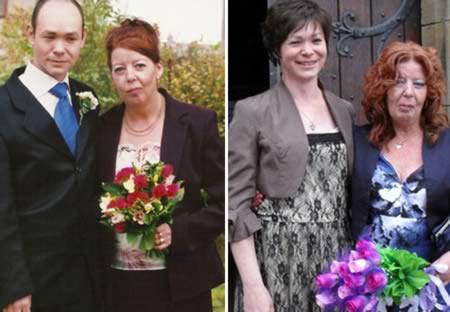 There are many ways to rekindle a marriage, and one couple in England found romance again after one of them had a sex change! Barry and Anne were married in 2002 but grew unhappy after several years. So in 2011, they renewed their vows as Jane and Anne! Barry had a sex change and now shares his life with Anne as part of a same-sex relationship.
Anne, 53, admitted that she had "grieved for the loss of Barry," but she added, 'There were sides to Jane that I enjoyed getting to know - we can now have a laugh and talk about hair, clothes and make-up." Anne decided to go ahead with the second ceremony, proving to Jane and to the world that she accepts her new spouse for who she is.
NOTE: Although this story doesn't qualify as a double sex change, it does feature two weddings.
7

Janeen & David: The Intersex British Couple Who Wrote to the Queen for Permission to Get Married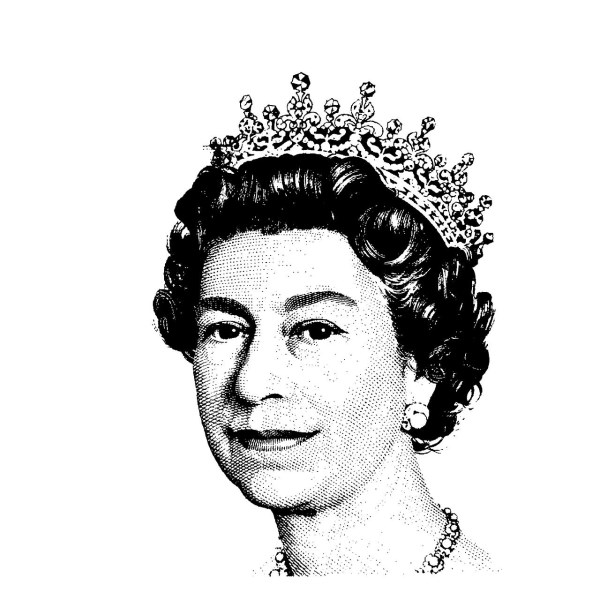 In 1994, a man who used to be a woman and a woman who used to be a man wrote to the Queen to ask her to allow them to get married. Janeen Newman, then 47, and David Willis, who has a daughter, already lived together in Louth, Lincolnshire.
They had met five years before as Janeen was preparing for her sex change operation, and in 1994 they gave the text of their royal letter to the Grimsby Evening Telegraph, which splashed it on the front page.
Under British law, it is only possible to marry as the gender on your birth certificate. You could change your name and the title by which the world addresses you, but you couldn't have a chromosome recount.
In the letter to Buckingham Palace Miss Newman said, "My partner David Willis and I wish to be married. We intend to spend the rest of our lives together and want to solemnise our relationship legally and provide a formal family unit in which to raise David's daughter."
"We are very ordinary citizens and seek only to be able to live our lives as other citizens are allowed to do. We wish to live industrious and integrated lives in society."