1

Pizza Hut's Crown Crust Cheeseburger Pizza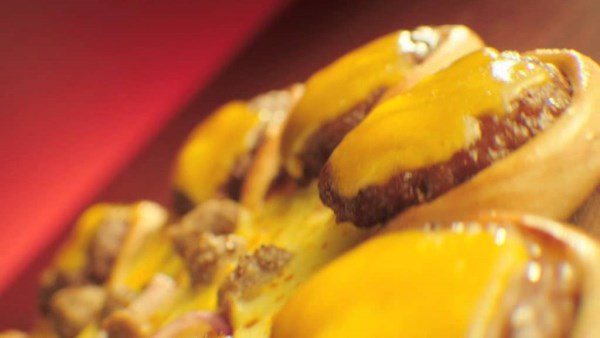 Pizza Hut's most famous masterpiece of 2012 was its cheeseburger crust pizza. The heart attack on a pie debuted in April. It comes with chicken tenders instead of cheeseburgers, too.
2

Burger King's Bacon Sundae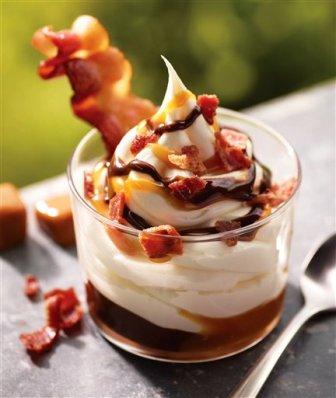 Would you buy a bacon sundae? Burger King is betting that you will. The fast food chain famous for the Whopper introduced the limited-time dessert in June of 2012 as part of its new summer menu. The 510 calorie sundae, featuring vanilla soft serve topped with fudge, caramel, bacon crumbles and a piece of bacon, has 18 grams of fat and 61 grams of sugar.
3

Pizza Hut Kit Kat Pops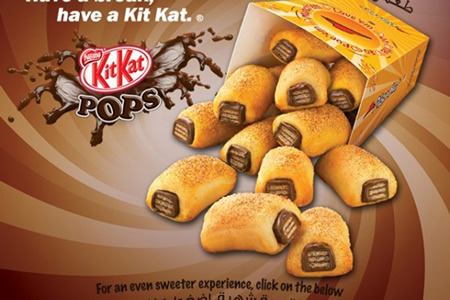 Apparently, creating all sorts of crazy-crusted pizzas isn't good enough for Pizza Hut Middle East. Behold, "Kit Kat Pops" are here. They're basically Kit Kat candy bars wrapped in pizza dough.
4

Quick's Darth Vader Burger
In 2012, French fast food chain Quick revealed a promotional snack that went to the Dark Side of the burger: a Star Wars-inspired burger with completely black buns. They cooked up the black-looking bun to tie in with the release of Star Wars Episode I: The Phantom Menace in 3D. Although the buns look decidedly burned, they are, in fact, simply dyed and have two beef patties with cheese, lettuce, and tomato in between.
5

Dunkin' Donuts Bacon and Eggs on a Donut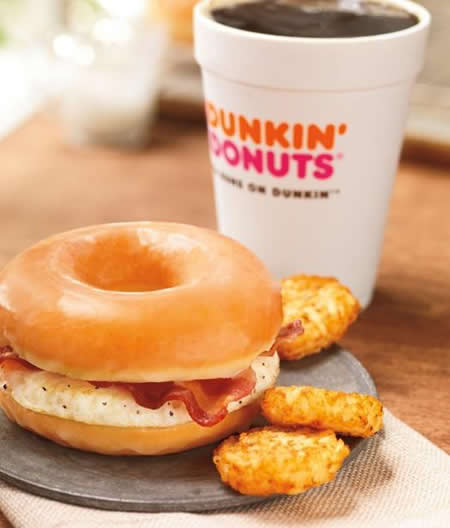 The sandwich, which comes with fried eggs and bacon between a split glazed doughnut, will become a part of the permanent menu starting on June 7, 2013, which the chain claims is "National Donut Day." Dunkin' Donuts had tested the sandwich in select stores in eastern Massachusetts in April, creating considerable buzz online.
Notably, Dunkin' Donuts says the "Glazed Donut Breakfast Sandwich" clocks in at 360 calories, which is less than the 390 calories for the turkey sausage sandwich it recently introduced for people looking to eat better.
6

Dunkin' Donuts China's Pork and Seaweed Doughnut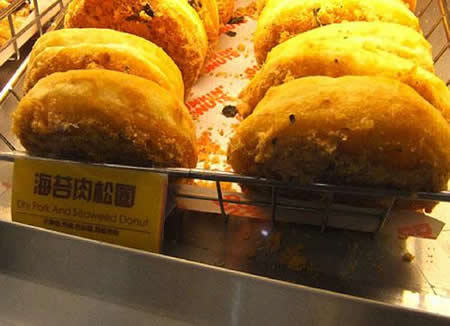 When we hear the word "doughnut," a baked good barely distinguishable from dessert comes to mind. However, Dunkin' Donuts is expanding their eponymous offering's image in China, launching a savory doughnut stuffed with shredded pork and seaweed. So far, the pork doughnut is only available in Asia, where it spearheads an aggressive Dunkin' expansion campaign on the continent.
7

Burger King's Pizza-Size Burger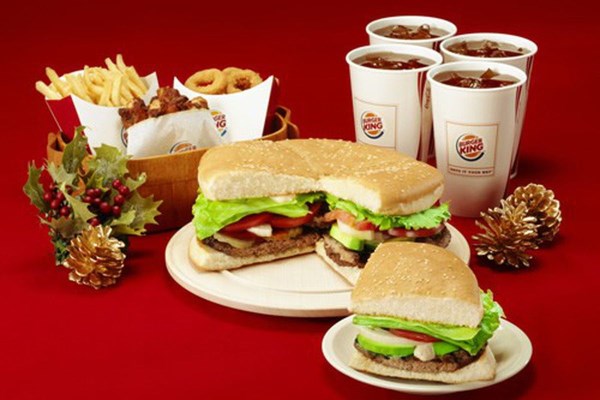 Wide is what you get with Burger King Japan's 8.8 inch (22cm) diameter Pizza-Size Burger. Note that only the buns are extra-wide, and in between are four regular Whopper-sized beef patties arranged in a four-leaf-clover pattern. The fillings and toppings are also normally sized, but at least they're provided in abundance.
You can order the Pizza-Size Burger in two different styles, though both styles are served in an odd "half & half" format with one half featuring the everyday Whopper's toppings of tomato, onion, pickles, ketchup, and so on. Slices of fresh avocado are added to the, er, "Fresh Avocado" version and tortilla chips, cheese sauce, and jalapeno peppers occupy half of the "Cheese Nacho" version. Cut it up as you would a pie (or a pizza, duh) and dig in!
8

KFC's Double Down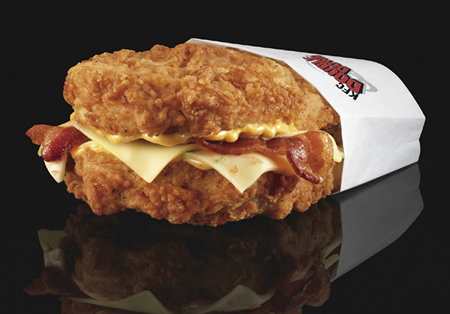 The Double Down contains "bacon, two different kinds of melted cheese, the Colonel's secret sauce... pinched in between two pieces of Original Recipe chicken fillets." KFC announced the Double Down in an April Fools' Day press release and launched the item in the United States on April 12, 2010.
9

Domino's Bread Bowl Pasta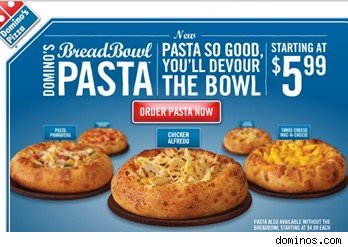 Dominos has introduced new pasta dishes served in bread bowls, dubbed Bread Bowl Pastas. Another journey out of the realm of pizza, these new penne pastas are $5.99 each and are available in six choices: chicken carbonara, Italian sausage marinara, snot rocket, chicken alfredo, pasta primavera, three cheese mac-n-cheese, and a "build your own" version which allows you to you choose three pizza toppings.
10

Pizza Hut's Double Sensation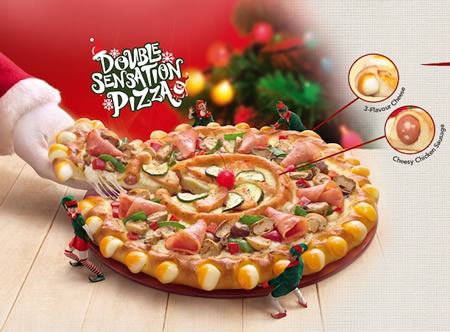 The pizza, aptly named the "Double Sensation," is practically two pies in one. The outermost crust is stuffed with melted mozzarella, Parmesan, and cheddar cheeses that ooze out of holes in the crust, and the outer pie is topped with turkey, ham, bell peppers, and a mushroom and salsa sauce.
The inner crust is filled with chicken sausage and cheese, and the innermost pie is topped with smoked chicken, zucchini, and a pepper Alfredo sauce.
Sadly for us, this insane pizza is only available in Singapore through the end of December 2012. It's being sold for the bargain price of roughly $21.75 for a regular-size 10" pizza and $27.49 for a large 13", and it's also available as part of two Christmas feast deals.