1

Pope's childhood love "made him become priest"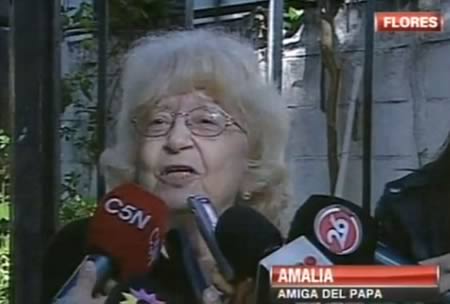 The first Latin American Pope may have been a Latin Lover first, it appears, after a childhood sweetheart claimed that he went on to become a catholic priest after she turned down his marriage proposal. Amalia Damonte, 76, grew up in the same Flores neighbourhood of Buenos Aires as Jorge Bergoglio and said that when the Pontiff was 12, he wrote a letter declaring his love.
Speaking to Argentinian TV, she said, "He said that if I didn't say yes, he would have to become a priest. Luckily for him, I said no. He had a crush on me ... We used to play on the streets here. It was a quiet neighborhood then. He was very nice."
2

The new Pope is an ardent fan of an Argentinian football team nicknamed the "Saints"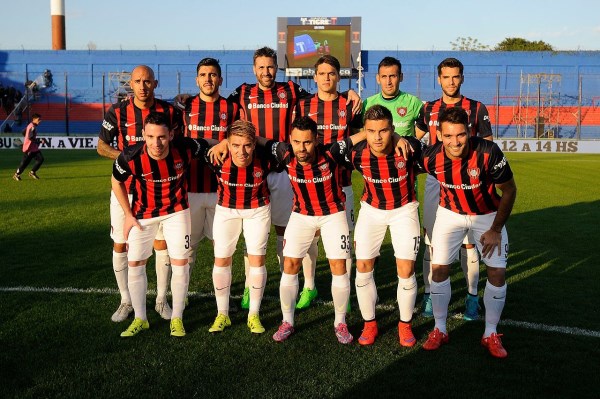 He could have chosen the Devils. Instead he turned to the Saints. In a country where a blurry line separates religion from football, or soccer as Americans know the sport, it's only appropriate that the first Argentinian pope is a fan of a team partly founded by and named for a priest.
Understandably eager to milk the fact that the new leader of the Catholic church is a fan of their club, Argentine Primera Division side San Lorenzo wore a picture of Pope Francis on their kit for their match against Colon. It also coincided with a bit of divine fortune in the form of comedic defending. San Lorenzo printed a picture of Pope Francis (or Papa Francisco) smiling and waving on the front of their shirts for the game.
3

The Pope paid for his own hotel bill during the conclave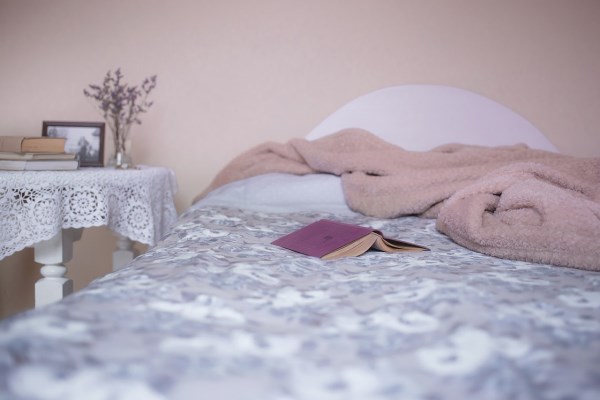 With the spiritual well-being of the world's 1.2 billion Catholics on his shoulders he must have quite a to-do list. However, despite his new responsibilities, Francis did not forget to stop off - between engagements - to pay his hotel bill. Staff at the central Rome priests' residence, where Bergoglio was staying before the conclave, were astonished when the newly elected Pope strolled in to collect his luggage and settle the bill.
He was driven to the hotel in a simple car and The Rev. Pawel Rytel-Andrianek, who teaches at the nearby Pontifical Holy Cross University and is staying at the residence, said that workers at the hotel were touched by the Pope's decision to return and bid them farewell.
4

The Pope almost falls from the altar on his first day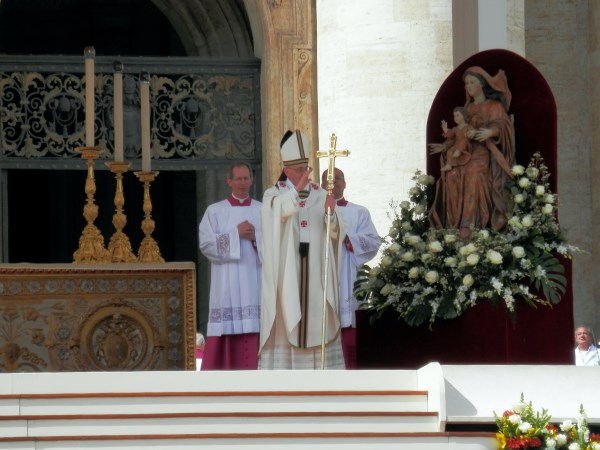 Call it first day nerves, but the Pope stumbled into his new role in near dramatic fashion. As he got off his elaborate seat at the beginning of the meeting with the College of Cardinals in the Vatican, he seemed to get his feet in a tangle before almost falling over.
Thankfully he styled it out by laughing off the nearly disastrous moment and then continued as normal as he embraced Angelo Sodano, the dean of the College of Cardinals.
5

He washed the feet of Aids patients and drug addicts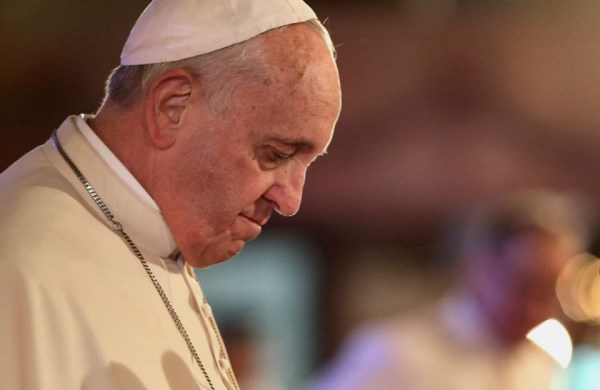 In 2001, Bergoglio reportedly visited a hospice to kiss and wash the feet of 12 AIDS patients, and seven years later, the Catholic News Agency reported that Bergoglio washed the feet of 12 recovering drug addicts at a rehabilitation center in Buenos Aires.
6

His Papal name was predicted by a Spanish man via Twitter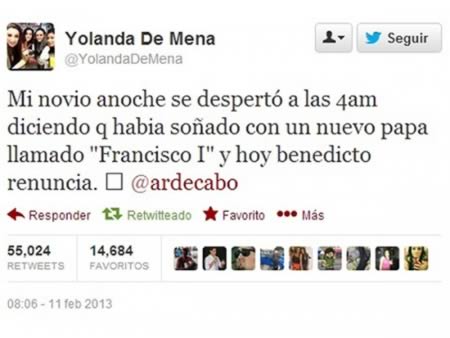 A 22-year-old man in Madrid apparently predicted who would be the next pope in February -- just a few hours before the pope emeritus announced his resignation. Alejandro Rodriguez de Cabo's girlfriend, Yolanda De Mena, sent out a tweet on Feb. 11 claiming that earlier that morning her boyfriend had awoken with a strange premonition.
"My boyfriend woke up last night at 4 a.m. saying he had dreamed of a new pope called "Francis I" and Benedict resigned today," the message read.
Around the same time De Mena posted that tweet, news of Pope Benedict XVI's shocking resignation pronouncement began circulating around the globe. Then this week, the second half of Rodriguez's remarkable "dream" came true, as the papal conclave selected Jorge Mario Bergoglio, now known as Pope Francis.
7

He is a Pope of firsts: First Latin American, first Jesuit and first Pope Francis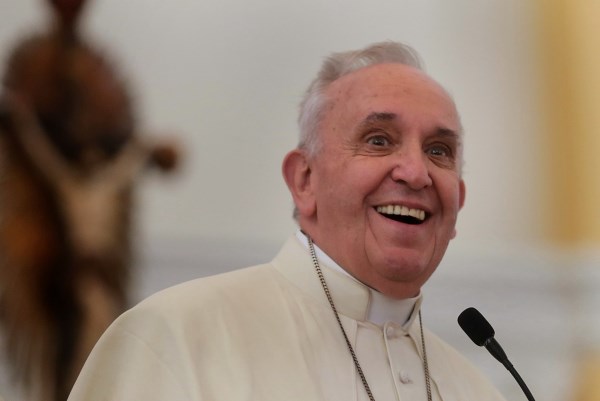 Pope Francis began his first morning as pontiff by praying at Rome's main basilica as he started the first day of what is expected to be a challenging papacy. The name of the new pontiff had been announced in Latin moments earlier by the French cardinal Jean-Louis Tauran after he had declared "Habemus papam" ("We have a Pope").
Bergoglio adopted the name of Francis, one of the church's most revered saints who was a beggar in 13th century Italy. The name is widely interpreted as sign of humility. Francis I is the first pope from the Americas but not the first non-European to hold the position. The first ever pontiff, Peter, was born in the Golan Heights, while there have also been pontiffs from Libya and Turkey. The last non-European was Syrian-born Gregory III, elected in 731. The last pope to take a name that had not already been used was John Paul I. The last Italian pontiff had one of the shortest ever reigns, lasting just 33 days before he died on 26 August 1978. Before him you have to go back more than 1,000 years to find the next first-name pontiff, Lando, who was elected in 913.