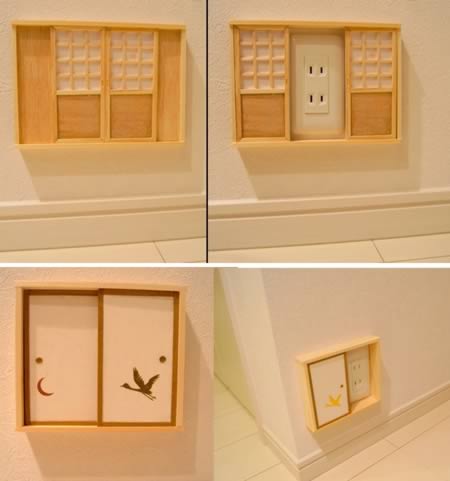 Here's a cool little project one Japanese man created to tastefully hide the power outlets in his home. It's a little sliding door made out of wood. Good idea for those rarely used outlets. He made a few different styles like the center-opening Shoji screen style and the single sliding solid door version above.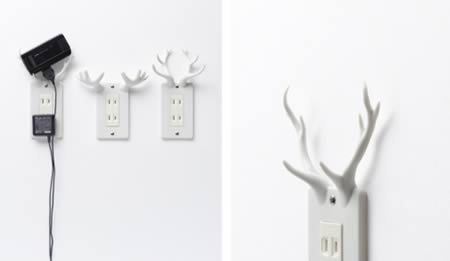 We've all seen antlers on walls and above fireplaces, but here's a smaller version for your electrical outlets. Made from tough urethane rubber it's perfect for holding your cell phone while charging. Plus, it also protects the antlers from breakage should you bump into them.
The antlers for all three types of deer are already the perfect shape to hold things. Maybe not your cell phone, but they would also work for a digital camera or Nintendo DS that might need an electrical boost now and then. Or maybe you just think it's fun to have a small set of antlers in an unexpected place.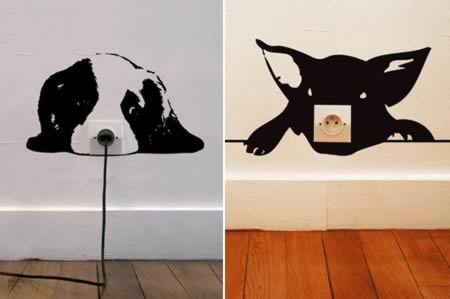 These creative wall stickers are good to give a humorous look around the wall sockets. Designed by artist Adrien Gardère, these stickers give different impressions to regular sockets and make them more amusing.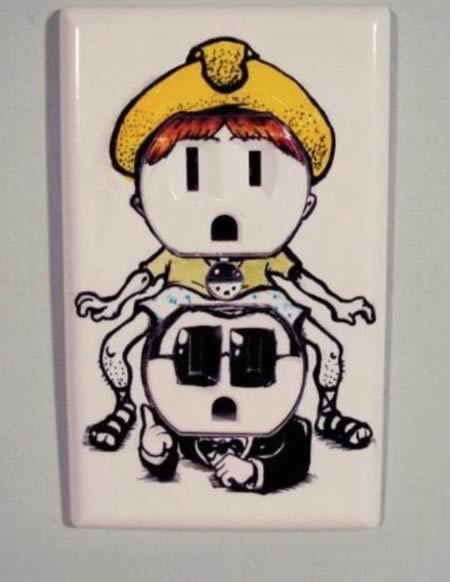 Gangnam Style Power Outlet.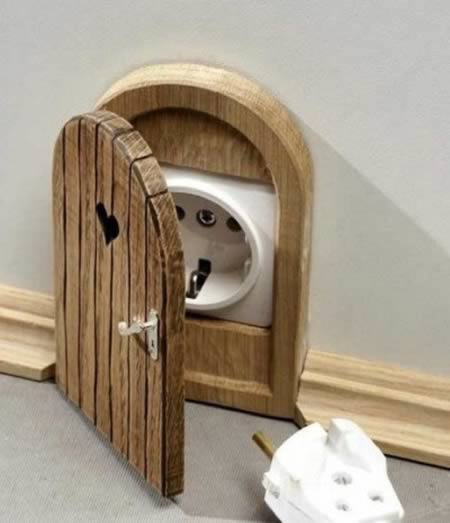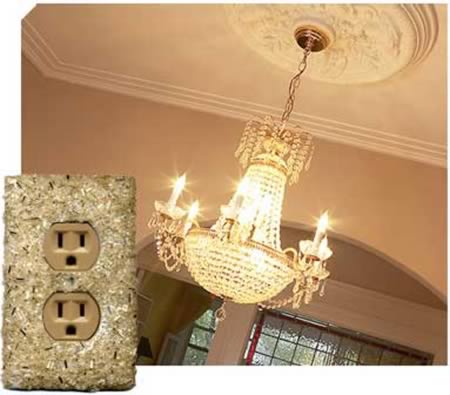 You put a lot of care into designing and decorating your home, but do you ever give your light switch or outlet covers a second thought? Sometimes, plain white or painted will suit your room just fine, but sometimes a bit more decoration can really step up your room's style that much more and extend your creativity even further. Turn It On Designs has a selection of unique, creative light switch and outlet covers that can provide that extra touch; they can also do custom covers based on a design, the thoughts in your head, or even a picture.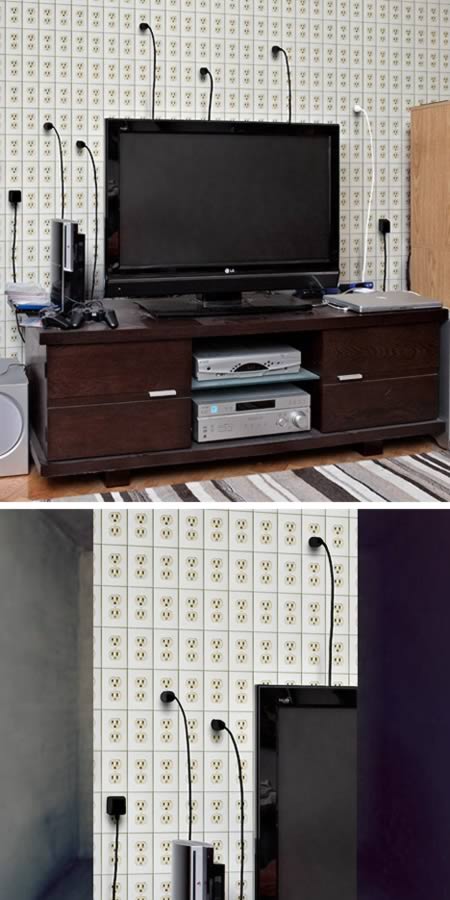 Those modernist lines and homogeneous planes that designers and critics rant and rave about were once considered bleak, boring and oversimplified by the design community. That same tendency, however, to celebrate function and use it to drive form is readily apparent in this creative wall of sockets – a way of wallpapering that gives greater control to users and reveals what we usually hide.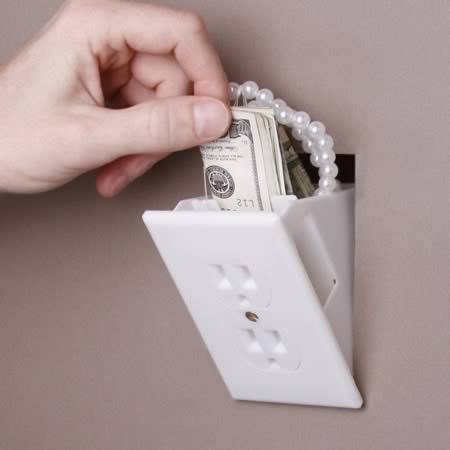 The Hidden Wall Outlet Safe ($8.59) is a non-functioning outlet with a hidden compartment for valuables behind the face. Perfect for hiding jewelry, cash, credit cards and more.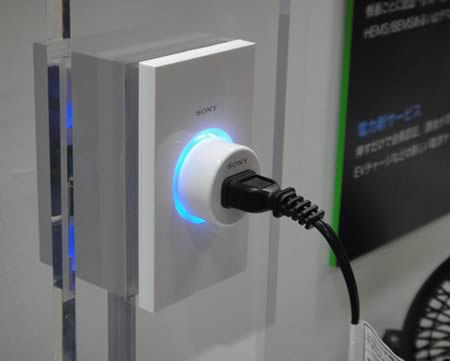 Sony has developed an 'Authentication Power Outlet' for electricity. It can remember individual gadgets and the people who use it as well. It allows the connected devices to be supervised and their access to electricity regulated remotely.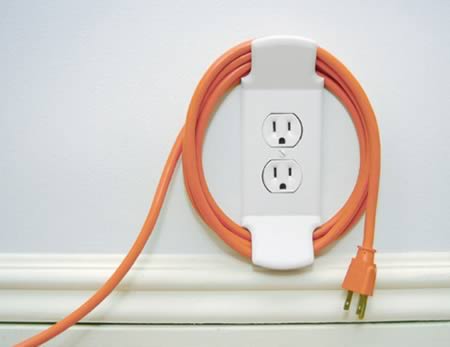 These wall cleats are the perfect solution for mooring the many ropes of technology. What use is an electrical plug when you're not plugged in? Two simple tabs on the ends of a standard cover plate increase its function.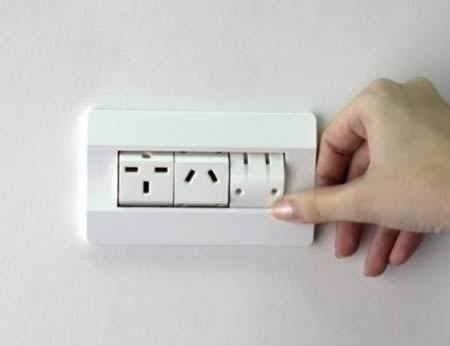 If you are the same as me when travelling, carrying a bag of adapters and the correct ones for the country you're visiting has always been a pain. However, this creative rotating power socket solution could put an end to adapters. Personally I think this design is a winner so let's hope they roll them out to hotels and motels around the world.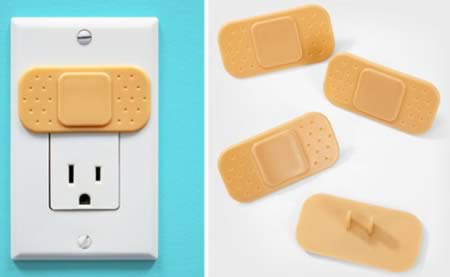 With households being "plugged in" more than ever, if you're a parent concerned about your lil' tike playing with open power outlets around the house then these Bandaid-shaped outlet covers make it obvious they should avoid the "ouchies."