1

'I Like Pigs and Pigs Like Me (104 hours)'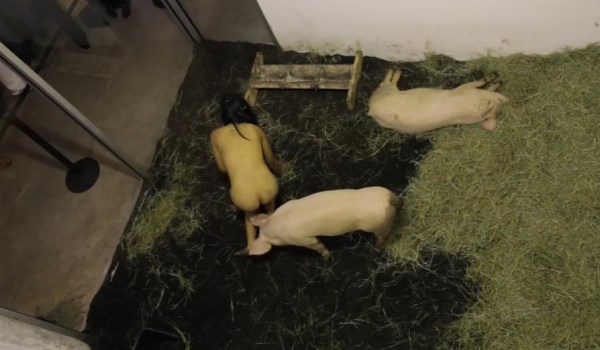 She admits she has a fear of germs. But for her new art installation, Miru Kim has decided to live with pigs for 104 hours, non-stop. The former medical student is staying in a pen at the front of one of the galleries at Art Basel Miami 2011, and visitors can watch her, naked, through the window. She will eat and sleep alongside the animals for the next four days. And getting down in the dirt wasn't easy for the 30-year-old, who suffered badly with obsessive-compulsive disorder as a child. 'It's a very concentrated industrial environment, so the level of smell is toxic,' she told the Huffington Post. 'I get into a mental zone when I am doing a shoot. After I'm done, however, if I can't get the smell off my feet, it's very disturbing.
The Miami installation is called 'I Like Pigs and Pigs Like Me (104 hours)'
2

'Klunk Garden'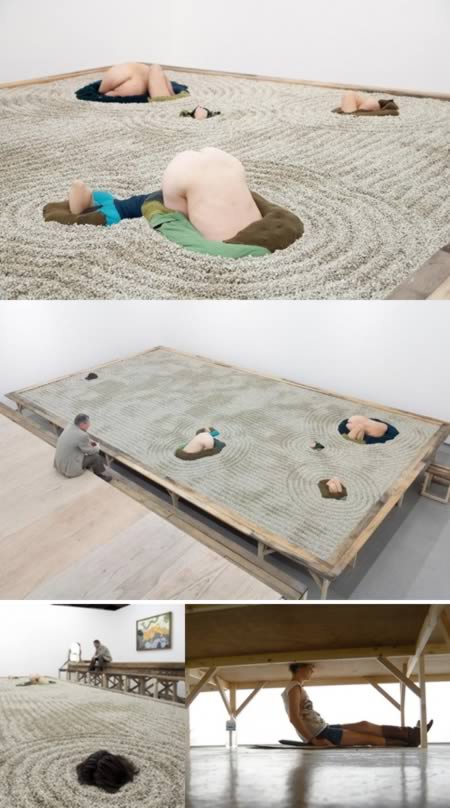 'Klunk Garden' is a bizarre art installation created by the Austrian art collective known as 'Gelitin'. It's basically a Zen rock garden with various human parts coming out of it. Gelitin is made up of four Austrian artists who like to shock the art world as often as they can. Their Klunk Garden was unveiled in 2009, in Tokyo, and combined the traditional Zen Buddhist garden, with some human parts coming out of it. The most disturbing thing about it was that those were the behinds, heads, and hands of real people standing below the art installation. The Klunk Garden was widely interpreted as a bodily attack on Zen Buddhism, as the naked body parts interrupt the fluid perfection of the raked lines of rocks.
3

'Twinkle Twinkle Baby'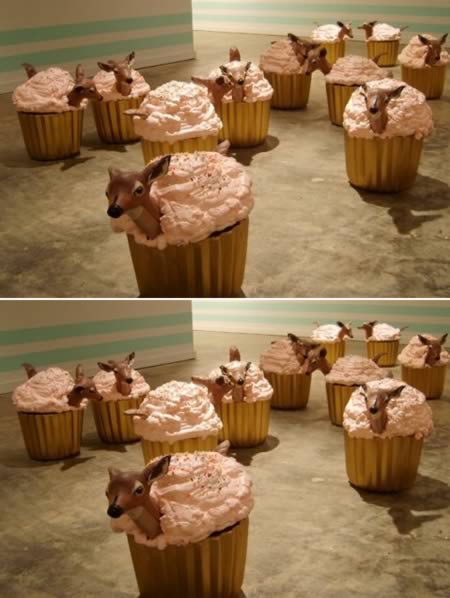 "Twinkle Twinkle Baby" is the name of Andrea Canalito's delightful sculptures. The yummy looking and gigantic cupcakes complete with sprinkles were the bodies of baby deer. Only the fawns' cute heads and perky tails show. They all look good enough to eat. Some reactions on the internet included the inevitable "Who killed Bambi?"
These creations were part of her 2008 MFA Thesis Solo Show at Majestic Galleries in Nelsonville Ohio which naturally included cupcakes for refreshments. It took a year's work to produce her show.
4

'Knitting is for Pus****'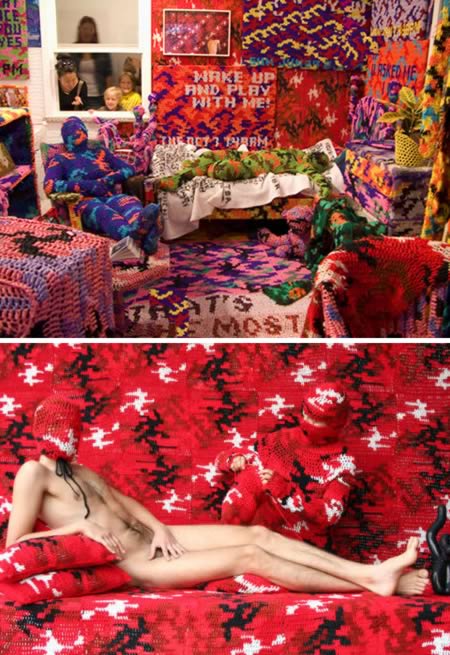 In 2010 Christopher Henry Gallery proudly presented Knitting is for Pus****, its first solo show of Polish-born New York-based artist Olek. Hundreds of miles of crocheted, weaved, and often recycled materials, forms, and spaces are the fabric from which the wild and occasionally functional structures of Olek's fantasylands were born. Olek has, in essence, reassessed the readymades of Marcel Duchamp. The gallery served as the "home base" for her exhibition, a multi-media sculptural environment, featuring an entire room completely covered in crochet. Additionally, the viewers/participants were able to follow her threads out of the gallery using a map to discover new objects added weekly she has crocheted and intertwined throughout the neighborhoods of NOLITA and L.E.S.
5

'The Vandenberg – life bellow the surface'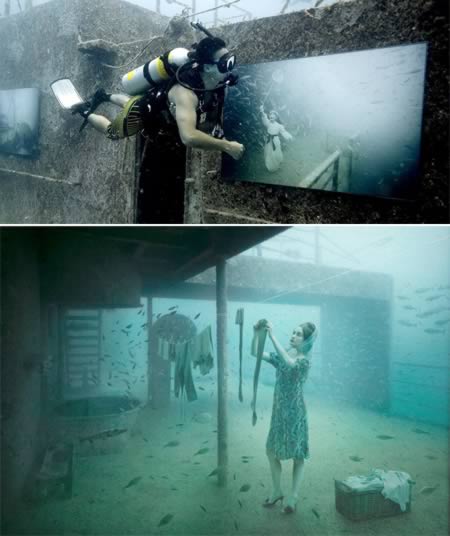 Austrian photographer Andreas Franke transformed old sunken ship into an underwater art gallery. Twelve photo manipulations were encased in plexiglass and mounted on the starboard side using magnets. Vandenberg military ship is located 100 feet below the surface of the Atlantic Ocean in Key West, Florida.
6

'WasteLandscape'

Glistening like the scales of a terrifyingly enormous sea creature, the bizarre landscape covering the floor of the Centquatre art space in Paris is delightfully surreal. WasteLandscape is an art installation in a former funeral home, made of 65,000 discarded CDs. Architect Clémence Eliard and artist Elise Morin collected the CDs and connected them into a reflective blanket using wire. Inflatable mounds provide the strange, evocative hills of the landscape.
7

'Complex Shit'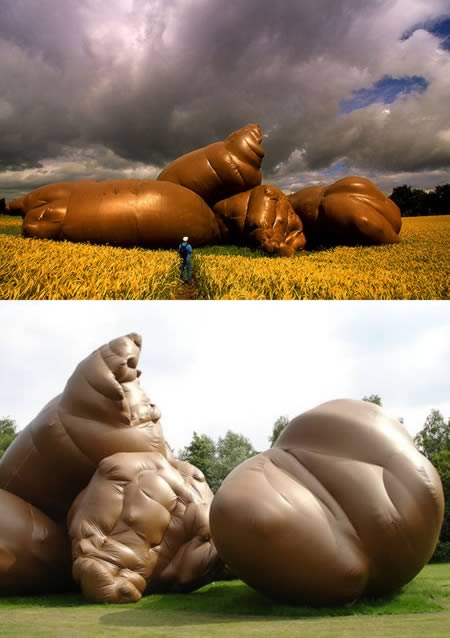 This giant inflatable dog turd by American artist Paul McCarthy was exhibited at the garden of a Swiss museum. The art work, titled "Complex Shit" and which is the size of a house, blew away from the exhibition, bringing down a power line and breaking a greenhouse window before it landed again. The wind carried it 200 metres (yards) from the Paul Klee Centre in Berne before it fell back to Earth in the grounds of a children's home.
8

'Tape Vienna'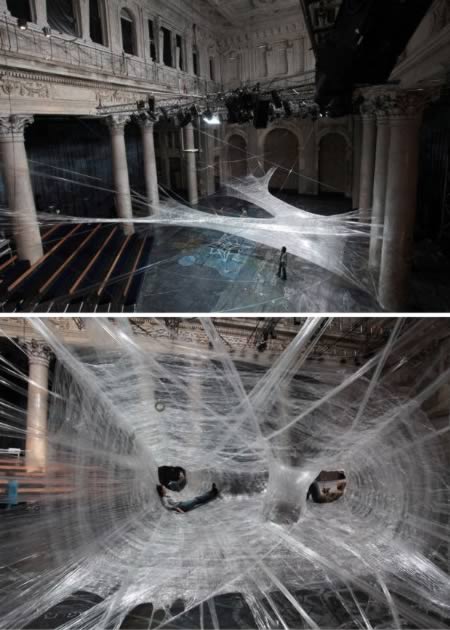 It's a spider web so large, a human family could set up furniture and make a home inside of it. But this stunningly sticky creation is no work of nightmarish monster spiders – it's an art installation made of packing tape by design collective For Use/Numen.
With its long, hollow tubes suspended five feet in the air from surrounding walls and pillars, the packing tape cocoon is like a giant artistic bounce house/jungle gym for adults, who can crawl inside and lounge around, comfortably supported by 117,000 feet and 100 pounds of tape.
9

'The Truvia Voyage of Discovery'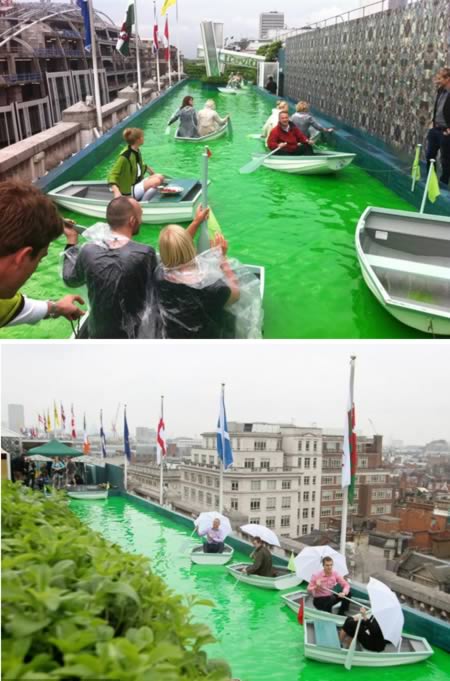 Ever wanted to row around a pea-green pond while quaffing a cocktail and enjoying the sights across central London? Welcome to one of the strangest boating experiences this capital has seen. The Truvia Voyage of Discovery art installation on the roof of Selfridges is part of a marketing campaign aimed at launching a new natural sweetener onto the British market.
It has been lovingly put together by Bompas & Parr who have faced quite a few challenges to get this off the ground. Getting to the roof itself requires a special lift covered in classic books including Treasure Island and Fear Of Flying. The roof itself is below a specially-built platform upon which a boating lake (with twelve boats, a waterfall, a cocktail booth and a lifeguard) and a cocktail bar have been mounted.
10

'Mind Your Step'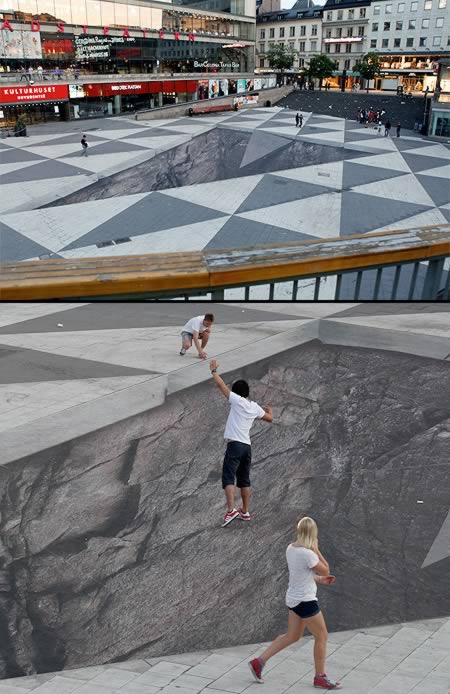 Not the first 3D chalk art installation, but most certainly one of the coolest. It was created by Erik Johansson and designed to look like "a large hole in the middle of Sergels torg public square in Stockholm, Sweden.