1

Lego Robotic Monsterchess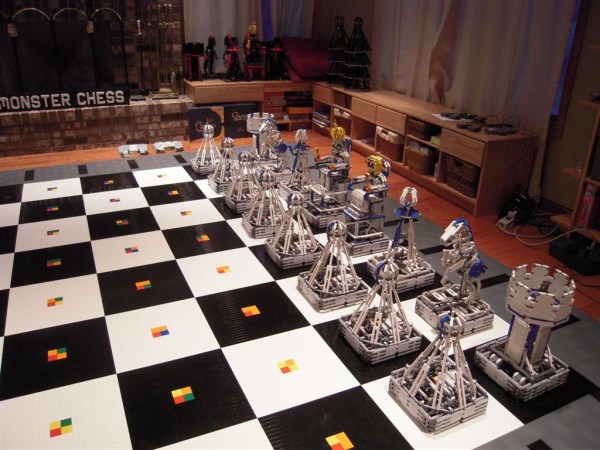 Steve Hassenplug and his friends John Brost, Ron McRae and Bryan Bonahoom built robotic Monsterchess from Lego inspired on the Harry Potter part one. This Monsterchess finished with more than 100,000 Lego pieces. They took standard Lego baseplates and designed robotic bases for each piece. To balance them they placed four caster wheels and two electric motor powered wheels that provide movement for every piece.
2

Harry Potter Inspired Wedding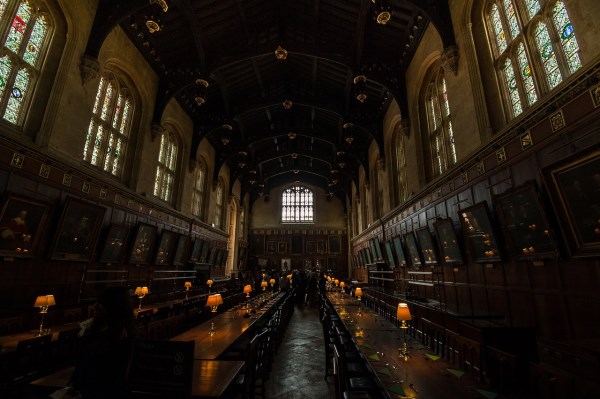 In honor of the final Harry Potter movie, we had to share these two amazing Hogwarts-inspired wedding!
This adorable couple actually met because of Harry Potter! Christine and Andy met online through a post about Harry Potter news, so it seemed only natural for their wedding to be influenced by the series.
Finding your seat has never been more fun... just leave it up to the sorting hat. The wands were personalized with the name and wedding date of the couple and each has a tag telling you which house you belong in. Don't forget: "The wand chooses the wizard."
3

Harry Potter Inspired 'Wand' Remote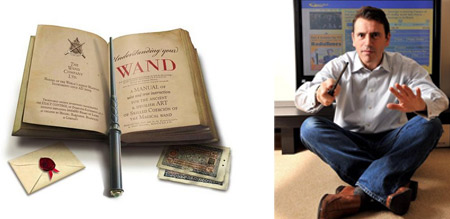 Harry Potter's have ability to whip out his wand and make magic happen. Now you too can do the same, with the Kymera Wand.
The realistic looking remote-wand, is the brainchild of two British men, Chris Barnardo and Richard Blakesley, who were inspired, after seeing how enthralled the world was, with the Harry Potter series.
It can be programmed to perform 13 commands using different gestures. For example, the volume can be adjusted with just a flick of a wrist, while changing a channel can be done with a much more elaborated gesture.
4

Real World Invisibility Cloaks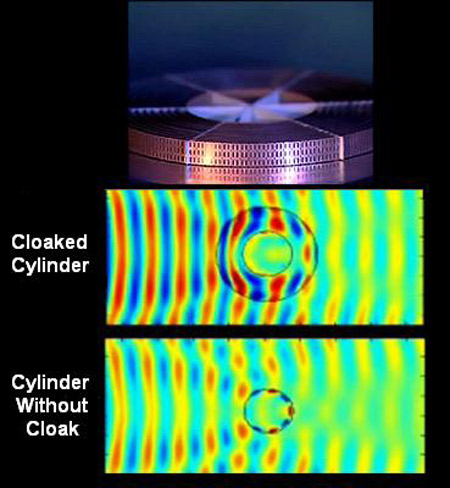 A team led by scientists at Duke University's Pratt School of Engineering has demonstrated the first working "invisibility cloak." The cloak deflects microwave beams so they flow around a "hidden" object inside with little distortion, making it appear almost as if nothing were there at all.
JK Rowling didn't invent the notion of an "invisibility cloak." The concept has existed for years in various media (most notably as a powerful item in the Dungeons and Dragons games.) But the cloak has taken on some central importance in Potter mythology, with it Harry and his friends Ron and Hermione use it to sneak around Hogwarts, the wizarding school, to create mischief and evade enemies.
5

Cupcakes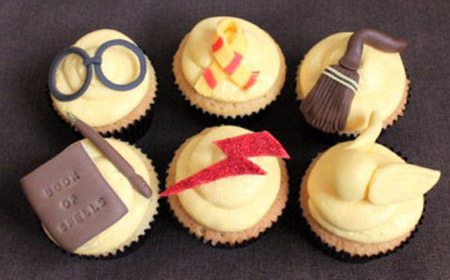 Celebrate the release of the last ever Harry Potter movie with these cupcakes inspired by Harry's days at Hogwarts and created exclusively for goodtoknow by cupcake queen Victoria Threader.
6

Chess Set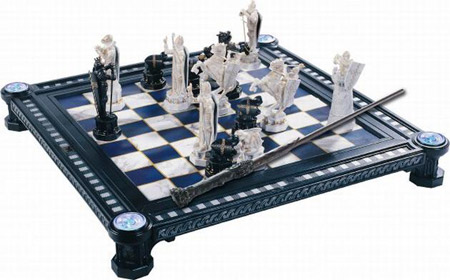 This magical chess set featuring astonishing recreation as seen in the movie, consists of 32 enchanting pieces made of casting zinc measuring from 2.5 to 5.5 inches in height, the playing board is of plexiglass, a light transparent weather resistant thermoplastic measuring 20 x 20 inches. Harry Potter fans will cherish this chess set for a long time to come.
7

602,000 Matchstick Hogwarts School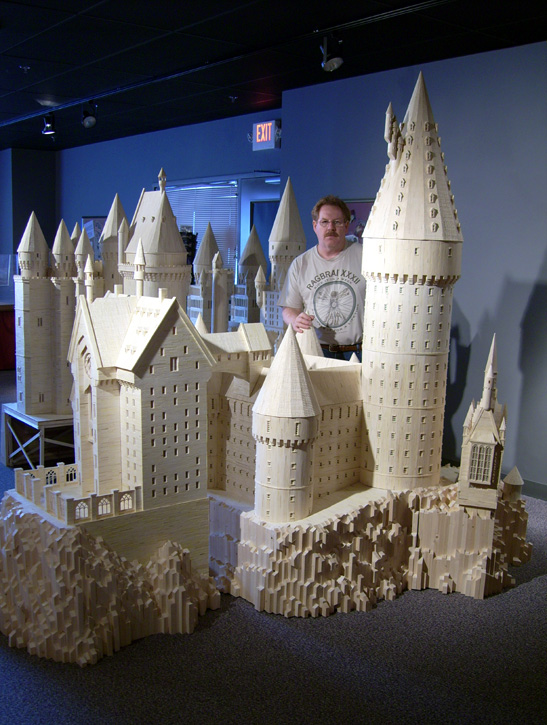 If you thought you built something that was impressive when you were younger, you probably shouldn't show it to Patrick Acton. The matchstick pioneer and builder has created the most awesome replica of the Hogwarts School. It took Patrick three years and 15 gallons of wood glue to put it all together. Talk about true dedication!
8

Quidditch College Sport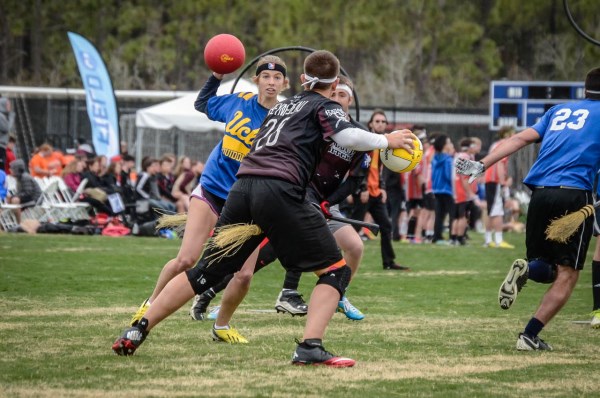 The most popular wizard sport in the Harry Potter Universe is, of course, Quidditch. In the game, teams of 7 players fly around on brooms chasing a variety of colorful balls, which they catch or shoot to score points, with "the Golden Snitch" standing out as the most significant prize of all. Catching "the snitch" automatically wins the game.
There is, in fact, an ACTUAL National Quidditch League and an International Quidditch Association. They even have a World Cup (like in Harry Potter and the Goblet of Fire). The International Rules are based on a game devised at Middlebury College in 2005, and it's now the basic model used throughout the United Kingdom, the United States and much of the rest of the world. Obviously, no magical Golden Snitches (which are supposed to be quasi-sentient, flying balls) are available, so instead individual players take on the role. Everyone is still required to run around on brooms, however.
If you want to try a new sport and run around on broom handles like a wizard sports aficionado, then you can even purchase your own Quidditch kit and play with your friends like it's a pick-up game of whiffle-ball.
9

Hogwarts Cake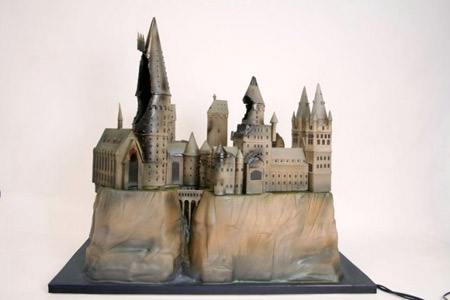 Created by Charm City Cakes for the premiere of Harry Potter and the Deathly Hallows Part 2.
10

Necklace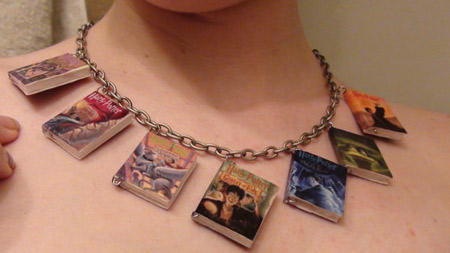 This funky necklace pays homage to one of the most influential book series of all time. Each of the seven books are handcrafted, sealed to prevent too much wear, and attached to an appropriate matte chain.
11

Harry Potter Gryffindor Hat for Dogs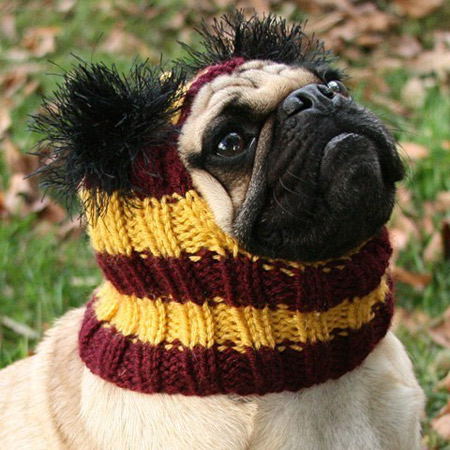 This is the season for Quidditch and Potion's Class. This hat was inspired by Harry Potter's Hogwart's house: Gryffindor. It is striped mustard/gold and burgundy with black pompoms.
12

Half Blood Harry Potter Inspired Soap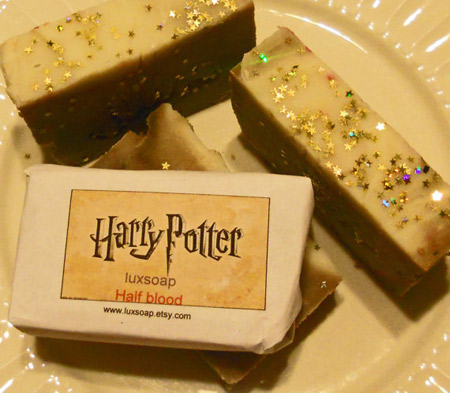 If you have ever wondered what hogworts smells like than this soap is for you. I thought about it and tested out a few and I feel Half Blood really captures the essence of Harry Potter. It's a little bit dark, earthy, sweet and mysterious. Made of a blend of dragons blood, pumpkins, rum with some buttery notes.