Taking your baby for a walk doesn't have to be boring anymore. Take a look at these creative baby carriages and strollers and have fun.
1

Retro Baby Carriage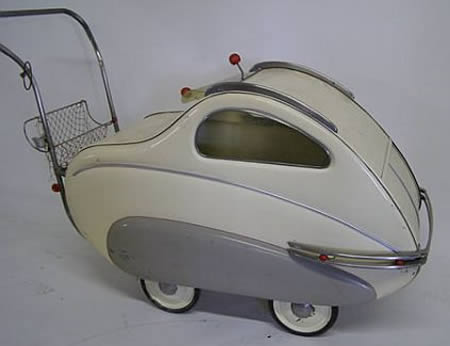 If you have a thing for retro stuff then this 1950's Italian baby carriage is the one for your little toddler! The cool retro carriage is designed by Giordani Bambino and it sells for an expensive price tag of $2,200. And, in case you are anywhere like the celebrity parents, this covered carriage will keep your baby protected from all those prying eyes, you want to evade!!
2

Egg-shaped Baby Carriage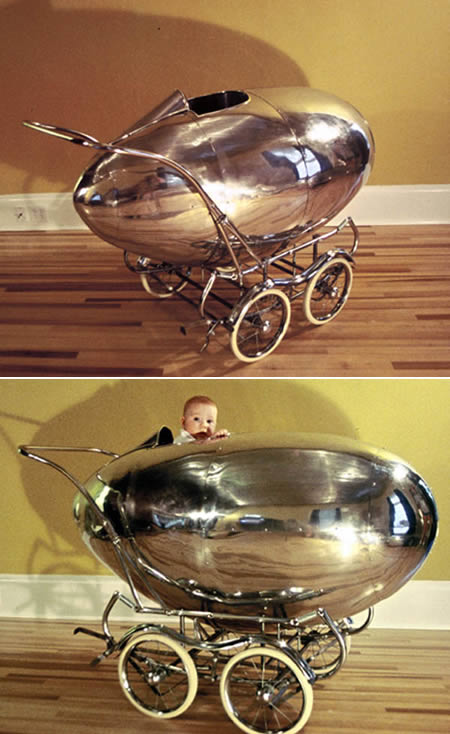 Artist John Knott, aka Bent Fabrication, created this baby carriage out of hand-shaped aluminum panels and antique baby stroller parts. You definitely would NOT want to leave the baby inside this thing on a hot day.
3

Gun-shaped Baby Carriage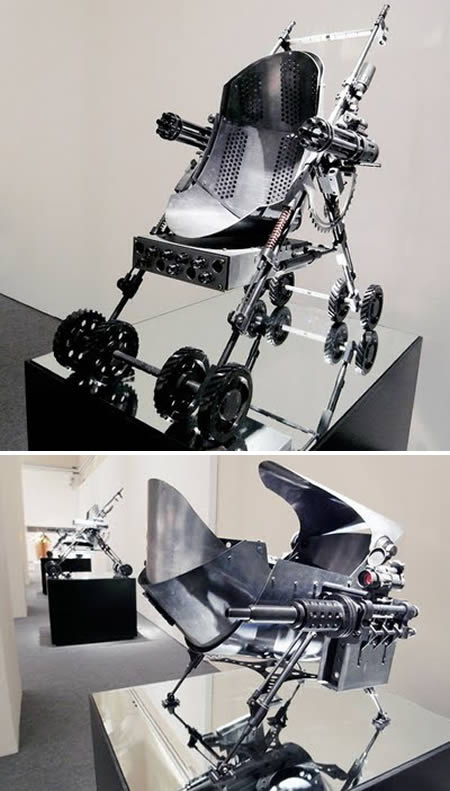 Talk about baby carriages. This one looks like a gun machine ready to shoot the enemy. I think it's too dangerous for your baby and for the babysitter. Created by the Chinese artist Shi Jinsong.
4

Bike Baby Carriage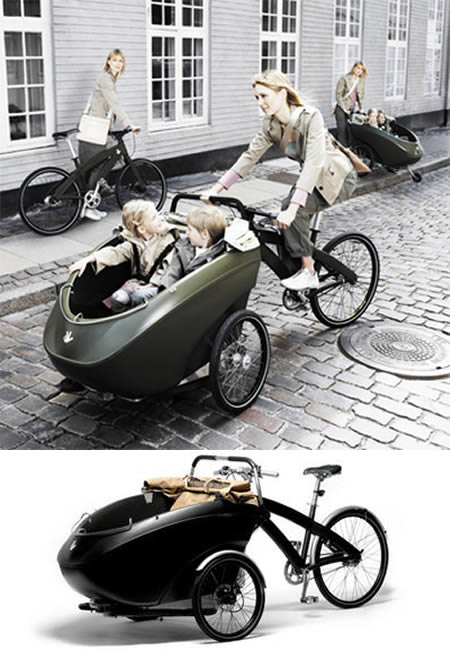 Check this cool invention. Cruise around with your baby in style and get some exercise at the same time. You can also go to the grocery store with this one. A lot of people use the car for the grocery errands because they need the car trunk. With this bike carrier bike there is a solution to use the car less when you need to haul the goods. The bike can haul 80kg and will cost 3,150 UK pounds.
5

The Monster Baby Carriage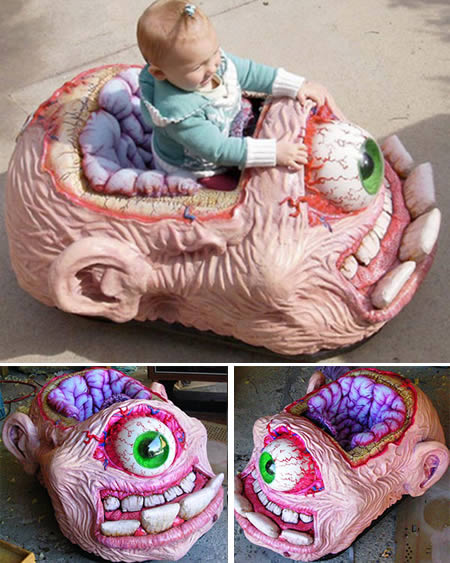 This extremely detailed monstrosity is from Elmer Presslee, house of weird furniture and art. In case you haven't noticed, the baby sits on the brain of the Cyclops, which is probably what's making his eye pop out like that. Imagine if someone sat on your brain. If you're into this kind of art, be sure to check out Elmer Presslee's website for more nightmare-inducing art as well as furniture.
6

Samsonite's Traveler Baby Carriage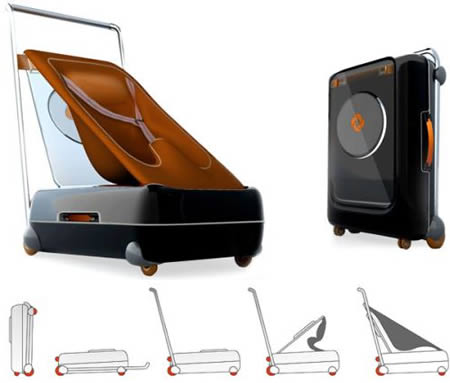 Castiglionemorellidesign along with Rafael Vinader Balibre developed an innovative design for a travel suitcase combined with a baby stroller, for a Samsonite Competition, under the theme of designing a product in relation to traveling with babies and toddlers, and they won an award for it. Strolley is a travel suitcase, a smart looking one at that and it also functions as a foldaway baby stroller. The side of the strolley opens into a baby stroller, which allows you to carry babies around comfortably while managing your luggage at the same time.
7

Eco-friendly Baby Carriage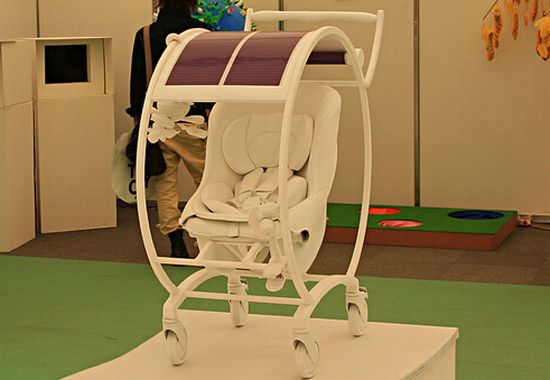 We have always been talking about eco-friendliness in the adult world but what about kids and bonny babies? Well, somebody in Japan thought of changing that. Because Tokyo Design Week saw a baby stroller at 100 % Futures designed by an unnamed student that is powered by the sun's energy. The solar panels incorporated in it are expected by the reviewers to power some baby toys or even your iPod when you are strolling with your baby in the park. Plus you can perhaps, also customize the stroller whichever way you like to accommodate the baby gadgets that run on the sun.To be honest, we are not exactly sure about the actual use of the solar panels. But we do know that your green mind will find ways to utilize this concept to tap the renewable source of energy in multiple fashions. And as we already know that the designer is not known so we cannot even question him on his ideation. All we can see is that it's white and very pretty.
8

The Roller Buggy (Scooter+stroller)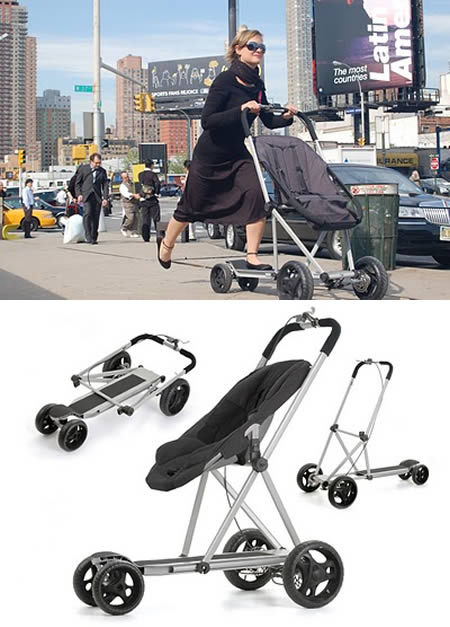 Although I think it ought to be named the Scroller, The Roller Buggy is a multi-functional baby carriage transformable into a scooter designed by Valentin Vodev, a member of the design trio behind CIO, Creative Industrial Objects. Through a simple pull of the lower body, it extends the normal baby carriage into a scooter, creating a more sportive and faster transportation on various terrains and giving both parties a good time. Child safety- Roller Buggy has a specially-made hydraulic brake system with two disk brakes that allow to reduce the speed and to stop. There is also a safety belt on the child's seat. The child should be older than 1,5 years and the speed shouldn't be faster than 15 km/h.
9

Babyoom (baby carriage that becomes a bike and a shopping cart)
What do you do to your baby's carriage when he gets older? You store it away to your attic or give it away to your friends having babies, right? With Babyoom, designed by Hadong Jung, the baby carriage can be converted and still be used even after you baby grows up. When your baby gets born, Babyoom is used as a baby carriage. The body can be popped out and used as a baby's car seat. Then as your baby grows up around the age of 3, the baby carriage can be converted into a bike or bicycle to be used by your child. After the age of 6, when your child no longer fits the bike, this can then be converted into a stylish shopping basket for when you go out to buy grocery items and things in the market.
10

AT-AT Imperial Walker Baby Carriage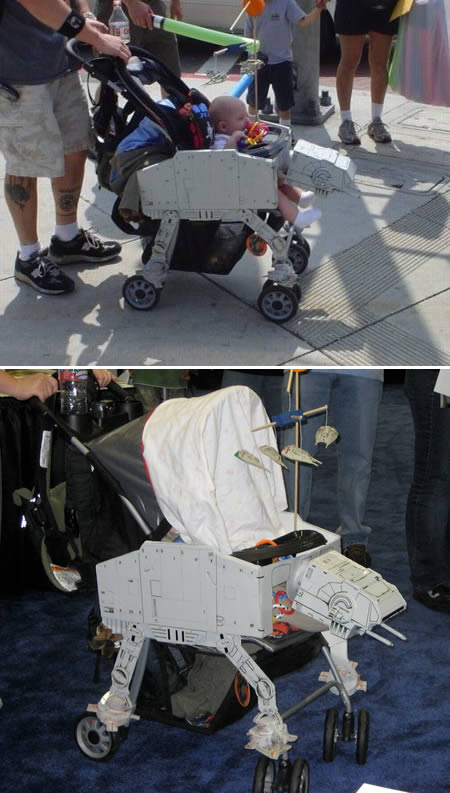 There was a time when seeing a man pushing a baby stroller would draw surprised stares. Today we have a father, Rick Russo, who went out of his way drawing attention to his status as a dad. He modified his kid's baby stroller to look like an AT-AT Imperial Walker from The Empire Strikes Back. This proud daddy took his kid and his invention at the Star Wars Celebration IV in 2007.
11

Pimped Baby Carriage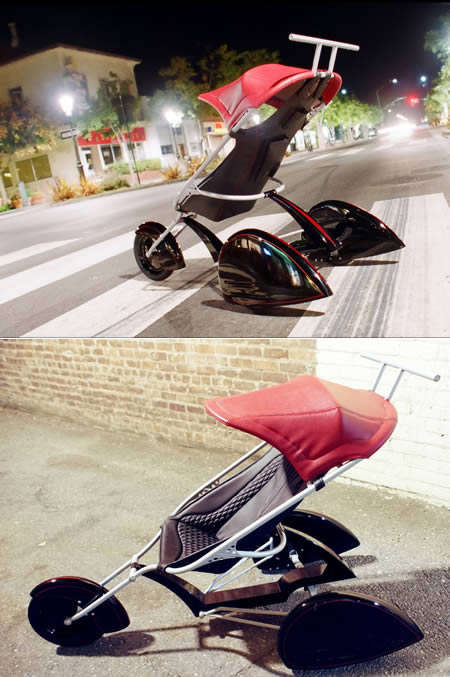 We don't have much information about this except that it's the coolest pimped out baby stroller.
12

Bike Stroller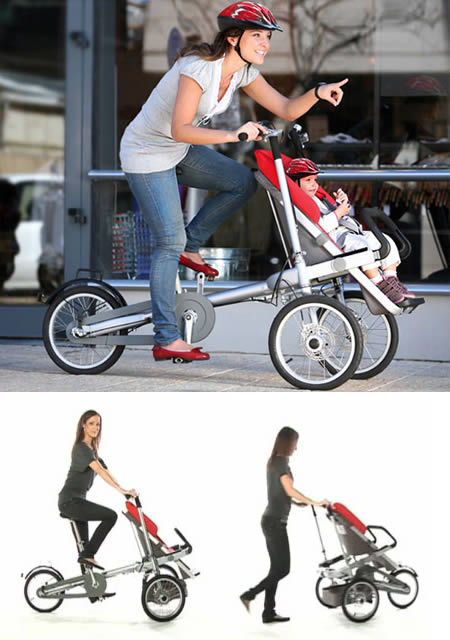 Imagine if you have a much more fun and convenient way of carrying and taking your child out. Well, imagine no more because Taga has a really nice product like that. It's a "bike stroller" - a bike that can be converted into a baby stroller and vice versa. Now you have no more excuses why you can't get yourself fit while taking your child out because with this amazing product, just by converting the "bike stroller" into a bike, you can bike to your hearts content or until you sweat out all your fat while bonding with your child and taking him or her where you both can have fun.