1

The Cycologists: a bicycle-themed band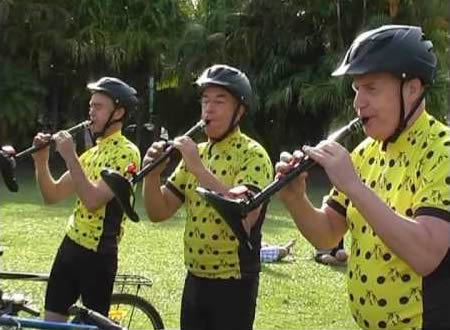 The Cycologists are a three man bicycle band from Australia fronted by acclaimed instrument maker Linsey Pollak and also featuring Ric Halstead and Brendan Hook. For their impromptu, outdoor live performances, the band ride up on their bikes and remove the seats in unison to reveal modified clarinets made entirely of bicycle parts. After they've finished performing, they take a bow before hopping back on their clarinets and riding off into the sunset. The live show, Cycology, is a bit more complex. In addition to the bike seat clarinets, it features a wide array of other bicycically-made instruments like the Harmonic Handlebar, Water Bottle Foonki, and Bicycle Pump Panpipe.
2

The Zimmers: the rock band with the world's oldest members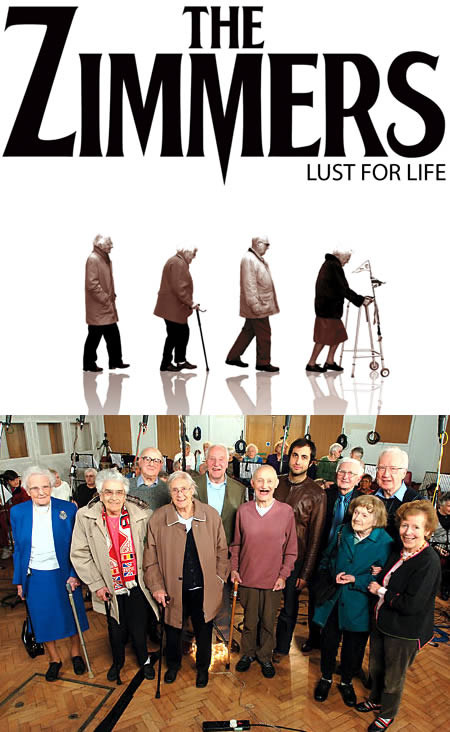 Created as a feature in a 2007 BBC Television documentary, "The Zimmers" are a British band, thought to have the oldest members of any band in the world. The youngest member is 67; the lead singer, Alf Caretta, died on June 29, 2010 aged 93; and the oldest member, Buster, is 103.
The feature of forming the band and recording a single was intended to give a voice to the feelings of isolation and imprisonment suffered by the elderly. In September 2008, the band released its first full-length album 'Lust for Life', featuring cover versions of songs by Eric Clapton, The Beatles and Frank Sinatra.
3

The Clever Hamsters: a hamster's jazz band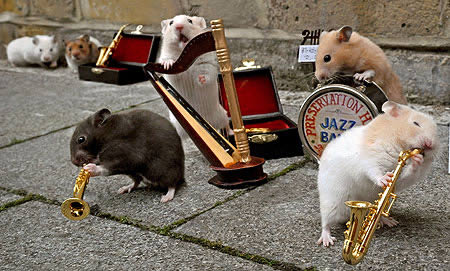 Drench launched a television and online advertising campaign featuring a jubilant quartet of Jazz playing clever hamsters. Many aspiring musical hamster hopefuls "queued" outside London's Jazz Cafe practicing and waiting for their chance to audition for a starring role in the ad for Drench spring water. The ad aims to demonstrate that the best performances come from being hydrated, and features the chosen stars 'Miles' on the saxophone, 'Fats' on the trumpet, 'The Duke' on the harmonica, and 'Dizzy' on the oboe. These were the lucky four hamsters selected to form the band 'The Clever Hamsters.'
The Clever Hamsters campaign was developed at CHI & Partners by creatives Wayne Robinson and Matt Colier and agency producer Ben Clark.
4

All Girl Topless Band: a band from the 60's where all members would perform topless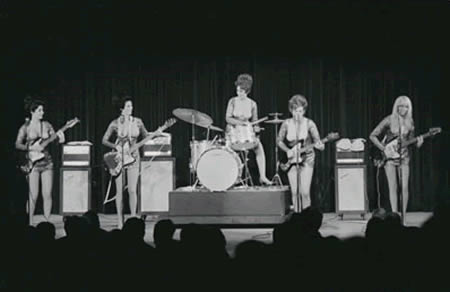 They don't call Las Vegas the Entertainment Capital of the World for nothing, man. Where else in America do you think you could have seen five talented female musicians performing on stage, TOPLESS! And it was only 1967. This "All Girl Topless Band" that appeared with comedian Godfrey Cambridge at the Aladdin Hotel may not have gone on to fame and fortune, but would Madonna and MTV be what they are today without these brave women breaking ground?
5

Mini Kiss: an all midgets KISS cover band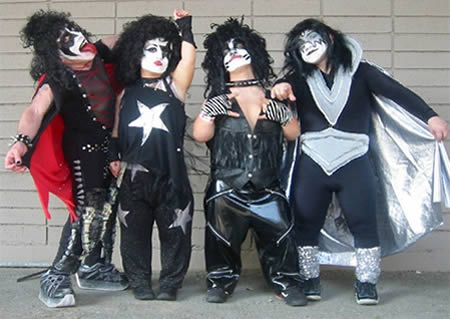 Mini Kiss is a Kiss tribute band made up entirely of midgets. Members include band leader Joey Fatale (4' 4" - Mini Gene Simmons). It is one of the most popular little people tribute bands in existence. They made an appearance on the Game Show Network revival of I've Got a Secret. Because the band does not actually play their music, no recordings are available at this time. The band tours regularly playing venues rang in size from 100 to 1,000 seats. The band made a cameo on the television show Z Rock and had a cameo on one of the Dr Pepper Cherry TV commercials sharing the stage with their full-sized counter parts.
6

The Burqa Band: a band formed by Afghanistan women who use the burqa to protect their identity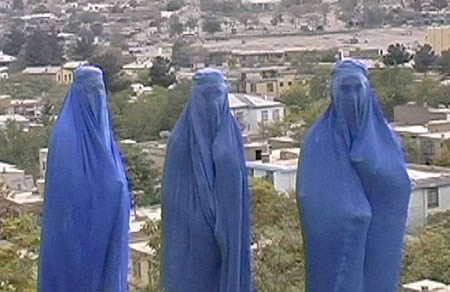 The Burqa Band is an all-female indie rock band from Kabul, Afghanistan. They perform anonymously, all of the members wearing burqas in an apparent protest against the Taliban's rules regarding Islamic dress. They released a single, "Burqa Blue" and a self-titled album in 2002. The group has gained some popularity in Europe in the 2000s, and has toured in Germany, where a song of theirs was remixed by DJ Barbara Morgenstern.
The Burka Band is currently inactive due to the lead singer having to move to Pakistan to find singing work, but the drummer, still anonymous and living in Afghanistan, has expressed hope in playing again in the future.
7

Imperial Stars: the band who played an illegal concert at a LA freeway causing massive traffic jam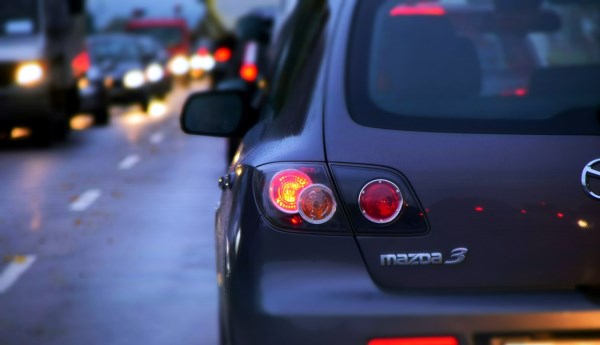 A traffic jam in Los Angeles is nothing new. A traffic jam in Los Angeles because a rock band decided to play an impromptu concert atop a truck ... now that's giving a new meaning to a jam. The Los Angeles section of the 101 freeway was blocked up as a result of the three-man band's illegal antics. It took police over an hour to reach the site of the concert.
In what is believed to be an effort at promotion, members of a band called Imperial Stars blocked all but one lane of the southbound 101 with a large truck advertising the band. The band was, of course, singing their song "Traffic Jam 101." Witnesses said they saw members of the band singing and playing instruments on top of the truck. Three people were under arrest, and officials were trying to get all lanes of the southbound 101 open again. The traffic backup extended into the San Fernando Valley. The driver of the truck fled in another vehicle and took the keys to the vehicle with him.
The Imperial Stars are a self-described "hard core hip hop band" from Orange County whose latest song is "Traffic Jam 101." On its website, the band pledges that all the money earned from the song will be going to Homeless Children America. The website features the same truck used during the impromptu concert at LA. The band has played at the Viper Room and House of Blues.
8

Rudely Interrupted: a band formed by handicapped members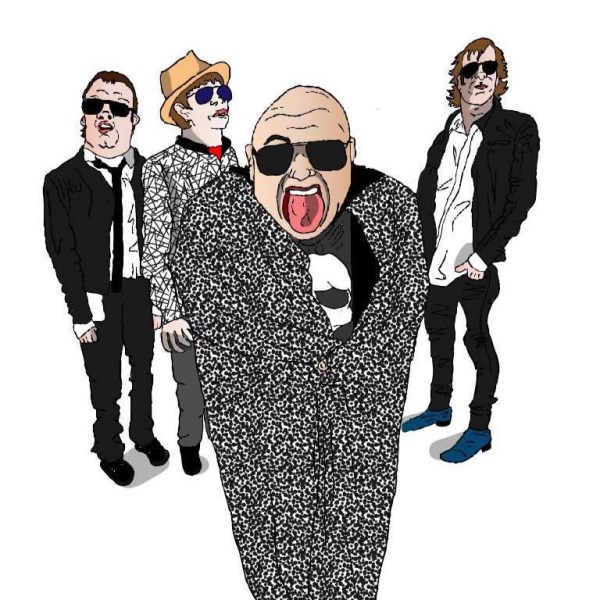 At first glance, Australia's Rudely Interrupted is just a better-than-average power-pop band with a vaguely '80ish vibe. Not that weird at all, right? Well, look a bit closer. Five out of six of Rudely Interrupted's members are physically and/or intellectually handicapped, some of them severely so. Lead singer Rory Burnside is blind and has Asperger's syndrome (but also has perfect pitch); keyboardist Marcus Stone has Asperger's and is 80% deaf; bassist Sam Beke has Down syndrome; drummer Josh Hogan is autistic and has some physical abnormalities; and percussionist Connie Kirkpatrick, aka "The Human Metronome," has Down syndrome and is legally blind. The only "able bodied" member of the group is guitarist Rohan Brooks, a music therapist who came up with the idea of forming a band made up of some of his students.
Rudely Interrupted could've just been a sort of rock 'n' roll Special Olympics, but the tunes are undeniably catchy and there's a raucous, joyous quality to their live shows a lot of hipster bands could learn from.
They had their documentary recently nominated for an AFI award.
9

Alestorm: a pirate themed band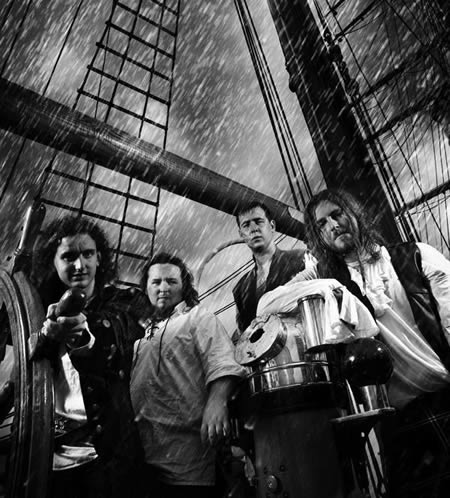 In the recent past there have been folk metal CDs in subgenres like Tolkien metal (based on the writings of J.R.R. Tolkien) and forest metal. Now we can add the glorious subgenre of pirate metal! Fortified with plenty of liquid courage and featuring a keytar playing vocalist, the Scottish band Alestorm was ready to pillage the masses with their debut in 2008. Captain Morgan's Revenge is a rousing effort. The songs are upbeat tales of drinking, women, treasures, the typical subjects a pirate would sing about. Titles like "Wenches And Mead," and "Set Sail And Conquer" give you an idea of the lyrical inspirations. Along with folk metal, Alestorm amps up the intensity on some of the songs and throws in some thrash riffs and solos.
Influenced by groups like Korpiklaani, Captain Morgan's Revenge can be corny and cheesy, but it's also a lot of fun. Alestorm writes catchy songs, and despite the gimmicky pirate imagery, they are talented musicians.
10

Barnes and Barnes: a comedy rock duo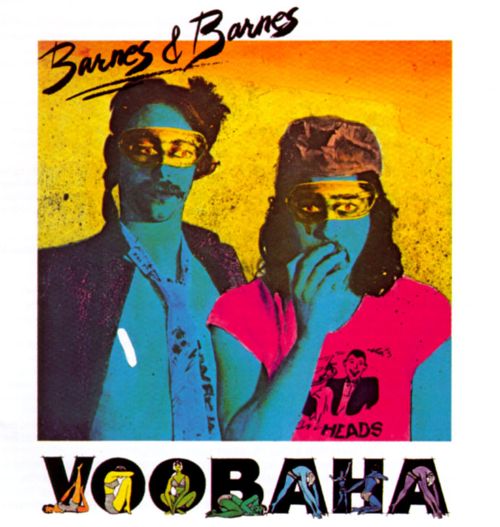 Barnes & Barnes, fictional twin brothers Art Et Barnes and Artie Et Bet Barnes (Bill Mumy and Robert Haimer, respectively), are a comedy rock duo based in "Lumania", a fictional mythological civilization). Most of their music is standard rock or pop with heavy comedic elements. They are best known for their 1978 song "Fish Heads. The duo brought a distinctly surrealist sensibility to their spazzy, New Wave-inspired comedy rock. And they were dark: Weird Al may have a twisted sense of humor, but he would never record a song called "Boogie Woogie Amputee." Or name an album Sicks. Or, for that matter, sing a song about how when they took their fish head to the movies, they didn't have to buy it a ticket. You get the idea.
After an 18-year hiatus, Barnes and Barnes returned in 2009 with a new album, Opbopachop. The album addresses themes of entering middle age in such thoughtful tunes as "Life Is What You Do in Between Orgasms" and "Our Dead Dads." Sounds like they haven't lost it!