1

Pink inside a bubble rolled over audience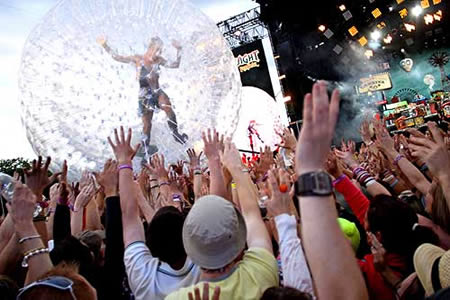 'Pink' rolled over a very excited crowd in her giant ball. The same way it did 'Wayne Coyne' from the band 'Flaming Lips'.
2

A man in wheelchair surfing at 'Bad Religion' show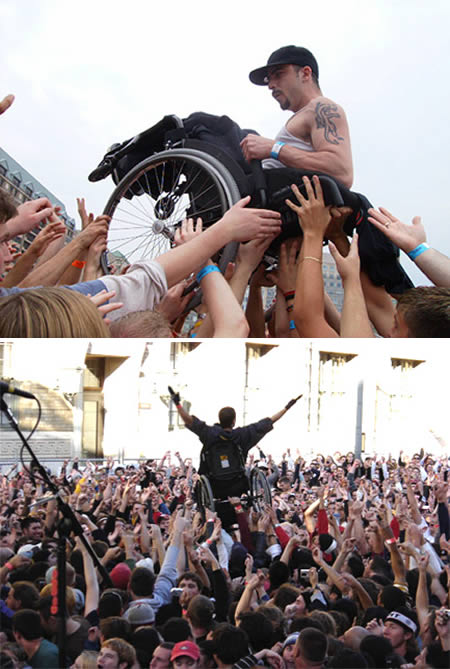 This is a new phenomenon that's been going on. Wheelchair users and people with paralysis that have been caught crowd surfing. That's right people who have been caught at shows riding the human wave despite their disability. The video here shows a paralyzed man at a Bad Religion show being passed from person to person while caring his manual wheelchair on his chest.
3

'Eddie Vedder' jumps from a TV-mast into the crowd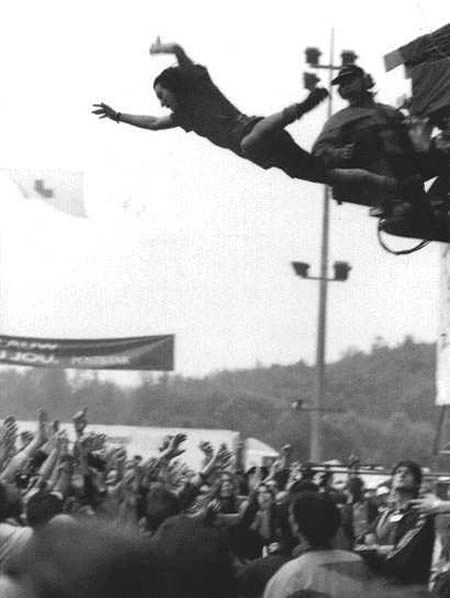 The 'Pearl Jam' lead singer demonstrates his derring-do when he climbs aboard a TV crane and jumps into the crowd from a fairly scary height at a gig in Holland, 1992. In the 90's he participated in many stage diving as well as crowd surfing.
4

Beyonce Knowles crowd surfs in high heels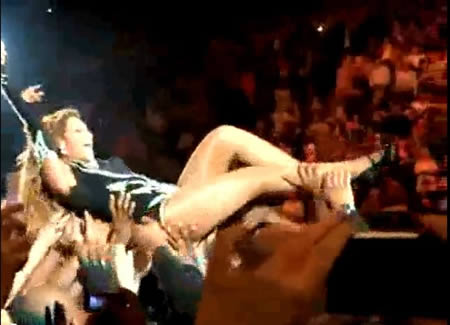 Wearing high heels Beyonce Knowles surprised her fans by jumping into the crowd during the finale. She didn't do anything spectacular, but those lucky enough to catch in a concert know the singer certainly puts on a show. Luckily for Beyonce, she was passed back to her stage in the round to finish off her show.
5

'Rich Aucoin' literally board surfing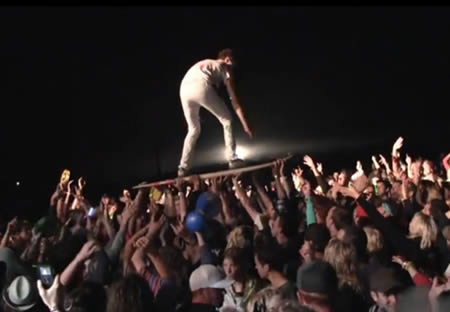 He decided to literally surf on the crowd.
6

Juliette Lewis almost walked on the crowd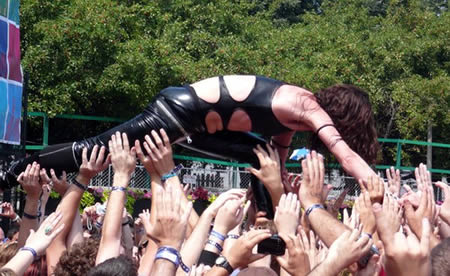 Actress and singer decided to dive almost walking into the crowd in the Lolapalloza 2007.
7

Singer of 'Monotonix' surfing on a drum kit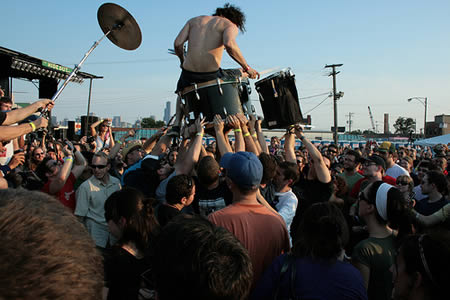 Monotonix is known for performing on the floor among the crowd, setting instruments on fire and stealing drinks from audience members. When the members found themselves banned from most venues in their hometown Tel Aviv, they decided to take the show on the road.
8

Courtney Love goes crazy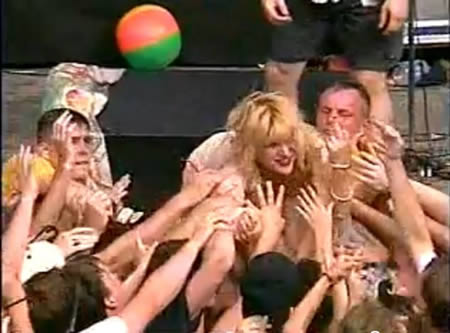 The rock singer and former frontwoman for the band 'Hole' threw her guitar on the floor and dived off the stage. It was during the HFStival in 1995.
9

A nearly-naked 'Lady Gaga'
Lady Gaga stunned fans at the recent Lollapalooza festival when she made a surprise appearance during the set of old friends 'Semi Precious Weapons', hours ahead of her scheduled performance. Wearing nude underwear and nipple pasties, the star played drums onstage before cavorting with lead singer 'Justin Tranter' - then stage dived into the gobsmacked crowd.
10

Katy Perry stage diving
Katy is renowned for her crazy stage antics and this is one example. She went wild jumping off on the crowd, during the band '3OH!3' were performing.
11

Rammstein's crowdsailing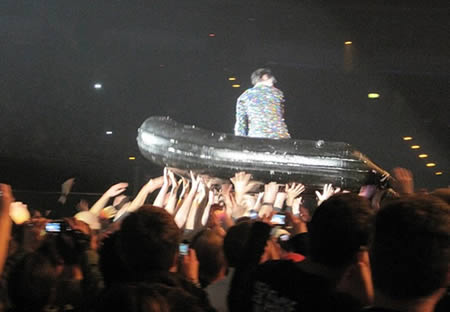 'Rammstein's concerts are famous for fire shows, but in this case the bassplayer Ollie Riedel (thanks, Francis) decided to use a floater to navigate on the crowd. Very funny!
12

Massive crowd surfing at 'Five Finger Death Punch' show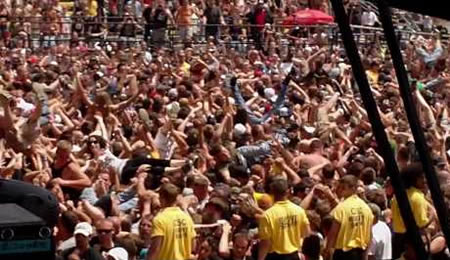 Craziest and massive crowd surfing during the show of 'Five Finger Death Punch'. It was an explosion of crowdsurfers!
13

Crowd surfing fail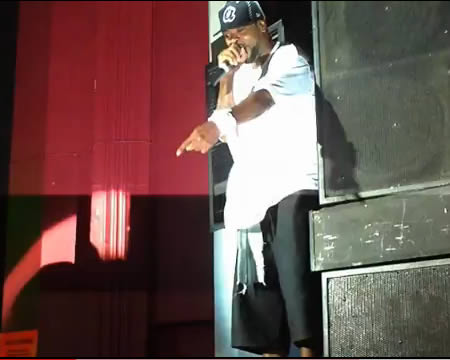 As we saw stage diving is awesome –everyone can appreciate it. But a stage dive fail? Well, they're even more awesome, like the rapper 'Method Man' whose surfing went wrong. They packed out but that cluster of crowd just all moved out the way!