1

Porno Queen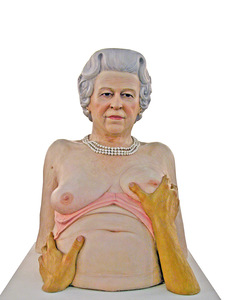 This is the "Porno Queen" by Italian artist Paolo Schmidlin, a controversial sculpture of Her Majesty. The sculpture was shown in Madrid, Spain, in 2007, in a show that was (hilariously) opened by their own reining monarch, King Juan Carlos.
But The Sun's royal photographer Arthur Edwards said: "This is quite obviously the work of a lunatic. I don't see this as anything more than a cheap stunt."
2

Miss Kitty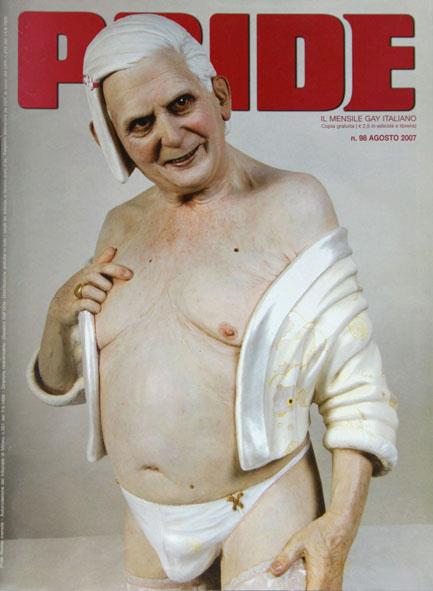 This sculpture has caused public outcry. However, the censorship of the piece has also caused a stir. The sculpture, titled "Miss Kitty" by Paolo Schmidlin, portrays the Pope wearing nothing but thigh-high stockings, a pair of panties and a stole. The sculpture, which is adorned with a blonde bob wig, offended the Catholic Anti-Defamation League, which threatened to seek charges against the organizers and exhibit promoters for defaming a head of state.
The exhibit in Milan, Italy, drew harsh protest from the Catholic Anti-Defamation League and others who found the sculpture of the Pope in drag to be unacceptable. In an official statement, the Catholic Anti-Defamation League declared that the controversial sculpture is a "vulgar offence against Christ's vicar and the feelings of Roman Catholics." However, others have stated the censorship of the sculpture is another example of "Organized religion dictating the role of art" and that "This type of censorship should not be happening in 2007!"
3

Two Peeing Guys

"David ?erný is a Czech sculptor whose works can be seen in many locations in Prague. His works tend to be controversial. He gained notoriety in 1991 by painting a Soviet tank pink that served as a war memorial in central Prague. As the Monument to Soviet tank crews was still a national cultural monument at that time, his act of civil disobedience was considered "hooliganism" and he was briefly arrested.
The idea is disarmingly simple. Two bronze sculptures pee into their oddly-shaped enclosure.
While they are peeing, the two figures move realistically. An electric mechanism driven by a couple of microprocessors swivels the upper part of the body, while the penis goes up and down. The stream of water writes quotes from famous Prague residents.
Visitors can interrupt them by sending SMS message from mobile phone to a number, displayed next to the sculptures. The living statue then "writes" the text of the message, before carrying on as before.
4

The Long Awaited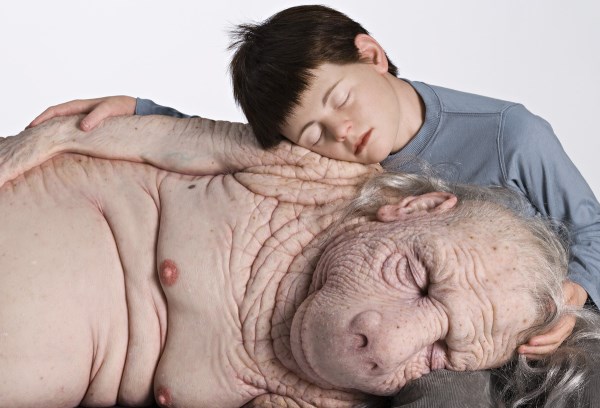 Patricia Piccinini is one of the most well known Australian contemporary artists. As a sign of appreciation towards her art, we've put her most significant and controversial works of art together, which can be an inspiration and motivation to all artists, an encouragement to unleash creativity beyond the boundaries of "disturbing" and "ethical issues".
5

Britney Spears Naked Sculpture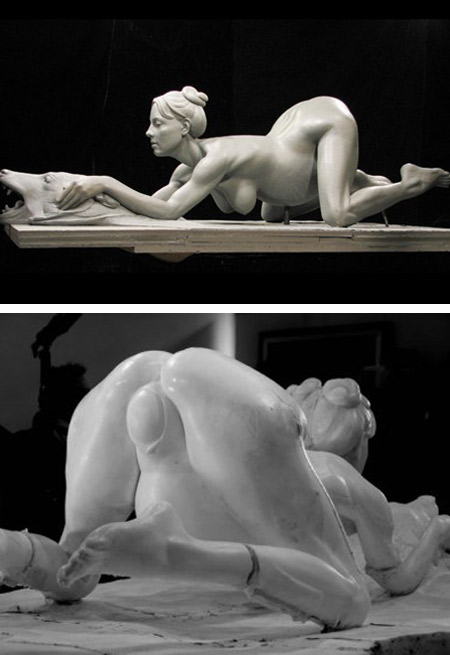 A nude sculpture of the pop star Britney Spears clutching a dead bear rug has been creating a bit of a stir recently. The work by Daniel Edwards, titled "Monument to Pro-Life: The Birth of Sean Preston" shows Spears naked, pregnant, and sensually bent over on her knees.
The artist said this about the pose. "The image from behind of the kneeling pose is very strong so I felt the front of the sculpture needed an equally powerful image which is where the bearskin comes in."
"The gallery said it received about 3,000 e-mails from around the world in just a week, split between anti-abortion and abortion rights opinions."
"We also got calls from Tokyo, England, France. Some people are upset that Britney is being used for this subject matter," said gallery co-owner David Kesting." Others who are pro-life thought this was degrading to their movement. And some pro-choice people were upset that this is a pro-life monument." ABC News.
6

The Young Family
Another work of the Australian controversial artist Patricia Piccinini. Piccinini explores what she calls the 'often specious distinctions between the artificial and the natural'. By displaying the similarities and differences between the organic, natural and our constructed material world, Piccinini challenges our classification of life. This inspires her to combine human and animal physiology and technological development in many of her works.
7

Nation for Itself Forever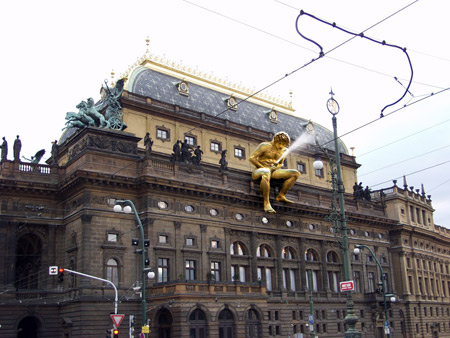 Another controversial work of the Czech sculptor David ?erný. In order to keep the statue it has been changed due to fear of protests that the project is aimed at the National Theater itself.
8

Undivided, 2004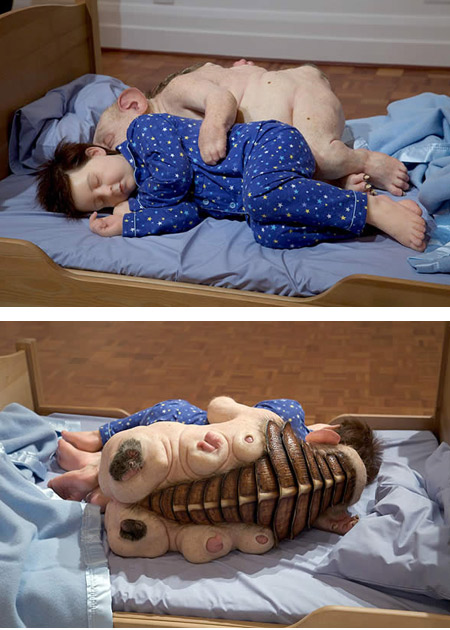 Wikipedia describes Patricia Piccinini as "an Australian artist ….who works with a wide range of media, including sculpture, video, drawing, installation and digital prints. Her major artworks often reflect her interests in issues such as bioethics, biotechnologies and the environment. "
A non professional look at her work reveals a stunning juxtaposition of science fiction and parenting. As she mixes alien creatures nurturing their offspring together with human children the results are simultaneously stunning and heartwarming. Judge for yourselves.
9

Angelina Jolie Nude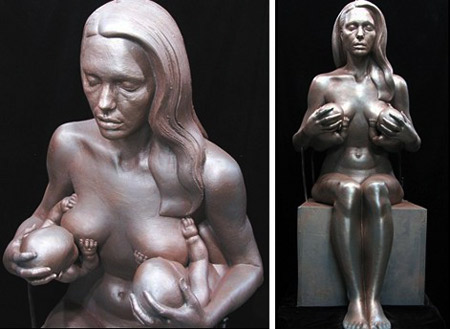 Controversial celebrity sculptor Daniel Edwards has a park-bench-sized statue of Angelina Jolie in the nude, double breastfeeding her twins. This artistic work of public indecency (she's not wearing pants!) is called "Landmark for Breastfeeding" and was inspired by Jolie's cover photograph on W magazine in 2008. Edwards decided that, in order to encourage more women to breastfeed and to raise global awareness of public nursing, he would depict one twin as African-American and the other as not, since that could totally happen in the real world.