1

The man who is selling daily ad space on his T-shirt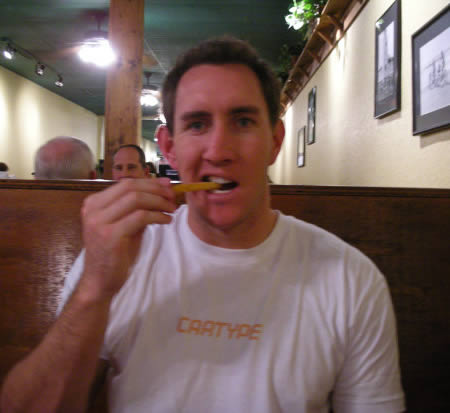 A t-shirt a day has kept unemployment at bay for an American man who is making about $ 90,000 a year by selling advertising space on his torso. Jason Sadler, 26, a former marketing professional from Florida, founded his own company, www.iwearyourshirt.com, in 2008 with the idea of wearing a T-shirt supplied by any company and then use social media tools to promote the firm. For his human billboard service, Mr Sadler charges the "face value" of the day so January 1 costs $1, while December 31 costs $365. Mr Sadler said this may not sound like a lot but it adds up to $66,795 a year if he sells out every day, which he did this year. He also sells monthly sponsorships for $1,500, adding another $18,000 to his income.
2

The man who is selling advertising space on his chin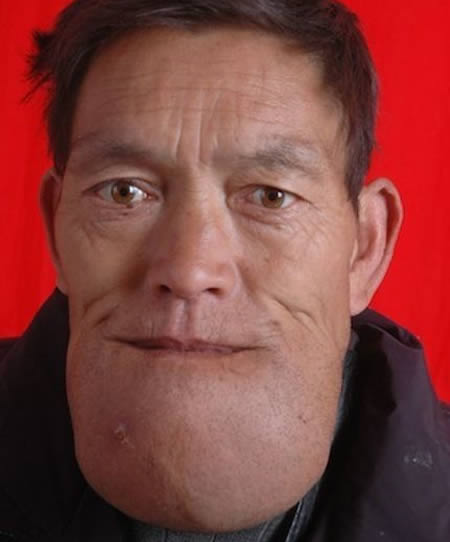 Down in the mouth Chang Du is offering to sell advertising space on his giant chin in a bid to raise cash for an op to remove it for good. Du, 47, from Lishuguo, central China, says the giant basketball-sized swelling started as a tiny pimple inside his mouth just five years ago. Now Du is trying to raise 5,000 GBP for an operation to restore his chin to normal size by offering it to advertisers for sponsorship.
3

The woman who sold advertising space on her 42GG cleavage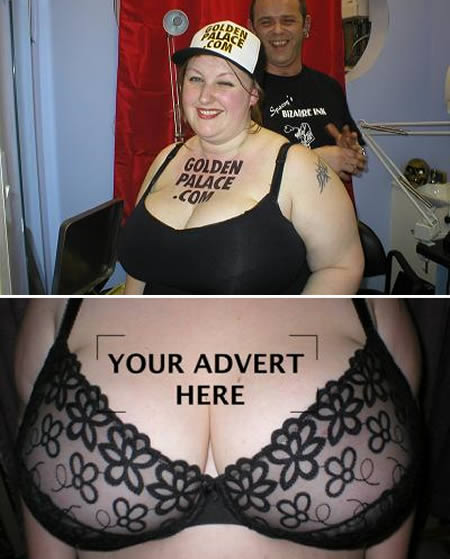 Online gambling outfit Golden Palace took temporary charge of the substantial assets which it recently secured for £422 on an eBay auction: the legally-displayable portion of 27-year-old Angel Brammer's 42GG breasts. For fifteen days the Glaswegian lass proudly displayed a Golden Palace's temporary tattoo applied by a local artist.
More-than-ample Angel Brammer, 27, from Greenock in Scotland, got the idea after an US man touted his forehead on eBay as a suitable place for a temporary tattoo. Her eBay listing would say:
"No longer restricted to USA based advertising, you can now rent my CLEAVAGE for a period of 15 days, during which I will display your company logo, slogan or web-site address in the form of a temporary tattoo you will supply to me. I'm an ample size 42GG, and I usually wear low-cut tops. I am renting the top part of my cleavage (the part which is legal to display) for you to put your company's logo upon. During the 15 days, I can have photos taken of me, with your logo, in front of any of the popular landmarks in Glasgow, or our nation's capital."
4

The dying man who sold ad space on his own urn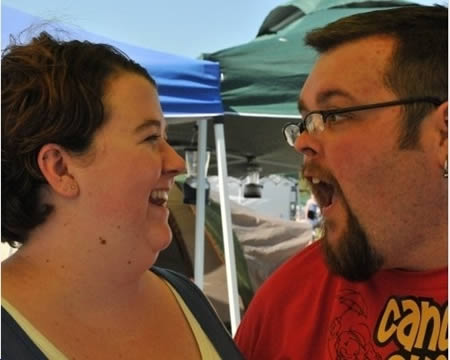 A dying Oregon comedian's last words will be written on his cremation urns - and the message will be sponsored by People for the Ethical Treatment of Animals. The animal rights group has paid $200 to place ads blasting KFC and dog breeders on the urns that will hold the remains of Aaron Jamison, who is dying of colon cancer. The Springfield man offered the ad so his wife wouldn't be left with funeral costs. Since then, the $800 cremation cost has been covered, and donations have helped pay some of Jamison's medical bills.
One of the PETA ads will say: "I've Kicked the Bucket - Have you? Boycott KFC." The other reads: "People who Buy Purebred Dogs Really Burn Me Up. Always Adopt."
5

The groom who is selling ad spaces on his wedding tie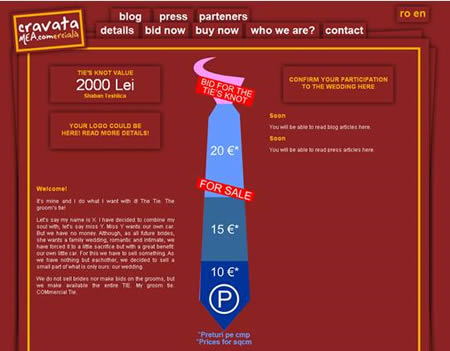 A groom from Sibiu, Romania, is trying to raise money by selling wedding tie advertising space. Tudor Ciora, is selling space on his groom's tie through a website at www.cravatamea.com and hopes to raise enough money to be able to buy a car for his new wife. The website says "as we have nothing but each other, we decided to sell a small part of what is only ours: our wedding." Wedding tie advertising is priced per square centimeter and prices vary depending which part of the tie they are on - ranging from €10 per sq cm for advertising on the lower part of the tie, up to €20 per sq cm for advertising on the top part of the wedding tie.
6

The woman who sold permanent advertising space on her forehead to GoldenPalace.com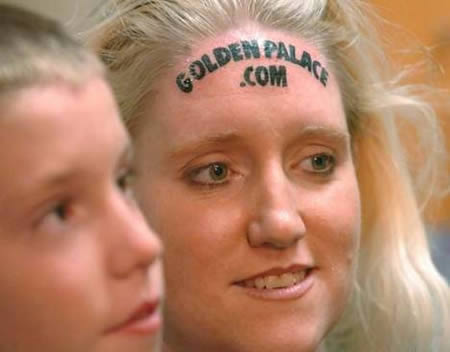 Karolyne Smith, a Utah woman, became another asset in online gambling outfit GoldenPalace.com's eBay preposterous purchase portfolio after accepting $15,000 dollars to have the casino's name permanently tattooed on her forehead.
Smith now has a url plastered across her face. She claims that she did it to raise funds for her son's private education. To its credit, the tattoo parlour which did the dirty deed - SI TATTOOING in Salt Lake City - reportedly spent seven hours trying to talk her out of it.
Smith's eBay auction attracted more than 27,000 hits and 1,000 watchers. Bidding reached $999.99 before Goldenpalace.com, an Internet gambling company in the Mohawk Territory of Kahnawake, Canada, clicked "buy now," meeting Smith's $10,000 asking price and ending the auction two days early.
7

The company who is selling ad spaces that look like clouds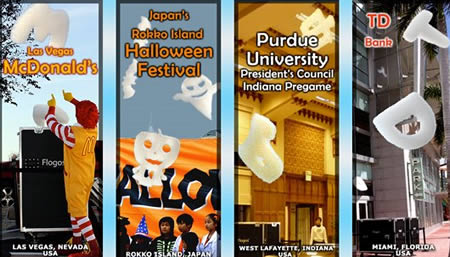 Next time you think that a cloud looks like a company logo, it may not be simply your imagination. Inventors Francisco Guerra and Brian Glover created a process to make "clouds" (basically soap based foams mixed with helium) in practically any shape you'd like. They named their creation floating logo clouds "flogos" - Logos that Fly! Disney, Apple, Audi and Nike have already signed up and others have expressed interest.
8

The movie producer who used a homeless man as an ad space
Film producers will do anything to publicize their pics. According to entertainment journalist Nikki Finke, movie producer David Permut paid a veteran named Ronald $100 to hold a poster for Youth in Revolt, a movie released in 2010 that Permut produced. Permut apparently often sees Ronald at the busy corner of San Vicente Blvd. and Wilshire Blvd. in Los Angeles and saw an opportunity for cheap promotion. Permut reportedly said, "It's been very good for us and for him. So I started thinking: why don't the movie studios go to all the homeless people and pay them to hold up [posters]?".
9

The man who auctioned advertising space on his penis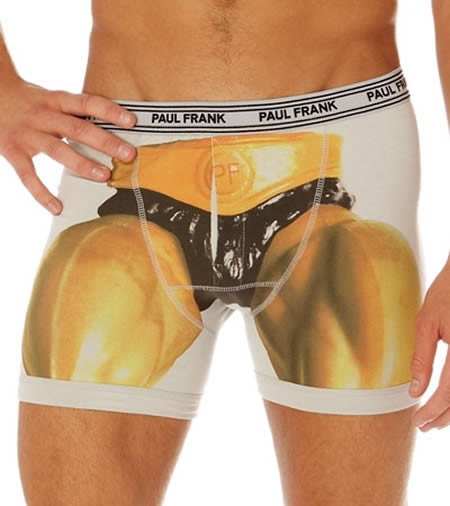 A hard-up UK eBayer offered his penis as permanent advertising space - for a starting bid of £3,000. The "genuine auction" vendor explained: "I will have my penis permanently tattooed for advertising your internet company logo," and adds: "If they wish, the winning company of the bid may film the Tattoo being created - this could be streamed live from their website as well as use the footage for later promotions." Sadly, it didn't state the maximum print size available on the penis. He may have lost potential bidders if he failed to measure up to corporate expectations.
10

The guy who sold pixels at a webpage as advertising space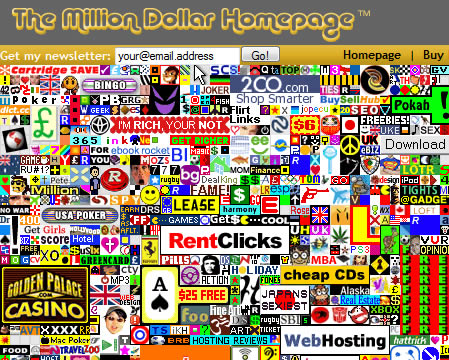 Back in 2005, a 21-year-old student in England named Alex Tew launched The Million Dollar Homepage, through which he sold the pixels of a 1000×1000 grid for $1 each. Although it was an extremely simple idea, the unique project attracted enormous amounts of press coverage, and eventually earned $1,037,100 in a matter of months - the final slot on the page went for $38,100. It also spawned countless copycat websites that virtually all failed, since the idea was no longer novel.